Living in Africa
The Essential Expatriate Resources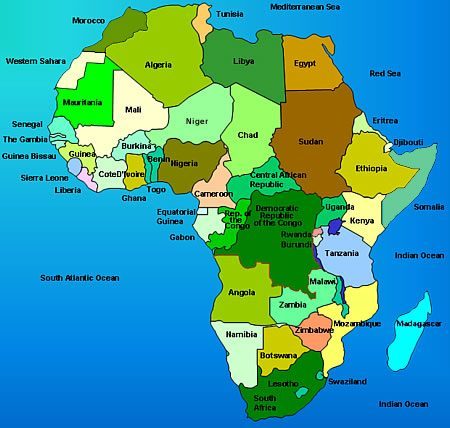 Africa is a huge and diverse continent with a wealth of natural resources and great cultural diversity. But after centuries of economic exploitation from colonial powers, most African countries still struggle to achieve political, economic and social stability. Rebel groups operate in many countries, and ethnic and religious conflict is widespread. This makes African countries a difficult destination for expatriates, but there are notable exceptions.
Botswana, for example, has been a stable democracy since its independence in 1966. It is a country with a rapidly growing economy, and low inflation. Angola ended its 27-year civil war in 2002, and has embarked on s slow course of recovery. South Africa has shown strong economic growth and political stability since the end of apartheid. As Africa's wealthiest and most developed nation, South Africa attracts international business, expatriates and students. And soccer fans will enjoy hearing that in 2010 South Africa will host the biggest international event ever to take place on African soil: the Fifa World Cup soccer tournament–a sure sign that the international community is beginning to recognize that some countries in Africa are on a steady path toward stability and prosperity.
According to the Association of American Residents Overseas (AARO), which relies on figures from the U.S. government among other sources, there are currently about 90,000 Americans living in Sub-Saharan Africa.
Due to the fact that the African continent attracts only a small number of expatriates from Europe and North America, we currently only offer specific country information for Egypt and South Africa.
TransitionsAbroad.com has compiled the best resources about Africa for current expatriates and those who dream of moving and living abroad. Most of the listed resources have separate sections for many African countries. —Living Abroad Contributing Editor Volker Poelzl
Teaching English and Living in Morocco by Lucas M. Peters
How to Enjoy Cape Town on a Budget: 12 Must-Dos in South Africa's Mother City by Lies Ouwerkerk
The Magic of Living in Cairo: City of Paradoxes by Naira Bonilla
Uncovering Tribal Life in Northern Kenya by Senior Contributing Editor Lies Ouwerkerk
A Day as a Volunteer in Ghana
The AmeriKenyan: Straddling Two Worlds in Nairobi. Kenya by Anena Hanson
Volunteering and Living in Kenya by Anena Hansan
Camping Safari in Northern South Africa, Namibia, Botswana and Zimbabwe by Lies Ouwerkerk
Cycling South Africa's Cape and Winelands by Lies Ouwerkerk
Five Unforgettable Adventures in South Africa by Ted Campbell
Why Zimbabwe is the Best Safari Destination for Ethical Travelers by Rebecca Shapiro
Journey Botswana: New Safaris Are Lessons in Ecology by Rob Sangster
Camping in Africa Brings You Closest to the People, the Culture, and the Wildlife by Janet Williams
Cruising Through the Magical Desert of Northern Sudan by Lies Ouwerkerk
Tribal Encounters in Remote Southern Angola by Lies Ouwerkerk
Time Travel in Northern Cameroon: Living Among the Dupa by Lies Ouwerkerk
Annual Festival of the Wodaabe in Chad: Courtship Rituals and Beauty Contests by Lies Ouwerkerk
Traveling Along Mauritania's Ancient Caravan Routes by Lies Ouwerkerk
Kora Sounds from the Griot Compounds: The Gambia by Lies Ouwerkerk
The Annual Festival on the Niger in Mali by Lies Ouwerkerk
Visiting the Tribes of Madagascar by Lies Ouwerkerk
Adventures in Morocco's Magical Sahara Desert by Friedel Rother
An American Living in Dakar, Senegal by Robert Chatfield
Senior Small Group Tour Visiting the Berbers of Morocco by Sarah Massey.
Hospitable Tunisia and its Tantalizing Cuisine: "A Moveable Feast" For the Budget Traveler by Lies Ouwerkerk
Among the Blue Men: Travel, Ritual, and Adventure with a Tuareg Nomadic Tribe in Mali by James Michael Dorsey
Three Shared Experiences in Ethiopia by Anita Howard
The Hadzabe of Tanzania: Visiting My Own Ancestors by James Michael Dorsey

Listening to the Silence: Climbing Kilimanjaro and Encounting a Maasai Elder in Kenya by James Michael Dorsey

Walking with Markus by James Michael Dorsey
The Accidental Spirit: Experiencing an Exorcism in Burkina Faso, West Africa by James Michael Dorsey
A Desert Escape in Egypt. by Nicole Feliciano
Finding Community at a Tomb Unveiling: A Sacred Zulu Ritual in South Africa by Amanda Penn
The Motherland by Amanda Formoso
Internship with an Ethiopian NGO by Sara Cornish
Top Volunteer Sending Organizations in Africa by Zahara Heckscher
Volunteer at a South African Game Preserve by Lisa Chavis
Volunteer Service in Zambia: A Little Goes a Long Way by Marissa Sutera
Volunteer in South Africa Rehabilitating the Penguins of SANCCOB by Jane Stanfield
A volunteer program in South Africa dedicated to helping rehabilitate penguins to be sent back to the wild.
Ten Ways a Teaching Certificate Helped Me Teach in Namibia: Lessons Learned as a Volunteer Teacher by Morgan Canup
Gorilla Conservation in Uganda: Volunteering with the Peace Corps by Thor Hanson
Working as a volunteer to ensure the responsible care of an endangered species.
Living and Working in Africa by Volker Poelzl
Teaching English in Africa: Volunteer Opportunities Abound for Young and Old by B. Susan Bauer
The Real Peace Corps by Matt Brown
Volunteer in South Africa's Lion and Safari Park by Sergio and Pat Pastore
Volunteer Effectively in Nigeria: The Key is Thinking Grassroots by Lola Akinmade
Aluminum Recollections in Nigeria by Elizabeth Bernays
Interview with Seun Kuti of Nigeria
Market Hopping Around Lagos by Lola Akinmade
A Glimpse into Nigerian Culture on the International Stage by Lola Akinmade
Sensible Rules for Safe Travel in South Africa: Tips to Enjoy a Culturally Varied and Naturally Beautiful Country by Pearl Harris
24 Hours in Dakar, Senegal by Irene Abdou
Volunteering to Teach in Ghana with Global Volunteers by Carole Katz
Volunteering in Zambia: Sharing Knowledge With Local Farmers and Learning From a New Culture by Marianne Stamm
Kidnapped in Rwanda: How to Be a Responsible Travel Activist by Robert Powell Sangster
Traveling Responsibly in West Africa: For Those Who Seek Raw Adventure Writ Large by Jason Motlagh
Independent West Africa Travel Planner by Terry Redding
The Fulani of Burkina Faso and Niger: The Heart of a Nomadic People by Irene Abdou
Lost in Marrakesh, Morocco by Kevin Dimetres
Food Markets in Rabat, Morocco by Beebe Bahrami
Feasting in Fez by Beebe Bahrami
A Diary in Tunisia in Words and Images by Irene Abdou
Education from the Streets of Giza by Alexander Breimann
Coffee Bay: Discovering the Culture of the Xhosa People of South Africa's Wild Coast by Tanya Linnegar
A Visit to Soweto, South Africa by Lucy Corne
Study French and Wolof in Dakar, Senegal by Katie Krueger
Study Abroad in South Africa by Adam Karlin
Study Abroad Living and in Ghana by Isabel Dickinson
Study Abroad in Tanzania: On Borders, Bananas, and Being Back by Danae Roumis
Studying and Living in Cairo and Traveling in the Desert Dunes of Egypt by Rachel Tobias
A High School Summer in Egypt Studying Arabic by Connie Ip
Life Lessons in Ghana by Lauren Elliott
Ethiopia And Eritrea: Wonders of the Horn by Chris Shinn
Finding Community at a Tomb Unveiling: A Sacred Zulu Ritual in South Africa by Amanda Penn
An Exorcism in Zambia: Working Together to Solve a Problem...and Celebrate Life by Guy William Volk
A Report from Northern Uganda: Excerpt from Traveling Fellowship Update by Kristin Anne Fleshner
Living in Nampula, Mozambique: Just Left of Paradise by Caroline Cowan
An Exorcism in Zambia by Guy William Volk
A Report from Northern Uganda by Kristin Anne Fleshner
The Timkat Coffee Club by Joanna Griffin
A Return to the Smallest Country in Africa by Miranda Paul
Coffee: A Universal Language by Jenny Williams
From an Ethnic to an African Island by Sandra Jackson-Opoku
A Review of the Book "Choosing Africa" written by B.Susan Bauer by Volker Poelzl
Mouth to Mouth by Kristianne Huntsberger
Letter from Ethiopia: Visitors to Africa's "Best-Kept Secret" Receive Rich Rewards by Clay and Joanna Hubbs

Facts and Information on Africa
BBC News provides country profiles on history, politics, economic background, and recent news in its Africa Section.
The CIA World Factbook contains country profiles with basic information, including all countries in Africa.
The Consular Information Sheets by the U.S. Department of State, provide useful information for travelers and expatriates on all African countries, with Travel Warnings, Travel Publications (general travel advice), and much more.
Nations Online Project is a destination guide to countries of the world. The Africa Section provides links to all African countries.
The U.S. Department of State publishes Country Background Notes, with facts about the land, people, history, government, political conditions, economy, and foreign relations, with separate sections for North Africa and Sub-Saharan Africa.
Wikipedia, the free online encyclopedia, provides useful articles and information about Africa in general, with links to specific countries.

Expatriate Websites and Resources for Africa
Expat.com is a worldwide directory of blogs related to expatriate life, with listings for several countries in Africa.

Africa.com provides "carefully selected news," articles, guides and other resources about the African continent, including country-by-country guides.
AllAfrica distributes over 2000 news and information items daily from over 130 African news organizations as well as their own reporters to an African global public.
BBC News Africa is a daily updated news source covering Africa by one of the most prominent news organizations in the world.

Recommended Reading on Africa
Lonely Planet Africa by Gemma Pitcher, David Andrew, Kate Armstrong, and James Bainbridge
Lonely Planet Africa on a Shoestring by Kevin Anglin, Becca Blond, and Jean-Bernard Carillet
Lonely Planet Healthy Travel Africa (Lonely Planet Healthy Travel Guides Africa) by Isabelle Young
Lonely Planet West Africa by Anthony Ham and James Bainbridge
Lonely Planet East Africa by Mary Fitzpatrick and Tom Parkinson
Lonely Planet Southern Africa by Alan Murphy, Kate Armstrong, Matthew Firestone, and Mary Fitzpatrick
Lonely Planet Trekking in East Africa by Matt Fletcher, David Wenk, and Mary Fitzpatrick
Africa (Rough Guide 25s) by Rough Guides
The Rough Guide to West Africa by Richard Trillo
Fodor's African Safari, 1st Edition: From Budget to Big Spending Where and How to Find the Best Big Game Adventure In Southern and Eastern Africa by Fodor's
Africa: A Biography of the Continent by John Reader
History of Africa by Kevin Shillington
Africa: A Modern History by Guy Arnold
The Trouble with Africa: Why Foreign Aid Isn't Working by Robert Calderisi
Fate of Africa: A History of Fifty Years of Independence by Martin Meredith
Africa Unchained: The Blueprint for Africa's Future by George B.N. Ayittey
Africa Overland: 4x4-Motorbike-Bicycle-Truck by Sian Pritchard-Jones and Bob Gibbons.

Travel Information for Africa
Lonely Planet Worldguide provides a lot of useful travel information about Africa in its Explore Africa section, including most countries in Africa.
Rough Guides Destinations offers a lot of useful travel advice and information for most countries, with a section on Africa, including several African countries.
Morocco-Guide offers information for visitors about many destinations in the country and help using the variety of languages.