How to Live and Work in Africa as an Expatriate
By Volker Poelzl
Updated by Transitions Abroad 6/9/2016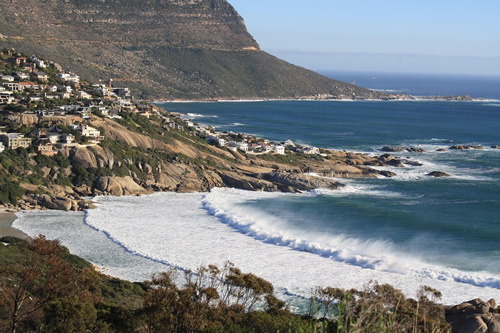 Living and working in beautiful Cape Town is a great option.
Africa is largely overlooked by would-be expatriates in search of a better place to live. The perception of the continent's many economic, social, and political problems discourages some foreigners from considering Africa as a destination to work, study, volunteer, or retire. Africans leave their home countries in large numbers in search of a better life abroad, and there are a small but growing numbers of foreigners who come to live in this still underdeveloped continent that is in reality growing economically at a very rapid pace. Most news reports we hear about Africa relate to war, poverty, political instability, economic problems, and the ongoing AIDS crisis, while there is so much more the continent has to offer visitors and expatriates alike.
What we do not hear enough is that Africa has a lot to offer expatriates willing to take a chance and venture into the unknown. Africa is a vastly diverse continent with great natural beauty and a huge variety of cultural traditions. It is also a continent with many needs, where foreigners can make a real difference by working or volunteering in one of the many underdeveloped and impoverished regions. I have outlined below different ways foreigners can make a positive contribution to the development of Africa even as they enjoy the incredible variety of cultures and subcultures.
Despite social and economic problems in parts of Africa at the moment, there are many employment and career opportunities for adventurous expatriates who do not mind the challenge of living in a country and culture vastly different from their own. Many foreigners who live and work in Africa are professionals transferred by multinational companies involved in oil/gas exploration or mining. Many others work for international NGOs in health services and conservation.
There is an ongoing brain drain from Africa, as young educated Africans increasingly seek their luck elsewhere. This has created a demand for skilled professionals in a number of fields, such as engineering, teaching, health care, and information technology. In addition to providing incentives for native Africans to return and put their skills to use in their home countries, a number of African governments have created incentives for foreign professionals to come from outside Africa. South Africa, for example, has a scarce skills work permit with a quota system for a large number of professional groups, among them teachers, physicians, and engineers, which allows foreign professionals to obtain work permits. South Africa is by far Africa's most developed country, with a strong and diversified economy based on mining, manufacturing, and financial services—which makes it the most popular African destination for foreign professionals and expatriates, many of them from the U.K. For more information about work opportunities in Africa, check out our Short-Term Jobs in Africa, and Teaching English in Africa sections.
In addition to professional jobs, many organizations and companies offer internships in Africa in a variety of fields. Many positions are with NGOs in health care, social services, and conservation. For information on internships in Africa, see our Internships in Africa section. The U.S. government has a strong commitment to providing aid to African countries, and there are a number of internship positions available with USAID and the Millennium Challenge Corporation (MCC), only to mention a few.
Volunteering is a great way to spend an extended period of time in Africa and get to know the local culture and people, but it is also a very challenging experience. Many volunteer positions are in remote areas, where the standard of living is very low, and where even the most common amenities are scarce. There are countless volunteer opportunities in a large variety of fields from teaching and conservation work, to health care and HIV/AIDS education. It is fairly easy to obtain a long-stay visa as a volunteer, and many volunteer organizations provide low-cost or free housing to their volunteers. The Peace Corps has a strong presence in Africa, with many volunteer positions in agriculture, forestry, health, teaching, and small business development. For more articles, programs, and resources concerning volunteer work in Africa, check out our Volunteer in Africa section. In particular, see Zahara Heckscher's piece on the Volunteering in Africa: Top Tips and Volunteer Sending Organizations for an overview by an experienced expert and Transitions Abroad's Volunteer Abroad editor.
South Africa is Africa's most attractive retirement destination, with a pleasant climate, low cost of living, great natural beauty, good healthcare, and an adequate infrastructure. But the surge in violent crime over the past decade as well as civil unrest has discouraged many people from relocating there. South Africa currently requires retirement funds of about US$ 2,500 per person per month or equivalent investment assets to be eligible for a renewable retirement visa. There are several destinations in West Africa that are attractive for retirees, such as The Gambia, Ghana, and Cape Verde. These countries offer great natural beauty, a pleasant climate, and they are relatively close to Europe, which makes them especially attractive for European retirees. The governments of some Western African countries have introduced several incentives to attract retirees from outside Africa. Ghana, for example, is attracting a growing community of African-American retirees thanks to easy immigration rules.
Africa is rich in natural resources such as oil, ore, minerals, precious stones and metals, but few African countries invest their earnings to improve the quality of life of their citizens. Transportation infrastructure, water and electricity supplies are unreliable and underdeveloped everywhere outside major urban areas, and poverty and malnutrition are widespread. The Human Development Index (HDI)—an indicator developed by the United Nations Development Program to measure basic human development goals such as infant mortality, life expectancy, literacy, basic education, and GDP—demonstrates that Africa suffers the world's lowest level of development in quality of living. According to the latest HDI figures, most of the world's 30 least developed countries are in Africa. To give you an idea of the level of development in much of Africa, Haiti, by far the poorest country in the Americas, is still ahead of 24 Sub-Saharan countries in the United Nation's Human Development Index.
Northern Africa and Southern Africa have a medium level of development and income, but most other countries are very poor. But even in the wealthier African countries, the distribution of income remains very uneven, with extreme poverty coexisting with enormous wealth. Due to the fact that one half of Africa's one billion people live in extreme poverty and given that unemployment is widespread, theft and property crime is common all across the continent. Although South Africa is Africa's wealthiest country, violent crime remains rampant. The high crime rate is one of the main reasons many South Africans to emigrate. Issues such as crime rates have resulted in close to a million white South Africans having left the country over the past decade in search of safer and more peaceful places to live—leaving behind a physically beautiful country.
Healthcare and Expat Health Insurance in Africa
Many countries in Africa have public health issues. Malaria, tuberculosis, and HIV/AIDS are health threats to a large percentage of Africa's population, especially in Sub-Saharan Africa. Unfortunately, most nations have severely underdeveloped healthcare systems that are often not able to address the basic needs of the local population, let alone expatriates who may be living there. While some nations in the continent have excellent private medical clinics that cater to expat populations, many expatriates will want to seek medical treatment in Europe or in a private medical hospital in South Africa.
Because many medical facilities in African countries will be unable to service the needs of many expatriates, it is critical that expats in Africa obtain an international health insurance plan that will provide both local and global medical coverage and treatment. A key component of any expat health plan for people residing in Africa will be an optional medical evacuation rider, especially if the local hospitals are not up to Western standards or you are residing in a rural setting. You should also examine the policy to ensure that it will cover pre-existing medical conditions and provide superior service and support at claim time. Expats should check the policy terms and conditions carefully before purchasing and see which clinics and hospitals are in its global medical network for direct reimbursement of medical claims without having to pay out of pocket. Expats can obtain quotes for expat health insurance in Africa from independent brokers.
Although several local languages are spoken in each Africa country, English is the official language in many Sub-Saharan countries, mostly due to the British colonial presence until the 1960s. This is a great advantage for English-speaking expatriates, since it eliminates communication problems. Among the countries where English is recognized as an official language are Botswana, Cameroon, Eritrea, the Gambia, Ghana, Kenya, Liberia, Madagascar, Namibia, Nigeria, Malawi, Sierra Leone, South Africa, Sudan, Zambia and Zimbabwe. The second-most spoken European language in Africa is French, mostly in former French colonies in Northern and West Africa.
Volker Poelzl is a Living Abroad Contributing Editor for TransitionsAbroad.com. He has traveled in over 40 countries worldwide and has lived in ten of them for study, research and work.