Work Abroad
The Ultimate Guide to Jobs Overseas
With so many great reasons to work abroad, Transitions Abroad provides expert advice, inspirational first-hand experiences, and practical resources for anyone wishing to explore the possibilities.

Internships leading to careers, teaching worldwide, volunteering, summer jobs, and location independent work are increasingly popular options to extend your time overseas in a meaningful way.

With every work experience, you are building a more impressive international resume while developing key contacts and enriching your life. Surveys by business and academic organizations demonstrate that working and living abroad increases your job possibilities and income over time.
Featured Articles and Guides on Work Abroad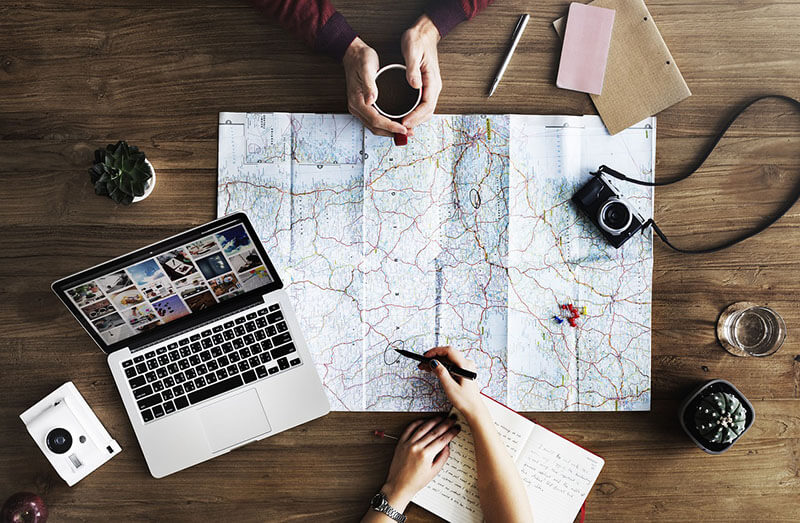 How to Build an International Employment Profile by Jean-Marc Hachey
A practical overview of the steps you need to take as part of the process of preparing for and finding jobs or careers abroad.
Jobs Abroad for Students After College by Jonathon Engels
After graduating from college, one option is to go overseas to see the world and work teaching English as a Foreign Language.
How to Find Your First Paid Job Overseas by Zahara Heckscher
I understand the dilemma of the first time international job seeker: You cannot get work overseas unless you have experience. But how do you get experience if you cannot get a job? I will share five proven strategies to break out of this Catch-22...and provide a worksheet.
How to Write an Effective International Resume by Jean-Marc Hachey
Creating a resume for work abroad is significantly different in kind from those you create domestically. Here is an overview on how to do so successfully, with all the primary criteria to consider in this key document.
Why a Virtual Job is the Best Job for Working Abroad by Tim Leffel
In an extract from his fine book, "A Better Life at Half the Price," Leffel explores the many options for virtual jobs abroad, an increasingly popular combination of work, long-term travel, and living abroad offering incredible flexibility. And you are free to choose locations with a low cost of living.
How to Network for Jobs Abroad: A Guide to Finding International Employment by Zahara Heckscher
This guide is targeted to people seeking an international job. The detailed tips can be used to find short-term or long-term assignments, and will be helpful for recent college graduates, mid-career professionals, and retired people eager for new adventures.
How to Network for International Jobs While Working in Your Current Country by Troy Erstling
How to successfully transition from work abroad such as teaching English to other types of international jobs that are closer to your long-term goals. Extensive strategies and tips, with a strong emphasis on the power of networking, to make it happen.
Work Permits Abroad by Volker Poelzl
What is a work permit? How to you get one to work abroad? Here is an explanation about common requirements along with the resources you need to help you to obtain your own and get a job overseas.
| | |
| --- | --- |
| | |
Internships and Student Work Abroad Programs
Top Programs Offering Internships Abroad by Chelsea Baldwin
Participating in a international internship offers a travel experience like no other as you are both a foreigner and live the life of a local. Internships are the key to gain experience and earn greater credibility with future employers.
How to Find Student Jobs and Internships Abroad by William Nolting
A long-time expert and student advisor provides a comprehensive overview of the process for finding the type of work to build your resume. A great resource for the student seeking their first job overseas.
How an Internship in China Can Lead to a Dream Job by Rebecca Shapiro
An internship in exciting Shanghai, China proves to be very fruitful as a career path, just as it is rewarding educationally and culturally. As more young people are going to China to study and intern, and more employers valuing such work abroad experience, the author highlights the short- and long-term personal and professional investment.
Study Abroad Increases Professional Job Prospects by Isabel Eva Bohrer
IES Abroad surveyed over 1,000 study abroad alumni in order to determine the impact of such experience on the ability of recent graduates to find work after completion of a college degree. The findings strongly indicate that study abroad leads to international employment.
What is the Value of an International Internship in Today's Job Market?
An Interview by Carly Vandergriendt for TransitionsAbroad.com
In an interview with AIESEC, the largest internship internship organization in the world, we ask senior members key questions and receive useful answers.
| | |
| --- | --- |
| | |
Top Jobs Abroad for Long-Term Travelers by Jonathon Engels
17 short-term jobs available to those who wish to extend their long-term travels indefinitely.
How to Live and Work Overseas While Freelancing on the Web by Nora Dunn
Many people dream of a life working abroad, with scarcely a care in the world besides finding an internet connection. Such a location-independent life is not as hard to achieve as it might seem at first blush.
How to Live and Work Abroad for Less by Nora Dunn
To many people, the dream of traveling the world and earning a living while doing so seems impossible; common excuses for not living and working abroad include a lack of career options or an having an overly expensive lifestyle. I had those same excuses myself, until I proved myself wrong.
How to Spend a Year Living and Working in New Zealand by Lydia Horrex
At this time two years ago, I would not have been able to tell you a great deal about New Zealand. In fact, I had never really given the place a second thought until the day I discovered it was one of the few westernized countries where I could both legally live and work abroad.
Au Pair Jobs Abroad: Combine Long-Term Budget Travel and Work by Rachel Ward
I lived in uptown Barcelona for seven months without writing a single rent check or mailing one utility bill. I did not even pay for groceries. Before that I spent two months free of charge in a medieval town by Oxford. How did I manage to stay so long in Europe gratis? I was an au pair...
Adventures Working Abroad in Australia by Lauren Fitzpatrick
Working in Australia, in this case through the BUNAC program, is a truly memorable year-long adventure. Here are one such series of experiences.
| | |
| --- | --- |
| | |
Teaching English Abroad (TEFL Jobs)
Teach English Online, from Anywhere by John Clites
A flexible way to earn income at home or on the road!

Guide to Teaching English as a Second Language Abroad by Ted Campbell
10 practical tips in an essential guide, including key resources provided by an experienced expat who has taught extensively in Mexico and South Korea.
How to Create a Great Resume for Teaching English Abroad: A Guide to Landing Your First Job by John Clites
Our TEFL Abroad Columnist explores how to land your (first) job teaching English, and why preparing the appropriate resume is critical. Here is a detailed guide explaining how to do so, complete with examples.
How a TEFL Certificate Abroad Leads to a Teaching Job by Linda Dunsmore
An experienced teacher provides practical recommendations and tips for gaining a TEFL Certificate overseas as a path to English teaching jobs worldwide. With the demand for English teachers still very strong, there are so many great options.
How and Where to Find Jobs Teaching English in Europe: An Overview by Susan Griffith
The author of many classic books on working and teaching abroad offers inside tips and resources to succeed in the difficult task of securing jobs in Europe.
Inside the Paid Teaching Assistant Program in France by Sarena Tien
A rare opportunity for Americans to find work abroad teaching English in France. Use your stipend to travel, explore the culture and learn French.
Teach English in Spain: Open Up Opportunities by Sagan Pope
An experience on the Teach in Spain program with CIEE transformed the life of the participant, led her to 5 years in the country and to career success thereafter.
The Best Places for Teaching English in Asia by Michael Hines
In addition to sharing large areas of the world's largest continent, many nations in Asia also share another striking similarity: most are experiencing strong demand for English teachers. From South Korea to Vietnam, Asian countries remain geared towards getting their population to learn the lingua franca of globalization.
Teaching English in China: Work and Live in an Ideal Location
Nick and Dariece provide a guide to help you find the right city or town in China for you to teach English and live.
Teaching English and Living in Vietnam: A Southeast Asia Giant by Nathan Edgerton
The guide to teaching English and living in Vietnam—where the options are almost endless and the cost of living low—by a working expat.
Teaching English and Living in Mexico by Jonathan Clark
...I was still looking for a job. I had long thought about trying to live overseas and I knew that teaching English was a good vehicle for doing so, so I enrolled in a 1-month crash course in Teaching English to Speakers of Other Languages (TESOL) to figure out how to do it.
Teaching English and Living in Brazil by John Clites
There is a demand for English teachers in Brazil and that demand will only increase in the foreseeable future.
| | |
| --- | --- |
| | |
Teaching Jobs Abroad: K-12 and University
| | |
| --- | --- |
| | |
Top Volunteer Abroad Programs by Wandering Educators Contributing Editor Jessica Voigts
A review of the top volunteer abroad programs and organizations.
Why Volunteer Overseas? Top 10 Reasons to Volunteer by Zahara Heckscher
Co-author of a book that is now an instant classic, Learning Service, the author is an experienced volunteer, activist, and teacher. She has co-written a book that explores the subject, motives, and activity in a unique and no-nonsense manner.
Ten Projects for Volunteers to Help Endangered Animals Abroad by Lavanya Sunkara
An overview of important projects to volunteer help for the many endangered animals in countries abroad.
How to Volunteer Overseas to Protect Wildlife Effectively by Amy E. Robertson
With so many great options to volunteer helping to care for wildlife, which projects to choose, where, how long, and what are the considerations?
| | |
| --- | --- |
| | |
International Careers and Long-Term International Jobs
A list of resources and advice leading to international jobs and careers.
Short-Term, Summer, and Seasonal Jobs Abroad: The Key Employers
Employers for a variety of short-term jobs, from au pairing to tour guiding, by region and country.

Teach English Abroad: ESL Training and Job Placement Programs
If you lack experience or credentials, you may want some formal study before heading overseas in search of work as an English language teacher, but it is still the very best way to find teaching work overseas. Many ESL programs provide training for jobs in the host country. Please see our featured articles on teaching English written by experts in the field and participants who teach around the globe.
Volunteer Programs Abroad
Volunteer opportunities — from Antarctica to Costa Rica to Zimbabwe — for all ages and interests.
Internship Programs Abroad
Our collection of internship programs, listed by region, offers students an opportunity to study while gaining work experience overseas. In addition, we provide featured articles from both our experts and students who have had first-hand experience.