Lessons Learned as a Volunteer Teacher in Namibia
10 Ways a Teaching Certificate Earned in College Helped Me Teach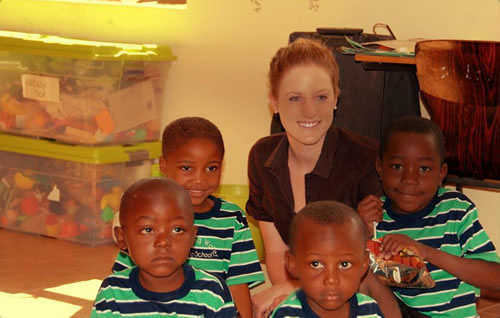 Morgan with her class in Namibia.
From July to October 2012, I taught at a small one-room schoolhouse, Fleeting Water, in Namibia, Africa. I taught English, basic motor skills, and communication skills to children between the ages of three and seven.

After teaching for a few weeks at Fleeting Water and learning about the education system in Namibia, I found that Namibian culture and support of education is much more difficult than most Americans or Europeans could imagine. The Namibian Government requires that all children over the age of six attend some form of school to enhance knowledge and English skills. Unfortunately, though, the Government is unable to provide public education to the children of the country. Parents are in charge of following the federal law and are responsible for finding a way to pay for their child(ren) to attend school. In addition, the processes the children must endure in order to be accepted are extremely time-consuming and often nerve-racking.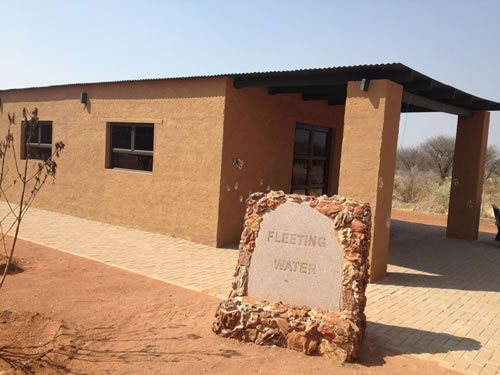 Fleeting Water school in Namibia.
At the age of six or seven, most Namibian children are thrown into tense and intimidating situations in order to be accepted at a private boarding school. First and most importantly, each child has to learn English, which is not widely spoken in the country. Parents are supposed to educate and teach students English before they enter school, even though only 5% of the population has made it past grade three. After learning and being competent in English, the parents and children have to choose a boarding school in Namibia they wish to attend. In order to be considered for the school, the parents must be willing and able to pay entry and interview fees, which are nearly a two-week salary of $40. Moreover, if the children have enough money to pay for the interview, they must then pass an intense all-English interview, which guarantees their position in the school. Typically, 300 students show up for the interviews for first grade, and only 30 are accepted. If the students are unable to display superior English skills, then they either never attend school or have to wait a year or more until their English skills improve.
Living and teaching in a new culture and continent was a frightening experience, but something I was ready to tackle it as soon as my feet hit the ground in Namibia, in part because I already had a teaching certificate as part of my undergraduate education. I also found it important that I help my five assigned students to the best of my ability in order to help them work for a better and educated life in Namibia.
I now know that it is possible to get a teaching job overseas without a certificate. Here are ten reasons I am glad I learned how to teach before I went to Namibia.
Confidence. I was able to walk into the classroom in Namibia on the first day and face the children with confidence because of my experience during my student teaching placement. I was therefore more confident that I could take control of the unfamiliar classroom and students, teach in ways that would be effective in a new culture, and bond with the children. 


Prioritization. I wanted the Namibian students to learn the most important English skills to help guarantee their placements at a boarding school. Many of my education professors highlighted the importance of picking out the most significant information about a topic when planning each lesson. Unit plans and lessons are often structured around the most important aspects of a subject. I used this skill to prioritize my teaching goals in Namibia so my students would be ready for their oral examinations.


Lesson Planning. I learned how to develop and write out lessons through my college education courses. In Namibia, although I was teaching a different age group than the one I was trained to teach, I was able to structure every lesson plan appropriately to order information and make learning a new topic easier for the students. In order to help the children learn to the best of their ability according to their age capacity, I had two different lesson plans every day. There was one for the six and seven year olds and another for the three and four year olds.


Daily Flexibility. Every day my lesson would end up changing in some way at Fleeting Water. Some days, I would want to take the children out to look for animals, or we would even take a surprise class field trip to the waterhole down the road. While studying education, I was taught how to handle sudden changes in plans and go with the flow. Often, change will lead to interesting discussions or a stronger connection between the teacher and students.


Behavioral Issues. The students would often fight, yell, or hit each other, but I was able to handle these situations and usually resolve the conflicts. During my undergraduate studies, I was taught how to communicate effectively with students that challenge teachers or pick on their peers. Teachers can say certain things to change the attitude of the student and avoid resorting to harsh disciplinary tactics. I learned that being calm and collected as a teacher is the best way to help a child cool down and get their attention. I learned invaluable lessons on how to stay composed even under pressure.


Differentiation. My Namibian class included one three-year-old, one four-year-old, two six-year-olds, and one seven-year-old. In order to properly teach them, I had to make separate lesson plans for the different age groups. I was prepared because I had already studied educational differences and practiced differentiated teaching. Occasionally there are students with Individualized Education Programs or learning disabilities, which result in students having to be taught in different ways. Not every student learns in the same way or at the same speed.


Organization. Days before school started, I organized the room and created a new layout. I had a library and reading area, puzzle stations, desk and chalkboard area, and even a Lego and toy section within the room. From experience, I learned that the organization of a classroom is crucially important. Classroom organization can make the students feel welcome, encourage discussion, and provide open areas to promote working either independently or in groups. My education background provided me with tips on how to properly set up the room.


Discipline. At the end of every day, students received one star for their star chart if they were good. One of the days, Konja, the three-year-old boy, had not listened to me once throughout class time. Therefore, when it came time to give out stars for good behavior, he did not get one. As soon as he realized he was not getting a star, he became very angry. He began yelling at the children who had received stars. I quietly stood in front of him waiting for him to calm down. As soon as he did, I had him explain to me why he was so angry and why he thought it was okay to act as he did. Thanks to my education courses, I learned how to successfully deal with angry students. Often, having them explain why they did something will help them realize that what they did was wrong. Children then learn boundaries regarding what they can and cannot do in the classroom, instead of constantly walking all over the teacher.


Collaboration. Every day while teaching in Namibia, I talked to a parent, the replacement teacher, or the owner of the lodge. I would have to discuss the issues strategically in order to get the point, concern, or question across successfully. During my student teaching placement, I learned that collaboration is important in order to be successful with lessons and working with students. I learned to communicate with parents, other student teachers, my cooperating teacher, and even the principal.


Varied Teaching Methods. My student teaching experience taught me a variety of teaching methods. I had 6 classes a day, 120 students, and 3 different grade levels. I had to learn how to quickly adjust my teaching methods and approaches to fit each class and grade differently. In Namibia, I had to adjust my teaching skills, attitude, and ideas differently at the school in order to accommodate all of the students and their beliefs and cultures. Thanks to my student teaching, I was ready.
At the end of stay in Namibia, I went with the children and their parents to the Otjikondo boarding school interviews and was able to experience the Namibian Education System on a first-hand basis. The parents had to pay $45 for entrance fees, which was a month's wage. We all had to wait in line for eight hours, and the students were under extreme pressure, since only ten percent out of the 300 students interviewing would be accepted to Otjikondo. However, in the long it paid off. Two weeks before I left, all three students received acceptance letters from the school.
The skills that I developed throughout my studies in college helped me understand how to assist each child individually and raise their confidence when in front of English speakers. Some people often overlook the importance of education in society. Such a realization is one of the more troubling lessons I have been forced to learn in my life. Education has the ability to shape and mold our future generations and the success of societies as a whole. This personal epiphany about education after my teaching experiences in college and my time in Namibia have lead me to an interest in further study and an ambition to seek a career in the near future within Educational Policy.
Morgan Canup is currently a Graduate Gateway Semester student at American University in Washington, DC studying Applied Politics. She is also an intern at Visionary Volunteers where she is helping to edit and conduct research for the book Rethinking International Volunteering: A Learning Service Approach. Canup is a graduate of Ohio Wesleyan University, where she studied English, Education, and History. She belonged to various honor's societies, including Mortar Board and Phi Beta Kappa, and graduated with a Magna Cum Laude honor. Immediately after graduation, she traveled to Namibia, Africa for three months to teach at a rural village school in the town of Outjo. She is currently interested in publishing, editing, and educational policy both domestically and globally.