Hospitable Tunisia and its Tantalizing Cuisine
"A Moveable Feast" For the Budget Traveler
Article and photos by Lies Ouwerkerk
Senior Contributing Editor
Published 5/17/2016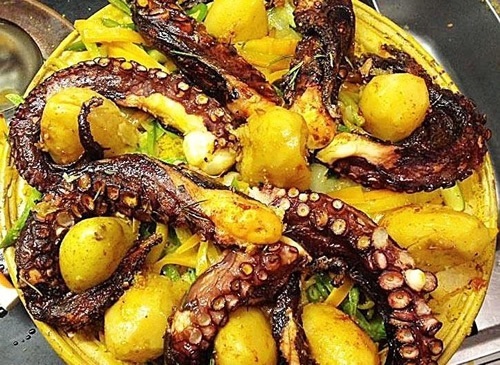 Couscous with octopus.
Tunis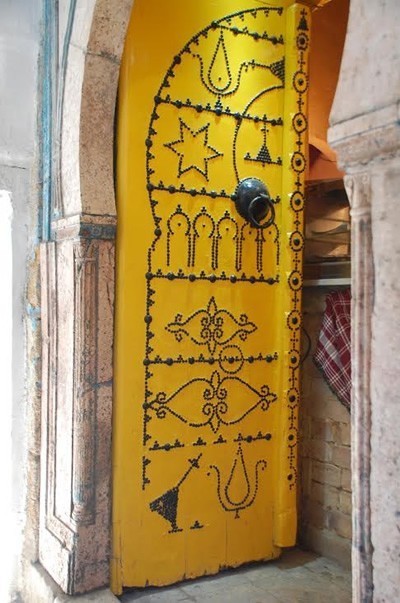 An ancient door in the Medina of Tunis.
During the flight to Tunisia's capital Tunis, I quiz my neighbor about dishes from his home country, and it is clear that lablabi (or leblebi), a hearty chickpea soup, is his favorite "must try." "They serve it anywhere, any time of the day, particularly in winter time," he explains enthusiastically, "look in the souk for a big pot with a lot of clay bowls around it, and you will know that you are at the right address". Souk and ye shall find, Insha'allah!
And indeed, wandering around the 8th century medina of historic Tunis, a labyrinth of intriguing, tangled alleys, and listed as a Unesco World Heritage site, I soon spot a huge steaming pot in front of a men-packed café. Before I know it, the cheerful vendor is already busy filling my bowl: on the bottom chunks of bread, then tomato soup, chick peas, an egg, olives, capers, harissa (a hot pepper paste), a good pinch of tabel karouia (a mix of several oriental spices), garlic, olive oil, lemon, and some tuna. Finally, he mixes it all together, and voilà: the simple, delicious meal, setting me back a whopping $1,50, keeps me going until dark sets in.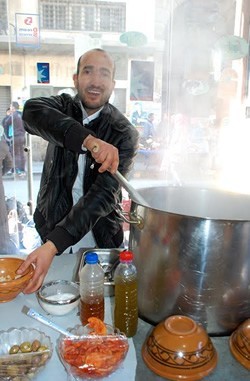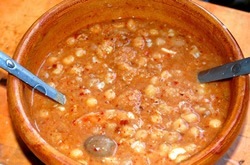 Vendor dishing up a bowl of lablebi in Tunis.
The famous Bardo museum, with its largely intact mosaics that once adorned the villas of wealthy Romans, notably in Carthage, is housed in a former palace in the outskirts of Tunis and an absolute must to visit.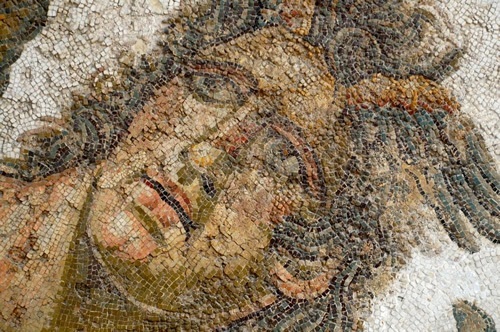 A mosaic formerly on the wall of a Roman villa.
Just before dropping me off, my taxi driver points to a little café — in fact, no more than a hole in the wall, with some tables on the side walk — and makes me believe it's the best kept secret of Tunis. While I am still sizing up the place, the owner is already hailing me like a queen amidst his noisy, curious, only male clientele, and prepares me a dish called kafteji, known as "Tunisia's poor men's street food." It consists of lots of vegetables, harissa, spices, pickled carrots, and eggs, with a side dish of delicious fried potatoes. Every so often he returns to my plate, nonchalantly throwing in (with his fingers, which I am told later, is absolutely normal in Tunisia's cafés) more pieces of vegetables, pickles, and olives. The filling lunch at charismatic "Chez Bayari" comes to another $1.50!
In the kitchen cooking up plates of delicous kafteji.
Sidi Bou Said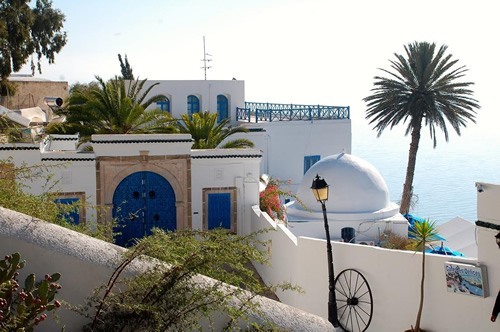 The white-washed coastal town of Sidi Bou Said.
In the picturesque white-washed coastal town of Sidi Bou Said, immortalized by French singers Patrick Bruel and Amel Bent with the song "Café des Delices," I stay in maison d'hôtes "Dar el fell," owned by Tunisian painter, musician, regisseur, and TV chef Mounir Letaief (youtube example of one of Mounir's TV episodes in a kitchen preparing dishes speaking Arabic with interspersed French).
Upon my arrival, Mounir is just on his way to Ghar El Melh, an ancient port on the northeastern coast, which will be used as backdrop for one of his upcoming TV shows. He invites me along for a visit to a farmer who still cultivates his vegetables in the traditional way, without any irrigation. Apparently, the plants take all the water they need from the swampy grounds surrounding his piece of land.
At his day shack, a make-shift table is quickly set up with crates and planks, and the farmer serves us everything he has to offer: potatoes boiled in seawater according to ancient tradition, bread, olives, radish, chawli — a small fish that can only be found here in May, and is then dried for the rest of the year — and a big plate of olive oil with harissa and tuna to dip it all in. I am told this is a good example of how average Tunisians enjoy their daily lunch, or even their breakfast.
At night, Mounir organizes a dinner party in his lovely traditional home, adorned with many of his paintings. Not only is there plenty of music, singing, dancing, and happy banter, but he also conjures up a magnificent octopus couscous that stuns us all.
Harissa, made of hot chili pepper, roasted peppers, as well as many other ingredients and spices, is the most popular condiment for many main dishes enjoyed in Tunisia.
And to celebrate Prophet Mohammed's birthday, a pudding-like dish called assida zgougou, prepared from dark pine pits and typically eaten on this day, is served as dessert.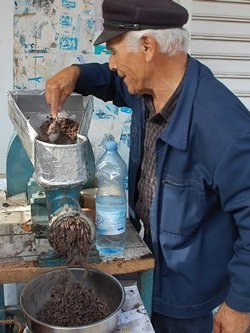 Street vendor grinds dark pine nuts for the assida zgougou dessert.
Just a few meters from Mounir's place, a vendor sells the famous bambalouni, a kind of donut, freshly prepared while you wait, then deep-fried and dipped in sugar. The beignet, warm, fluffy, and tender, is absolutely delicious and addictive, and proves to be the perfect company for a cup of mint tea, the classic North African drink, with blond pine pits floating on top and served in small glasses, on the splendid sea view terraces of Café Charqui or Café des Delices.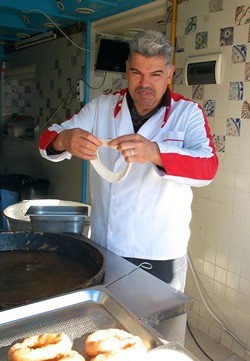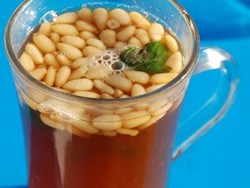 Vendor prepares bambalouni, which goes very well with mint tea and pine nuts floating on top.
The remnants of the ancient city of Carthage are at walking distance from Sidi Bou Said.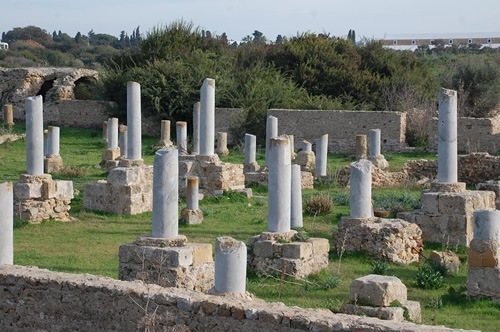 Some of the ruins remaining from the ancient city of Carthage.
Apart from its great historic value and natural beauty, Carthage is, together with the adjacent region of Cap Bon, also famous for its wines, and this fame dates back to over 2000 years ago, when Phoenicians brought their knowledge of winemaking to North Africa.
Some of the most notable wines today are the red Magon (also served by Tunisair) and the Chateau Mornag, a blend of three grapes, the Carignan, Syrah, and Merlot. Wines can be purchased in most larger supermarkets (Marché General) and cost about $4 and up.
Many vineyards are partnered with foreign investors who import know-how and technology. Few wines are exported, however, and the culture of wine tasting tours is not yet developed, or at best, still in its infancy. Best bet: Domaine Atlas in Cape Bon.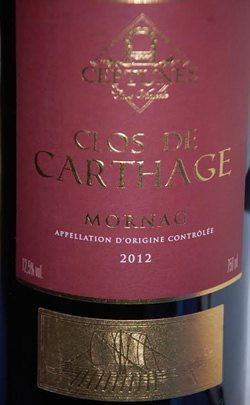 Clos de Carthage is one of many fine wines in Tunisia.
Kairouan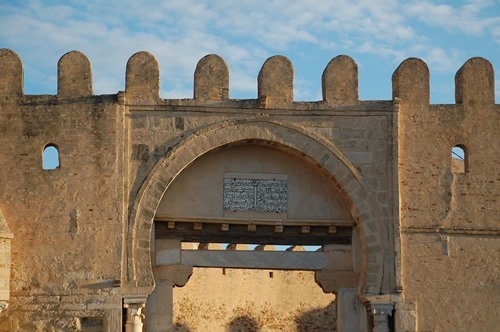 A gate of the walled city of Kairouan.
With a louage (a very affordable long-distance taxi/van with about 8 seats, that leaves the station once completely filled, to no fixed schedule), I travel southwest to Kairouan, known as the 4th holiest site of Islam and a Unesco World Heritage site. The city does not only have the oldest Great Mosque of North Africa, but also innumerable carpet shops, as well as the best sweets of Tunisia.
Maison d'hôtes "Chez Hassine Allani," housed in a beautiful traditional dwelling of more than two centuries old, is situated in the heart of one of the most charming medinas I have ever seen. The house has a large, sunny roof terrace with a magnificent view over the city, where the hostess offers me mint tea and a big tray filled with delicious, homemade makrud, small date-filled semolina cakes shaped in the form of a diamond, and soaked in honey.
Makrud, and many of the best sweets in Tunisia can be found in Kairouan.
Meals on demand are also possible in this charming place, and with 3-course dinners for $15 each, I can hardly go wrong. Each night of my stay, I get surprised by my hostess' most tantalizing home-cooked dinners, served in the family dining room, heated by a kanoun, a little antique coal stove. In winter time, houses in Tunisia can get cold at night, and central heating is mostly unknown. Many Tunisians snuggle into blankets and sleeping bags once they sit down after sunset!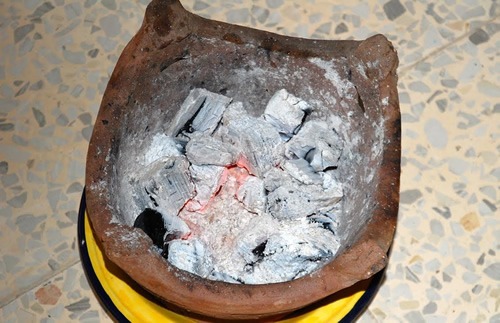 A kanoun is often used in winter time to heat the room.
One night, my hostess prepares vegetable couscous, slow-cooked in a traditional couscousiere, a large covered cooking vessel with a lower compartment for cooking vegetables, and an upper part with a pierced bottom for steaming the couscous in the vegetable-scented vapor. Divine!
Another night, she serves "Chorba aux langues d'oiseau," a spicy vegetable soup with pasta in the form of grains, followed by a dashing plate of Tunisian salad, and brik (or brique), thin pastry sheets around a filling of egg, potato, tuna, melting cheese, onion, spices, harissa, coriander and parsley, and then deep-fried. Brik is specifically eaten on nights during Ramadan.
Sfax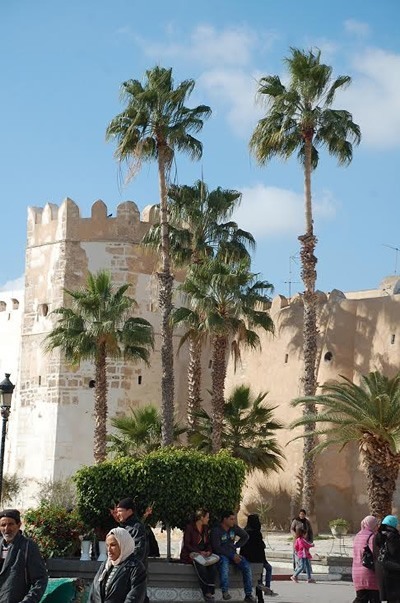 Ramparts of the old town of Sfax.
Another louage brings me to the "second city" of Tunisia and economic heart of the country: Sfax. I stay here at maison d'hôtes "Chez Salma," a beautiful house built in traditional Arab style, situated in the outskirts of the city. Since the hosts are most accommodating, the distance to the old town with its fascinating, bustling medina surrounded by 24 hectare of ramparts, never proves to be a problem. On the contrary, they often accompany me on my explorations, either into Sfax or to other destinations in the area, such as the enormous coliseum of El Jem, or the charming coastal town of Mahdia.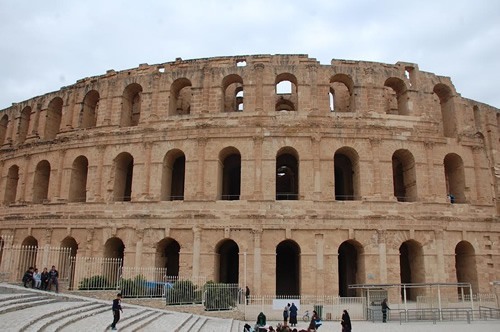 Coliseum of El Jem.
In Mahdia, we visit a small local fish restaurant, "Chez Ali," just behind the fish market, and order the sardines that are in season at the time. The owner apologizes for being sold out, but suggests we buy some in the fish market ourselves, and promises to grill them for us on the spot. Two platters full of fresh, grilled sardines, a baguette, and two meschoui salads (a mix of roasted green peppers, tomatoes, garlic, and olive oil, served with olives and tuna) set me back the sum of $4.00!
Salma is a caterer, offers cooking classes, and runs her maison d'hôtes with an admirable charm and energy. Her breakfasts are delicious, varied and plentiful, and her dinners are to die for. My week-long stay here is one big feast of traditional dishes!
First of all, there is the Tunisian tajine, which happens not to be at all like the well known Moroccan tajine, but rather an egg dish similar to a frittata or quiche. Then there is the chakchouka, a tomato, pepper, onion, and harissa concoction with eggs on top, as well as the outstanding wolf fish, freshly caught in the Mediterranean that very same day. And on New Year's Eve, the host slow-cooks lamb in a marinade of tomato, spices, garlic, onions, and olive oil, within a gargoulette, a terracotta urn hermetically closed with a paste that dries during the cooking process, and carefully opened again with a knife once the pot finally comes out of the fire place.
The Tunisian tajine is different from the Moroccan tajine, more like a frittata or quiche.
Olives and olive oil are big in Tunisia, the world's second largest producer after Spain, and at the moment even rumored to be the frontrunner, since Spain was hit by drought this past year. Much of Tunisia's olive oil, pleasantly mild and light, is exported to Spain and Italy, where it is further processed.
Salma is a descendant of a big olive farming family herself, and hooks me up with her cousin, owner of domaine Chograne, just outside Sfax. It is harvest time, so a great opportunity to see the old tradition of harvesting olives by hand, in action. Olive pickers use sticks and combs to make the olives drop on nets, spread under the olive trees, and collect them from there into perforated boxes or used coffee bean bags, which in turn are sent to an olive press company in town.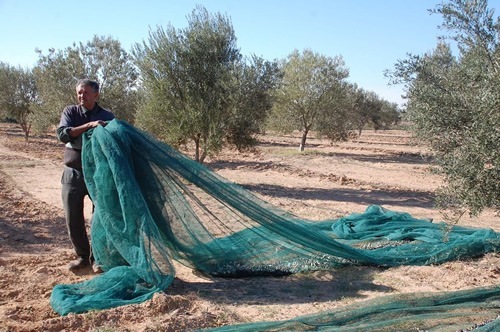 Harvesting olives by making them drop onto nets using sticks.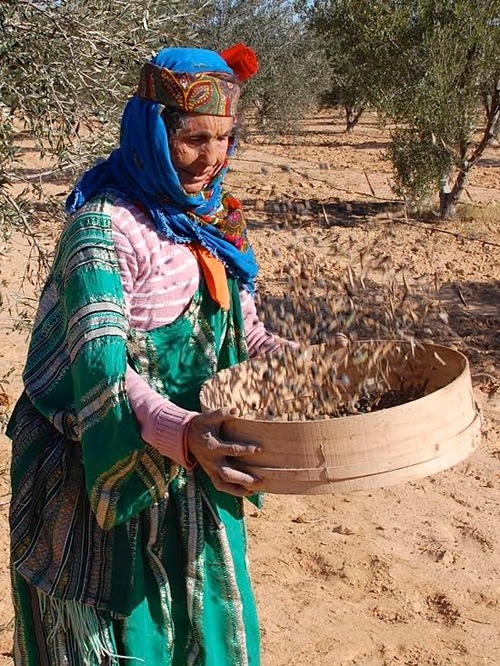 Collecting and separating olives from leaves by hand after the initial harvest.
Harvested olives collected.
Later on, in the peace and quiet of the estate, I get a chance to dip with fresh bread into an outstanding olive oil.
Excellent olive oil from the Chograne estate.
Olive oil and bread (ideally still warm and crusty) are consumed at all meals in Tunisia. As for bread, you can easily find at least ten different kinds in Sfax, often still baked in traditional ovens like the ones at boulangerie Essamet in the old town, where daily over 1,600 breads are prepared in the morning, all sold elsewhere in the medina by the afternoon. Khobz Lafif is the most well known, but there are also flatbreads, baguettes, croissants, small buns, and square whole grain breads, each suitable for accompanying particular dishes. For instance, the harder dark bread is typically eaten with soup, because once crumbled in hot liquid, it doesn't get soggy.
Khobz Lafif bread and baker.
Patisserie with almonds, and deep fried beignets, such as the ftayer and the sfenj, in appearance very similar to the bambalouni, are also very much in demand.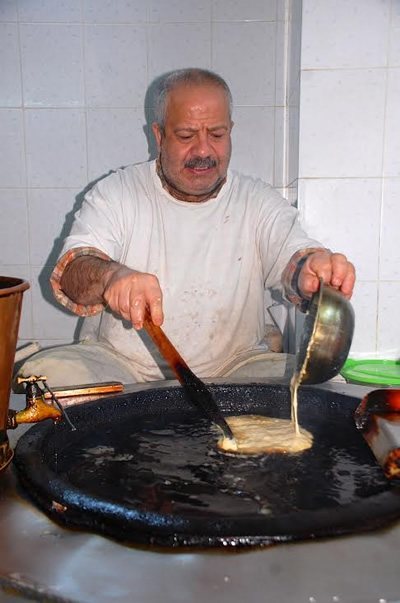 Preparing a ftayer.
Kerkennah Islands
From October to December, it is octopus season. Jamel, my taxi driver for the day on one of the Kerkennah Islands — a 1-hour ferry ride away from Sfax — shows me a beach where fishermen are setting out their nets and traps during low tide. According to old tradition, they place one small pataclet fish in each trap, as bait for the many little crabs crawling around. When the water gets higher, the octopus enters the trap lured by the crabs, and gets also caught.
Boats on Kerkennah island (left) and fisherman setting octopus traps.
When I ask Jamel for a good fresh fish restaurant, he responds "that's my home! My wife makes the best fish soup on the island and went already out to catch fresh clams this morning." So an unexpected gastronomical 3-course meal in Jamel and Henda's kitchen ensues, with a variety of super fresh fish, octopus, clams, and brik. At the end of the trip, Jamel will not accept more than US$25 for the whole day, including the tour of the island, the copious meal, and the impromptu visits with his many relatives and friends on the way!
Djerba
After many kilometers of traveling in louages, encountering lots of incredibly hospitable people, and devouring too much amazing food, I am ready to hang up my travel skates for a while on the southern island of Djerba, where I divide my time between the kitchen of my hospitable landlady to learn the ropes of Djerban cuisine, and the countryside with its olive, almond, fig trees, and date palms, where shepherds in traditional burnous (hooded winter capes) herd their sheep.
Some curious sheep.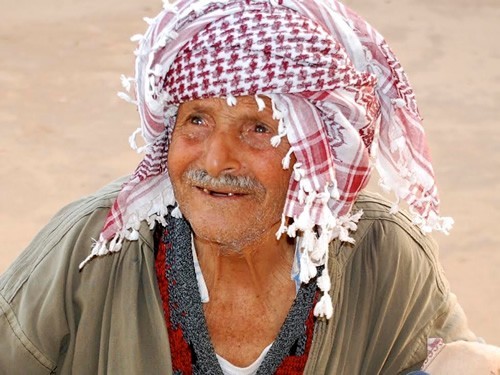 Shepherd.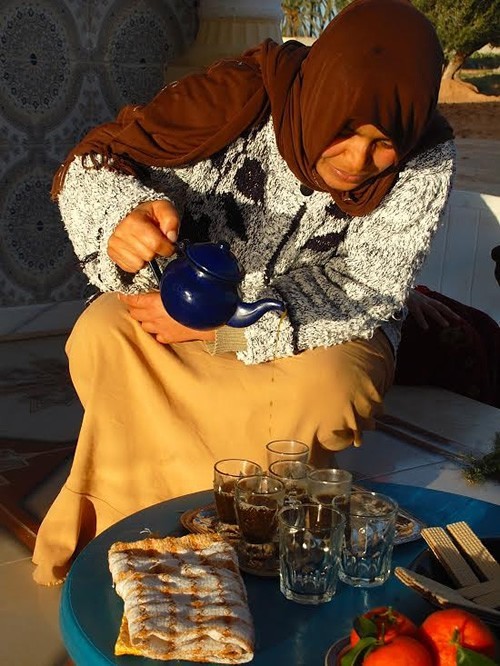 Proverbial Tunisian hospitality: a visit at the neighbors.
The soft, sweet, and moist dates of Tunisia, which grow in large bunches on palm trees all over the country, but particularly here in the South and in the nearby desert oases further West (the Deglet Nour cultivar of Jerid and Nefzaoua being considered the "queen of all dates"), have many nutritional benefits and have been the most reliable food source for desert nomads throughout the ages. There is a famous saying "the culprit who would destroy a flourishing palm, would murder 70 holy men."
Palm tree and dates.
According to Homer's epic poem Odyssey, hero Ulysses, on his return to Greece from the Trojan war, had great difficulty getting his mates back to the ship after they had been visiting the seductive lotus eaters who inhabited the island of Meninx, nowadays called Djerba. After eating the lotus flower, the crew members reportedly became intoxicated and were put into a kind of sleepy stupor.
Although I cannot find any sign of the fabled lotus, I do stumble upon an intoxicating substance of another order: Boukha, an eau-de-vie derived from figs, and the amber-colored date palm liquor Thibarine, both served as an aperitif or after-dinner digestive and containing 36% and 40% alcohol respectively. Could that be one possible explanation for my own delay on this mythical island?
Eau de vie made from figs.
Lies Ouwerkerk is originally from Amsterdam, The Netherlands, and currently lives in Montreal, Canada. Previously a columnist for The Sherbrooke Record, she is presently a freelance writer and photographer for various travel magazines.