A Visit to Soweto, South Africa
A Walk to Remember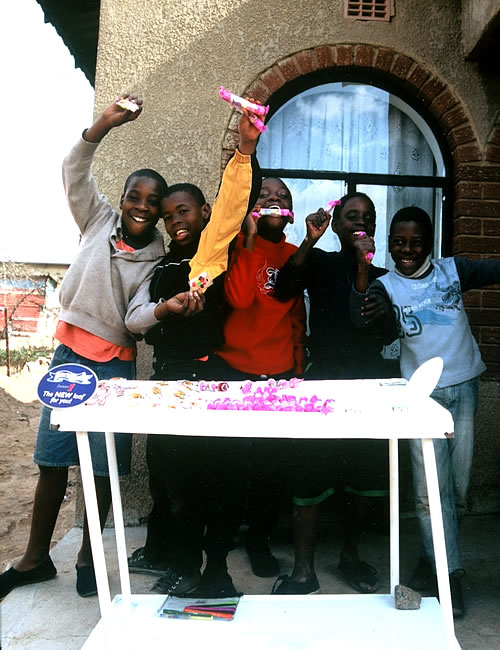 Children in Soweto.
I am not proud of it, but I must admit that the first time I visited Soweto I was anxious. As we drove deeper into the maze of unnamed roads, the warnings that I had tried so hard to ignore were ringing in my ears. I began to panic, convinced that everyone was watching us. I recalled hearing about problems with carjackers. Suddenly I looked around and realized that the only reason people were staring was because our car, an old banger hired from the aptly named "Rent-a-Wreck," was making a squealing noise that was disturbing the peace in this quiet suburban neighborhood.
A Tragic History
If the name Soweto is familiar, it is probably for all the wrong reasons. In 1976 the township hit the headlines as students took to the streets in a peaceful protest that ended in disaster when the police opened fire. For years the rapidly growing region was a center for violent crime and an area where outsiders neither wanted to visit nor were welcomed.
The New Tourism Industry
Bloodshed and fear have receded in Soweto's history. They are being replaced by boundless hospitality and an unlikely new industry: tourism. South Africa's most famous (or infamous) township has featured on the itineraries of Johannesburg tour companies for several years, providing a convenient day trip from the country's largest city. But Sowetans are now keen for tourists to linger longer, to realize that this is not the dangerous place it once was and to experience the real Soweto. Locals are opening their homes to visitors, providing cozy home-stays and offering personal tours that offer a more in-depth look at Soweto, past and present.
The Hospitality of Lebo Malepa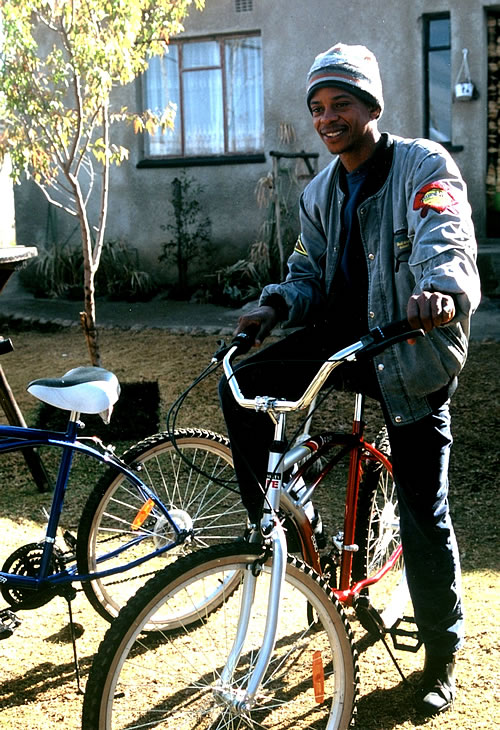 Lebo Malepa.
As our 1992 Fiesta screeched its way through the suburban streets, the first thing that struck me was the friendliness of the locals, once they realized that we were just a couple of hopelessly lost visitors. Eventually, thanks to a dose of luck and the help of some local children, we arrived at Lebo's Soweto Backpackers, an unassuming house in a quiet Soweto crescent. Lebo Malepa is something of a pioneer in Soweto, one of the first to open his home to travelers keen to help visitors explore their surroundings on foot. "You can't really experience a place if you're in a tour bus, or even a car. Only on foot or by bike can you really feel a connection with the local people," he enthused. And when asked about the dangers, he was quick to defend his neighborhood: "Walking around here is a lot safer than wandering Johannesburg's city center and for those who don't feel comfortable going alone I am happy to act as a guide. We have bikes to hire and are always ready to accompany our guests for the day."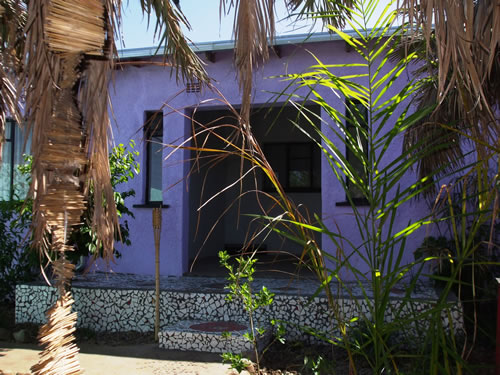 Lebo's Soweto Backpackers hostel.
The Shebeen
We dropped our bags and after a cup of tea with Lebo and his friends, decided to follow his advice, heading to a nearby shebeen with his younger brother, Phillip, to show us the way. Originally used to describe an illegal drinking den, the word shebeen now refers to any township bar. Scattered throughout Soweto, the simple bars usually consist of little more than one room with an ancient sound system, minimal adornments and a drinks menu that requires no decisions to be made other than whether you want your quart of beer warm or cold.
Initially we had wanted to go it alone, but soon found that having a local guide is not a bad thing. It is not that we felt in any kind of danger, but things can get a little hectic where cheap beer and enthusiastic locals collide with seldom-seen tourists. Suddenly everyone wanted to be our friend; everyone wanted to buy us a beer and everyone wanted to challenge us on the pool table. But when things got a little too much we found that each shebeen will always have one thing to guarantee that revelers do not crowd outsiders too much—a feisty elder woman who is not averse to whacking her drunken counterparts over the head with a purse.
Visiting Nelson Mandela's Former Home
On the second day of our weekend in Soweto we decided to do the tourist thing. With a questionable map to guide us (Soweto's maze-like network of largely unnamed roads must be a cartographer's nightmare), we headed to the most popular stop on a day tripper's tour—Nelson Mandela's former home. Though the interior contains little more than the great man's possessions and furniture, the enthusiastic guides truly bring the place alive with a short but riveting tour of the modest 4-room house. Later I felt that we visited the museums in the wrong order and should have ended with the upbeat commentary of the Mandela house guides. That is not to say that Soweto's other museum is in any way less worthy of a visit. In fact the Hector Pieterson Memorial and Museum is one of the finest in the country—offering a moving encounter and an insight into the day-to-day impact that apartheid had on the lives of South Africans. But it is not an easy visit and you might need a little pick-me-up afterwards—be it another trip to a shebeen or just a sight of that ever-welcome Soweto smile.
The Story of Hector Pieterson
Hector Pieterson was just 12 years old when he was killed in the devastating Soweto uprising of 1976. The iconic photo of teenager Sam Nzimo carrying his lifeless body, with Hector's older sister looking on in anguish, was splashed across world media and many believe it helped raise global awareness of the desperate situation in South Africa. The museum charts the beginnings and development of Soweto and highlights the vital role the township played in the anti-apartheid movement before moving on to the uprising. Heart-wrenching testimonies recall the day when peaceful student protests went so horribly wrong and the ensuing violence that broke out across the country.
Enjoying Traditional South African Fare
Inspired and moved we left the vast museum with a greater understanding of what Soweto really means to South African people; how it helped shape the wonderful country that so cheerfully welcomes visitors today. That evening we decided to dine out in Soweto's restaurant district. The large, elegant houses and shiny BMWs lining the roads have given this area its moniker as the "Beverley Hills of Soweto," home to Winnie Mandela and Desmond Tutu as well as an increasing number of local entrepreneurs. Shunning the restaurants favored by tour groups we opted for the vibrant patio of Nambitha and enjoyed a blend of traditional African fare and some of the finest ribs in the country.
Going to Church
The following morning Lebo convinced us to accompany him to church. I am not much of a churchgoer and it is usually only a wedding or a Christmas carol service that can entice me, but Lebo was adamant that a visit to church is a crucial part of any Soweto trip. The makeshift church was set up in an immense tent, its green and yellow stripes immediately conjuring images of a circus rather than a place of worship. Lebo told how new churches are popping up all the time and until weekly collections boost the bank balance enough to permit the purchase of a permanent building, services go ahead in tents. And no-one seemed to mind at all. When we entered we discovered that the service had already started and every seat was occupied. Keen to avoid any disruptions, we slunk to the back, intending to take a seat on the canvas-covered floor. The plan to creep in undetected was quickly scuppered as half of the hundreds-strong congregation turned and set about finding seats for the newcomers in their midst. Suddenly the preacher had halted his sermon and was urging his parishioners to find somewhere for us to sit. I was mortified as people moved, shuffled and changed seats to squeeze us into the pews, but found that everyone else had a welcoming smile.
Sunday morning in a Sowetan church would have is an eye opener. First of all, the service was bilingual—Brother Justin would belt out some fervent phrases in Zulu, then Brother Simon would repeat the sentiments in English. Or perhaps the English came first—it was pretty tough to follow anything that was being said and, as ever in church, we were pleased when the music started. Of course, this came with its own drawback—the need to dance without having had the beer usually required for us to break out our moves. Still, those around us seemed to appreciate our awkward movements to their beautiful singing and we soon started to lose some of our inhibitions. I was glad that the spotlight was moved away from us though, when those with ailments or personal troubles were invited to the stage for a blessing. Pretty soon attention was thrown our way again as brother Simon thanked us for our brief visit—we had only caught the last 20 minutes of a 3-hour church service.
As we fought our way through the crowds of well-wishers thanking us for coming and inviting us back soon, I thought about what most visitors to Soweto are missing. Sure, there are still danger spots that should be avoided, just as in any large city in the world. But by viewing Soweto through the window of an air conditioned minibus, you will always remain a spectator rather than a participant. You will miss out on hugs from strangers, enthusiastic handshakes from shebeen patrons and above all the chance to feel a part of a place that helped to change history.