Cycling Through South Africa's Cape and Winelands
Article and photos by Lies Ouwerkerk
Senior Contributing Editor
10/2015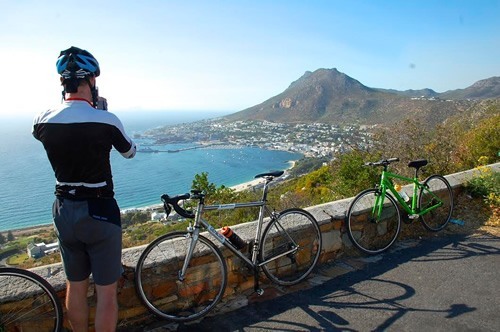 Cyclist stopping to take a snapshot of Cape Town, South Africa.
The brutal winter had kept North Americans locked inside their houses for what felt like ages. Being able to escape that grip of never ending snow and deep freeze, and embrace the balmy summer temperatures of sunny South Africa therefore felt like a gift straight from heaven. And where else would I want to celebrate that than in the outdoors of the spectacular Cape Peninsula?
So I kick started my South African adventure with a 12-day cycling ride through the rolling hills of the Cape Peninsula wine lands and along the dramatic coastlines of the Atlantic and Indian Oceans, in the company of a guided group of 10 cyclists hailing from Great Britain, Australia, and Canada.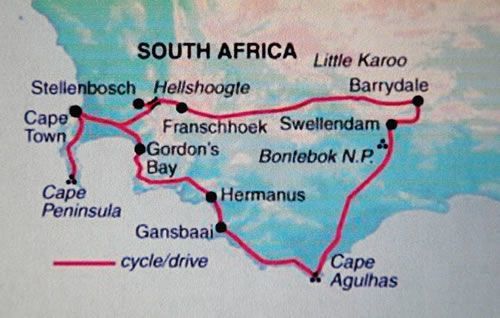 A map of our 12-day cycling itinerary.
The circular route through the southwestern tip of South Africa also included part of the semi-arid desert of the Great Karoo, back roads of the more fertile area of the Little Karoo, the Langeberg Mountains, the Bontebok National Park, and sleepy old Dutch and French villages along part of the famous Route 62, a historical route built in the 1920's to connect small farming communities with the harbor towns of Cape Town in the West and Port Elizabeth in the East.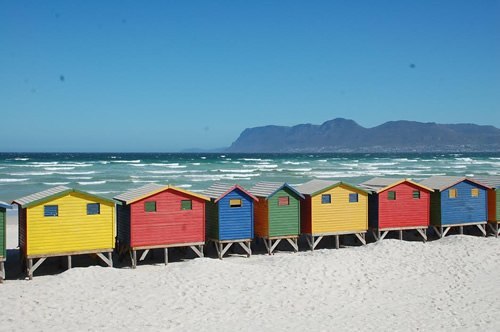 Iconic beach houses of Muizenberg.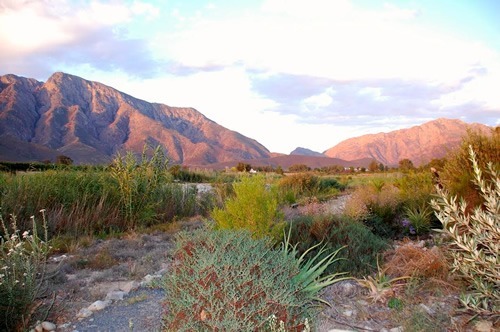 Backroads of the Little Karoo.
Level of Fitness
All participants—from a 22-year-old university student to a 74-year-old grandmother, and every age group in between—were in good shape (as was required by the tour company), although our cycling experience varied greatly. Some were used to ride long distances in hilly landscapes on a daily basis, others were serious triathlon competitors, and again others were just occasional cyclists and had not touched their bikes since the previous summer. Some carried their own saddles and pedals, and showed up in appropriate cycling gear, others bicycled in their ordinary clothes and footwear.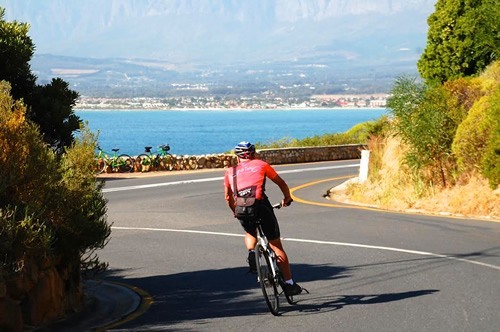 A cyclist cruises downhill.
Nobody in the group brought their own bicycle. Instead, we all toured on comfortable 9-speed Hybrid bikes, hired in advance through our tour company for an extra fee. Luggage was transported by a minivan, also used to bring up the rear and as emergency backup.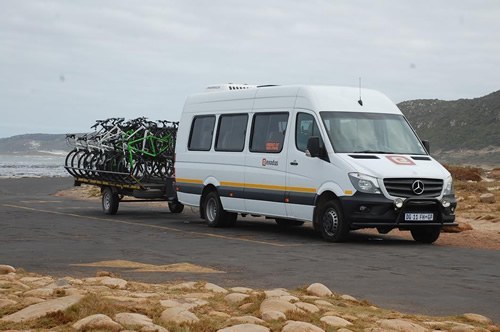 A van carries luggage and sometimes transports the bikes from location to location.
Originating from The Netherlands and practically on a bike since the cradle, the prospect of averaging around 60K (36 miles) a day had not fazed me on the forehand. However, the reality of cycling the South African hills proved to be very different from paddling through the flat Low Lands, especially in high temperatures and into a strong southeasterly wind!
Luckily, the few diehards among us would patiently wait on top of each hill for the rest of the group to arrive, their colorful shirts shimmering in the distance like a beacon on a mountaintop.
Camaraderie and support among the group and staff members was indeed exemplary. There was always someone to reset the height of a saddle, fix a chain that had fallen off, lend some water if one had run out, provide some encouraging words to those who felt exhausted, or cheer on the last ones to arrive at the daily finish.
Wine Tasting
And what memorable finish it was each day! As soon as we would reach the premises of a designated wine estate, whether it was in Stellenbosch, Franschhoek, Paarl, Barrydale, or any other place along the wine route, our focus would immediately shift to wine tasting. Instantly forgotten would be calf cramp, saddle pain, sunburn, and fatigue!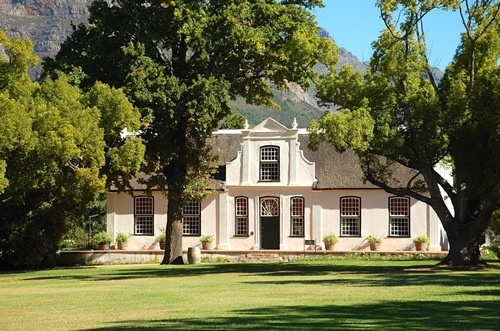 A wine estate.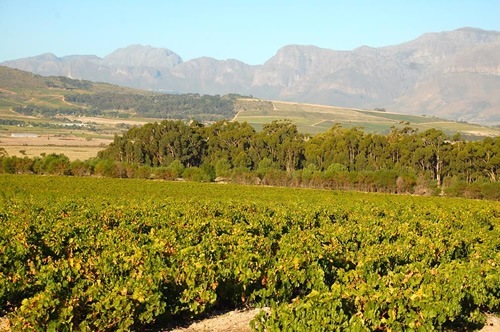 The estate vineyard.
Seated at tables, on bar stools, or under centuries old trees on the lawn of a wine estate, we would taste five or six different wines, typically starting with whites such as Sauvignon Blanc or Chardonnay, then changing to reds such as Merlot, Shiraz, or Cabernet Sauvignon. At last, we would top it off with a sweet desert wine: a red port, or a white Muscadel. The latter was replanted after Apartheid, when South Africa emerged from isolation, but had actually already been used for the first South African wine ever made, in 1659.
The deep red, smoky Pinotage was undoubtedly one of my favorites. This red wine grape was bred in South Africa in 1925 by viticulture professor Perold at the Experimental Farm of the Stellenbosch University as a cross between Pinot Noir and Hermitage varieties, and eventually rose to great fame in postwar years.
While Pinotage makes up a mere 6% of South Africa's vineyards, it is considered the country's signature grape variety, as it is hardly grown anywhere else in the world.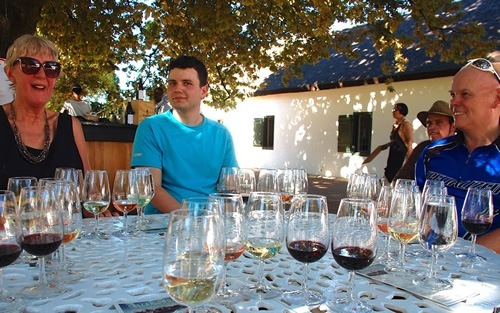 Wine tasting at the estate.
Other Attractions and Highlights
It was not only about cycling and wine on this tour around the Cape, though.
At Cape Argulhas, the southernmost tip of South Africa where Atlantic and Indian Oceans meet, we strolled along the boardwalk through rocks and sand dunes, and visited the lighthouse, presiding over a coastline where many tragic shipwrecks had taken place and numerous traders and adventurers had lost their lives in past centuries.
At the Cape of Good Hope, once called the Cape of Storms, we hiked through the scenic Cape Point Nature Reserve and spotted a great variety of animals, among them ostriches, bonteboks, antelopes, and baboons.
Ostriches sighted at the Cape Point Nature Reserve.
We also hiked through Bontebok National Park in the foothills of the majestic Langeberg Mountains. Although this park was originally established to ensure the preservation of the bontebok, we learned a lot about some of the many varieties of grasses and other plants (about 9,000 species) in the endangered fynbos, including several that are not found anywhere else in the world, such as the King Protea, the national flower of South Africa.
In Hermanus, a picturesque coastal town, famous for whale watching during the southern winter and for world's only whale crier, we enjoyed one day of complete rest, halfway the tour, on one of its sandy beaches.
At Boulder Beach, near Simon's Town, we watched a colony of over 2,000 African penguins—from strategically built boardwalks—wandering freely in their habitat of wind-sheltered coves, bays, and beaches.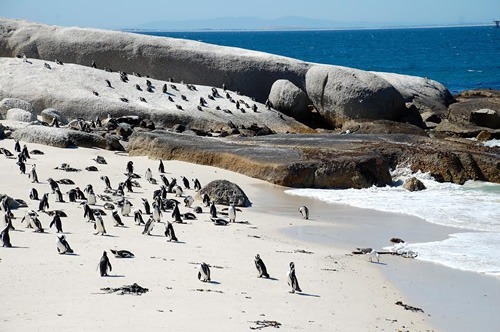 Penguins wandering freely on the beach, sometimes pairing as below.
Every year between October and January, adult penguins replace their worn-out feathers by brand-new ones, and are in that period unable to hunt for fish and feed their young; and each year, the organization Sanccob rescues hundreds of these chicks from starvation, to rehabilitate them and eventually release them back into the wild, in that way saving the dwindling population of this endangered species, the only penguins endemic to the African continent.
Eating and Lodging
Because of its location between two oceans, fertile farmlands, animal diversity, and many different culinary influences, the Cape Peninsula is notorious for its excellent, highly varied kitchen, and we certainly had a chance to sample its riches!
In areas where we had limited or no access to restaurants, our tour leaders did an excellent job preparing us lunches and dinners like braai (BBQ), Malay curry, fish and chips, or fresh salads.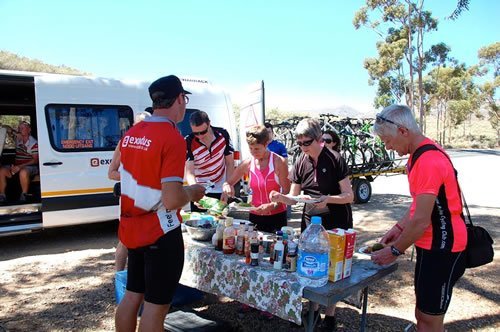 A roadside meal prepared by the tour leaders.
Along the coast, we had opportunities galore to eat our heart out on fish and seafood, pulled fresh from the ocean: Cape salmon, tuna, hake, kingklip, yellow tale, crayfish, peri-peri prawns, and squid, for instance.
In Cape Town and the wine lands, we also tried wild game meat such as kudu, ostrich, springbok, warthog, and crocodile.
At the end of each day, we ended up in cozy and comfortable guesthouses and B&Bs, where healthy and hearty breakfasts were served to ensure enough energy for cycling yet another 60K.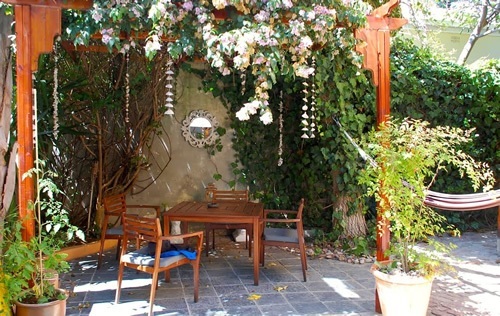 A typical guesthouse, usually with a great view.
Completing the Circuit
The most scenic route was reserved for the last day of our tour, and coincided with part of the Cape Argus route, one of the largest cycling events in the world. Via the spectacular Chapman's Peak, we cycled through picturesque Hout Bay, Llandudno, and Camp's Bay, back to our accommodation in Cape Town.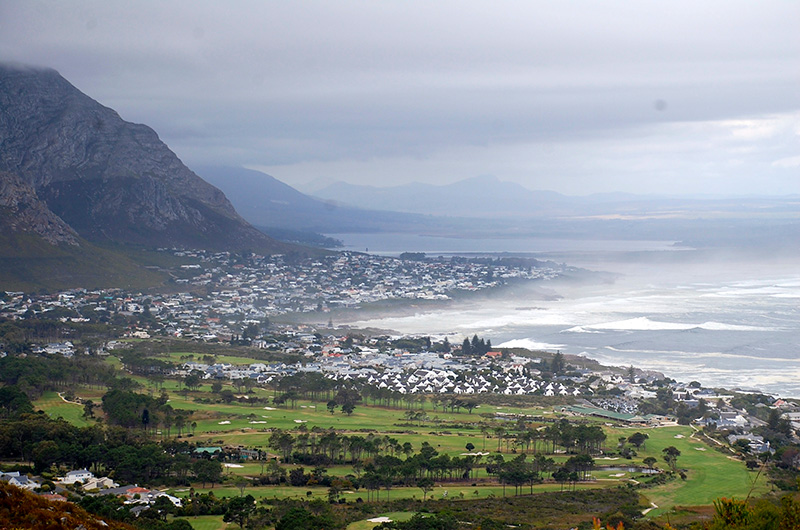 View of Hout Bay.
Before saying our goodbyes, however, we first headed with some bottles of champagne to the top of Signal Hill—a famous spot for sundowners—to celebrate our great achievement, and then danced the night away on the African beat of a live band.
But the next morning, we finally could surrender our sore and fatigued bodies to a well-deserved and highly needed rest.
Additional Trip Notes
The cycling tour was organized by EXODUS and was rated "moderate"
Tours take place in South Africa's spring, summer, and fall months, between August and April
We biked on good quality tarmac roads with little to moderate traffic, but there were no specific bicycle paths
In South Africa, wearing a helmet is mandatory, and one drives on the left side of the road
Lies Ouwerkerk is originally from Amsterdam, The Netherlands, and currently lives in Montreal, Canada. Previously a columnist for The Sherbrooke Record, she is presently a freelance writer and photographer for various travel magazines.