Time Travel in Northern Cameroon: Living Among the Dupa
Article and photos by Lies Ouwerkerk
Senior Contributing Editor
3/19/2018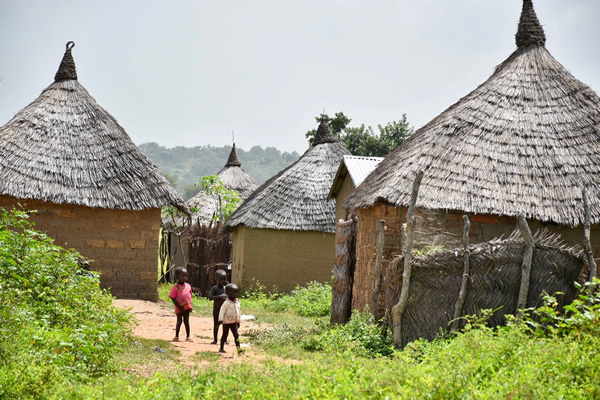 Typical village in Northern Cameroon.
It was not easy to reach them. The Dupa, a traditional tribe inhabiting the green foothills of the Vokra Mountains, north of the small town of Poli, lead a rather isolated existence. Hidden in the bush, oblivious to modern trends elsewhere, they live in small family clusters, men in loin clothes, women and children in small skirts made from forest leaves. Their homes are simple mud huts with cone-shaped thatched roofs, and they feed themselves with cassavas, gourds, and millet harvested from surrounding plots.
From Yaoundé, the capital of Cameroon, our group of six, including an English-speaking local guide, had embarked on an 18-hour-long train ride to the city of Ngaoundere. It had been quite a hot and stuffy enterprise, as we had been ordered to keep the compartment windows hermetically closed, to prevent agile people with grabby hands from forging access while we would stand still at the various stations.
Having arrived in Ngaoundere, we drove for seven hours in a rickety van over dirt roads full of potholes — soaked by the many downpours of the recent rainy season — to Poli, immortalized by the British author Nigel Barley in his book "The Innocent Anthropologist: Notes from a Mud Hut." There, before continuing our final leg towards the Dupa hill tribe, we could catch our breath for a day in the charming Bukaru Lodge — a series of mud huts built in traditional, local style, with stunning views over the Vokra Mountains.
| | |
| --- | --- |
| | |
| Map of Cameroon. We were in the North. | 7 hours of driving over dirt roads. |
The break was also a welcome opportunity to spend some time among the Dowayo and Mbororo tribes living around Poli, and meet a few of their most notorious members. Members included a Dowayo medicine man who explained the herbs and plants he used to cure his tribe members, a fortuneteller who was willing to look in his "crystal ball" for some of us, and a blacksmith-cum-woodworker, who, as a kid, had known Nigel Barley during his 3-year stint among the Dowayo in the 80's.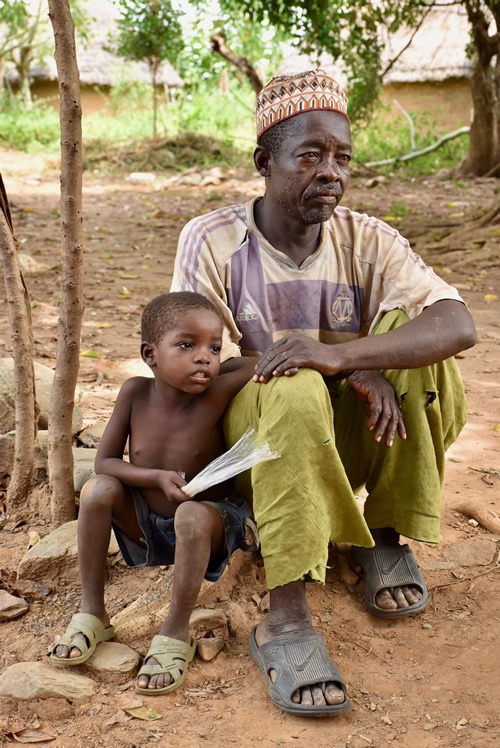 Dowayo medicine man and his son.
Dowayo fortuneteller / spiritual healer and his wife.
Wife of the Dowayo fortuneteller.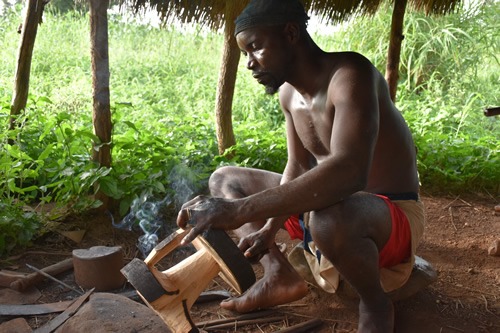 Dowayo blacksmith / woodworker.
We also met some cattle herding families of the semi-nomadic Mbororo, famous for their numerous horned and humped zebus, their facial "beauty" scars, and their yearly Gerewol festival.
Mbororo woman with highly-valued facial tattoos.
The next day, we hiked through bushes and fast-running mountain streams in the Vokra foothills towards the Dupa. We were guided by Bukara camp's local kitchen staff who not only would cook for us in the days to come, but also doubled as porters for our luggage, tents, and food. The staff led us to the premises of a small Dupa enclave, a cluster of about 15 mud huts around a large open "courtyard" at the top of a wooded hill.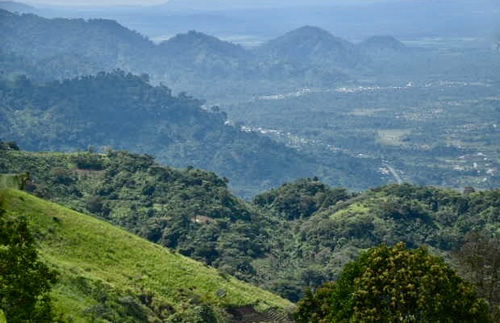 Vokre Mountains.
The tribe's chief alias medicine man, assisted by what turned out to be his eldest son, was in the middle of one of his spiritual healing séances with an ill man from a neighboring tribe. Summoned by his son to take a seat on stones and felled tree stumps serving as chairs and benches, we silently followed the session from a short distance.
The old man muttered some sounds while stirring firmly with his finger in a bowl containing a liquid in which various leaves, branches, and small objects like shells and stones were floating around. Finally, he used a long brush to splash some of the magic concoction on the man's affected body parts, after which the patient thanked him profusely, bowed in reverence, and silently made his exit.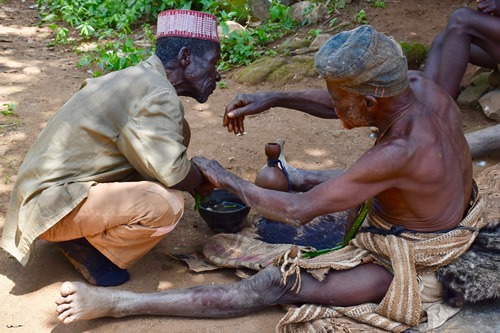 Dupa chief alias medicine man in healing session.
Once the chief aroused from his trance and became aware of his new visitors, our local guide requested permission to join the tribe for some time. We were asked to parade in front of the chief, mention our names, and hold on for a while to one of the biggest shells from his magic bowl. A few words of welcome in the Dupa language followed. The whole exchange could be translated to us via his son who spoke Dupa and Fulfulde (the language of the Fulani, or Mbororo), our Mbororo kitchen help who spoke Fulfulde and French, and our local guide who spoke French and English (the two official languages in Cameroon).
After we were shown the open space where we could set up camp, the chief, reportedly 104 years old (which we called into serious question considering his excellent physique), then took some big bells in his hands and shook them vigorously to announce to other tribe members further afield, that something of importance was about to happen that requested their presence in the enclave.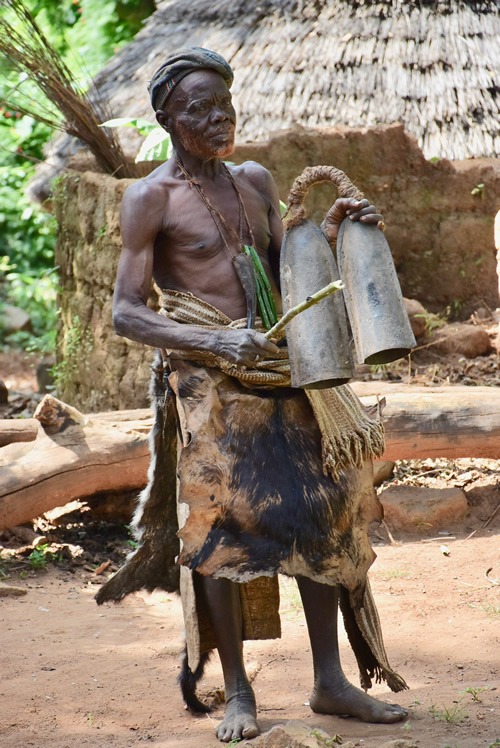 Dupa chief ringing bells to message his tribe members.
One by one, the clan members returned to their huts, greeting us kindly but with reserve. Patiently they let us take pictures, acting subdued, shy, and giggling with each other. By nightfall, however, that initial reserve suddenly transformed into an animated gathering in which all men, women, and children participated in singing, dancing, stamping, and clapping to express a heartfelt welcome to their foreign guests.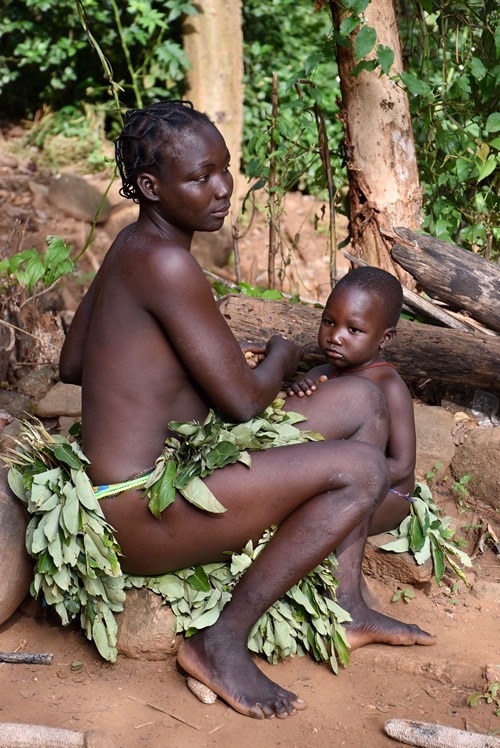 Young Dupa mother with child.
Little Dupa boys.
In the following days, we learned about the daily routines of the tribe. In the morning, each family would receive a ration of millet or sorghum from the chief, who was the only one to have access to the common granary. While one of his sons lifted the straw ceiling of the granary with a long stick, the old man would agilely climb up the outer wall and scoop a bowl of grains from the supply inside.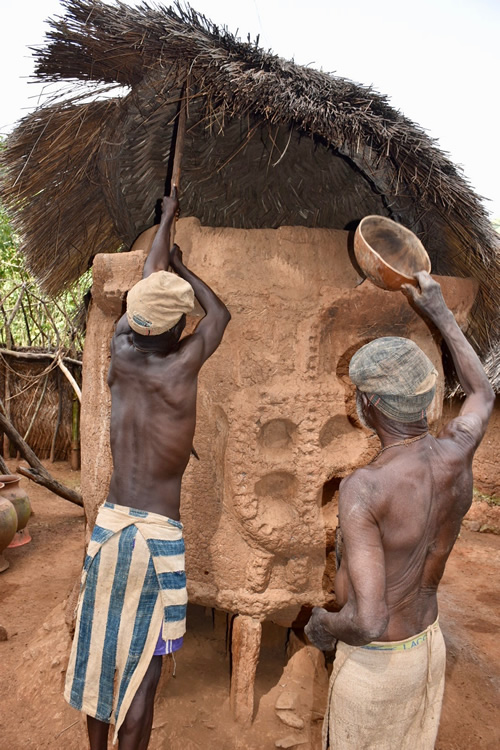 Dupa chief fetching millet from the central granary.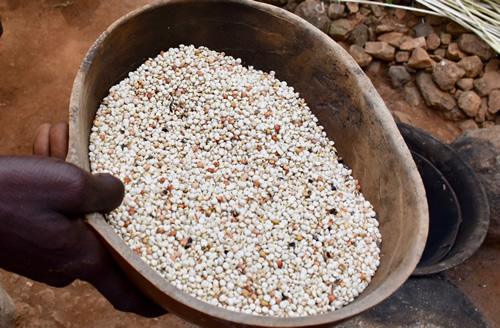 The millet retrieved in a bowl from the central granary.
Inside one of the huts, some older women ground the grains to a course flour by using a small hand-held stone which they kept moving backward and forward. Other women processed the flour on a fire into thick breakfast porridge and soaked the rest of the kernels in warm water for further processing into homemade beer, or bil-bil.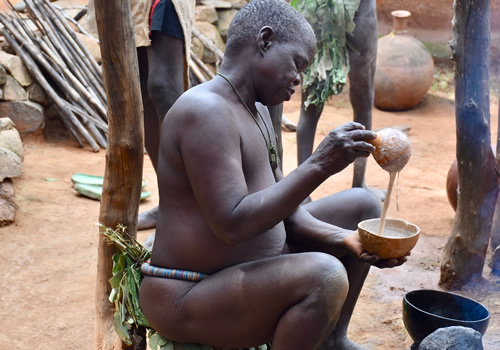 Making millet porridge.
Although working on the adjacent land (at the time of our visit they had already harvested and were clearing the land) with their primitive tools seemed no piece of cake, the clan members made the labor more attractive by singing songs and stopping every half hour to sit down and drink some beer from hollowed-out, halved calabashes. The gourds serve as the Dupa's main utensils. Gourds are used as food containers, spoons, and drinking vessels, as well as music instruments (e.g. percussion) or hats, as protection against the sun.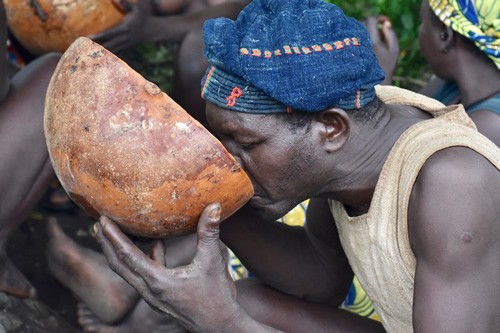 Drinking millet beer from a hollowed-out calabash.
The Dupa are still fiercely holding on to their traditional practices and animistic beliefs, of which ancestor veneration and the omnipresence of spirits in sacred forests are important elements. One morning, the chief's two oldest sons led us to their sacred forest, a 15-minute walk from the enclave and a definite no-go area for outsiders unless accompanied by a Dupa. The densely wooded grove is much revered by the clan because they believe that ancestral spirits house in its sacred trees — symbols of healing and protection, and links between earth and heaven — and can act as mediators between the living and their almighty Gods.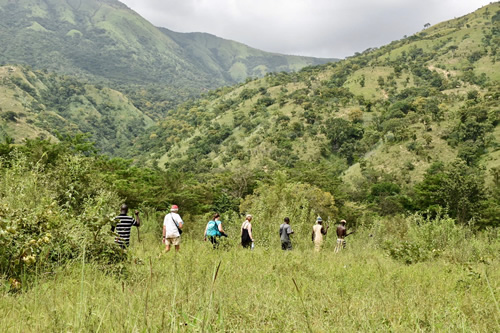 We followed two Dupa men towards their sacred forest.
Asked if one of us would like to make a wish, which the two brothers would then forward to the ancestral spirits, I volunteered and followed them into the dense bush, barefoot on their request, where they spat me with some residues of sacred plants they had been chewing on for a while. After I had uttered my wish and they had called on the divine intervention, we all stood in solemn silence for a few minutes, until they gestured to me that my wish had been heard and the séance was over. (For the record, my wish has indeed since been granted!)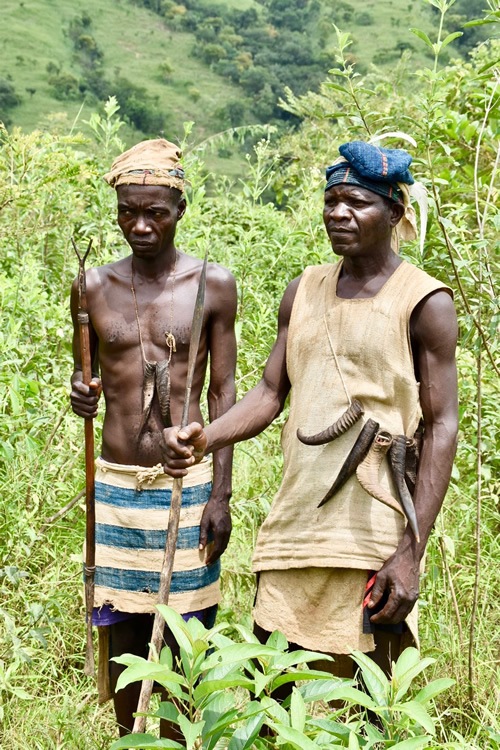 The Dupa chief's eldest sons (the more horns filled with all kinds of paraphernalia one carries, the more important one is).
Although the rainy season was supposed to be officially over, we were suddenly taken by surprise by a severe thunderstorm on our last evening among the Dupa, just as they had prepared their props for a dancing ritual in the courtyard to celebrate the end of the harvest season.
In a matter of minutes, our tents and belongings were inundated with water, prompting our generous hosts to vacate one of their mud huts to offer our group a dry refuge for the rest of the night. The next morning, my soaked sleeping bag and pillow were donated to the chief, who hung them immediately to dry on a big tree branch, and looked like the King of the World with his newly acquired "riches"…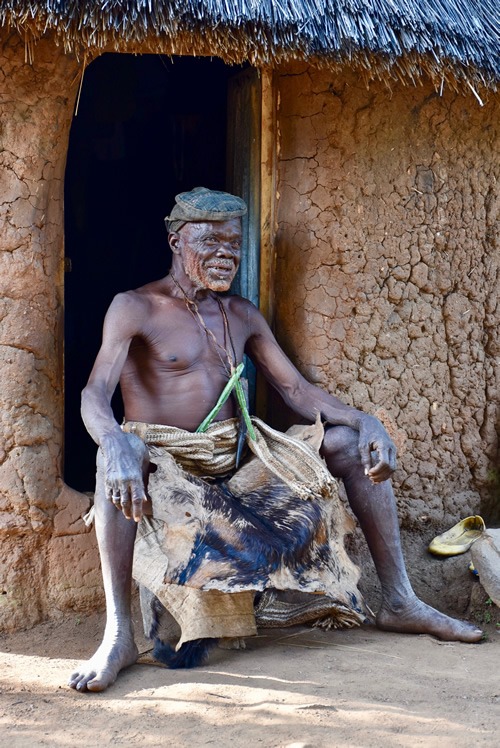 Dupa chief after receiving my (still wet) sleeping bag.
This 13-day-long trip, also including visits to kingdoms and tribes in Central Cameroon, is offered by Native Eye.
Lies Ouwerkerk is originally from Amsterdam, The Netherlands, and currently lives in Montreal, Canada. Previously a columnist for The Sherbrooke Record, she is presently a freelance writer and photographer for various travel magazines.