Living in Mexico
Key Expatriate Websites and Resources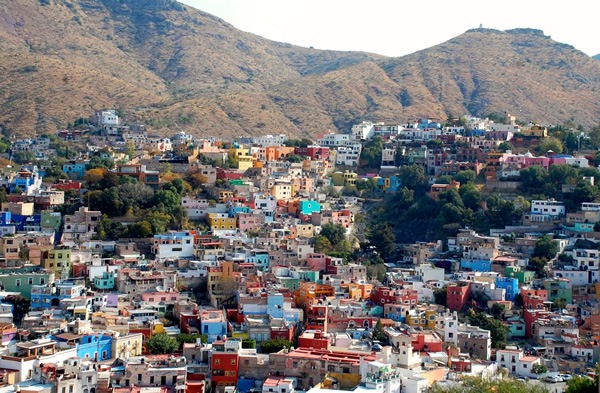 The colorful traditional town of Guanajuato, Mexico. Photo by Lies Ouwerkerk.
Living in Mexico: Where, Why, and How? by Tim Leffel
What You Need to Know to Live in Mexico — Insider Tips by Ted Campbell
10 Tips for Adjusting to Life in Mexico by Ted Campbell
Navigating the New Mexican Immigration Rules: How to Get Legal Non-working Residency in Mexico by Tim Leffel
How to Work Legally in Mexico: The Insider's Guide to Obtaining a Visitor Visa for Work by Ted Campbell
Expat Survival of the Fittest in Mexico by Ted Campbell
On Being a Mex-Pat: Teaching English and Living in Mexico by Jonathan Clark
Breaking the Gringo Ceiling: Making Friends in Mexico by Louisa Rogers
Moving to Mexico: How We Did It and Why by Jan Morgan
Building a House in Mexico by Rachel Hartman
The Benefits of Joining an Expatriate Group in Mexico by Rachel Hartman
Living in Cancun as an Expat: A Family Adventure Abroad by Ilana Long
Retirement in Mexico: Why, Where, and How North Americans Relocate by Habeeb Salloum
Teaching English in Mexico City by Michelle Joyce
Teaching English as a Foreign Language in Guadalajara, Mexico by Emily Miner
ESL Teaching Mexico as a Freelancer by Ted Campbell
Resort Work in Mexico by Elena Switzer
Building Casas with the Habitat for Humanity: Work as a Volunteer in Chiapas, Mexico by Kara Shane Colley
Crossing the Language Barrier in Mexico by Ted Campbell
Art Study in Mexico: San Miguel de Allende Attracts Artists and Students by Kelly Nicholls
Spanish Study at the Instituto Cultural Oaxaca: Perfecting Language Skills at a UNESCO World Heritage Site by Sarah Keyt
Spanish Through the Senses: Language School "Extras" Can Be the Main Course by Linda McDonnell
Guanajuato, Mexico: Love at First Sight by Lies Ouwerkerk
A More Sustainable Face of Mexican Tourism by Tim Leffel
Budget Travel in Mexico and Central America by Tim Leffel
The Magic of Oaxaca Has Returned: A Guide to Touring 17 Villages and Meeting Local Craftspeople and Artisans by Alvin Starkman
5 Routes and Regions for an Authentic Mexican Visit by Ted Campbell
The Ultimate Guide to Eating Authentic Food in Mexico by Ted Campbell
How to Make the Most of Markets in Mexico: Strange Fruit and Cheap Lunches by Ted Campbell
Exploring the Exotic Fresh Fruit of Mexico by Ted Campbell
The Markets of Oaxaca by Ron Mader
Day of the Dead in Oaxaca, Mexico by Ron Mader
Honoring Tradition in Mexico: Visitors to Oaxaca Find Meaning in Dia de los Muertos by Jim Kane
Teotitlán del Valle, Mexico by Ron Mader
The Floating Gardens in Xochimilco, Mexico: Tourism Maintains Local Jobs by Ron Mader
Traveling with a Child in Mexico by Tim Leffel
Mayan Community Tours Enrich a Visit to Mexico's Sian Ka'an Biosphere Reserve by Alison Gardner
The Other Side of Puerto Vallarta, Mexico by Veronica Hackethal
Chillin' in Chacala: Budget Vacations Help a Small Mexican Community by Ande Wanderer

Expatriate Websites and Resources for Mexico
Expat Focus provides information and resources for expatriates for a large number of countries, including Mexico. The website also hosts forums and blogs for expats.
Mexico Connect is an website that provides tons of information on all aspects of living in Mexico, as well as forums for information exchange.
Yucatan Living is an online lifestyle blog for English-language readers about living and working in the Yucatan, Mexico.

Recommended Reading on Mexico

Travel Information for Mexico
Lonely Planet provides a lot of useful travel information on Mexico.
Visit Mexico is a Mexican Tourism Portal maintained by the Mexico Tourism Board.
Planeta is the premier global journal of practical ecotourism run by Transitions Abroad's Latin American and Ecotourism contributing editor Ron Mader. Planeta.com features thousands of articles, resources.
No Hay Bronca: Excellent posts about all aspect of traveling and living respectfully in Mexico.
Yucatan Today is a travel guide for Merida, Mexico and the Yucatan Peninsula where you'll find Spanish colonial cities and cathedrals, mayan ruins, haciendas, exotic birds, caves, and more...