Volunteer in Mexico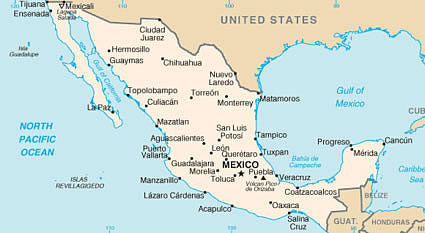 Featured Articles on Volunteer Work, Vacations, and Service in Mexico
Projects Abroad in Mexico
Projects Abroad is the world's largest international volunteer organization. Trusted by over 127,000 volunteers. Discover over 20 exciting countries across 5 continents: Argentina, Botswana, Cambodia, Costa Rica, Ecuador - Galapagos, Fiji, Ghana, India, Jamaica, Kenya, Madagascar, Mexico, Mongolia, Nepal, Peru, Philippines, Romania, South Africa, Sri Lanka, Tanzania, Thailand, Togo, and Vietnam. Volunteer programs start year-round and last from one week to a year. Opportunities exist in teaching, childcare, social work, conservation, community development, medicine, human rights, journalism, international development, language courses, and more! Programs are for ages 16+.


Dates: Start any day you choose.
Cost: Please see our website for prices.
Contact: Projects Abroad Inc. 600 B Street, Suite 300, San Diego, CA, 92101.
Tel: (+1) 212 244 7234.
Email: info@projects-abroad.org
Website: www.projects-abroad.org

Featured
Volunteer Abroad in Mexico from US$270
International Volunteer HQ (IVHQ) offer affordable volunteer abroad programs in Mexico from only US$270. IVHQ offer volunteers a wide range of exciting programs in Mexico including Teaching English, Childcare, Special Needs, Environmental Research and Animal Care/Animal Rights. IVHQ sends thousands of volunteer travelers worldwide annually—you will not find a more affordable, high quality and trustworthy volunteer travel company.
Cost: Program fees start from US$270
Dates: Programs start on the 1st and 3rd Monday of each month. Duration: Volunteers can volunteer for periods ranging from 1 week to 24 weeks.
Contact: International Volunteer HQ, PO Box 8273, New Plymouth, NEW ZEALAND.
Tel.: US/Canada Toll Free: 1-877-342-6588; UK Toll Free: 0-800-234-1621; Australia Toll Free: 1-800-557-380; International: +64 6 758 7949.
Email: info@volunteerhq.org
Website: www.volunteerhq.org

Featured
Volunteer Abroad in Mexico for 4-52 Weeks
Gap year volunteer projects available in Mexico with United Planet! Volunteer for 4-52 weeks in Mexico. Your help is needed on a variety of community-based projects, including working with street children, orphans, and underprivileged youth. Cultural and health care projects are also available. The largest Spanish-speaking country in the world, Mexico has many historical and cultural offerings for volunteers. United Planet's gap year volunteer projects in Mexico are based on full immersion into Mexican culture. You can expect to learn the ins-and-outs of Mexican culture and pick up some valuable Spanish skills!
Contact: Please give the United Planet Team a call at 617-874-8041 or email quest@unitedplanet.org.
More information can be found at: www.unitedplanet.org and for United Planet's Mexico programs at: www.unitedplanet.org/volunteer-abroad/long-term/mexico.
Feel free to visit us from 9 AM to 5 PM at United Planet, Boston Harbor Shipyard and Marina, 256 Marginal Street, Boston, MA 02128.

Featured
Annunciation House
Volunteer in a Hospitality House in Mexico
Since 1978, Annunciation House has provided hospitality to immigrants and refugees on the US-Mexican border. The organization has grown from the original house, Annunciation House, to also include Casa Vides (a house of hospitality for those seeking political asylum and those with longer-term needs) and Casa Peregrina in Juarez, Mexico (a house of hospitality for women and children). A fourth house, Casa Emaus is located in a squatter's neighborhood and provides support and space for community building efforts. The volunteer community has also grown to a full-time volunteer staff of 20 volunteers.
Casa de los Amigos
Volunteer Projects in Mexico
Quaker-run peace and service center in Mexico City holds information on peace and justice movements and volunteering opportunities throughout Mexico and Central America. Casa provides simple inexpensive lodging for individuals involved in service activities. Volunteer opportunities with the Casa and other organizations in Mexico City are available for Spanish speakers able to commit for at least 3 months.
GVI
Mexico Marine Conservation Expedition
Bask in the sun and dive in the refreshing and clear waters of the Caribbean Sea while teaming up with GVI's marine conservation team to monitor the Mesoamerican Barrier Reef, the second largest barrier reef in the world. Here you will also earn yourself a PADI diving certificate, a universally recognized award.
The efforts of our team are coupled with local leading organizations such as Amigos de Sian Ka'an, a conservation-focused Mexican NGO. By collaborating with local partners GVI can ensure to its volunteers that the daily efforts they make will have dramatic and measurable impact on the overall survival of the marine environment.
Love Volunteers
Mexican Volunteer Programs
Love Volunteers' participants have the chance to travel abroad and experience new cultures all while providing essential support to communities in real need. Join the world's fastest growing independent volunteering organization now! Participate in Love Volunteers' voluntary service projects in Mexico and have a truly exciting experience volunteering abroad. Visit our website to check out our range of community-based projects and find out how you can make a REAL difference!
Volunteers for Peace
Volunteer Projects in Mexico
VFP offers over 3000 projects in more than 90 countries every year, including Mexico! Project cost starts at $500, which includes food and accommodation. Types of project include construction, environmental, agricultural, social, work with kids, renovation, art and culture and more! Since 1982, VFP has exchanged over 32,000 volunteers worldwide. Start planning your volunteer adventure or learn how to get involved at VFP.org!
WWOOF Latin America
Volunteers in Organic Farms in Mexico
Volunteer to work in Organic Farms in Mexico. Get to know the land and the people while you live and work close to nature. Part of the network of independent WWOOF host worldwide.