Living Abroad in Argentina
Key Expatriate Websites and Resources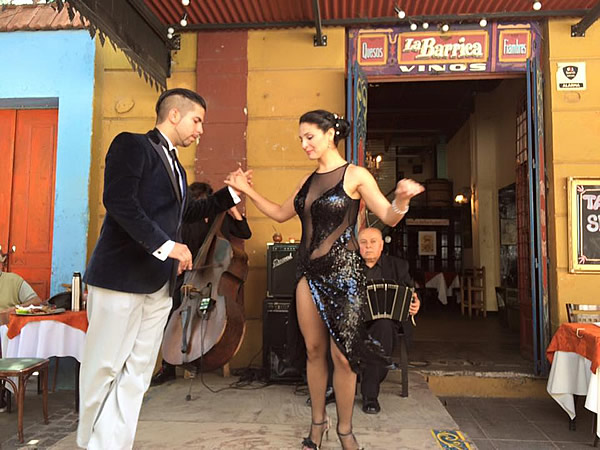 Tango can break out in many places in the streets and dance studios of the city.
Photo by Sophie Mendel.

Art and Culture in Argentina
Ministerio de Cultura, the National Secretariat of Culture, provides a lot of information on cultural programs and events in Argentina.
El Sur del Sur delves into Argentine art, culture, literature, history, folklore, geography, and more.
Piazzolla.org is the online home of Astor Piazzolla and his Tango Nuevo, and provides a plethora on information about one of Argentina's most famous tango musicians.
Museo de Arte Latinoamericano de Buenos Aires Malba provides an overview of Latin American art in its permanent collection, and showcases rotating exhibits as well.

Expatriate Websites and Resources for Argentina
BAExpats is a community site of of expatriates living in Buenos Aires
Internations Argentina is a free membership-only site exploring expatriate life in Argentina, and includes forums, guide, and many groups.
Justlanded provides forums, guides, job postings, housing, and classifieds for expatriates in Argentina.
LandingPadBA is a site for both expatriates and novice travelers. It is an "alternative guide" to living and visiting Buenos Aires—providing many useful resources and helpful articles.

Recommended Reading on Argentina
Lonely Planet Argentina by Danny Palmerlee, Sandra Bao, Andrew Dean Nystrom, and Thomas Kohnstamm
The Rough Guide to Argentina by by Shafik Meghji (Author), Stephen Keeling
Footprint Argentina
by Christabelle Dilks
Moon Patagonia by Wayne Bernhardson

Travel Information for Argentina
Lonely Planet Worldguide provides a lot of useful travel information, with a section on South America, including Argentina.
Rough Guides Destinations offers a lot of useful travel advice and information for most countries, including Argentina.