Living in Buenos Aires on a Budget
Prices Swing Up and Down Historically, But the Dollar is Now Strong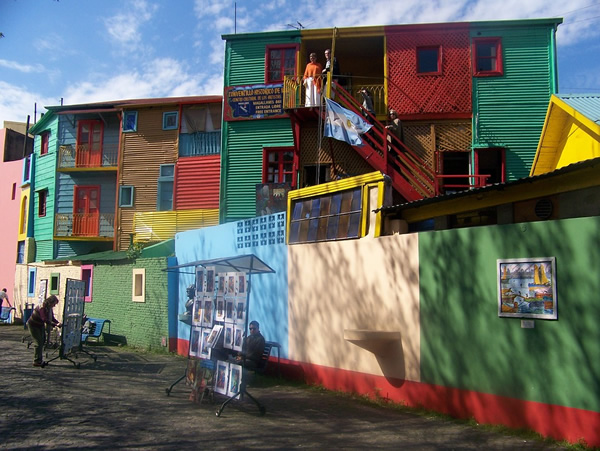 A day in the colorful Caminito neighborhood in Buenos Aires.
Argentina, home to Buenos Aires, the "Paris of South America," was long a paradise for foreigners who were seeking out an inexpensive and relaxing way of life in an ever-sunny climate. The relaxed locals and the nonstop sun remain, and after a long tempestuous period of ups and downs in the economy when the city was not always a bargain—it is a currently a far brighter story for those with dollars.
In 2001, Argentina experienced an economic crisis of crushing proportions. Banks collapsed, and the peso devaluated. Whereas the peso had once been 1 to 1 with the U.S. dollar, it became 3 to 1. Some years later, the peso finally found some degree of stabilization, making it 5 to 1 versus the U.S. dollar. However, since then, with some major swings, inflation and a weakened currency has now made everything in Argentina less and less expensive if you are fortunate to come with dollars. The peso/dollar ration is now a whopping 37 to 1, which means that typical prices (cafes, restaurants, clothing, etc.) in Buenos Aires are now largely much cheaper than prices in the U.S.—good for expats and tourists, not-so-good for Argentines.
Of course, as an expatriate or long-term visitor to Buenos Aires, if you will be shopping for groceries to cook at home, you will find that you can get excellent quality produce and wines, as well as incredibly fresh meat and fish, for very good prices. Likewise, with the recent strength of the dollar against the peso, going out to eat will not break your budget for day-to-day living.
Therefore, here are some ideas and tips for experiencing longer-term a more truly local version of Buenos Aires on a reasonable budget:
Public transport: As the city's transport is subsidized by the government, it costs only 13 pesos from the end of the train line in Retiro to the comfortable green residential suburb of Martinez, for example. Monthly passes for about 600 pesos. For more on the many options to save on subway rides, as well as the many optional rates with discounts, see this resource site with a map of the Buenos Aires metro.


Cultural Activities: Centros culturales. Get very familiar with these words, because this city has some darn good ones, offering to all a massive variety of concerts, theater performances and exhibitions for free or very cheap. Also, check out the online Lonely Planet Guide to Buenos Aires to find out what is going on all across the city. Whether you seek a tango performance in a park gazebo (although people are always tango-ing randomly throughout the city), a rock concert at the main library's auditorium, a showcase of indie musicians from Spain at the Spanish Cultural Center in San Telmo, a photography exhibition at the Botanical Gardens or a street performance in Palermo, you can find out where it is happening. The city's mayor has placed a heavy emphasis on supporting arts and culture. The fee-based events are still definitely worth checking out and usually will not cost you much.



Urban musicians in Buenos Aires.



Shop in Chinatown (Belgrano train station). Here you will find anything you might be looking for, especially highly useful kitchen and household items for a reasonable price. You will even discover a good variety of Indian and Asian spices that are quite hard to obtain anywhere else in the city.


Shop in Once. This barrio is well known for its busy flea market scene, and you will find a fascinating mix of cheap clothing, fabrics, and wholesale goods.


Used books. Each weekend, dozens of booksellers set up stalls up and down Plaza Italia, and while most of the books are in Spanish, some do carry English books. Walrus Books, in the San Telmo neighborhood, offers an excellent selection of high quality books in English at decent prices and can even special order books for you. Avenida Corrientes, between Avenida 9 de Julio and Callao (where all the theaters are) is also famous for its array of mostly used bookstores that stay open late into the night.


Street markets. Plenty of ferias, or street markets, are held all week and each weekend around the city, with an overwhelming number of local artisans offering their one-of-a-kind creations for sale. Browse through hundreds of high quality, handmade items, such as silver earrings or leather mate gourds; find inexpensive handbags, beach dresses, and t-shirts. Palermo is a more central area that is full of designer boutiques and popular with expats and tourists, so cafe prices are high around there, but the several street markets offer fairly priced items that are unique and practical as well. Also, try the residential suburbs like Olivos and San Isidro—where you can find a huge and treasure-filled antique market set up along the train tracks every weekend.


Stroll through the suburbs. Buenos Aires is enormous and very spread out, so it can initially be confusing to understand the geography of the city. There is the Buenos Aires Province (provinces are like the states of Argentina), within which lies Capital Federal, the actual territory of the city. Within a 20-minute train ride, however, you can go from the busy city into the calm residential suburbs, where you'll discover quiet cafes and streets, hidden plazas with weekend art markets, and restaurants and open parks along the river where crowds of chilled out Argentines relax with their trusty sidekicks: a mate and a guitar.


Cheap street food! You will run into handmade, freshly baked empanadas everywhere you turn, with at least a couple dozen different fillings to choose from, for just a few dollars each. Be sure to ask if they have canastitas, which are like open-faced empanadas with even more filling inside. In the center, you'll find vendors setting up grills to offer hot sizzling choripan, sandwich de bondiola, hamburguesas—and all with a scrumptious variety of condiments, including salsa golf, a simple but addictive blend of mayo and ketchup invented by an Argentine golfer. If you find yourself in a panaderia and want to change your life a little bit for just few dollars, ask for a sandwich de miga de palmitos (heart of palm) y salsa golf.


Bottled beer. Maybe you've just conquered a 5-day Mendoza tour or maybe guzzling fernet y cola leaves you wanting something a little less herbalicious. Although Argentina isn't known for its beer, you can grab a few liter bottles of decent beer at any grocery store. A decent bottle (Warsteiner or Stella Artois) will cost you 70 pesos. In bars, it's not common to find beer on tap, as beer is sold mostly in one-liter bottles for about 40 pesos.


After office hours. This is the very practical label used to describe "happy hour," that cluster of evening hours which allows you to indulge in some choice appetizers and drinks at a great discount from the normal menu price. Take advantage of these offers to try out fancier eateries and cheap bars.


Expat community. If you haven't already discovered it on your own, make sure to check out baexpats.org to find out what the expat community is up to (also check out TransitionsAbroad.com's expatriate section for Argentina), who's having a moving out sale, giving away free stuff, wants to engage in a language exchange—or post your own questions and requests. The sooner you get to know people in town—expats and locals alike—the sooner you can get the inside scoop and live more like a porteño.
Living Outside of Buenos Aires
For those who intend to stay in Buenos Aires for the long term and are looking for housing, probably the most important question is: Do you want to live in the city or just outside of the city in the suburbs? If you decide to set up camp in the peaceful, leafy green suburbs (like Martinez or San Isidro for example), it has become quite common for young people to rent out an entire floor of a house. It's called a "PH" (propiedad horizontal) and can be incredibly cheap. I came across a group of three roommates who had rented out an entire little house in the suburb called Beccar for about $350 a month per person. Each suburb has its own train station, so access to the city center is still very convenient, and bus stops are everywhere.
Suchi Rudra has been living abroad and slow traveling since 2006. She funds her digital nomad lifestyle as a freelance writer, specializing in green building + tech, travel, education and entrepreneurship for print and online publications, including The New York Times, BBC Travel, The Guardian, Fodor's and Slate. Her adventures have taken her from chaotic Mumbai to remote Bulgarian villages, from mesmerizing Prague to sexy Buenos Aires and beyond. On her blog, Tread Lightly, Travel Naturally, Suchi shares tips and strategies for working online while traveling the world. Her ebook, "Travel More, Work Less: A digital nomad's guide to low cost living and making money online", is available on Amazon.