Sampling the Arts in Buenos Aires
A Guide to Cultural Travel in a Great and Diverse City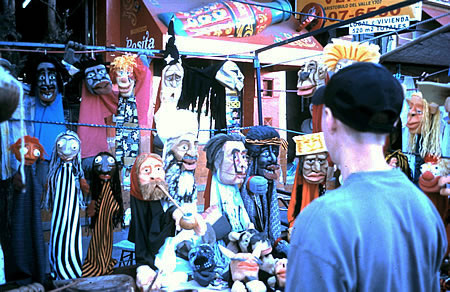 The Buenos Aires dustrict La Boca is filled with street arts and vendors of every sort.
My wife Judith and I have just emerged from the old colonial church of Santa Catalina de Siena, in Buenos Aires' Retiro district, when we notice a sign outside the hyper-elegant Galerias Pacifico shopping mall, saying "Centro Cultural Borges." Peering in the windows, it doesn't appear much is going on, but Jorge Luis Borges has long been an admired writer of mine, so we decide to dip inside, even if just for a moment.
The ground floor has almost nothing, but as an escalator takes us upwards, galleries spring into view. First up is a well-lit, minimalist collection of 3-D art and sculpture—gyrating shapes, mirrors that dissolve and reflect obtusely, words leaping off pages. All of it striking and alive.
Up a few more steps and we're in the midst of a retrospective on graphic novelists—particularly one porteño (as the inhabitants of Buenos Aires are known) with a penchant for extending child-like comics into dark tragedy.
Just as our interest is flagging, we notice another show, around a bend of the floor. This one is a stunning visual exploration of Andean life, featuring enormous color prints of religious ceremonies, Incan architecture, and mountain vistas.
By now our senses are on overload, and as we drift back down the stairs, buzzing over our finds, we nearly miss the sign. It's the visual of two dancers that finally stops us short. What's this? A music and dance performance.
"Almost a play, really," says the ticket seller. "With many top performers."
It's called Bar Tango Bar and it starts in an hour.
Enough time for a cappuccino under the elegant skylight of the Galerias and then we're back—the only foreigners—to savor two hours of tanguista yearning, passion, and melancholy. While the songs are sung in a lunfardo version of Spanish (which is long on local slang), words are unnecessary to follow the thrust of the drama. We find ourselves in an old porteño dockside bar—a handful of tables, a bored waiter, cheap drinks and endless cigarettes—watching would-be lovers in thirties-era dress appear, unravel, and drift forever just out of reach.
Afterwards, a fellow patron stops us at the door. "However did you hear about this?" she wonders. "There was almost no publicity. And such a performance!"
So goes another night in Buenos Aires, where the arts spill into the streets and through every heart in town...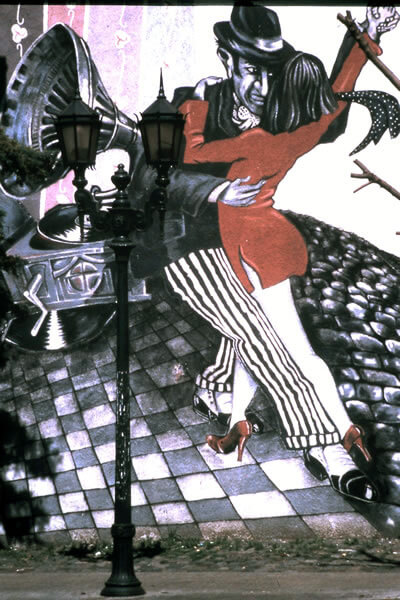 Art and life merge in this unknown street muralist's tribute to tango in San Telmo.
With the dollar still on shaky ground in Europe, this is a great time for travelers to turn their eyes south—way south—to South America's southern cone. If you long for the architecture, cuisine and ambience of Mediterranean Europe, Buenos Aires offers it at prices not seen in Europe for years. Part of its biggest appeal is the vibrant, varied arts scene.
This is a city that truly never sleeps. Think New York crossed with Paris. Or, as Judith put it, "a bargain-rate Barcelona." And just like those other great cities, Buenos Aires is filled not just with booming all-night live music bars and discos (though there are plenty of those), but with world-class art. Some of it is classical and elegant, some of it is edgy and street-smart—but there's no doubt that it suffuses the entire city.
Classical Buenos Aires
A hundred years ago, the freshly-minted cattle barons of Argentina would spend half their year in Paris and then come home to build a city of art nouveau mansions and wide boulevards, with scores of public sculptures and sumptuous concert halls as a sign of their acculturation.
Two locations merit special attention in this regard. The first, Plaza Lavalle, is in the Retiro district adjacent to the city center. In the middle of the leafy plaza, the booksellers' displays call to mind those along the Seine in Paris. The rim of the plaza is ringed by baroque and art nouveau buildings. One of them houses the elegant Teatro Cervantes, home of the national theater. Another is the grandest synagogue in all of Argentina, with a small Jewish museum attached. (Because of security concerns, access to both is limited to those who make advance arrangements.) But finest of all is the ornate Teatro Colon, one of the five greatest opera houses in the world. The season runs November to April, and offers an enticing array of performances in the seven-storey oval hall. Daily tours offer backstage visits that include peeks into the workshops and a chance to sit in the presidential box.
To the north and west is Buenos Aires' most patrician barrio, Recoleta. For a mood of discreet upper class Parisian life, the architecture and statuary of Recoleta make a perfect backdrop. And at the very heart, physically and spiritually, is the world-famous Recoleta Cemetery. This is a city of the dead, with cut-stone streets lined thick with mausoleums and memorials to the first families of the region. Lovers of sculpture and wrought iron finery (not to mention the macabre) can wander for hours. One of the most modest, yet most-visited tombs is that of Evita Peron.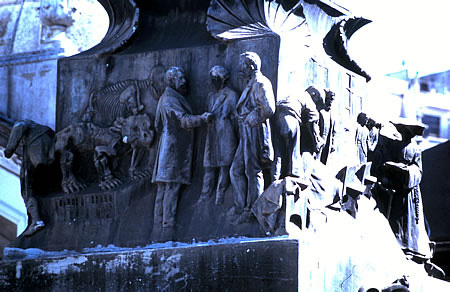 In Recoleta cemetery, this family mausoleum uses fine sculpture to celebrate its ancestors' discoveries of dinosaurs and travel to China..
Streetwise Buenos Aires
The neighborhood of San Telmo, by contrast, is a slightly-crumbling collection of old colonial mansions and antique shops, that offers a weekly artists' fair in its central plaza. More importantly, it lives on its reputation as the birthplace of tango. This quintessential Argentine music emerged at the turn of the last century as a maudlin, yet erotic diversion for sailors waiting in the parlors of houses of ill-repute. From its humble working-class background, tango has expanded into… well, frankly, into a way of life. The top musicians appear in large concert halls; singers can be heard nightly in a host of tango bars; strolling street performers pop up in cafes and along the pavement. The sound of tango is a backdrop to all of porteño life. And that's just the music: tango dance casts an equally wide net, with milongas (tango dance halls) shifting locales from night to night, couples in 1930s period costumes gliding cheek to cheek on various thoroughfares, and visual artists who sell tango-related creations at outdoor stalls. Tango memorabilia (CDs, sheet music, old photos) can be found in shops large and small. There are whimsical statues of Carlos Gardel (tango's greatest singer) who died tragically in a plane crash in 1935, and posters of Astor Piazzolla (the greatest exponent of tango nuevo) whose work suffused the seventies and eighties. San Telmo makes a great spot for a tango experience, but it's hardly the only locale to consider.
Further south you will find the old Italian worker barrio of La Boca. Thick with Genoese, who built their tenements themselves from the stripped wooden hulls and corrugated iron of their ships, La Boca has transformed itself from grimy port slum into a living art museum. Initially spurred on by the visionary painter Benito Quinqela Martin, the inhabitants have discovered they can coax a healthy flow of tourist dollars by catering to the concept. While there is undoubtedly something of the atmosphere of "tourist trap" present at times, it's hard not to applaud a community for making the most of its modest situation. Just compare the streets around Caminito with those a few blocks away. Which spot would you rather live in?
There are more than a dozen small restaurants offering specials of the day and live music—not just tango, either. For example, El Samovar de Rasputin is the best blues club in town. There are artists' workshops, crafts for sale both in the streets and in many of the painted buildings, murals and sculptures pop up in unexpected spots, there are a couple of informal museums and, of course, there are always tango dancers and musicians. (Look for roving bands of drummers and dancers in other styles as well.)
Don't overlook the literary heritage of Buenos Aires either. Best known to foreign audiences is probably Jorge Luis Borges, the nearly-blind fabulist and philosopher whose short works explore multiple parallel realities. Borges' compatriot, Adolpho Bioy Casares, wrote expressively of barrio life in the city. On Heroes and Tombs, by Ernesto Sabato, draws the reader deeply into the people and places of Buenos Aires. This is a very rare book in English, but a huge cult favorite locally. There are many fine bookstores—new and used—scattered throughout the city. Those who can read in Spanish will have hours of happy hunting ahead of them. For English readers, El Ateneo on Calle Florida has the best selection.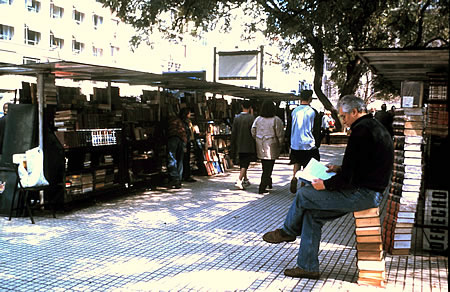 Buenos Aires' literary heritage is deeply woven into the fabric of this city. Booksellers are much in evidence, including this outdoor stall on Plaza Lavalle..
We haven't even touched on the fine arts galleries, or the rock 'n' roll scene, or the scores of imposing public sculptures. Whatever your fancy, Buenos Aires is sure to have an angle of interest.
If You Go
Getting There: Buenos Aires is served by major airlines worldwide, though the Ezeiza Airport is surprisingly compact. During special offers, you can find Miami-BA nonstop roundtrip for as low as $600 or so, depending on dates. Prices on range from $800-$1000 (from New York). The LAN airlines (LAN Chile, LAN Peru, etc.) sometimes offer deals as much as $100-200 cheaper. These will typically require 3-4 extra stops in flying a zigzag pattern from the U.S. to Argentina.
From the airport, either take a cab (use a radio taxi only, for safety), or catch the Manuel Tienda de Leon shuttle bus, which will often drop you directly at your hotel. If you don't mind a 90 minute trip, Bus 86 runs from the airport to Retiro.
Accommodations: There is a huge array of lodging options in Buenos Aires, ranging from basic weekly-rental apartments on up to predictable luxury. But for the reasonably adventurous traveler, there is something that Buenos Aires does as well or better than anywhere else in the world. This is the vast and vibrant hostel scene, which has no limitations on age or curfew and offers clean private rooms with bath, if so desired.
Some hostels are intense party scenes for the younger set (check out the Milhouse, with dorms from $8, for example). But there are also hostels features friendly, English-speaking staff and intriguing settings. More information on hostels in Buenos Aires is available if you search and compare on hostelworld.com.
Editor's Note: View our selection of guidebooks on Argentina.
For daily news and details, visit www.buenosairesherald.com.