Teach English in Buenos Aires
Paid and Volunteer Work Opportunities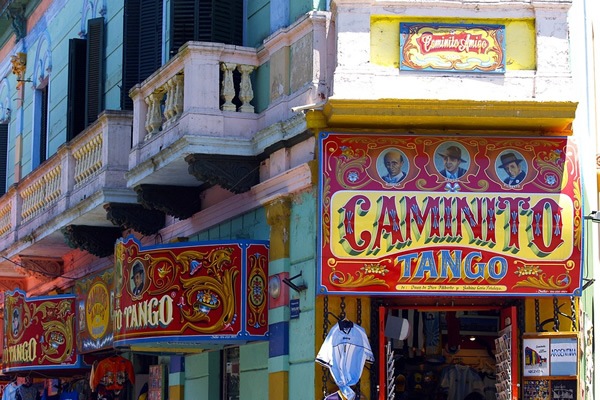 What job integrates you into a new culture, helps you make friends, and assists others in bettering their lives? Teaching English abroad is one of the few careers offering such bonuses, and many more. And it is a thriving career base for many expatriates in Argentina.
With a population ranked as the second largest in South America, a polyglot gene pool that is derived from a mix of foreign immigrants (70% of Argentines have a European passport), and a 97% literacy rate, Argentina is an expansive country filled with opportunities for teaching English as a foreign language. There are over 30 bilingual educational centers in Buenos Aires alone; in fact, the cosmopolitan city is the first urban dwelling in Latin America to institute multilingual public schools. Learning English as a second language is especially common among the young.
The options that are available to those interested in teaching English vary in Argentina. From private homes hiring a live-in tutor to luxury private schools to adult tourism-based language classes, there is every scenario imaginable for those willing to look for the teaching experience they want.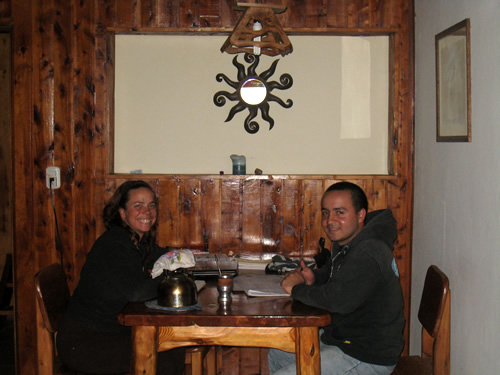 Shanie teaching Fabian English.
Teaching English in Buenos Aires
The metropolitan, South American city of passion, the "Paris of South America," is usually the first place that people think of when considering a move to Argentina. With a population over 12 million, there is a diverse pool of Porteños (the name given to those living in and around Buenos Aires) looking for help with their English skills, especially from native speakers.
Finding TEFL (Teaching English as a Foreign Language) work in Buenos Aires depends upon your tenacity and level of training. Allison Burgess, an American originally from Waco, Texas has been teaching in Buenos Aires since March 2007. For Burgess, finding work was relatively simple, "Finding a teaching job was very easy. Teachers are always needed (in Buenos Aires). And they are always coming and going." But she does feel that arriving in the city with a background in teaching helped her, "I received my teaching certification through Bridge-Linguatec. It's a business based out of Denver, Colorado. Now that I'm here, I don't believe it was a necessity so to speak, but I do believe that it was easier and quicker to find jobs since Bridge-Linguatec offered many of the contacts and promoted us. I would say, though, that I found it to be quite expensive, around US$1,000 and I'm not sure how much it is now."
Ronnie, a member of the Buenos Aires Expat Forum also used a Buenos Aires certification program to start her teaching career, "I received my certification from EBC (a TEFL certification school) here in Buenos Aires. I didn't look for work before I got it, but found work slowly and steadily once I was certified. I have found most of my jobs through EBC."
Claudia Guershanik, an Argentine that has lived and taught English and Spanish in New York, London, and Buenos Aires, also found work quickly, "It was extremely easy for me because of my experience and qualifications. Within hours of sending my CV (resume), I was being called to have an interview. I have a Masters in teaching English to students of other languages from New York. The more qualifications you have, the better it is to find a well-paid job. And if you are a native speaker of English, it will be very easy to find a job."
Guershanik recommends a few different pathways to finding employment, "…check with major language institutes and universities on the web and walk around leaving your resume…" Another sure way to find students is merely getting to know your surroundings. With the extensive interest that Argentines have in English, the majority of locals are looking for help with the language. Or they know someone who is.
When it comes to getting paid, the level of certification greatly affects your pay scale. For Guerschanik, her wage has run the gamut from about $US5-$18. She says, "Let's face it, if you decide to become a teacher you know you won't be making millions of dollars!"
If you are new to teaching and are hoping to gain experience while abroad, there is another choice: volunteering. There are programs that do not require any previous qualifications to participate in their teaching programs. Road2Argentina offers volunteer teaching projects for children in Buenos Aires (see an article on the experience of teaching with Road2Argentina). Working with children and young people in small groups. IVHQ also offers opportunities teaching in Buenos Aires. These types of organizations usually help with your accommodations, often with a host family or shared apartment.
Beyond Buenos Aires
Although Buenos Aires is the largest pool of TEFL jobs in Argentina, it is by no means the only way to teach English. Major cities like Mendoza, Salta, and Bariloche are also areas continually looking for native English speakers to assist locals with their foreign language skills. The basic difference is the number of jobs available. There is one bonus to the smaller urban dwellings, however: Due to the lack of schools offering TEFL certification outside of Buenos Aires, the number of people looking for jobs diminishes greatly.
Bariloche, a bustling city framed by the protected, old-growth forests of Parque Nacional Nahuel Huapi, has a surprising amount of schools offering English. The population, which is quickly nearing 150,000 year-round locals, has over a dozen schools that offer TEFL programs to adolescents and children. Bariloche, being Argentina's second most popular travel destination, is also filled with companies that work with English-speaking tourists. This provides a large pool of local adults looking to practice with a native English speaker.
Ingrid Lundgren—an Iowan native that has taught English in Mexico and Bariloche—not only found a job quickly but was also impressed with the experience overall, "Finding work in Bariloche was very easy. I found the work, in comparison to other teaching jobs, good. I was given a lot of autonomy to teach what I wanted, independent of the Teacher's Manual. I had three classes, one of young teenagers that were at a basic level, one of older teenagers at an intermediate level and one of advanced teenagers. All were very nice. It was only the class of younger teenagers that got bratty. But that was only for three hours a week. When I look back, my favorite memory is my students. They were all very interesting and friendly people."
As in Buenos Aires, a previous level of teacher's training is required for the paid positions. Lundgren, who has been teaching for only a year, was able to find a job because of her certification, "It was a necessity to have a TEFL certificate in Bariloche, although I did find some jobs in Buenos Aires that did not require it."
There are also programs in Bariloche that offer volunteer programs for those wanting to teach English, yet don't have the credentials. La Montaña Spanish School offers programs that incorporate activities, adventures, and classes with the poor communities surrounding Bariloche. To help create the best experience possible, they try to learn as much about the potential volunteer first, wanting to know your interests, language abilities, and motivations for wanting to be involved. There are a few requirements as well; you must be willing to work a minimum of twenty hours per week and pay a fee of $125 (or $100 if you are enrolled in their school) to help finance the children's activities.
Tricks to Getting the Teaching Job You Want
Whether you are looking in Buenos Aires or are venturing out into other areas of Argentina, there are a few tricks to the trade when looking for work. Use the following pointers to help you find the job you deserve:
Research and contact as many education institutions as you can through the Internet first. Look for language school directories, online sources for new schools opening up and online newspapers for advertisements. Check with Craigslist, as well, for job positions.
Have a well-scripted, up-to-date resume to send to possible candidates. It is usually favorable to send a decent photo with the CV.
Pick up the phone and call the school to introduce yourself. This forward approach helps the school see that you are serious and shows that you respect their time.
If turned down initially, keep a record of when the administration was approached and follow up by email or phone call a few weeks later.
Try to be in Argentina when applying for jobs—it often helps immensely in nailing the job down.
Remember to protect yourself when applying for employment; ask about the salary, days your presence is required, whether you are expected to work in various locations, if transportation included, what type of visas are required, if any, etc.
Teaching English in Argentina can be an awarding experience, even if it does not pay a lot. For Burgess, teaching not only brought great memories but love as well, "I met my boyfriend teaching. He was one of my very first students. We are now planning on marrying." So you never know; the job that you took to learn another culture and extend your time abroad may change your life forever.