Visit Remote Patagonia, Argentina on an Adventure Tour
Article and Photos by Lies Ouwerkerk
Senior Contributing Editor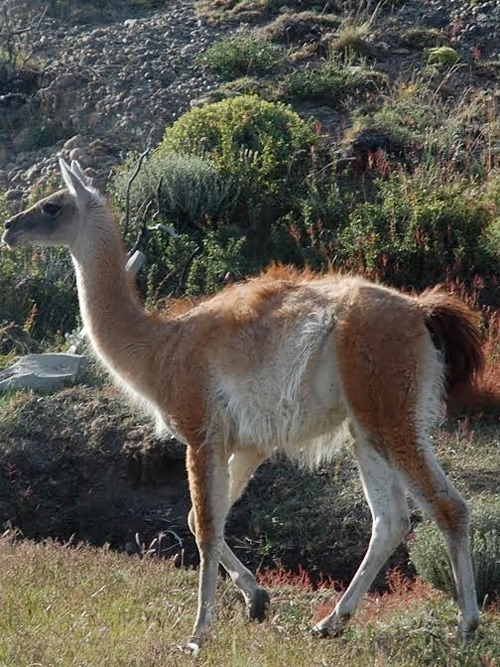 A guanaco strolling in the hills of Patagonia.
Having watched breathtaking photographs and documentaries of Patagonia numerous times, these were the images that stayed with me and brought this "uttermost part of the earth" to the top of my must-see list this winter: the pink granite walls of Argentina's Fitz Roy Massif basking in the early morning sun, the spectacular ice-blue wall of the Perito Moreno glacier and the roar of ice blocks falling in the lake beneath, and the impressive, nearly invincible towers of Chile's Torres del Paine National Park. I simply had to see it for myself!
Going Local
I had been tossing several ideas before finally making it happen. Traveling solo could be the cheapest solution, but I would need ample time to travel around and take care of rather complicated connections between the various towns and parks. I could also fly directly to El Calafate and El Chaltén, and limit myself to the most interesting treks and excursions offered by local agencies, which happen to be there in abundance, but I would have to miss out on many other worthwhile sights. Wanting to see as much as possible in a relatively short period of time, and taking into account that for a solo traveler trekking could be hazardous, I ended up choosing a third option: I booked an all-inclusive budget tour with a reliable agency in Buenos Aires, leaving logistics and fees in the hands of local entrepreneurs, and assuring myself of guides and company.
Starting in Argentina
I was welcomed at Calafate Airport by a representative of CAMINO ABIERTO and escorted to a shuttle that dropped me off at Hostal del Glacier Pioneros, our first night's accommodation. There I was met by our tour leader Facundo, as well as by my eight trekking companions, hailing from England, Scotland, USA, and Brazil, and varying in age from 25 to 65. To break the ice, CAMINO ABIERTO had organized a welcome dinner in one of the better restaurants in El Calafate, where we were invited to dig into generous platters of lamb and sip from an Argentinean wine, while Facundo unfolded the plans for the two upcoming weeks. Our first destination would be El Chaltén, in the northern part of Argentina's Glaciers National Park, gateway to the impressive Fitz Roy Massif and Cerro Torre. From there, we would slowly make our way southwards.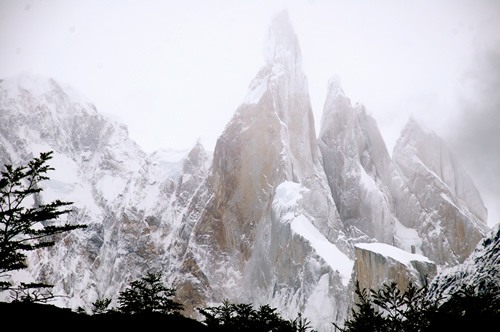 The Fitz Roy spires finally are visible.
Weather
We started hiking under perfect weather conditions along the gentle slopes of the Fitz Roy trail, passing various excellent viewpoints for watching the intriguing spires and vertical granite walls of these imposing mountains. This was Patagonia at its best! So confident had we already become about our good weather fortune, that the sudden rain on day 3 and 4 hit us like a ton of bricks. Of course, we were all forewarned about the possibility of cold and windy days in Patagonia, and we knew how to dress in layers, from thermal underwear to gloves and woolen hat. But nothing had prepared us for a steady downpour that went straight through our backpacks and clothes, and totally blocked the view of what we had hoped to see: the Fitz Roy massif spires, Cerro Torre, and the Adela range.
Ups and Downs
Due to the extreme weather conditions, we had to cancel the planned "Holiday on Ice", an excursion we all had been very much looking forward to: crossing Fitz Roy river by means of a Tyrolean traverse (a horizontal fixed rope attached to both sides of the river), visiting the crevices and ice caves of Glacier Grande, and practicing ice climbing with an experienced mountain guide. But humor fortunately got the upper hand when we arrived, dripping and soaked, at Cerro Torre base camp and discovered that a hearty meat stew and dry sleeping bags in already set up igloo tents were awaiting us. In fact, the rain also washed away all possible barriers and differences between participants and made us there and then a very cohesive and supportive hiking group for the remainder of the trip.
Staying a good sport in the face of adversity clearly paid off, as the clouds started to open up early next morning, and the white-powdered Fitz Roy spires suddenly became visible through the lifting fog, peacefully reflected in all their glory in the water of Laguna Torre during our return trek to El Chaltén. Once back in this small mountain town, the comfort of Pudu Lodge and the excellent cordero asado in one of El Chaltén's many eateries felt like well-deserved rewards.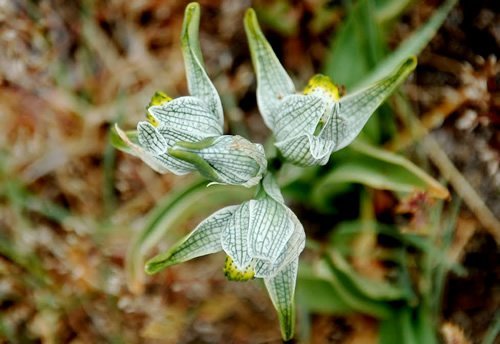 One of the 4 orchid varieties around El Chalten.
Perito Moreno Glacier
Standing eye in eye with the giant Perito Moreno Glacier, set in Lake Argentino in the southern part of the Glaciers National Park at a 78 km distance from El Calafate, was an absolutely unforgettable experience, in spite of the crowds that such a wonder of Mother Nature inevitably attracts. There is a walking circuit with balconies to view this spectacular UNESCO World Heritage Site, 4 km in width and towering more than 60 m. above the surface of the water. We took a short boat ride in front of the south wall where we watched and heard massive ice blocks calving off and crashing down into the water below. We also partook in a "mini-ice trek" with an experienced guide, hiking on the icy surface of the glacier with crampons attached to our boots, and enjoying incredible close-ups of the many spectacular formations of the blue-hued Perito Moreno.
Perito Moreno Glacier.
Chile
After crossing the border into Southern Chile, we headed for yet another UNESCO (Biosphere Reserve) Site: Torres del Paine National Park with its world-famous mountains such as Paine Grande, the Horns, and the Towers, as well as lakes, rivers, glaciers, waterfalls, and a rich wild life including guanacos, caracaras, condors, and buzzards.
For another three nights we lodged in full camps, this time with better toilet facilities than the basic latrine types of Argentinean camps, and with dinners in comfortable lodges rather than in tents. Standing out was undoubtedly the trek from Estancia Cerro Paine via the Ascensio Valley to the Towers viewpoint. There we found a glacier-originated lagoon of a milky-green color as backdrop for the iconic Paine towers rising 1 km vertically from the glacier.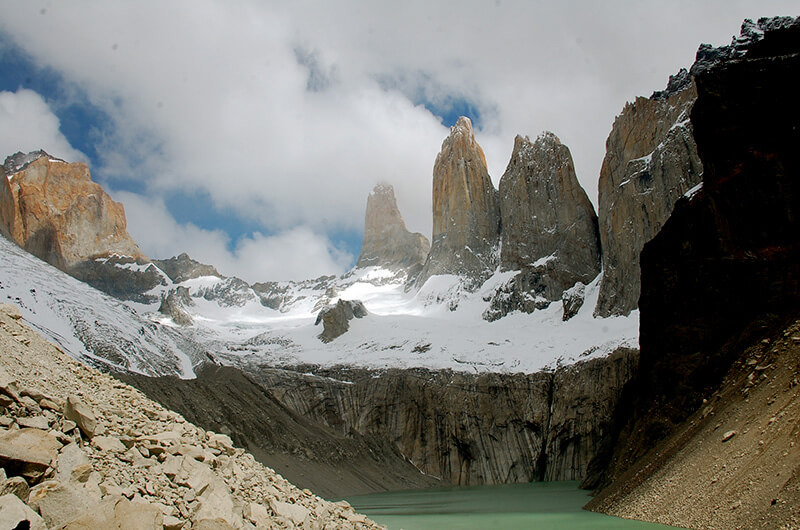 The Towers viewpoint in Paine National Park.
Patagonia's Other Face
Patagonia is not only about mountains and trekking, however. Once we had boarded the ferry, crossing the legendary Magellan Strait toward Tierra del Fuego (literally: "land of fire," due to the fires of the local Indians for cooking and heating, noticed by early seafarers), a totally different landscape unfolded before our eyes: wide blue skies, sub-polar forests, and endless steppes with herds and herds of sheep. We stayed at one of the typical sheep ranches, took a boat ride through the Beagle Channel to watch colonies of walruses and cormorants, and enjoyed a memorable 'King crab by the kilo' meal in Argentine Tierra del Fuego's capital Ushuaia—the southernmost city of the world and port for cruise and expedition ships to Antarctica—before heading back to Buenos Aires, Santiago de Chile, and beyond.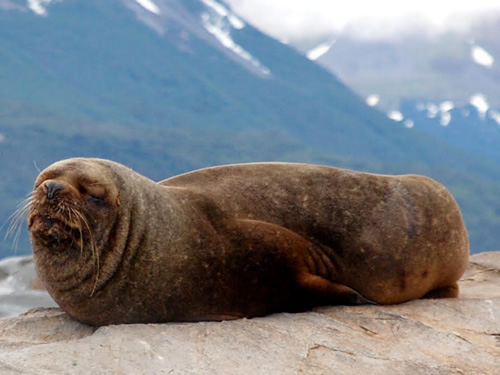 A sea lion relaxing on a rocky ledge in Beagle Channel.
For More Information
The total cost for this 15-day tour with CAMINO ABIERTO, perfectly executed by knowledgeable, English speaking guides, came to US$1950, including shared accommodations (about 1/3 tent, and 2/3 hostel), transport between all bases from El Calafate to Ushuaia, additional local guides on all treks and excursions, and practically all meals. Note: Tours and prices subject to change.
For more info: SAY HUEQUE (where trips with CAMINO ABIERTO and flights can be booked). For lodgings and excursions only visit Del Glaciar.
The best time for the outdoors in Patagonia is from late October until early March, when it is spring and summer in the southern hemisphere. Be prepared for four-seasons weather anyhow, as weather conditions vary and change fast in Patagonia!
Hikes averaged 6-8 hours a day and were all of moderate level—fitness and good health being the most important requirements.
Lies Ouwerkerk is originally from Amsterdam, The Netherlands, and currently lives in Montreal, Canada. Previously a columnist for The Sherbrooke Record, she is presently a freelance writer and photographer for various travel magazines.