Spanish Language Schools in Argentina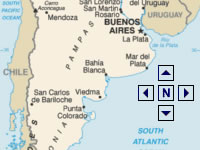 Language Immersion Vacations WORLDWIDE!
Argentina (Buenos Aires, Cordoba, Mendoza, Bariloche — Spanish)
We offer a variety of language courses worldwide for all ages and budgets. Immerse yourself in the local culture, pick your accommodation type and enjoy many cultural activities with international students from around the world. We enjoy what we do and that's the difference!
Cost: See website
Dates: See website
Contact: Language Vacation, 1056 Masters Lane, Minden, Ontario K0M 2K0 Canada
Tel: Toll Free 1 888 494 3974 / 416 682 0898
Email: info@languagevacation.com
Website: www.languagevacation.com
Featured
ABA Academia Buenos Aires
Language School in Argentina
We are a renowned and professional, independent Spanish-language institute in the heart of Buenos Aires, Argentina. Our aim is to offer you an efficient and pleasant way of quickly improving your Spanish language skills through customized teaching and a full immersion in the Argentine way of life. You can choose between individual and group learning, on all levels from beginner to highly advanced, you will be sure to find a course that fits you.
Visit: www.academiabuenosaires.com
Ailola Buenos Aires Spanish School
Ailola Buenos Aires is a locally owned and operated English school that has an enthusiastic team of professionals on hand to provide top-notch language learning services. The school was founded in 2005. Ailola Buenos Aires might just have the best location of a Spanish school in Argentina! You'll find it on level 3, in office #10, in the captivating Palacio Barolo. Once the tallest building in the city, this pristine historic palace located at 1370 Avenida de Mayo was modeled on the cosmology explained in Dante's Divine Comedy – there's a purgatory, a heaven and a hell. The school consists of 8 bright, quiet and spacious classrooms, a cozy lounge area, bathrooms, air conditioning and heating as well as WiFi access and free access to 3 student computers.
Visit: www.ailolabuenosaires.com
Argentine Universities Program
Learn Spanish in Argentina at a University
COPA offers an integrated study opportunity in which undergraduate students live with Argentine host families and study with degree-seeking Argentine students. Three partner universities offer unique blends of location, academics, and student population. There is a research track available. Academic program includes optional program classes and a required Spanish course. A 6-week, non-integrated summer program is also available. All coursework is in Spanish.
COINED
Spanish Schools in Argentina
The best way to really get to know a new culture is by learning its language. In our schools we offer different Spanish courses fitted to all ages and skills: Intensive, Immersion, Private, Tango, Salsa, Ski, Dive and more! In Argentina, you can choose and combine different destinations: Córdoba, Buenos Aires, Mendoza, Patagonia — Puerto Madryn, Bariloche and Ushuaia.
Visit: www.intercoined.com
ECELA Spanish
6 Spanish Language Immersion Schools in Argentina, Peru, and Chile
Language immersion schools with excursions and cultural activities in Buenos Aires and Mendoza, Argentina; Santiago and Vina del Mar, Chile; and Lima and Cusco, Peru. The emphasis is on small-group conversations for more intimacy while allowing for immersion.
Visit: ecelaspanish.com
Español en Bariloche, Argentina
Lessons specifically tailor-made to meet travelers needs, focused on listening and speaking skills. Basic grammar.
Expanish
Learn Spanish in Buenos Aires
Courses of 20 hours to 30 hours per week. Classes with an average of 6 students and no more than 10. Available for Beginners-Advanced. During these classes Spanish will be spoken throughout with only English offered to aid the student. These has been proven to be an extremely effective way of prompting the learning process of our students. Group, Crash Course, and Business classes also available.
Visit: www.expanish.com
Instituto de Español Rayuela
Spanish Group Courses and Tailor-Made Private Lessons in Buenos Aires, Argentina
Founded in 1993 by professional Spanish teachers, our school is committed to quality teaching and constant research in approach and method. We offer intensive and semi-intensive group courses, tailor-made private lessons, cultural activities, and different accommodation options to students of all levels and needs. We are located in San Telmo, one of the oldest and most beautiful areas in Buenos Aires.
Visit: www.spanish-argentina.com.ar
La Montaña Spanish School
Spanish in Patagonia, Argentina
Patagonia - Bariloche. We offer small group classes and private classes at all levels, the whole year around. Also possibility for homestay, volunteer work and we organize afternoon activities.
Visit: www.lamontana.com
Mente Argentina
MA Spanish School
We offer weekly Spanish courses in Mente Argentina's Spanish School. If you are thinking about studying one of the following topics, this option might be the most suitable for you: Regular Spanish Lessons; Private Spanish Lessons; Spanish Lessons in reduced groups; Legal Spanish Course; Medical Spanish Course; Spanish Literature; Advanced Conversation; Advanced Composition; Latin American History.
Visit: www.menteargentina.com
Mundo Español
Study Spanish in Buenos Aires and/or Córdoba
Come to Argentina and enjoy top-quality Spanish classes and a wide range of exciting cultural and educational programs! Study Spanish in Buenos Aires and/or Córdoba; participate in an Internships in a national or international company; engage in a Volunteer program; learn how to dance Tango; play soccer in Maradona's country; visit Buenos Aires, the Pampas, Iguazu Falls, Train to the Clouds, Patagonia; design your own program!
Visit: mundo-espanol.com
Verbum Spanish School in Buenos Aires
Verbum school offers a variety of Spanish language courses, personalized attention and a friendly environment. The school offers from short-term to semester-long courses and general Spanish courses as well as courses for specific purposes (business, medicine, etc.). We also offer accommodation, tango classes and volunteer opportunities. Group courses are small (average 4 students and maximum 7). Our school is an authorized examination centre for the International Diploma of Spanish (Fidescu) and students can take this exam at the end of their courses. Immerse yourself in the local culture and enjoy Buenos Aires. We are open all year round.
Visit: www.verbum.biz