Teach English in Spain: Open Up Career Opportunities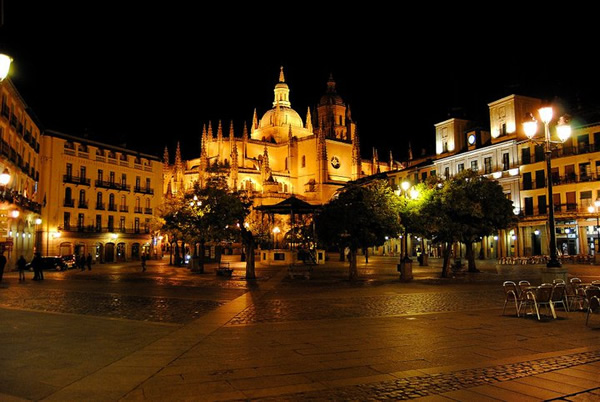 Plaza in Segovia — a worthwhile day trip from Madrid!
Spain is now a chapter in my life that has come to an end in the physical sense, yet keeps on making itself present in my day-to-day life. By taking the step forward with the Council on Educational Exchange (CIEE) Teach in Spain program, I opened my world up to opportunities that I never dreamed to be a possibility while growing up.
How CIEE Made it Possible
An undergraduate degree in Spanish and Journalism not only led me to pursue an opportunity to move to Spain to deepen understanding of my second language but also to dive into a new culture that I had only ever read about in school books. CIEE gave me the opportunity to pack up my life after university and move to Madrid with a paying job lined up, a support system before and during my contract, and an experience I could only make my own! While I didn't necessarily have the intention to teach English for the rest of my life, it allowed the opportunity to live within and learn about new cultures and languages that I would not have found in Canada had I chosen to stay after graduating university.
I originally heard about CIEE through family members who worked closely with the company in Portland, Maine and knew they were a credible institution to work with to find a job overseas. While applicants must pay for the programs they offer, CIEE helps with job placement, travel insurance, pre-departure and visa assistance, in-country orientation, as well as 24-emergency support while abroad. There's comfort knowing that you're supported every step of the way.
The Job and the Visa
Through the CIEE Teach in Spain program, you're placed in an elementary or secondary school within the Madrid region. Some teaching placements are in the city center while others are in suburbs and small towns outside the city. Your contract is to work 16 hours a week, being paid €1,000 stipend a month. The visa given by the Spanish government is a Long Term Student Visa that you'll need to apply for in your home country before entering Spain. The benefit of applying through CIEE is that they will help guide you through the entire process, which can relieve you of some of the stress.
What are the Benefits of TEFL Certification?
When I first moved to Spain, I had no experience teaching, but only a passion for writing and grammar that would help guide me in lesson planning until I sought out a TEFL course to help give me the confidence to lead a classroom. I used my love of drawing, painting, music, and yoga to help create fascinating and exciting activities for the kids to learn English, all the while learning myself. I learned how to command a classroom, how to engage young and adult learners, when to listen, and when to be patient.
Once I became TEFL certified, I walked into the classroom with much more confidence. My private lessons and classroom lessons changed drastically: they had more structure and left much more of an impact on my students. I saw the proof in how I was able to teach each subject matter more clearly, which led to better test results for my students!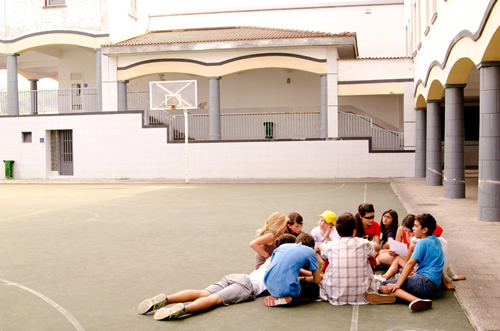 Students learning an English game in their physical education class.
CIEE and Cultural Immersion
Making the journey to Spain with a group of people all in the same boat—all of us new teachers, ready to take on the unexpected—I felt like I could turn to my new associates and program coordinators for support whenever needed. The group also provided a nice support system of English speaking friends whom I leaned on a great deal during my first year abroad. While I wanted to immerse myself in the new culture and the Spanish language, I was initially timid and even scared to put myself out there, to meet native Spanish speakers, to make mistakes. However, after my first year in Spain, my support group and total English speaking friends started to dwindle, as some moved to other countries to teach English, while others moved back to their home countries to pursue other opportunities. I had a new mission: live with Spanish speakers and dive headfirst into Spanish culture, which is what I did.
Cultural immersion played a giant role in falling in love with Spain, with my job, with my experience living abroad and away from my family and close friends. The experience allowed for a deeper discovery of who I was, my passions, my curiosity about topics immediate and global, and how I wanted to spend my time.
Meeting others suddenly wasn't so intimidating after I had established myself in Spain during my first year. I used websites like Meetup and EatWith to meet others with similar interests; I met Madrileños and people from around the world; I met Spanish speakers and speakers of 20+ different languages. Opening myself up turned out to be the best way to immerse myself while creating a community with those I met in the large, bustling, capital city.
Transferable Qualities — From Teaching to Corporate Life
It took a long time to finally decide to return to the United States to live full time, but once I made that decision, I worked hard to use the skills I gained while teaching, freelance writing, and working on marketing projects to transition into a corporate role stateside.
Teaching allowed me to share my native language and culture with students of all ages in Spain. At the same time, I also learned more about myself and developed skill-sets that I have been able to adapt to the American corporate world.
Skills that I take with me include organization, patience, flexibility, cultural awareness, and determination. In the end, it doesn't matter that I didn't get that corporate job right out of university. In the long run, the experience of living and thriving (and sometimes not doing so well) in another country have only been beneficial—resulting in a more confident person in daily life as well as a more desirable employee.
While teaching in Spain might not be for you, CIEE offers many job placements around the world to help make your dream of becoming an English teacher a reality!
What are the Requirements to Teach Abroad?
CIEE Teach in Spain has a few basic requirements that you must meet to participate in that particular program: be a native English speaker, be a U.S. or Canadian citizen, and hold a bachelor's degree in any field.
Some countries may have more requirements than others, so do check out the program description and all details. Basic requirements for all CIEE programs include:
Be a native English speaker
Hold citizenship and a passport from the US, Canada, Ireland, UK, Australia, or New Zealand
Have a bachelor's degree in any field
How to Apply?
Visit CIEE.org and check out all the programs they offer in 12 different countries around the world. You can open up an application by choosing to "Apply Now" on the main menu; create your account, and start the process. You will be requested the following:
Teach Abroad Applicant Information
Letters of Recommendation
Proof of Language Skills (for some programs)
TEFL Certification (for some programs)
Education, including proof that you hold a four-year bachelor's degree
Resume
Passport
What's Holding You Back?
Give CIEE a call and have them help guide you through the application process or help find the perfect teach abroad program. The experience will be well worth your time.
| | |
| --- | --- |
| | Sagan Pope lived and taught English in Spain for five years. She has returned to live in the United States and work in Marketing and Communications. |