How to Work Abroad as a Freelance Web Developer
Professional Software Development from a Personal Paradise in Cambodia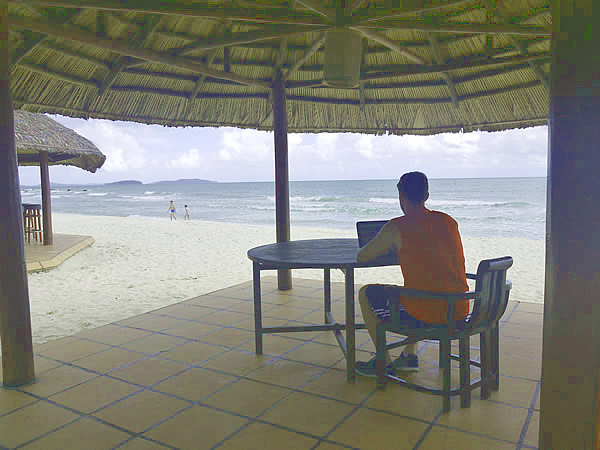 Brett working at freelance web development on the beach in Cambodia.
People often ask me what it's like trying to run an IT company while based out of Cambodia. Mildly discombobulating would be my first thought.
I am the business manager of a web development company and the majority of my clients are based in the U.S. I am on-call 24 hours a day because, despite working with me for months, some of my clients never seem to figure out the time zone difference. In addition, we do our best to represent the company in a way so that potential clients do not know we are based abroad, for reasons I will explain below. I regularly receive calls at 2 a.m. or 3 a.m., but I know this is a sacrifice I have to make if I want to run a successful IT company yet still base myself in what I see as paradise; or, as some others call it, Sihanoukville, Cambodia.  
Landing Clients
Most potential clients are turned off once they learn you are based overseas. They wrongly assume you will either be unavailable during their regular business hours, that you have low-level, low-paid developers working for you, that there will be communication problems, or that the end product will not be up to par.
After we have had a chance to show off our portfolio, offered them some great ideas for their website, and responded in a timely fashion to their questions, only the do we let them know we are based abroad. We are always sure to let them know before we sign any work contracts because we are not actively trying to mislead them, rather just choosing to reveal some aspects of our company slowly over time. Unfortunately, this tactic doesn't always work and it can still quickly become apparent through a bit of due diligence that we are based abroad.
Perception is Everything
In addition to keeping regular US business hours, there are other things I do so my company appears to be operating in the US.
Keep U.S. business hours
Use local U.S. phone number
Don't put an address on the website
Respond quickly to client communications
Use high speed internet to prevent communication issues during phone conversations
These might seem like little things, but they all help. Many companies are hesitant to outsource these days because of either poor experiences in the past or what they have heard from other professionals, and will quickly turn tail and run before giving you a chance to prove yourself.
The truth is that I don't blame them. If I were getting some website work done, I probably wouldn't want to outsource it either.
Could've, Would've, Should've
Looking back, if I had had the skills and opportunity, I would have started my company while still living in the U.S. Building an initial client base would have been easier and by the time I was abroad, I would have been able to continue growing my business through word of mouth referrals as well. Instead, we had to fight tooth and nail with thousands of developers based in India to get our initial clients.
It took about a year of scrounging and fighting to get to a point where we are able to land U.S.-based clients relatively frequently. In the beginning, we tried some of the freelancer platforms, but there are so many developers working for minimum wages there, it quickly became apparent that was not the answer. We had much better luck emailing numerous businesses directly inquiring about their web development needs. All we did was look for poorly designed websites and email or call them using their contact info. One of the most productive ways of finding potential clients was visiting websites on my smart phone. Basically, if their website was not responsive, I was contacting them. Businesses these days can't afford to have websites not optimized for mobile platforms so we were able to pull many jobs that way.
Now, in addition to our portfolio, we can give out references of other happy clients we have worked with. There is nothing better than showing a potential client a number of testimonials from happy clients to sway them in the right direction.
Why Freelance Abroad
Now that you know about the hassles and hurdles I face while trying to run an IT company while living abroad, you might wonder why I do it. Why not just move back to the U.S. and run my company from there? Surely, it would be easier and I could make more money.
Yes. You're right.
It would be easier and I would make more money too. On the other hand, I would also spend more and have less time to do the things I enjoy in life. Living in Cambodia allows me to have a balance in my life. I take breaks in the middle of the day to go to the gym, and I regularly take weekend motorcycle trips into neighboring mountains or jungles for some adventure and camping. If I want to take a day off and go sailing, I can do it with no boss yelling at me. Unlike back home in the U.S., my friends here actually have spare time and we often meet for dinner, drinks, or some other kind of fun activity like fishing and volleyball.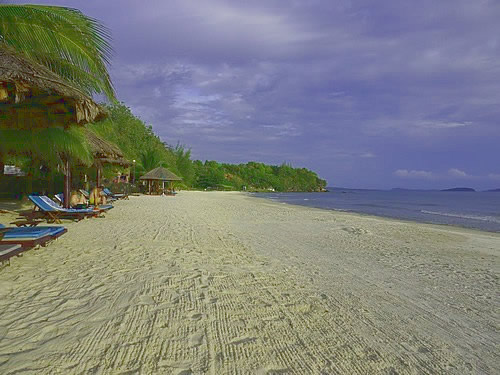 Brett's view out onto a Cambodian beach. Not a bad working environment...
Living abroad in a country like Cambodia is also a great cultural experience. Being exposed to the lifestyle here has opened my eyes in so many ways. It is amazing how people with so little can still be so happy. Sometimes we are too caught up in material items we forget to enjoy the really important things in life like family and friends. Every day while I am sitting on my balcony working, I see Cambodians just across the street living in ramshackle bamboo huts and using a bucket of cold water to shower outdoors, yet they are always smiling and friendly. You can hear them in the evening laughing and joking with friends in front of their homes. They are always ready for a party and with even the slightest prompting; speakers are brought out to kick off some dancing and karaoke. The sound of traditional Khmer music regularly comes floating in through my windows riding the breeze.
Then I think back to all those angry people in South Florida. Driving their fancy $80,000 BMWs and Mercedes, screaming and cursing at the guy in the car in front of them because they didn't press the gas quick enough when the light turned green, or yelling at some waiter for making the slightest mistake in their order. It's no wonder so many people in America have premature heart attacks. Take a note from the Cambodians and learn how to smile again. I have learned to remember to enjoy what I do have, since life could be much worse.
| | |
| --- | --- |
| | After years spent living and working the stressed out life of a business owner in America, Brett Dvoretz finally decided to follow his dreams and move to an exotic land. He sold all his stuff, packed some clothes, and hopped on a plane with his 130lb mastiff in tow. Now he spends his days running a web development business, freelance travel writing from the beautiful beaches of Cambodia, and exploring the countryside on his crappy old motorcycle. |