Southeast Asia's Unexpected ESL Giant
A Guide to Teaching English and Living in Vietnam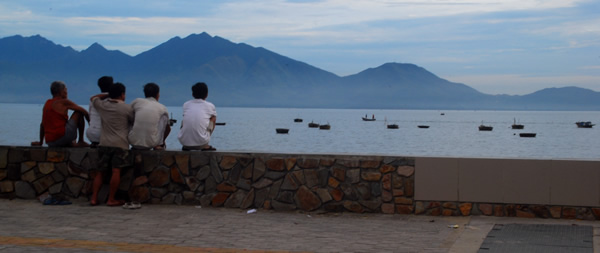 Da Nang coastline in Vietnam. Photo by Nathan Edgerton.
Thailand tends to get most of the attention as a Southeast Asian destination for ESL teachers. There are numerous teaching agencies that bring recent TEFL grads to the country, and plenty of jobs in private institutions and public schools. However, for many reasons Vietnam deserves to be considered perhaps the prime place to look for ESL work in the region. The country is bigger than Thailand by about 20 million people, the economy is growing, and the supply of teachers is much smaller. It adds up to a dynamic country with well-paid teaching work, coupled with a low cost of living which will let you save a good chunk of cash each month.
Teaching English in Vietnam
The best places to look for work are of course the biggest cities, Ho Chi Minh City and Hanoi. The first is the country's business capital and most modern city, with year-round warm weather to boot. The latter, which recently celebrated its 1000th anniversary, is the country's political capital, with a historic old quarter.
However, as Vietnam is growing quickly, there are a number of other attractive places to look for work. Da Nang is the country's third-largest city, and has the considerable advantage of being right on the beach and just a 30-minute ride from Hoi An, the country's best-preserved historic town. Nha Trang also sits right next to the beach and is a bit more popular than Da Nang as a tourist destination, though the city itself is rather smaller. But as Vietnam has thousands of kilometers of coastline, there are lots of smaller cities a short drive from the beach where you may find work.
There are also growing numbers of jobs at larger provincial capitals such as Da Lat, Can Tho, Hai Phong and others. Some institutes in these smaller cities can pay rates comparable to schools in bigger cities, even though the cost of living is lower. This is because it's more difficult to find teachers willing to relocate to those cities. However, those who do are rewarded with a slower pace of life and a chance to better immerse themselves in Vietnamese culture.
Kinds of Teaching Work
There are a number of different kinds of schools where you can look for work in Vietnam. Each has its advantages and disadvantages, and some schools may be a better fit than others may for people with different interests and personalities.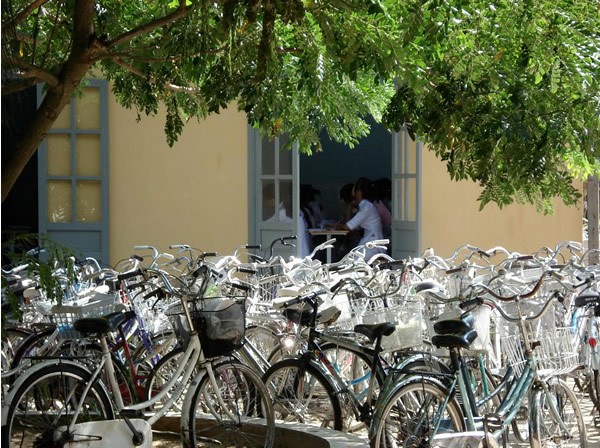 School in Hoi Ani. Photo Flickr/Creative Commons ssedo and adapted by Transitions Abroad.
Private kindergartens and primary schools, where middle-class parents send their children to get them exposed to English during their important formative years, when it's easiest for them to learn a new language. Teachers who can manage children and enjoy clapping, singing, and playing games are well suited for this kind of work. A further advantage is that you won't have to worry much about marking homework! To work at a school like this, you'll generally be expected to have a BA degree in some subject and a TEFL certificate, though this can be flexible. A friendly personality and the ability to keep the kids in line may be more important than formal qualifications at some of these schools.


Private secondary schools offer some jobs that would include just teaching English, but there are also many private secondary schools that teach subjects like math and science in English. You may be able to teach those subjects as well if you're appropriately qualified. You could expect to earn around $1200-1800 per month for work at private kindergartens, primary schools, or secondary schools.


"International schools" are somewhat different from private secondary schools, and usually pay more (perhaps $3000-4000 per month) for teachers with a Master's in Education from abroad.


Private language centers will have the most available job openings. These schools usually teach English to adults or to secondary school or university students. Most school classes take place in the evenings and on weekends when their students are free. You'll likely have 10-15 students in your class following a book or syllabus of some kind that the school will provide. Reports say that many teachers tend to have one or two or more language centers where they work part-time, though there are also opportunities to work with some schools full-time. Standard rates seem to be around $15-25 per hour for this kind of work, so you can quite easily earn enough to get by on and should be able to save quite a bit as well.

Some language centers offer additional test-prep classes. Most of these will prepare students for standardized English tests such as the IELTS, TOEFL or TOEIC, which they may need to take in order to work or study abroad, or to get a promotion in their company. As the stakes are higher for tests like these, students are willing to pay more to study and teachers can earn more for teaching them—usually about 30-50% more than the standard wage for teaching English.

Private and public universities offer the chance to teach bright young adults. In universities you may be asked to teach listening and speaking classes (grammar classes are often taught by Vietnamese teachers), but may also have the chance to teach courses such as literature, western culture, or even some history. You'll likely have around 20 hours in class per week, as well as office hours and time for lesson planning and marking papers. Public universities tend to pay less than private universities. Expect to earn around $1000-2000 per month at a university.
Living in Vietnam
I stopped while writing to snap this picture in the provincial capital of Can Tho. Not to worry, the girl's father is standing right next to her. Photo by Nathan Edgerton.
While pay for teachers in Vietnam is generally higher than Thailand, the cost of living is generally lower. You'll likely be able to earn at least $1600 per month in Vietnam, and even more if you take on part-time work or private tutoring. You can live a comfortable life, including eating out at small restaurants for 2-3 meals per day, evenings out with friends and coworkers, and the occasional weekend away, and still spend less than $800 per month. If you want to save, you should be able to put away $800-1000 per month.
You should be able to find an apartment in Hanoi or Ho Chi Minh City for around $200-300 per month, and for even less in smaller cities. A meal at a street stall or small restaurant can be under $1, and a cup of coffee at a small shop should be around $0.50-0.75. You'll find plenty of upper-scale restaurants and cafes if you like, but it's certainly possible to get all your food for the day for $5-8.
One unfortunate thing about Vietnamese cities is that you'll likely need your own wheels in order to get around, and the roads are quite crowded. In bigger cities like Hanoi and HCMC, you'll most likely need a motorbike to be able to get around, though in some smaller cities you could make it on a bicycle. Traffic is hectic, but there's some unspoken order to it so you should be able to stay safe if you stick to the edges of the road and don't go too fast.
Medical care has improved quite a lot in recent years, and you can find modern hospitals in most bigger cities in Vietnam where you can get care for a fraction of the price you'd pay in western countries or even in Singapore.
Hanoi and Ho Chi Minh City have sizable expat populations, and also have a wide variety of activities in which you can get involved. You can join modern sport clubs, participate in recreational sports leagues, take language classes, learn to dance and cook, try out rock-climbing, and take part in lots of other kinds of activities. Check out websites such as AsiaLife: Vietnam to get an idea about what's going on in Vietnam.
In addition to expat life, you'll likely find that you get frequent invitations from Vietnamese colleagues, friends, and students. Vietnamese people tend, in general, to be quite forward about meeting foreigners, and you're likely to get lots of invitations to go out to drink coffee, have dinner, or sing karaoke with your colleagues and friends.
Overall, Vietnam is a young and quickly growing country. There's a rising demand for English skill, and this can also lead to other opportunities for native English speakers, especially if they learn Vietnamese well. While there are certainly opportunities to advance your career within English education, there are also opportunities to switch into the private sector, whether through work with NGOs or international companies in Vietnam. For teachers, there are many steady jobs to be found and lots of part-time work on the side, so that if you want to work a lot there should be plenty of work for you to do. There's a low cost of living and lots of things to do, so Vietnam can be a great place to get your start as an English teacher while also enjoying your time abroad!
English Teaching Job Resources for Vietnam
Language schools with branches and jobs in multiple cities:
Language Schools in Ho Chi Minh City:
Nathan Edgerton has been living in Southeast Asia for over seven years. He has taught in Vietnam, Singapore and Thailand, and currently works as Director of Studies at The Knowledge, a language school in central Bangkok.
You can find more information on teaching in Southeast Asia — including expected salaries, the cost-of-living, and needed qualifications, in his recommended ebook: Teaching English in Southeast Asia.