Top Programs Offering Internships Abroad
Caleb, a tourism intern in the Ireland Internship Program.
Photo courtesy of ELI.
Participating in an international internship offers a travel experience like no other. On weekends, you can travel in any way and anywhere you wish, while during the week you live like a local. Internships are now, more than ever, a key tool for students and recent graduates to gain experience in their respective fields and earn credibility with future employers. An internship abroad almost guarantees that you will stand out among stacks of resumes and in interviews due to your ability to overcome the challenges of living and working in a different culture. Fortunately, for those wishing to combine their travel dreams with an educational desire to gain career experience, several organizations offer internships for students and recent graduates coming from all academic backgrounds.
The Intern Group is an organization that offers internship programs worldwide, including cities and countries such as Australia, Berlin, Colombia, Dublin, Hong Kong, London, New York, Shanghai, and Spain. They will work with you collaboratively on setting up and organizing logistics for the internship desired. Internships are available in career fields such as architecture; art, photography, and design; business; consulting; engineering; entrepreneurship; fashion; finance; government and politics; hospitality, events and tourism; human resources; information technology; journalism and media; law; medical electives and public health; NGOs/non-profits; PR and marketing; real estate; science; and television and film.
Offers fall, spring, summer, and a wide selection of virtual internships. Global Experiences, now part of the family of AIFS Abroad programs, specializes in internship programs and sends hundreds of students abroad each summer to gain practical work experience and enhance their global experiences. Programs are offered in great cities such as Barcelona, Dublin, Florence, London, Milan, Paris, Shanghai, Stockholm, and Sydney.
CIEE offers summer, credit-earning semester, and other unique internship programs around the world connected to their study abroad programs. There are more than 20 destinations available in major cities within France, Italy, Spain, Germany, Belgium, Hungary, England, Russia, Jordan, Senegal, Botswana, Ghana, Morocco, Israel, Australia, China, Chile, Costa Rica, and the Dominican Republic. Hands-on internships involve Business, Design, Communications, New Media, Journalism, Arts, Architecture, Information Technology, STEM, Education, Environmental Sustainability, and much more.
ELI works with a variety of private companies, NGOs, and governmental organizations in Asia, Africa, Europe, and Latin America to create individualized internships. As ELI says "The global economy needs global talent, people who understand how to work and communicate in other cultures. Those who stay at home, never testing their comfort zone, have cut themselves off from the astounding possibilities awaiting the global citizen." Working in another country challenges interns to develop cross-cultural competencies, independence, self-assurance, and flexibility—all traits desired by employers. While an internship may not automatically land you a job, it can make your resume stand out and help you get your foot in the door.
GVI offers international internships in a variety of countries in Africa, Europe, Asia, and Central and Latin America. The program either involves a 12-week placement as a volunteer followed by a 12-week internship placement with a partner organization, or optionally consists in only an internship without the volunteering. There are a variety of exciting options to choose from, so check them out on their website.
Interns undergo extensive data collection training. Photo courtesy of GVI.
AIP (Asia Internship Program) creates customized international internship placements across destinations worldwide, including Australia, China, Costa Rica, Hong Kong, Indonesia, Italy, Japan, Malaysia, New Zealand, Peru, Singapore, Spain, South Africa, South Korea, Taiwan, Thailand, Vietnam, and the United Kingdom. The organization offers internship placements in over 20 different industries, ranging from multinational corporations, dynamic startups, and charitable NGO's. The program includes a customized internship, airport pickup, fully furnished accommodation, visa assistance, emergency assistance, local language and culture courses, networking events, and social activities.
In addition, AIP offers a comprehesive remote internship program with many of the same benefits and more.
CRCC Asia is a leading provider of global internship programs, with 7,500 past participants since 2008. The award-winning programs span across 14 sectors in China, Japan, Vietnam and the UK are designed to enhance future employability and increase cultural and business understanding of the vibrant, exciting and fast-moving cities where internships are offered around the globe. Program prices include; 5* accommodation, pre-departure services, visa-processing, 24/7 support once abroad, social events and a leaving ceremony plus references to future employers.
With its slogan, "Working Adventures Worldwide," BUNAC is dedicated to just that: getting you abroad to work in Britain, Australia, New Zealand, or Ireland. They are committed to offering an affordable and enriching alternative to what they refer to as package tourism. You can work in the country of your choice for up to six months or a year, and BUNAC even offers some special travel bargains to their participants.
What is unique about BUNAC is that you are responsible for finding your job on arrival, and they are the ones that help you get there. You can work any type of position from a restaurant waiter to a computer programmer—depending on how determined you are in landing a career-oriented job.
Cultural Vistas: Internships Abroad
An organization that administers IAESTE United States and dedicated to providing a wide variety of cultural exchange programs for both inbound and outbound students worldwide. Cultural Vistas offers a variety of personalized professional internships and 30+ exchange programs in the United States and more than 130 countries around the world.
AIESEC is an international non-profit, student-run organization present in more than 125 countries. Each local chapter focuses on creating internship opportunities for international students and assists incoming interns in cultural integration and finding housing. AIESEC offers thousands of volunteer and paid internship opportunities at any given moment.
The program was started after World War II to promote peace and cultural understanding, designed for college students and recent graduates under the age of 30. Some of AIESEC's top partners include Apple, Accenture, ING, Electrolux, and Nokia.
IAESTE (International Association for the Exchange of Students for Technical Experience)
An international non-profit organization, IAESTE has offices in more than 80 countries, with the U.S. office administered by Cultural Vistas. If you are a student or recent graduate with a technical degree in fields like engineering, science, or applied arts, IAESTE works to provide you with paid training opportunities that will help you jump-start your career in a technical field.
Gain invaluable skills in business to journalism to film to economic development to medicine to human rights in countries including Barcelona, Spain, Buenos Aires, Argentina, Cape Town, South Africa, Dublin, Ireland, and Shanghai, China. The program sees to it that you find the internship that suits your needs and goals.
Go Abroad China is a leading internship program provider in China, often offering paid Internships at Fortune 500 Companies. GAC offers talented college students, undergraduates, recent graduates, and early-career changers worldwide an opportunity to experience a real and cross-cultural working world in China to gain an edge in the competitive job market through a unique internship experience. With 15-year professional practice, GAC guarantees 2,000+ high-level internship opportunities in China by partnering with 1,000+ reputable multinational and local companies in 20+ major sectors. All internships are highly tailored to participants' interests, background, field of study, career goals, desired sectors, duration, and budget.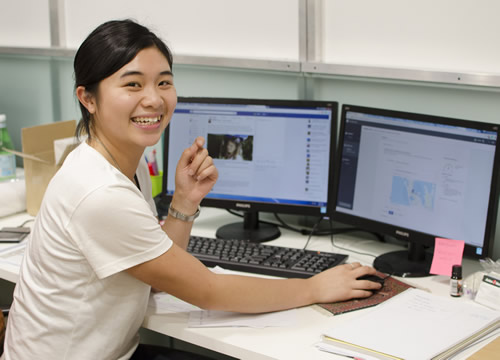 Learn, enjoy, and even get paid for internships with Fortune 500 companies in China. Photo courtesy of Go Abroad China.
Research, Research, Research...
The programs cited above are just a sampling of the many fine internships available, and there are many more you should examine that are country-specific. Go to our section on internships for more region and country options. Do not hesitate to search the web and dedicated web database sites, but always do your due diligence. Try to contact as many alumni as are made available by the internship provider. Respectfully ask probing and unexpected questions to see if the participants' answers jive.
Review Sites
There has been a surge of websites offering reviews of internship programs. Please be prudent and use the reviews as one element in making up your mind, as reviews cannot be independently audited and are sometimes positive in every possible respect, e.g. 10 out of 10 ratings across the board, or a bad review may be the result of a mismatch or malcontent. We all know that food or hotel rating sites are often not dependable in all cases, and as part of such a huge decision, reviews should be carefully scrutinized as with all information sources.
Internships vs. Volunteering
The distinction between internships and volunteering is often fuzzy, and sometimes that is inescapable. But do try to ensure that you come out of your experience with some skills relating to what you may wish to do later in life, keeping in mind the potential program cost, especially given your budget and current economic times.
Your University and Career Center Advisors
Most universities have connections with schools or programs in other countries. Talk to your academic advisor to find out what your university has to offer and how well the options fit your education and career goals. Also, respectfully discuss with your advisor any private organizations you are contemplating attending for their feedback. Advisors often have heard direct reports from students who have participated in internship organizations or may contact their peers on academic forums and bulletin boards regarding reputation and other questions you may have.
Choosing the right internship is an extremely important decision, often involving a substantial fee covering preparation, housing, placement, etc., and should be made with the life-changing consequences in mind. Fortunately, the impact of an internship for students and graduates—as with those surveyed who studied abroad—generally is rewarding personally and in terms of future professional job prospects.
Chelsea Baldwin is a freelance writer and world traveler. She completed two internships abroad: one in community development and another in web content development. She currently works as a freelance writer looking forward to starting her life as an expatriate.