How to Volunteer Overseas to Protect Wildlife Responsibly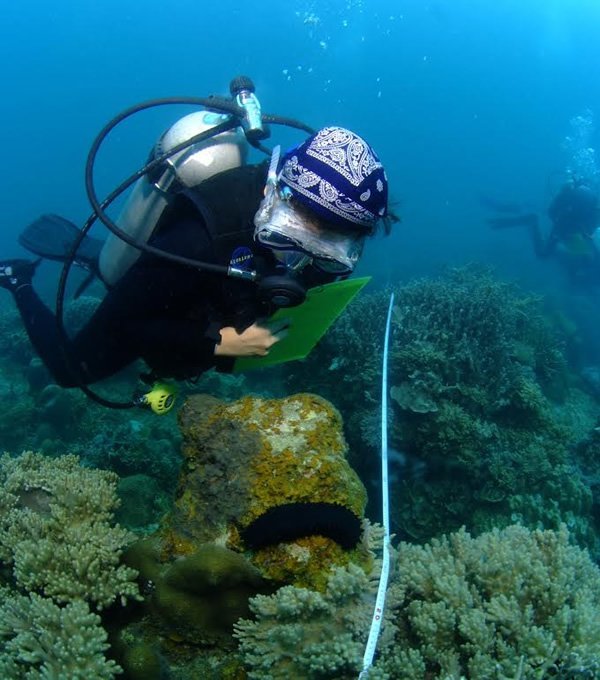 A volunteer gathers data about the coral reef in Malaysia. Photo by K.L. Kwang, courtesy of Biosphere Expeditions.
Protecting turtle hatchlings on their journey to the sea. Rehabilitating monkeys that have been rescued from animal trafficking. Bathing elephants that have been liberated from abusive riding. The options for spending a vacation (or part of one) helping to protect wildlife are nearly endless. Here are a few tips to help you find the right program.
Programs that help develop alternative sources of income-generation for the community are especially interesting, turning many "wildlife protection" projects into a combination of environment, education, and community development. The manta ray and whale shark project in Mozambique by Underwater Africa is a good example. In addition to diving and snorkeling to collect field data on marine life, volunteers have the chance to teach swim and water safety classes to local children, engage local youth in playing water and beach games with an environmental spin, and participate in UA's cultural exchange program which includes everything from boat tours to dance lessons.
Considerations
1) Time
Whether you have a morning or a month, there are programs available.
One to Three Days
Elephant Nature Park in Chang Mai, Thailand, has a one-day volunteer program that allows visitors to observe and even bathe rescued elephants and other animals. Two or three nights is all guests at the Casa Grande of Costa Rica's Endangered Wildlife Trust need to join other volunteers in protecting nesting sea turtles and hatchlings as they make their way to the sea.
One to Two Weeks
Of course, the longer you can commit, the bigger an impact you can make. One to two week programs are common and found around the globe. Biosphere Expeditions is one very highly regarded program where participants can participate in genuine conservation projects in partnership with local authorities, ranging from tracking snow leopards in Kyrgyzstan to mapping the coral reefs of Malaysia.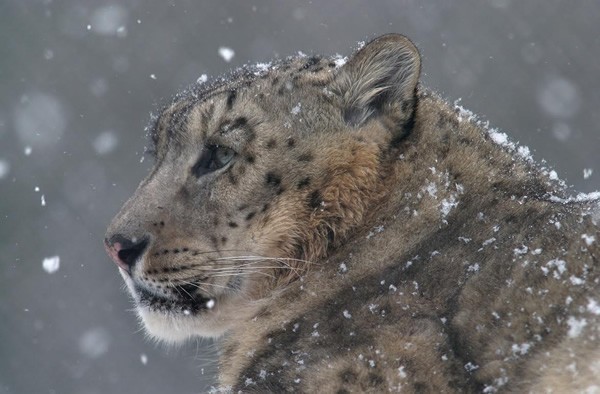 A snow leopard of the Tian Shan mountains in Central Asia. Photo by Martin Forster, courtesy of Biosphere Expeditions.
If You Have More Time
Those with even more time can become involved in increasingly meaningful ways, whether in research or with rescued animals. Operation Wallacea offers two to eight week programs especially for undergrad and graduate students, where they can help conduct biodiversity surveys in forests, rivers, grasslands, jungle or the coral reef, in 10 different locations around the world. At La Senda Verde in Bolivia, volunteers who can commit a minimum of four weeks have the chance to become "Care Bears," working with the refuge's rescued Andean bears.
2. Type of Animal
Have you always been fascinated by big cats? Look at projects in India, Namibia and Peru. Elephants? Thailand, Cambodia, Sri Lanka, Kenya and Namibia all have projects (rhinos too in the latter). Sea turtles? Look from Mexico, through most of Central America down to Tobago, and all the way east in Oman and Sri Lanka. Macaws and other dazzling birds? There are great projects in Honduras, Costa Rica, and Peru. You name the animal, there is certainly a volunteering opportunity available for it, from orangutans in Indonesia, chinchillas in Chile, oryx in the UAE, or wallabies in Australia.
3. Comfort Level
There are a lot rustic volunteering options out there, and that's not for everyone. If you like would enjoy a few comforts along with your creatures, then organized tours can be a good option. RED Travel in Mexico organizes three to seven day "Conservation Adventures" that combine luxury tents and gourmet meals with whale and sea turtle monitoring. ElevateDestinations provides a wide selection of conservation travel itineraries spanning four continents, supporting elephants, rhinos, whales, sea turtles, caimans, jaguars and more, with accommodations in everything from luxury tree-houses to a traditional First Nations long house.
4. Cost
As one might imagine, the projects that come with the most comforts, as well as many of the ones producing serious conservation studies, come with a higher price tag. There are, however, opportunities to go grassroots, with volunteer fees ranging from nothing (no fee, but volunteers are responsible for their own expenses) to US$300/week including accommodation and meals. The chinchilla project is one such option. Several well-regarded refuges in the Amazon have inexpensive volunteering options (Comunidad Inta Wara Yassi in Bolivia and Merazonia in Ecuador). Another place to look for low cost volunteering opportunities is Idealist, where organizations directly post their volunteer placements (and thus should be vetted carefully). Just select "animals" under "Area of Focus."
5. Compatriots
Some of the programs mentioned host dozens of volunteers at a time, who stay in dorm-style residences and line up at mess halls for meals. Others work only with small groups. And yet others host perhaps a volunteer or two at a time. Consider what is important to you in terms of companionship and socialization before booking a trip. Big groups might offer the chance to make lots of new friends, while independent volunteering might allow room to get to know a few locals much more intimately.
Caveats
Not all wildlife protection projects allow volunteers to work directly with their animals; work may instead be focused on the cleaning of cages, restoration of natural habitats, or visual monitoring of animal activity in the wild. Restoring the natural habitat for an endangered species is critical work, but if you were hoping to pet or feed your animal and your project doesn't offer that, will you be disappointed?
Remember also that direct contact with the animals you are working to protect is not always appropriate. But that doesn't mean that you won't be offered it. Should you hold that hatchling in your hand? Is it appropriate to cuddle rescued monkeys if you can only stay a couple of weeks? Maybe not. Do your research before your arrive to review an organization's reputation and to investigate their practices. See the Wild has guidelines for appropriate behavior by type of animal and habitat.
This leads to the next point: as with any volunteer project, it is essential to do due diligence about the organization and volunteer opportunity, before making any payments or heading to your destination. Here is a general list of questions and considerations for any volunteer opportunity, as well as questions  and 10 tips specific to volunteering with wildlife.
For More Information
Another good resource is Wildlife & Conservation Volunteering: The Complete Guide (Bradt Travel Guide) by Peter Lynch.
See the World is a small but good clearinghouse of responsible wildlife tourism and volunteering opportunities around the world.
Amy E. Robertson is the author of Volunteer Vacations in Latin America (2013, Moon Handbooks). Her writing has been published on NPR, Vice MUNCHIES, Budget Travel, Delta Sky, National Geographic Traveler, Wall Street Journal, Christian Science Monitor and Travel + Leisure, among others. Amy has lived in six countries and traveled in more than 60. Her volunteer experiences include building houses in Washington State and Honduras, monitoring presidential elections in Ecuador, working with youth on social documentaries in Bolivia, and serving lunch at soup kitchens in Seattle and Beirut. She has a background in international development and nonprofit management and has worked in both the private and nonprofit sectors.

You may see Amy's many articles for us, her numerous books, and her expanded bio page here.