Teach English in Asia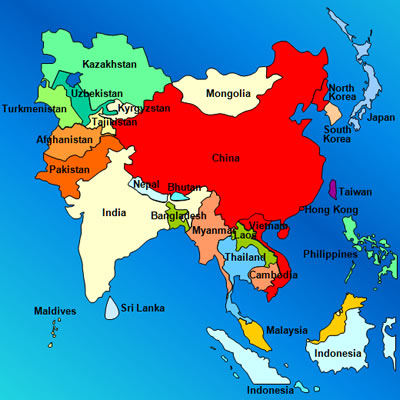 "Despite the rumors, a native's knowledge of the English language is not an automatic passport to employment anywhere abroad. It can, however, be put to profitable use in many Asian countries. In Korea, Taiwan, Japan, Thailand and, increasingly, China a high proportion of the population are eager for tuition from English speakers. A university degree in any subject is genuinely the only prerequisite, though in some cases just a degree of enthusiasm will suffice."—Susan Griffith reports in Teaching English In Asia.
Articles and Participant Reports on Teaching English in Asia
Teach English in Asia: Finding a Job by Susan Griffith
An expert on work abroad and author of a classic book on teaching English abroad provides an overview of the many job options in Asia, along with rich resources.
The Best Countries to Teach English in Asia by Michael Hines
Many nations in Asia share a desire to learn English and most are experiencing a strong demand for teachers. From South Korea to Vietnam, most Asian countries are in racing to get their population to learn the lingua franca of globalization.
Teach English in China: Work and Live in a Great Location
Nick and Dariece provide a guide to help you find the right location in China for you, be it big city or smaller town, to teach English and live.
A Practical Guide to Finding an English Teaching Job in China
Dominic Woodman describes clearly and realistically the steps involved in finding the major types of jobs teaching English in China, the processes involved, including a discussion of the what is need to obtain a visa.
Teaching English and Living in Yangzhou, China
Nick and Dariece spent a memorable year of complete immersion teaching English in China to kindergarteners and living in Yangzhou, and describe their experience. They also managed to make lasting friends, create many memories, and save quite a bit of money in the process.
How to Choose Your First Job Teaching English in China by Dr. Gregory Mavrides
An expert view and very practical advice for those who seek to teach English in China for the first time.
Choose the Right School in China by Eve Bergazyn
Where and in which schools should you teach English in China? Inside tips on options for the type of job to take and to whom you should talk.
Teaching English in China: Teachers Soon Become Students by Smitha Murthy
Practical advice for finding a job teaching English in China including warnings about possible pitfalls based upon actual work experience.
Teaching English in Taiwan: What Your Need to Know by Tim Backes
What you need to know to move to Taiwan and the requirements for finding a suitable job as an English teacher. There are many options for places to work and the pay is relatively good.
Teaching English and Living in Vietnam: A Southeast Asia Giant by Nathan Edgerton
The guide to teaching English and living in Vietnam—where the options are almost endless—by an expert and author.
Teaching English and Living in Bangkok by Nathan Edgerton
Bangkok has a high demand for English teachers in many different types of schools, from corporate training centers to small private schools to public schools with 50 students per class. There are opportunities for beginning teachers as well as those with more experience...
Teaching English in Bangkok: The Guide to Finding Work Fast in a Laid Back Culture by Ian Moore
An inside guide to finding jobs fast when arriving in Bangkok, Thailand, along with extensive tips and key resources.
Live and Teach in Smiling Chiang Mai by Kimberly L Bryant
Recently voted one of the friendliest cities in the world, Chiang Mai is a fantastic place to dip your toes into the world of teaching English. The relaxed environment and low-key attitude make for a gentle introduction to TEFL for those just starting out...
Teaching English and Living in Thailand: Do Your Homework Before Choosing a Job by Lindy Sinka
A guide that discusses many key aspects involved in preparing to find work and live in Thailand.
Teaching English in Thailand: The 10 Day Job Search
A.J. Hoge tells you how to find a job teaching English in Thailand within 10 days of stepping off the plane.
Getting Started Teaching English in Japan: What to Expect
John Sheldon provides a top-down description of the major roads taken by those who teach or wish to teach English in Japan, while providing realistic advice for teachers in the "Land of the Rising Sun."
Teaching English and Living in Japan
Lindy Sinka offers a practical overview of what is involved in teaching English in Japan. She also offers a taste of Japanese culture and expatriate life.
Teach English in Japan: Find a Job through the Web
Celeste Heiter provides the inside tips on finding jobs via the Web teaching English in Japan.
How to Find an English Teaching Job from Inside Japan by Dominic Woodman
Japan's JET Programme: Join Japan's Leading ESL Training and Job Placement Program by Laura Mann
The JET Programme: Teaching English in Japan While Getting to Know it as an Insider by Aaron Paulson
Live, Learn and Teach English in Japan by Christopher P. Cotter
Teaching English in Taiwan
Newley Purnell provides a thorough description of the lucrative jobs available teaching English in Taiwan, and provides inside tips for enjoying its rich culture.
Three Reasons to Teach English and Live in Taiwan by Matt Gibson
The Guide to Teaching English and Living in South Korea
Thomas Gates offers a low-down on his unique experience.
Teaching English and Living in Korea
Lindy Sinka, who has taught in various parts of Asia, offers a practical overview of what is involved in teaching English in Korea. She also offers a taste of Korean culture and expatriate life.
Living and Teaching English in South Korea
Jalel Marti Sager provides a practical and inspiring insider's view of his experience living and teaching English in South Korea.
English Teaching Contacts in Korea: What to Ask For and What Not to Stress Over
Lindsay Nash provides the details you should know.
Freelance Teaching English in Bangkok, Thailand
A.J. Hoge provides practical inside tips for setting up a freelance business teaching English.
How to Teach English in a Thai High School
Paul King describes in-depthh his experience as a teacher.
Teaching English in Chiang Mai: A Step-by-Step Guide
Wayne Johnson is your inside guide to teaching English in Chiang Mai, Thailand.
Work in Thailand: Teaching English Can Be Just the Beginning
Seth Leighton on how teaching can be the start of a career transition.
Teaching English in Indonesia
Geoff Andrews describes the many advantages of teaching English in Indonesia while offering practical tips on work requirements and an overview of the cultural characteristics.
Teaching English and Living in Malaysia
Emile Alexander Dodds reports on the type of work available for English teachers in Malaysia — a country with many Western comforts.
Living and Teaching in Ho Chi Minh City, Vietnam
Top tips and resources by one who experienced the bustling city of HCMC as an English teacher.
Teaching English in Vietnam
David M. Lenard provides and overview.
Teaching English in Hanoi
Nick Dall provides details on what being a teacher and life is actually like in the bustling city of Hanoi.

Teaching English and Living in Singapore
Nathan Edgerton provides the inside scoop on being a teacher.
Notes from an English Teacher in Cambodia
Margaret Ulrich describes her rich experience.
Top Jobs Teaching English in Asia
See a daily selection of the Top Jobs Teaching English in China, Japan, Korea, Taiwan, Thailand, Southeast Asia, and Asia courtesy of ESL Job Feed.
If you do not see the jobs or training program you want in Asia, look under Worldwide for programs located in several different regions or check our China, Korea, Japan, Thailand and Taiwan directories for much more country-specific information on teaching English.
Ho Chi Minh City, Vietnam
CTESOL / CTEFL: Teach English Around the World
4 week — Internationally accredited courses worldwide.
Vietnam is an excellent place for new teachers to start their English teaching career. Our in-class course in Ho Chi Minh, Vietnam offers excellent training from professional and dedicated instructors. The course has a strong emphasis on practical teaching experience with several hours of practice sessions teaching real students. You can be sure that you will learn the skills necessary to plan engaging and effective lesson plans from day one and our internationally recognized certificate will open the door to jobs in Vietnam and the rest of the world.
Dates: Course available each month all year-round
Cost: Deposit: US$600. Balance: US$890.
Website: www.teflcourse.net

Featured
Cebu, Philippines
CTESOL / CTEFL: Teach English Around the World
4 week — Internationally accredited courses worldwide.
Enrol on ITTT's TESOL course the Philippines and you could be teaching English abroad before you know it. Our course in Cebu has a very practical emphasis and features a high proportion of actual teaching practice hours in the classroom. You can be sure that you will gain the skills needed to succeed as an English teacher in Southeast Asia and elsewhere in the world. All graduates of ITTT's courses will receive an internationally recognized certificate and lifetime job placement assistance.
Dates: Course available each month all year-round
Cost: Deposit: US$600. Balance: US$990.
Website: www.teflcourse.net

Featured
Phuket, Thailand
CTESOL / CTEFL: Teach English Around the World
4 week — Internationally accredited courses worldwide.
Our training center in Phuket is the ideal location to enter the thriving ESL market in Thailand. Our team of highly experienced and dedicated trainers will support you throughout your course and provide valuable feedback on your practical teaching sessions with real English language students. Earning your certificate in Phuket allows you to make the most of your free-time with a wide range of outdoor activities easily available such as scuba diving, kayaking, or simply chilling out at the beach.
Dates: Course available each month all year-round
Cost: Deposit: US$500. Balance: US$1090.
Website: www.teflcourse.net

Featured
Ban Phe, Thailand
CTESOL / CTEFL: Teach English Around the World
4 week — Internationally accredited courses worldwide.
Our Ban Phe training center is located in a small fishing village on the coast of the Gulf of Thailand. The pace of life here is much slower than that of Bangkok or nearby Pattaya and you will gain a unique insight into Thai culture that can be hard to find in the more urban parts of the country. The course in Ban Phe has a strong focus on teaching practice, ensuring that you gain the knowledge and experience needed to teach English around the world.
Dates: Course available each month all year-round
Cost: Deposit: US$600. Balance: US$1090.
Website: www.teflcourse.net

Featured
Chiang Mai, Thailand
CTESOL / CTEFL: Teach English Around the World
4 week — Internationally accredited courses worldwide.
Our TESOL course in Chiang Mai, Thailand will give you all the skills you need to become a successful ESL teacher in Thailand and beyond. Our trainers will give you a solid grounding in the fundamentals of English grammar and teaching methodologies, and the teaching practice sessions in local schools will give you valuable classroom experience. Outside the classroom there is plenty to occupy you, from visiting the many ancient temples and ruins to trekking in the hills or shopping at the local markets and shopping malls.
Dates: Course available each month all year-round
Cost: Deposit: US$600. Balance: US$1090.
Website: www.teflcourse.net

Featured
Teach English Thailand
Want to make an impact on young lives while immersing yourself in another culture, but not sure where to start? On the InterExchange Teach English Thailand program, you'll explore the Land of Smiles while earning money as an English teacher to finance your stay abroad.

InterExchange will guide you through the application process to get you on your way. Once accepted, you'll be placed in one of many schools throughout Thailand teaching conversational English full-time. Throughout your stay, you'll enjoy free housing, a regular paycheck, and support and guidance for any issues that may arise.

Start your journey today. You'll be surprised just how far you can go!
Dates: 5- and 10- month programs, beginning in October
Cost: $1,495
Contact: InterExchange Working Abroad, 100 Wall Street, Suite 301, New York, NY 10005
Tel.: 212.924.0446
Email: workabroad@interexchange.org
Website: www.interexchange.org/travel-abroad/teach-english-thailand/

Featured
Choose from 300 locations across 60 cities in China. Full Salary — Free Flights
Join our community of over 2,000 diverse, inspiring teachers all across China. Your skills are needed to help grow and shape EF English First for current / future generations of students to learn, grow and enjoy. Teach adults, kids or online at one of our 300+ schools. 

Programs highlights: Upfront paid flights available; full benefit package (including health insurance); full support from application to arrival; sponsored accreditations; multiple career tracks (in education and beyond); small class sizes; job-rotation program; weekly sponsored social events; free Chinese lessons

Apply and speak with one of our recruiters today.
Dates: Now Interviewing
Cost: We pay you. Full salary package included.
Contact: EF English First, China, 1F Jiu An Plaza, 258 Tongren Road, Shanghai, 200040.
Tel.: +86 (21) 6039 5868.
Website: www.englishfirst.com/teach-english-in-china

Featured
FREE Salary vs. Living Costs PDF Guide for Teaching in Thailand/Other Countries
Get a FREE Thailand Salary vs. Living Costs Guide or other countries we serve and find out exactly how much money our teachers are making, how much they are saving, and what they are spending their money on!

TEFL Heaven offers guaranteed paid teaching positions in some of the most breathtaking locations in Asia, Latin America and Europe.  Your new adventure starts with the face-to-face TEFL training in the location you choose which then certifies you to teach English anywhere in the world.  No previous teaching experience is needed and you don't need to speak a foreign language to teach English!

Get the Thailand Salary vs. Living Costs Guide
Dates: Start dates every month.
Cost: Varies on location — please check out website for prices.
Contact: Mr. Ben Hesketh, TEFL HEAVEN, Badger House, Oldmixon Cresent, Weston-Super-Mare, England, BS24 9AY United Kingdom
Tel: +44 208 1333 885 (UK); 916 692 0226 (US & CAN)
Email: teachabroad@teflheaven.com

Featured
Teaching in China
Teaching in China — and elsewhere in Asia — with Footprints is a rewarding experience. We have been connecting native English speakers with schools in Asia since 2001 and have sent over 10,000 people on life-changing journeys overseas. The majority of our teaching jobs are in China and Korea, but we also work with Taiwan, Japan, Hong Kong, and other locations in Asia. We make your move abroad easier by helping you at every step of the application and visa process — so apply today!
Dates: We have ongoing positions — please apply with your resume
Cost: Free

Featured
Teach in Thailand, Vietnam or China with API Abroad
Earn a salary while teaching English, or another school subject in English, in Thailand, Vietnam or China. Accommodations included, with completion bonus. Positions available in private language schools, private and public schools to primary/secondary and continuing education.

Dates Offered: China: February or August; Vietnam: Start dates year-round; Thailand: May or October.
Cost: China: $600; Vietnam: $980; Thailand: $1,780.
Contact: Claire Hero, Assistant Director of Teach, Work, and Volunteer Academic Programs International (API), 301 Camp Craft Road, Suite 100; Austin, TX 78746-650.
Tel: 512-600-8900
Email: api@apiabroad.com
Featured
Latest & Greatest ESL Jobs in China
High paying teaching positions at professional schools across China, based on your preferences for location, student age and school type. With over a decade of experience, we offer a free service connecting you with hand-picked private and public schools with cutting edge teaching resources and a friendly, supportive team.

We also offer fully accredited TEFL courses for people looking to get certified to teach abroad.
Dates: Positions available all year — visit our website for current openings.
Cost: Free. You are paid a generous salary with benefits.
Contact: Jessica — Senior Recruitment Consultant at Gold Star TEFL Recruitment.
Email: jobs@GoldStarTeachers.com

Featured
AUA Language Center
Over 50 years of Teaching English as a Foreign Language, with many branches across Thailand.
Visit: AUA Language Center
Chatteris Educational Foundation
Graduate English Language Tutors (GELTs) are placed in Hong Kong schools and given a monthly allowance and free housing for the first 2 weeks. Recent graduates preferred.
Visit: www.chatteris.org.hk.
CIEE: Council on International Educational Exchange
Teach English in China, South Korea, Thailand, and Vietnam
CIEE offers a variety of paid teaching programs in four unique countries in Asia.
Visit: www.ciee.org
Colorado China Council
Graduates from the U.S. are placed as teachers at institutes throughout China, for 6 or 11 months.
Visit: www.asiacouncil.org
Geovisions
Paid Teacher in China
This is a full time teaching position with a full salary and benefits. Depending on your experience and educational background, you can earn approx. US $1000-$2575 per month.
Host institutions provide assistance in finding comfortable accommodations. In some cases housing is provided or a stipend to cover living expenses.
China is an amazing place to teach English and to explore a culture that is really just opening its doors to the world! Getting paid to teach English in China is a rewarding experience that requires patience and open mindedness.
Depending on the school you may be given free accommodation and a flight allowance. You will receive full orientation and training before you start teaching.
Paid Teacher in Thailand
This is a full-time, paid position to teach English in Thailand. Teaching positions are available all over Thailand and the jobs are guaranteed. You get National Holidays off and accident and medical insurance. We screen 100% of the jobs. Degree holders are placed very quickly. We can also place individuals without a degree.
Visit: geovisions.org.
Greenheart Travel
Get Paid to Teach at Language Schools in China, South Korea, and Thailand
Greenheart Travel offers paid teaching spots with language schools in China, South Korea, and Thailand, often with many perks. See the website for details.
Visit: greenhearttravel.org.
International TEFL Academy
TEFL TESOL Courses in Asia
Courses in Cambodia, Thailand, and Vietnam. Job placement assistance for all graduates.
Japan Exchange and Teaching (JET) Program for U.S. Citizens
Administered by the Japanese government, it is the largest single program for teaching English. Graduating seniors and university degree holders eligible. Also offers positions for those who have studied Japanese as Coordinators of International Relations.
Visit: jetprogramusa.org.
Princeton-in-Asia
Paid internship programs for college graduates, usually teaching English, for one or two years in China, Hong Kong, Indonesia, Japan, Kazakhstan, Korea, Laos, Malaysia, Singapore, Vietnam. Teachers may be responsible for transportation. Salary very much country-dependent; housing and health insurance arranged. Must interview and have orientation in Princeton.
Visit: piaweb.princeton.edu
Teach Away Inc.
Teaching English as a Second Language Placements in Asia
We currently work with Ministries of Education and Private Language Schools in Korea, Japan, and Taiwan. We also offer placements in Hong Kong, China, and Mexico. Teach Away was selected by the National Ministry of Education in Korea to provide English teachers for its renowned EPIK program. In addition, Teach Away has partnered with some of the most reputable language schools in Asia, allowing recent grads to choose from a variety of countries and programs. Teach Away, North America's leading teacher placement organization, offers a wide variety of international jobs at Ministries of Education and Top Private Schools around the globe. Each year, hundreds of graduates explore the world and experience a new culture through Teach Away's international teaching programs.
Visit: www.teachaway.com