Teaching English in Taiwan: A Realistic Guide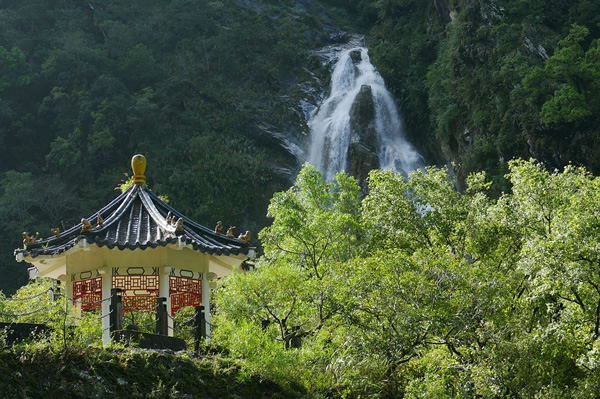 The Taroko Gorge in Taiwan is part of the beauty of a diverse island with many English teaching jobs.
Before you make the major decision to completely uproot yourself and move to Taiwan for the sake of teaching English, you should take a very hard look at everything it requires.
There are three major areas you will need to cover in terms of requirements:
Legal requirements to teach English in Taiwan
Realistic financial requirements and expectations
Lifestyle requirements and expectations
Your transition to living and teaching will be much smoother when you make sure all of these areas are both understood and adhered to as closely as possible, especially the legal requirements.
Legal Requirements to Teach English in Taiwan
The very first thing you need to do before making the choice to head to Taiwan is to figure out if you have a realistic chance at gaining legal employment.
While many people fly to Taiwan and try to work a few months at a time on short-term visitor's visas, this practice is both illegal and extremely risky. Those caught are more often than not deported and concurrently banned from reentering the country for five years.
To teach legally, you are going to need to meet a certain set of criteria that the Taiwanese government has deemed necessary.
Everything You Need for Your Work Visa
To legally teach English in Taiwan, you are going to need to obtain a work visa, which will then allow you to get your Alien Resident Certificate (ARC). However, work visas are not handed out to everyone, and you need to meet these basic requirements to qualify.
Education
Legally speaking, the bare minimum level of education that the government will accept for a foreign English teacher is a 2-year Associate Degree accompanied by a TEFL or TESOL certificate from a recognized agency. It is important to note though that it still might be difficult to obtain employment with a 2-year degree since many schools still prefer teachers to have at least a 4-year university education.
Most teachers in Taiwan will have received their work visa from the government by proving they have a Bachelor's Degree from a university that is recognized by the Taiwanese Bureau of Education. Most medium and almost all major universities are recognized, but if you graduated from a considerably smaller and less well-known school, you might want to check with the Taiwanese Bureau of Education before proceeding with your job search.
Note: The field of study is not important for most teaching jobs, but to teach in a public school, you will need a teaching certificate. Most universities require an M.A., M.S., or PhD.
Language
To teach English in Taiwan you must be a native English speaker. As proof that you are indeed a native English speaker, the Taiwanese government requires you to hold a passport from one of the following countries:
The United States
Canada
Australia
New Zealand
The United Kingdom
Ireland
South Africa
Other Considerations
If you are college educated, speak native level English, and come from one of the above countries, you are pretty much set as far as legal requirements are concerned.
But to complete the whole process of getting a work visa and ARC there are a few additional requirements.
You must be at least 20 years old, an age that should not be a problem for most people since you will need to have completed some secondary education anyway.
You must get and pass a criminal background check.
You must pass a health check that includes both a tuberculosis and an HIV/AIDS test.
Note: If you are coming from a country that does not have low-cost health care, such as the United States, you can get your health test done as lower cost in Taiwan.
The Process of Getting Your ARC
Now that you are sure you have all of the major requirements fulfilled, there are a few additional steps needed to complete the process.
Get to Taiwan
It is almost impossible to get a work visa while outside of Taiwan, especially for those wishing to teach English. If you know you are legal, have your paperwork and finances in check, and have made up your mind, then it is time to go to Taiwan.
Get a Visitor's Visa
Visa procurement is a highly debated aspect of this process. In the past, you needed to apply for a 2-month visitor's visa before arriving in Taiwan if you wanted to look for work after landing.
The reason is that you will want to get a visa is that entering under Taiwan visa exempt status has prevented some people from getting their work visa. Technically speaking, the visitor's visa gets changed into a work visa. If there is not any visa (such as when you enter as visa exempt), there is not any visa to change.
It is not always the case, and the rules are always in flux, but it is better to be safe than sorry.
Note: Do NOT tell the immigration officer that you want to look for work in Taiwan. They might not let you enter the country.
Get a Sponsor
You will need someone to apply for you. That means you need to find a job. Once you prove to a school that you will be a great fit for them and that you fulfill all of the legal requirements, they can move forward and sponsor your application.
Most schools will handle the paperwork and application processing for you as well as cover the application fee of NTD$1000 (~ $34USD).
You will also need to sign a contract for at least one year with your sponsor, or the government will not grant you a work visa and ARC.
Realistic Financial Requirements and Expectations
If you want to relocate to Taiwan, you should have an understanding of the average salary as well as the cost of living. You should also know that not all teaching jobs are the same.
Types of Schools in Taiwan
There are five main types of opportunities for foreign English teachers to work in schools in Taiwan, but many have some special requirements above and beyond the bare legal necessities.
Kindergarten
In Taiwan there are four levels of kindergarten encompassing students aged 2 to 6. There are also three types of kindergartens:
Public
Private
Private-International
The only one of these three types of kindergartens that will employ a foreign English teacher is the private-international variety. It is actually technically illegal to teach at one of these though, as former president Chen, Shui-bian was worried about the degradation of Taiwanese culture and so banned foreign teachers from teaching Taiwanese children before first grade.
It is still very common to see foreign English teachers at these schools, as the schools tend to get warnings before raids. That does not mean they are risk-free though, and getting caught working illegally is a cause for deportation.
Buxibans
A buxiban is also referred to as a cram school. It is the most common type of school for a foreign teacher to find employment.
Students attend buxibans after their regular school for extra lessons in a variety of subjects such as musical instruments, math, and foreign languages. There are also adult buxibans, but they are not nearly as many and finding a job at one is usually more difficult.
Public Schools
Some public schools have started English programs that feature a native English-speaking teacher to help students with conversation and accent. You will need to have a teaching certification from your home country, however.
If you are a certified teacher and you want to find a job at a public school, there is the rarely discussed FET program, which places foreign teachers in rural areas. Many other teachers who want to find work in a public school do so through the use of recruiters that are hired by schools to find teachers.
Note: Many recruiters also have a good assortment of buxiban jobs. Keep in mind that they do get paid for their services, so if you should choose to use one for buxiban work, they may take a small chunk off of your bottom line. However, if time is of the essence, they are a way to get the most interviews in the shortest amount of time.
Private Schools
Many private schools also have English programs that feature native English speaking teachers. They too prefer to hire certified teachers or teachers who do not need sponsorship (the latter are teachers who are married to a foreign spouse, or those who have gained permanent residency due to living in Taiwan for over five years).
Universities
Teaching in a university requires an advanced degree. These jobs are also extremely rare and get nabbed very quickly. If you are new to Taiwan and new to teaching English, these types of positions are basically off of the table.
Note: Many teachers also take on private students that they find through online communities or word-of-mouth. While these students usually pay more and are often both more interesting and rewarding to teach, this practice is also technically illegal. If you do choose to take on private students, make sure you understand the risks.
Average Teacher's Pay
Note: These estimates are based on working for a buxiban.
Most schools that are going to go through the trouble of supplying you with an ARC are going to require you to work full-time. However, depending on the school, full-time can be anywhere from 14 hours a week with some unpaid office hours mixed into a full 40-hour workweek.
If you are only putting in around 20 hours or less, expect to receive an hourly rate. Most schools start new teachers at NT$600 (~ $20 USD).
Some larger chain schools will offer slightly lower rates but provide more substantial training and perks, like an interest-free startup loan. However, unless the school's benefits are well documented and are legitimized by social evidence, like discussions on popular TEFL internet forums or Facebook groups, they should be observed with skepticism.
School's that want their teachers to be present for closer to 40 hours usually pay on a salaried basis. The average starting salary is NT$60,000 (~ $2,000USD).
No matter which option you find, you will have 18% of your income held for taxes during your first six months (183 days to be exact) of working in the country. That rate then drops to 6%.
That means if you arrive in Taiwan and start working in November, you will have 18% withheld for both November and December of that year. The tax year then resets, and you will have 18% of your income withheld for the first 183 days the following year. Note: The longer-form explanation is in this post on Taiwan tax law.
Do not worry though; you will get a very good chunk of that refunded.
One word of warning about some of the salaried positions though is that many of them include teaching kindergarten-aged students, which as previously mentioned is technically illegal for foreign teachers.
Some schools offer other financial incentives such as Chinese New Year's bonuses and student retention bonuses, but they are usually negligible and unreliable, so do not factor them into your potential annual earnings.
Average Cost of Living
Though Taiwan is small when compared to the likes of the United States or Australia, the cost of living varies greatly from city to city and person to person.
Most foreign teachers working full-time jobs tend to save $500USD or more monthly, but their spending habits have a big impact on this amount. Another major factor is the city in which they reside, as the rent for living in central Taipei will easily run you double than that of living on the outskirts of Taichung or Tainan.
The major expenses that you need to plan for are:
Rent
Utilities
Transportation
Food
Nightlife
In general, most of the living expenses are much less costly than those in places like New York City or London, especially rent and utilities, but entertainment costs are very similar to western ones.
For a more detailed real-life breakdown, here is a great example of living expenses in Taiwan.
Lifestyle Requirements and Expectations
Choosing where to live while moving to Taiwan to teach is largely dependent on the type of lifestyle you seek. Five major areas provide the most opportunity. Each area has its own identity.
Taipei City
The capital and largest city in Taiwan, Taipei is located in the far north and is surrounded by a ring of mountains. There are by far the most teaching opportunities in Taipei City than there are in the rest of the island, but it is much more competitive.
Some of the pros to settling in Taipei are the ease of getting around (public transportation is plentiful and the MRT is extremely convenient), and there is a lot of entertainment available, from high-end restaurants to exciting nightlife.
Taipei City is also the most expensive place to live, so it might not be the best choice for someone looking to save as much money as possible.
New Taipei City
New Taipei City was formerly called Taipei County. It consists of a ring of smaller cities located around Taipei.
While the MRT does dip into some of the areas, you will probably need to buy a scooter to get around. The good news though is that it is fairly cheap to live in these areas compared to Taipei City.
Taichung
Taichung is centrally located. It is known for having some of the best year-round weather in Taiwan.
Though only the third largest city in Taiwan, there are still a fair amount of teaching jobs available. The competition is still a bit significant since more affordable real estate has lured a lot of foreign-owned restaurants and bars to the area to set up shop.
There is no MRT, but there are buses and very wide roads for those willing to drive a scooter.
Tainan
Tainan is a small city in southern Taiwan. There are not a lot of teaching jobs here, but there are not as many foreign teachers either, so the competition is less strong.
Tainan is very open and does not have the rain or cold fronts you experience in Taipei. But, it also does not feature as many foreign friendly areas.
That does not mean locals are not friendly, but the language barrier can become a bit of a problem here as opposed to Taipei. Still, Tainan tends to have a very close nit foreigner community.
Kaohsiung
Kaohsiung in an industrial city located in the deep south of Taiwan. It is much less discussed, but it's still Taiwan's second largest city.
The city has a much more blue collar and laid back feel to it, but it has many modern amenities. Like Taipei, Kaohsiung actually has its own MRT system, though it isn't used nearly as much.
Due to its location, it is a little off of the radar for many westerners living in Taiwan. Luckily, if you are interested in making a move to Kaohsiung, there is an online community to ask and answer questions called Kaohsiung Living.
Other Areas
There are teaching jobs in other areas such as Taoyuan, as well as some small cities in central Taiwan. Most of the jobs, however, branch out from city centers, as that is where the parents with the money tend to live.
You can find a nice job in a smaller rural school, but you also might get a lot less support, both professionally and culturally. If you have thick skin and want to dive deep into Taiwanese culture though, they are a great choice.
Tim Backes started teaching English in Taiwan in 2005 and enjoyed many more years in the country than the one year he had originally planned.