Teaching English in China: Our Life in Yangzhou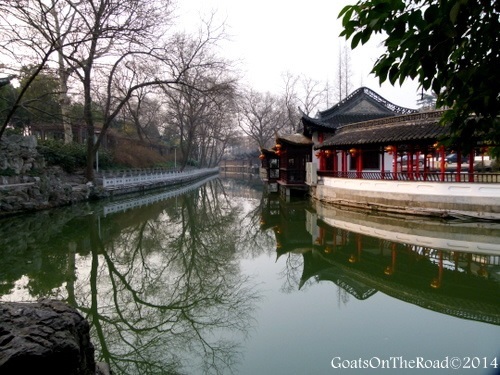 Canal in the old town of Yangzhou.
China was our last stop on a 16-month backpacking trip around the world. We explored the country for a month, communicating primarily with hand motions and using charades while eating way too many dumplings along the way. Our travels in China piqued our interest and we knew there was so much more for us to see and learn in that great country.
We decided that we would like to spend a year living in China to understand on a deeper level the unique facets of Chinese culture, and teaching English seemed like the best way to go about it at the time.
The School
We knew that we didn't want to teach in any of the major, westernized cities like Beijing, Shanghai, Hong Kong, or Chengdu. We were looking for an authentic Chinese city where we could put down some temporary roots, for the next year or perhaps longer. We were interested in immersing ourselves in the culture, the cuisine, and meeting the local people. After back and forth communications with a recruiter, we found the perfect job at Shane English School in Yangzhou.
We were now set. We were moving to China!
The Schedule and Pay
Coming from Canada, where we both worked between 40-80 hours/week, we were expecting to work about 30-40/hours teaching in China. When we were given the contract, we were thrilled to see that we were only required to work 20 hours/week! (These hours are typical of most teaching jobs in China, it turned out.)
In reality, we actually ended up averaging about 18 hours/week over the course of the year.
We were each paid a salary of 8,000 RMB ($1,285 at the time) a month, which was plenty to live on in Yangzhou. We were even able to save up $21,000 in just one year of teaching!
Working at a private school turned out to mean that Saturdays and Sundays were our full days when we worked from 8:30 a.m. to 5:20 p.m. Monday and Tuesday were our days off, while Wednesday to Friday we each had one class that lasted 1.5 hours. Although it may not sound like many hours, trust us, after teaching just one kindergarten class, we were exhausted.
Teaching kindergarten students can fun but exhausting.
The Perks
Teaching English in China is filled with many pros, and only a few cons. Shane English School provided us each with an end of contract bonus of $480, flight allowance of up to $750, health insurance, Mandarin language lessons, and a housing allowance of $128 per month (enough for rent to live in Yangzhou).
The biggest perk though was our personal assistant, who became a very good friend, named Standy. Imagine arriving in a country where you don't speak the language and everything is foreign to you. Having someone who could translate, help us pay our monthly bills, and teach us about China was priceless. What better way to learn about a country, its culture, and its people than from a local?
Standy became a close friend of ours and we learned a lot from him. We remain in contact with him to this day.
Yangzhou City
Yangzhou is a lovely city filled with canals, wide sidewalks, the famous Slender West Lake. As with many cities in China, it has a traditional old town. With a population of 5 million people, this is considered a small city by Chinese standards! Although a very populous city by our standards, Yangzhou is quite spread out. We never felt claustrophobic when walking the streets, as we did in Shanghai, for example.
There aren't many foreigners living in Yangzhou. The people are consequently very curious about westerners. We felt like rock stars every time we walked down the street or into the mall. But we never tired of the stares, friendly smiles, and waves that were offered on a daily basis.
Apart from KFC, McDonald's, and Pizza Hut, there are no western restaurants here. In fact, there is only one grocery store that has a couple of aisles stocked with western comfort foods such as spaghetti, tacos, chocolate and some international foods from Korea, England, and Thailand. We quickly grew to love that we were "forced" to indulge in the local cuisine and try new foods.
Although the locals eat what many westerners might see as seriously unusual foods in China, we found most of the meals to be quite delicious!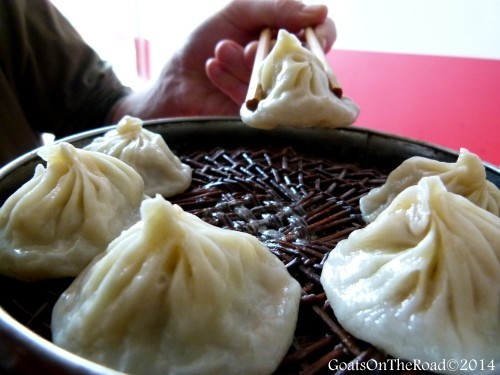 Enjoying Chinese dumplings.
Our Life in Yangzhou
Because our teaching schedule was great, we were able to spend our free time working on our travel website and explore our own backyard.
We became friends with not only Standy, but many of the Chinese teaching staff as well. We were taught first-hand how to make dumplings. We were invited to four different weddings. We enjoyed numerous meals at restaurants together.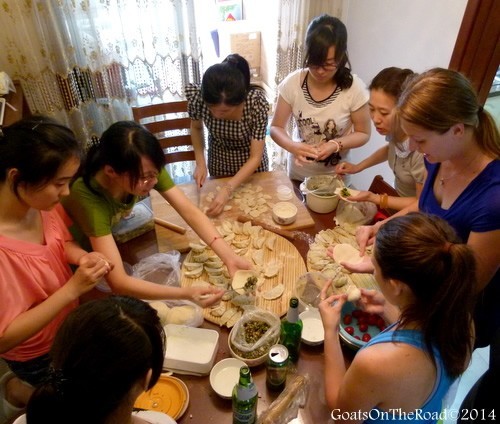 Learning how to make Chinese dumplings.
Aside from becoming close friends with local people, we also spent plenty of time with members of the foreign teaching staff. We were all living in an unfamiliar country, with customs often strange to us, and experiencing a very foreign language. Because of this, we formed a special bond with many of our colleagues, who we still consider great friends.
Lunches of cold noodles were eaten together. Family style dinners were typically shared with our friends and colleagues at one of our favorite restaurants serving up food from the northeast Dong Bei region, Sichuan Province, or local Yangzhou food itself. A huge meal with drinks at a restaurant in Yangzhou was very affordable, coming in at around $7 per person.
We all owned bicycles, which was our main source of transportation around the city. We'd ride out to different lakes, or meet up at each other's homes for get-togethers. Evenings were spent with friends at a restaurant followed by the local píjiŭ (beer) back at one of our apartments. Aside from eating out at restaurants, the entertainment in Yangzhou consisted of one nightclub, a couple of coffee houses, karaoke, an arcade center, and a movie theater (which played English movies once a week).
Come summertime, the foreign teachers and our Chinese friends would meet up for picnics in the park, BBQ's on a friend's rooftop balcony, or swimming at the outdoor pool. We had to teach our local friends about picnics and BBQ's, both of which were foreign concepts to them — which was evident when Standy brought ice cream and peanuts to an outdoor picnic in 30-degree heat!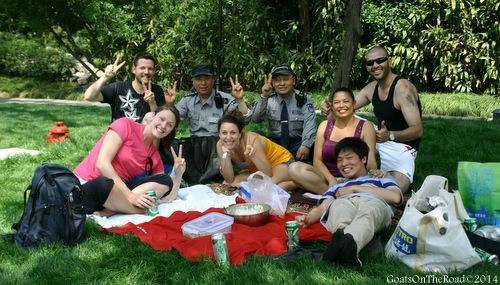 A day at the park with Standy, friends, and guests!
Near our house there were many markets and friendly street-side vendors selling fresh fruits, vegetables, breads, wraps, soups and noodle dishes. Being some of the only foreigners in Yangzhou, we were easily recognized by our favorite food vendors who would smile and wave as we whizzed by on our bikes.
Exploring Nearby Cities
The province we lived in, Jiangsu, is located in eastern China with numerous nearby cities and towns to explore. We spent many weekends (Mondays and Tuesdays for us) away in Shanghai, which is just a three-hour journey by bus and train. Suzhou and Wuxi were visited on a week's holiday from work and we traveled to Hangzhou for a few days during our vacation time as well. We also spent some time exploring the more provincial capital of Nanjing.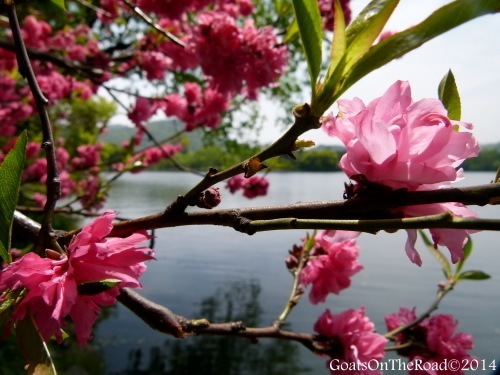 Flowers blooming in Hangzhou.
With our new memories developed, people befriended, and the experiences thoroughy enjoyed, our year teaching English in Yangzhou will stay with us forever. Not only were we able to learn about a possible new career path, but we were able to live like locals in a foreign land—an experience we believe everyone should have at least once.
Nick and Dariece are the couple behind Goats On The Road, a website designed to inspire others to live a financially sustainable, location independent lifestyle. Masters at making money abroad and turning their travels into a way of life, they've been on the road since 2008 and have explored some of the least visited places on earth, finding adventure wherever they go.