The Guide to Teaching English and Living in Bangkok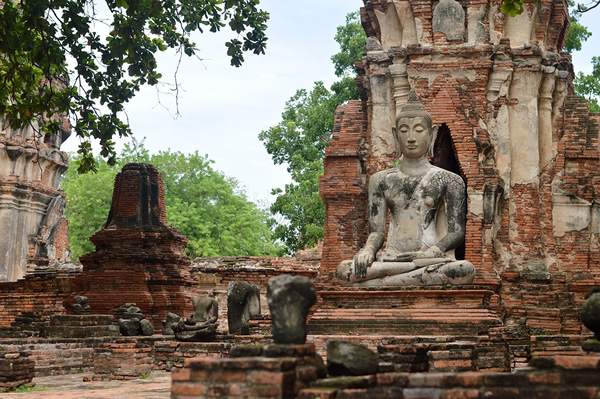 The great ancient city of Ayutthaya is just outside Bangkok. Photo by Queena Deng.
Teaching English in Bangkok
Bangkok has a high demand for English teachers in many different types of schools, from corporate training centers to small private schools to public schools with 50 students per class. There are opportunities for beginning teachers as well as those with more experience. But while there are a lot of opportunities here, they're not necessarily the highest-paid. You can certainly save some money here but look to Vietnam, South Korea, and China for better-paid teaching jobs.
However, Bangkok is the place to be if you want to live in one of Southeast Asia's most modern and exciting cities. If Southeast Asia has a "city that doesn't sleep," this is it. With gentle and friendly people who still like to stay up late and food that by itself keeps the quality-of-life high, Bangkok is a fun place to stay with a lot to do.
In addition, one unique advantage of living in Bangkok is that you can continue your studies and improve your qualifications in Bangkok. There are actually a few universities in Bangkok (and other parts of Thailand) where you can get a master's degree in TESOL, business, or a few other fields for much less than you'd spend back home.
Public and Private Schools
Many public schools have room in their budgets to hire a few foreign English teachers, so this is a big reason why Thailand is a go-to destination for finding teaching work. In addition to English-teaching positions, there are also available jobs teaching math and science (in English). These positions are primarily filled by a few placement agencies. You can also search on your own and may get a slightly higher salary if you avoid a placement agency. Public-school jobs in Bangkok should pay around 30,000-40,000 baht ($900-1,150) per month.
Check out this article for more information on teaching English in public schools in Thailand.
There are also a number of private schools in Bangkok that teach at least some lessons in English and hire foreigners. Private schools usually pay 40,000-60,000 baht ($1,150-$1,750) per month.
Language Centers
There are a plethora of language centers in Bangkok. Language schools often offer small class sizes (10 per class at some, and as low as 4-6 per class at others). You will have an opportunity to teach adults who are serious about their studies (they're usually shelling out a considerable amount for the course). On the downside, most students work during the day and are only free on evenings and weekends — so that's when you have to teach. It can be difficult to meet friends for dinner, but you'll be able to make it for a drink afterward. On the other side of that coin, you will probably start work in the afternoon so you have mornings free to sleep in. Or you can get in your workout while the gyms are empty.
You can work part-time in a language school and earn around 350-500 baht (US$10.00-15.00) per hour. If you're on a full-time monthly schedule, you can expect to make around 30,000-40,000 baht (US$900-US$1,150) per month.
Many language centers also offer corporate training programs. If you're a corporate teacher you'll usually travel to the company's office and give lessons there. You'll be reimbursed for your travel expenses and time. Corporate contracts are quite lucrative for language schools, so they usually send well-qualified or talented teachers. The pay can be higher for skilled corporate teachers—45,000-60,000 baht (US$1,200-1,700) per month—and you generally get to work during the 9 a.m.-5 p.m. workday. Classes are usually bigger than in language-school English courses as companies try to squeeze more students into each class.
Test-Prep
A step above English-teaching, some language centers also offer courses in IELTS, TOEIC, SAT or GRE prep. IELTS and TOEIC are the English tests that students must take before studying or working abroad. You'll need some training or experience with those tests to teach either course, but if you're keen to learn then your school may train you for it if you're already working there as a general English teacher. To teach SAT or GRE prep, you'll need high scores on the test you hope to teach (usually 95th percentile or above) and probably some teaching experience as well.
Universities
Bangkok has a lot of universities that need English teachers. They prefer well-qualified teachers, usually with a master's degree in TESOL or a CELTA plus considerable experience. The teaching loads are light, with around 12 hours per week in class. Pay is also high, starting around 60,000 baht ($1,700) per month. Some have reported earning up to 90,000 baht ($2,700) per month.
International Schools
Finally, there are plenty of international schools where those with a proper teaching certification, such as a bachelor's or master's degree in education or a PCGE, can find work. These schools offer high pay [90,000 baht ($2,600) per month and up], diverse and high-achieving students, and considerable vacation time.
Private Tutoring
Some teachers bring in some cash on the side by teaching students privately. There are many students around, you just need to get the word out about what you're offering through word-of-mouth, social networking and possibly even putting up posters or ads. 400-500 baht ($12-15) baht per hour is common, but some teachers charge up to 1000 baht ($30) per hour. It's generally advised to ask students to pre-pay for a few classes and tell them that if they cancel a class without giving due notice or skip a class then they won't get their money back for the lesson.
Visas
The visa situation is complicated and ever-changing. A website with a form called www.thaivisa.com exists to provide information on this perpetual subject of worry and speculation. Ajarn.com, the central source for information on teaching in Thailand, also has lots of advice. In short, working without a work permit is illegal, but some people do it. Getting a work permit through your school can be a hassle, but is recommended. Agents exist who can get you a one-year work permit for around $750-1,000. This seems like a steep price, but it gives you the flexibility to leave a job without worrying about losing your permit. It would be impossible to summarize the visa-related issues in this article, but it's a good idea to look through the above sources.
Living in Bangkok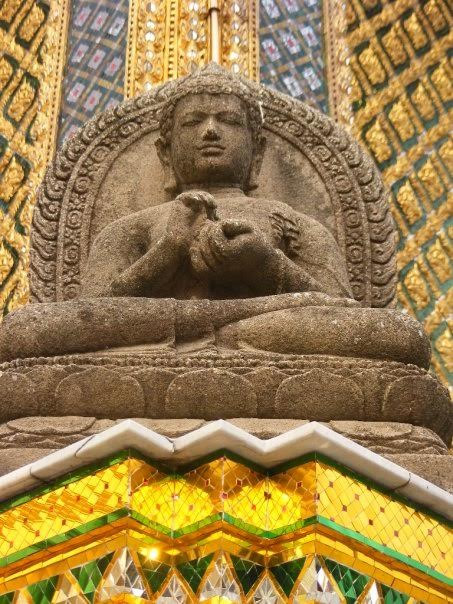 One of many statues of the Buddha in Bangkok.
Housing
You can find a decent apartment not too far from the city center for between 5,000-10,000 baht ($150-300) per month. If you can speak some Thai, or have a Thai friend who can help with the initial negotiations and paperwork, you can find something toward the lower end of that range. I live a 10-minute walk from a metro station that is three stops away from central Bangkok. I have a small room in a clean apartment-block, with fairly dependable WIFI and limited cable TV (CNN and Fox Movies are my only English channels). I pay 4,500 baht ($140) per month, but there are similar flats in the area for around 5,000-6,000 ($150-190). Websites are helpful for an apartment search, but it's also good to just walk around a neighborhood in an area that you like and look for "for rent" signs.
Food
You can eat pretty cheaply in Bangkok by sticking to street food, markets, and mall food courts. I get a daily double-egg omelet on rice for $1.00 before work. I have a meal with a bottle of water for around $1.50-3.00 in a mall food court in the evening. Including three squares, a daily Thai iced tea, and some snacks, I spend around $6-7 per day on food. This equals around $200 per month. You can get a nice meal in a restaurant for $3-10. You can find a wide range of food including pizzas, Middle-Eastern food, Indian food, Mexican food, and most other cuisines you can think of.
Transportation
Despite its famous traffic jams, Bangkok has the best public transport among large cities in the region, excepting Singapore. The bus system is difficult to learn, but it is extensive, cheap and useful outside of rush hours. The Metro and BTS Skytrain lines make it easy to get around the city quickly, and also allow you to live more cheaply in outlying areas and take the train into the city center for work. (Language centers tend to be located within walking distance of a Metro or BTS station, but not public or private schools.) If you're near a waterway, you may also be able to take a cheap water taxi to avoid the traffic.