In the Footsteps of Field Biologist Alfred Wallace
Exploring the Islands of the Indonesian Archipelago on a "Pinisi"
Aboard the Indonesian pinisi "Matahariku" along the coast of West Papua and remote islands of the Indonesian archipelago.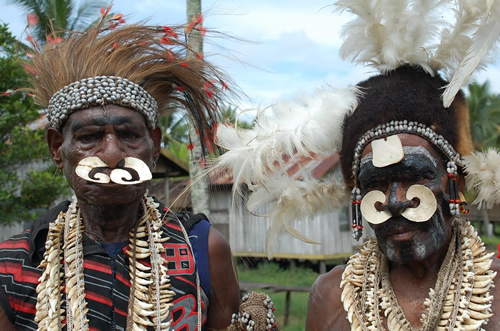 Why take the pinisi "Matahariku?" The boat allows fascinating visits with locals in the traditional Asmat villages in West Papua and other cultures and islands along the historic path of fearless 19th century scientist, Alfred Wallace.
A completely blue sky, the warmth of the sun mitigated by a gentle breeze, calm waters, comfortable lounge chairs, a cool drink, and that swooning feeling that, although it took us more than two full days and nights to get here, it surely is going to be worth it.
Together with eleven other seasoned adventure seekers, I find myself on a small wooden sailing vessel, called the "Matahariku," that has just left the harbor of Amamapare in West Papua, to follow in the footsteps of the British field biologist Alfred Wallace. In the mid-19th century, this fearless scientist explored the Indonesian archipelago in search of rare animal species, and eventually identified the faunal divide we today call the "Wallace Line."
But whereas Wallace undertook his voyages in small and primitive "pinisis," was assisted by crew members who would often deceive or desert him, and had to deal with illness, fever, hunger and extreme weather conditions, our more modern living situation is fortunately much easier to handle. We are crossing these seas in a comfortable, motorized replica with the latest navigation equipment, covered decks, small cabins with air-conditioning and ensuite-bathrooms, speedboat, zodiac, sea kayaks, and snorkel equipment, and a 13-people crew that keeps us safely afloat and pampers us with delicious meals, daily laundry service, and refreshing wet towels each time we return to the boat from an expedition on land.
Welcomed by Asmat Tribes
As the waters are extremely shallow close to the coast of West Papua, the "Matahariku" drops anchor several kilometers away from land, for a planned visit to the traditional villages of Oseanep and Pirien, inhabited by Asmat tribes who are widely known for their outstanding woodcarving and, until about half a century ago, for their headhunting raids.
The captain goes ahead in the speedboat to ask permission from the village elders to set foot on their land. Then Asmats in several prows, with plastic crates upside down and towels spread over them for seating, arrive to pick us up.
Once we are on a small river amidst the mangroves, dugout canoes full of singing and dancing paddlers with painted faces, feathers in their hair, and arrows fetched to their arms or on their backs surround our prows. And before long, throngs of children, women and men appear on the riverbanks, enthusiastically chanting, dancing, and drumming, and repeatedly shaking their knees in scissor-like movements (see below for video), their traditional way of saying to a newcomer: "you are welcome, we are no enemies."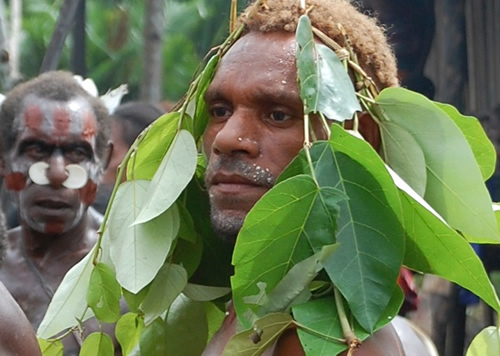 Man in a traditional Asmat village in West Papua.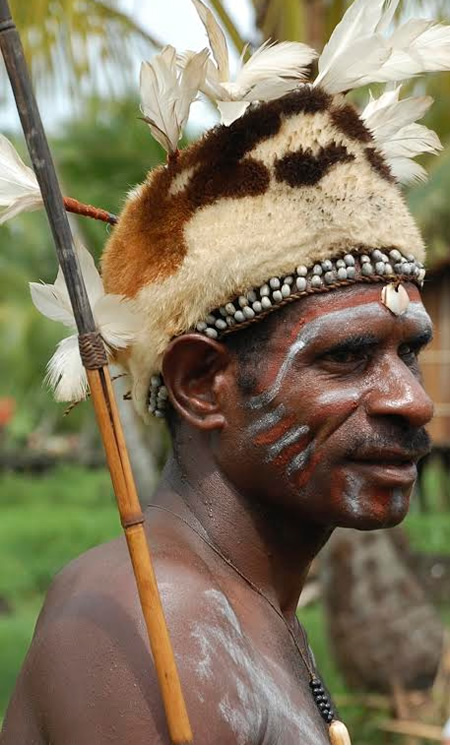 Another man in West Papua.
Surrounded by the frenzied crowd, we disembark and move in procession through the mud to the "village street," made of suspiciously creaking planks on top of poles in the swampy grass—many of them loose or with big holes—in the direction of a longhouse on stilts, where the village chief invites us inside. To enter, we will first have to do a balancing act on some narrow planks, which unfortunately collapse under the weight of so many stamping feet. But once we do manage to get inside, more dancing and chanting follows on a floor created from mats and tree branches. The men, some of them with their nasal septum pierced by bone or shell, dance on one side, and the women dressed in grass skirts, many of them with bared breasts or in bras, on the other side of the room, while the children are chased outside.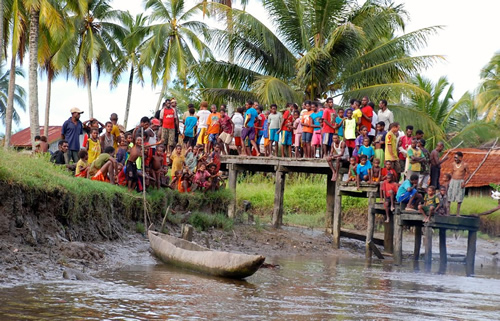 Reception in a traditional Asmat village in West Papua.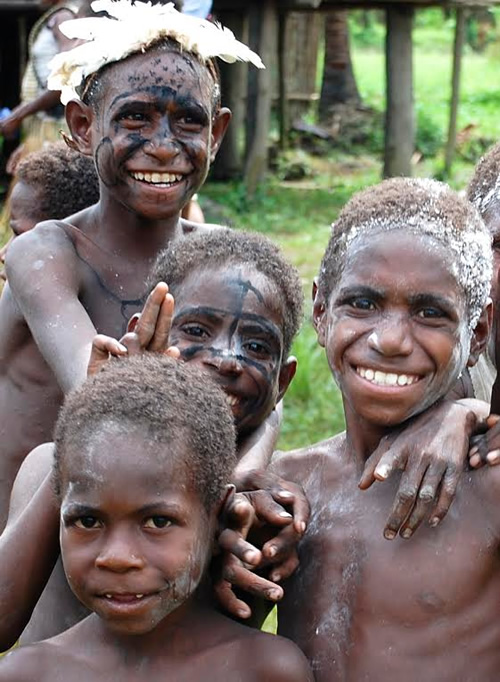 Welcoming children.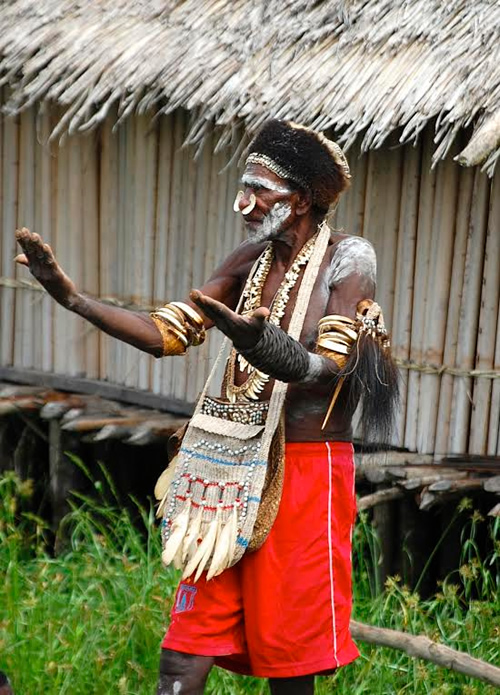 The village chief invites us into a traditional longhouse in West Papua.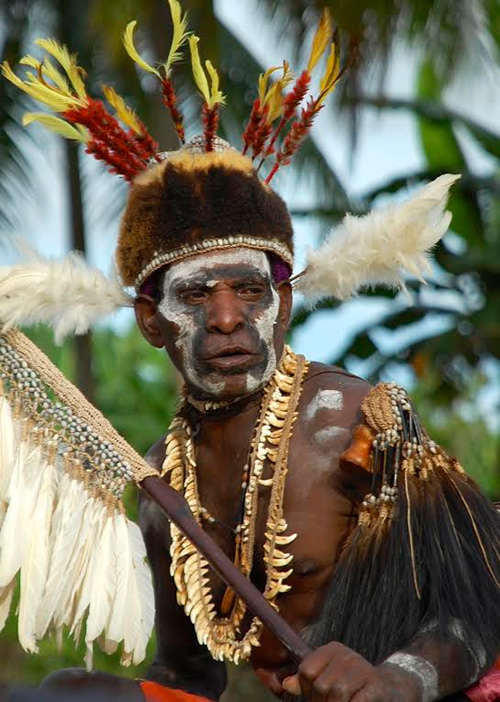 Man in the village.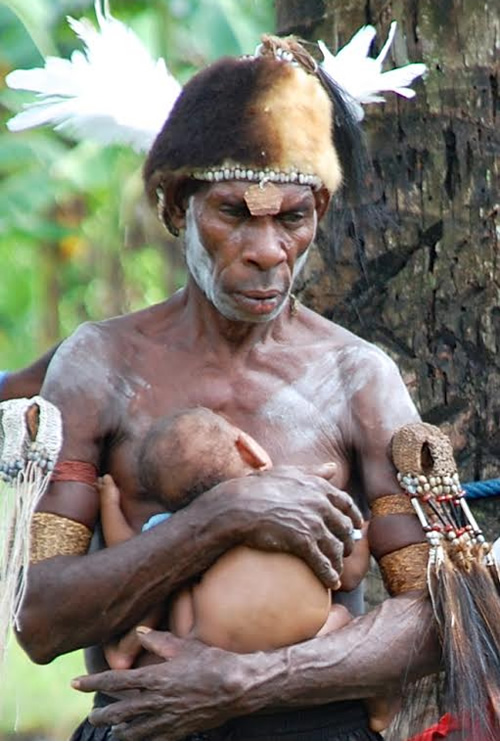 Man holding infant.
The small cigars we have brought are sold out in a split second, as some grab two or three at once to put as trophies behind their ears. Those who are not fast enough happily content themselves with the empty boxes.
On our way back to the prows, we keep stumbling over roots while trying to get some foothold in the swampy grass and mud. The barefooted Asmat, however, run with ease ahead of us in order to get a vantage point on the riverbank to see us off.
Weather and Tides
Once we have left the mangroves and reach sea again, it is obvious that the water has dropped at least a meter. We will have to push the prows through the mud amidst storks, pelicans, geese, crabs, and creepers, until we will reach the wave breakers line. It is hard work, as our legs sink into the mud up to our knees.
Nightfall closes in on us when we can finally jump into the prows again. An enormous dark cloud is now hanging over us, with incessant lightning and waves swelling to frightening heights. Totally drenched and mud-smeared, we eventually reach the "Matahariku." It takes many workers to get us all safely on board again, since the movements of the boat are totally out of zinc with those of the prows. On board, we have to hold on to railings, poles, doorknobs, and tables. In our cabins, we have to secure ourselves with piles of blankets and pillows in order not to roll out of our bunks.
Concept of Time
Every day has its own highlight, even when we are confined to the ship for 36 hours to cross the Arafura Sea. While we lazily spend the day reading, writing, eating, drinking, and watching frigate birds circling around the boat, a large pod of purpoising dolphins suddenly crosses path with the "Matahariku." They alternate their ballistic jumps with long swimming bouts just under the water surface, and stay with us for quite a while, once at port side, then at starboard. At sunset, against the backdrop of a breathtaking sky with a panorama of violet, red, and orange hues on one side, and a full moon rising out of the deep blue sea on the other, we spot several other schools of tumbling dolphins. Can it still get any better?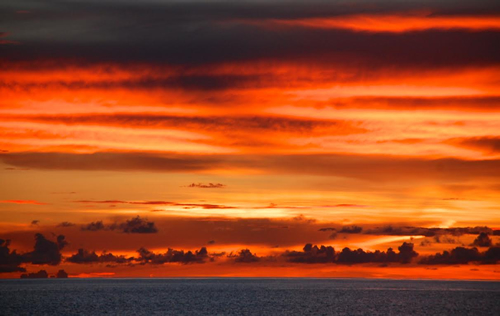 A 360-view after sunset from the upper deck of the "Matahariku."
Slowly, time has become a very abstract concept. Here on the ship nobody is in a hurry, and we cannot use our electronic devices to find out which day it is, and what is happening in the world around us. So while days flow into nights and nights into days, we just take things as they come, and trust our destiny in the hands of our captain.
Aru Islands
When navigating through a narrow channel close to one of the Aru Islands, the GPS map proves to be inaccurate and we run aground in the sand.
Some crew members jump in the speedboat and cut a couple of coconut trees on the island, in order to prevent the slanting Matahariku from capsizing. Then we will have to wait for high tide, in the middle of the night, and strike while the iron is hot.
In the meantime, the zodiac and speedboat bring us to the closest village, Dosinamalau.
We very much hope to get a glimpse of the famous bird-of-paradise, extensively described by Alfred Wallace in his book "The Malay Archipelago," and in his time a hot item for skin traders and collectors because of its exceptional appearance.
It was on one of the Aru Islands that Wallace, as the first westerner, observed fauna in the wild shared with Papua and Australia, but not with Borneo, Sumatra, Java, and Bali, including: kangaroos, cockatoos, crocodiles, and various species of the bird-of-paradise. He called the "Paradisea" with its magnificent golden-colored plumage and remarkable courtship display "the most beautiful of all the beautiful winged forms which adorn the earth," and the Aru Islands "the promised land."
Unfortunately, the village head prohibits us from entering the jungle, so we have to content ourselves with the friendly inhabitants of the village who come out of their houses to greet us, first hesitantly, then with a ready smile and a "hello mister."
The reason for the chief's veto is not clear, as he is quite tight-lipped. Is he perhaps afraid we will hunt down one of the now rare and protected birds-of-paradise? Or, that we may discover that locals still hunt them clandestinely? Later we will learn that the Aru Islands are under threat to be destroyed by a government plan to deforest 500,000 hectares (1,130,000 acres) of their land for the sake of sugar cane plantations across the region. What would happen to the bird-of-paradise?
Banda Islands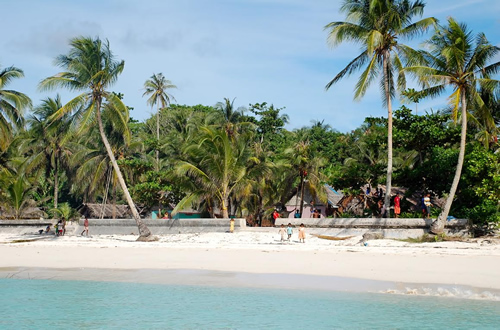 One of the many beautiful beaches on the Kai islands.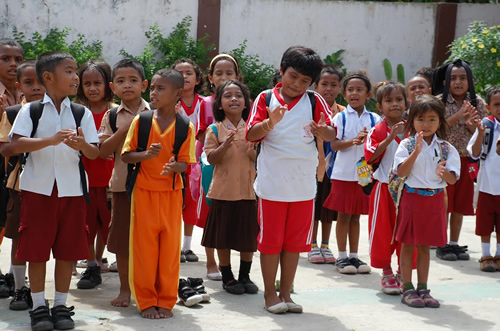 Visiting a school in Elat, capital of Kei Besar Island.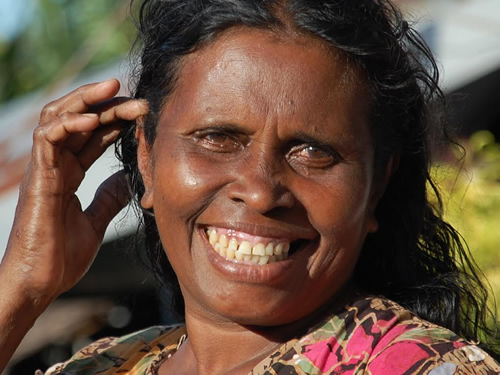 A woman from Kei Kecil.
Past the white palm beaches, tropical forests, and corals of the scenic and peaceful Kai islands, we finally reach Bandaneira, the capital of the eleven Banda Islands, situated in a splendid lagoon under volcano Gunang Api, and for many centuries an important trade center. Several European powers, lured by the great profits of nutmeg (used, among others, for food preservation before the arrival of the refrigerator), fought here for monopoly of the spice trade. The Dutch eventually prevailed, after slaughtering most of the indigenous population and handing over Manhattan to the English in exchange for sole hegemony (but a clever Englishman stole some seedlings and replanted them in Granada). Colonial houses and remnants of forts, cannons, and gravestones overrun by weeds are still silent testimonies of that controversial period in history.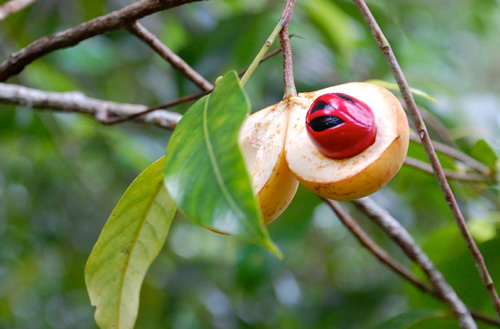 Nutmeg plantation, Banda Besar.
Cinnamon in abundance on Banda's harbor market.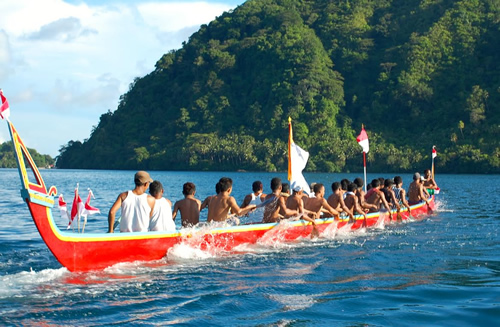 Arriving at Bandaneira: a glorious reception by "kora-kora" paddlers.
In the harbor, we are greeted by a "kora-kora" canoe, with roughly 25 muscle-toned paddlers rowing in very high speed on the rhythm of a tam-tam. In the old days, the sultanates of this region were protected against invaders by fleets of kora-koras manned by over 100 warriors each. Nowadays, kora-koras are used for races between the various islands of the archipelago.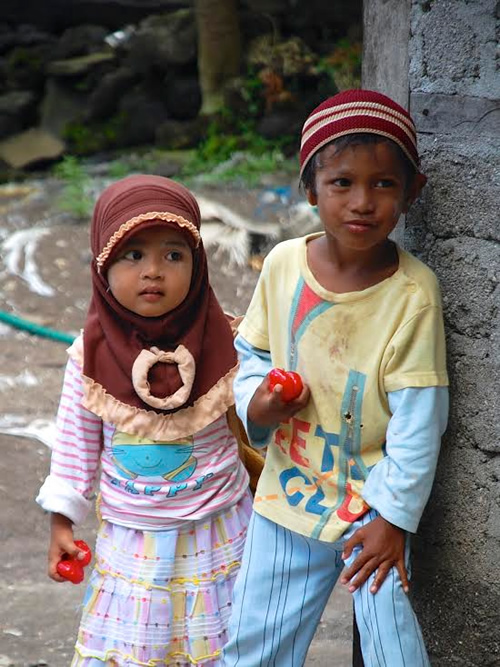 Kids on Banda Besar.
Most places of interest on the island are reachable by foot, and worth the walk. But by far the biggest attractions are snorkeling and diving in the pristine clear waters under the lava flow of Gunung Api. In awe, we watch astonishing numbers of fish varieties in all colors of the rainbow—including bumpheads, black snappers, mandarin fish, napoleons, hammerheads, sharks, tuna, groupers, rays. There are also lobsters and turtles, and the best underwater coral garden we have ever seen, grown in a short period after the volcano erupted in 1988. If Alfred Wallace could have snorkeled in his time, he would no doubt have had a field day.
For More Info
Related videos:
Lies Ouwerkerk is originally from Amsterdam, The Netherlands, and currently lives in Montreal, Canada. Previously a columnist for The Sherbrooke Record, she is presently a freelance writer and photographer for various travel magazines.