Kicking Back in Sri Lanka
Health Treatments in an Ayurvedic Beach Resort
Article and photos by Lies Ouwerkerk
Senior Contributing Editor
1/28/2020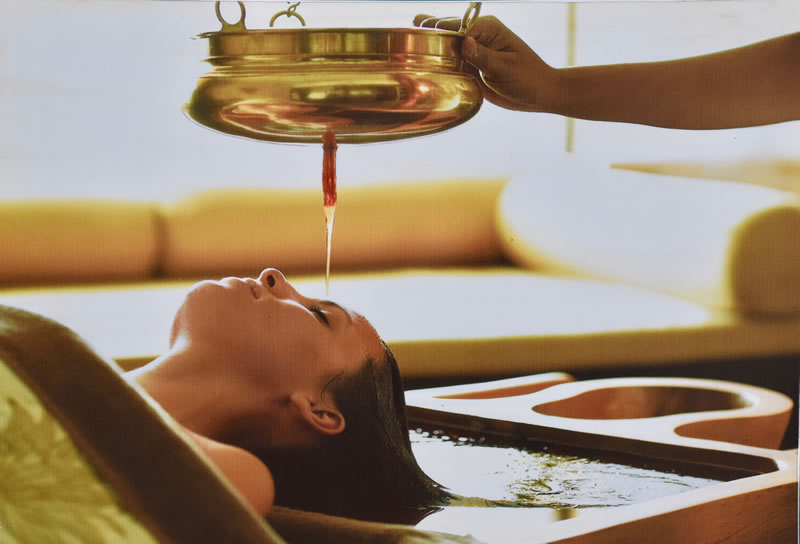 Ayurvedic treatment with ghee.
"Having some pain here, madam?" asks one of my friendly massage therapists, dressed in old-fashioned nurse attire, during our first meeting in the health center. She is pressing on a knot in my shoulder, where I have been balancing a heavy backpack for weeks on end. Gently, she applies herbal oil over the area and rubs it further into the sore spot with her magic touch. And low and behold, by the end of the 1½ hr session, the pain has miraculously disappeared!
I stay for a week in an Ayurvedic Health Clinic, located on the southwestern coast of Sri Lanka, in the beach town of Beruwala. I have come here for three reasons. First, out of curiosity, hoping to find out what the eastern science of Ayurvedic medicine is all about. Secondly, because I have been traveling the world for quite some time, and need some recharging. Thirdly, I happen to be in the country already, having just completed a whirlwind food tour across Sri Lanka. And if they can provide me with a cure for poor circulation, well, that would certainly be another bonus.
These days, most resorts along the west coasts of India and Sri Lanka call themselves Ayurvedic Centers. While they can certainly be enjoyable, many are mostly cosmetic, offering beauty and massage treatments without there being anything truly Ayurvedic about the resorts.
What is Ayurveda?
Genuine Ayurveda consists of comprehensive treatment plans customized by an Ayurvedic doctor to suit the needs of each individual. Most often, these programs include a combination of rest and sleep, herbal treatments and medicines, various types of baths, soaks, scrubs, lengthy daily massages, internal cleansing, rejuvenation techniques such as enemas and purging, acupuncture, vegetarian meals or more specialized diets, drinking lots of warm water, yoga and meditation (optional), and total abstinence from smoking and alcohol.
Ayurveda (in Sanskrit: "the science of life") is an ancient holistic health care system that originated in India and focuses on the total union of mind, body, and soul. It is the oldest known healing science and still widely practiced in India and Sri Lanka after more than 5000 years.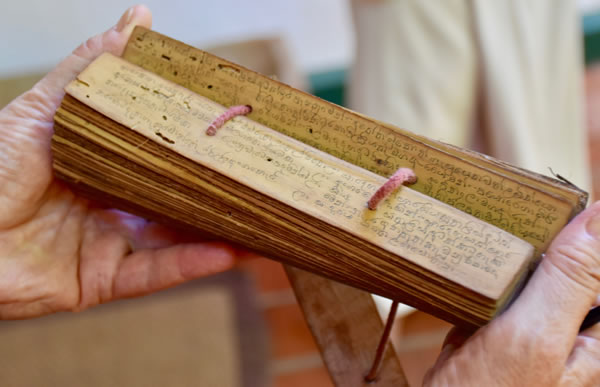 Ancient Ayurvedic text written on tree bark.
The underlying theory holds that each body is governed by three doshas (life forces): pitta (water and fire), kapha (water and earth), and vata (air and ether). In a healthy body, these doshas are in balance and equally proportioned. When the doshas are not in balance, problems and illnesses arise, which Ayurvedic treatments aim to prevent and rectify.
To achieve a lasting effect on body and soul, doctors prescribe at least two weeks of these holistic treatments, ideally even longer, since change needs to happen gradually. At first, the treatments help the body to get back on track; then, the rejuvenation process can start from within.
Choosing an Ayurveda Resort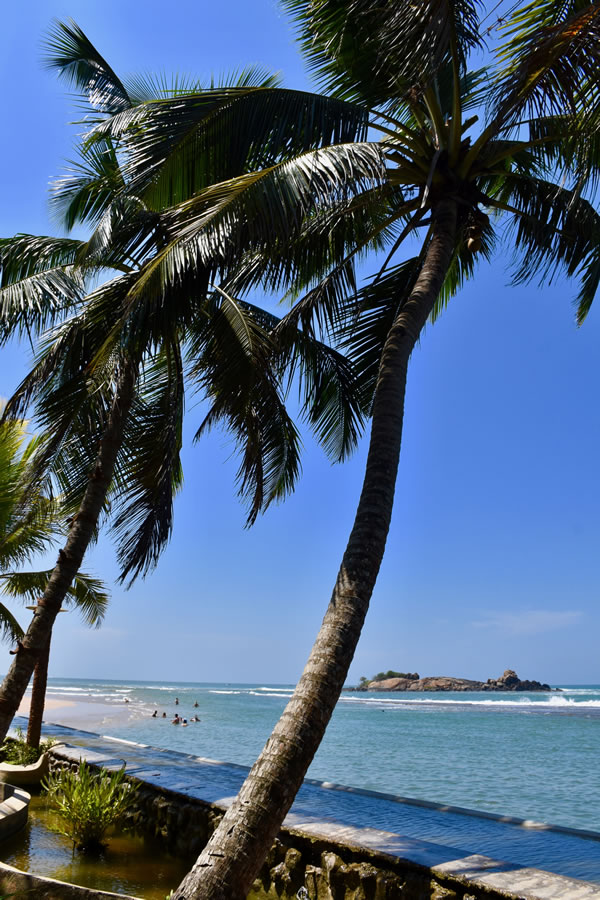 Regenerating at Barberyn Reef Resort.
After careful research, the Barberyn Resorts (Barberyn Reef in Beruwela, Barberyn Beach in Weligama, and Barberyn Sands near Bentota) come out for me as winners, because of great reviews, several impressive awards, reasonable affordability, and proximity to Sri Lanka's capital, Colombo. Since Barberyn Reef Resort has a good discount in the period of my stay in Sri Lanka, I zoom in on this health center, located about a 1 1/2 hours drive from the airport.
The resort, opened in 1968, was the first low-rise tourist hotel on the southwestern coast of Sri Lanka and started to introduce Ayurveda treatment programs in 1984. It currently employs a staff of about 50 people, including physicians, therapists, and natural medicine makers. Only guests who enroll in the Ayurvedic treatment programs can stay at the resort. All meals, treatments, doctor visits, use of the swimming pool, fresh beach towels, library books, airport transfers, extracurricular activities such as lectures, movies, food demos, and an excursion over the backwaters are included in the total fee of about $1345 US pw/pp.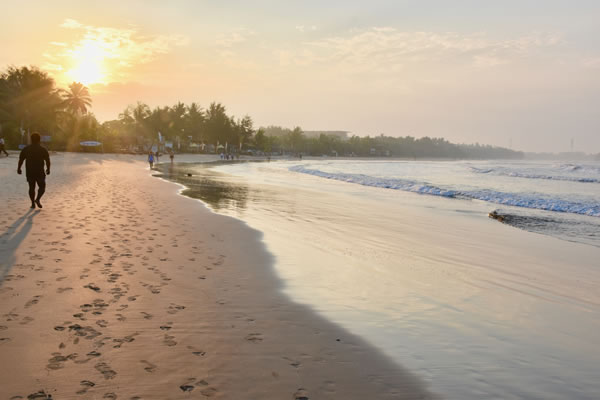 Early morning walk along the beach.
The Treatments
Upon my arrival at Barberyn Reef Resort, I am escorted to a doctor's office, where I am asked a ton of health and life-related questions. What are my current symptoms, history of diseases, state of emotional well-being, sleeping patterns, and dietary habits? The doctor also observes my body movements, skin color, quality of hair, nails, pulse, and tongue.
"Too much water," I hear her conclude when I stick out my tongue. It's only after asking how I could remedy such a surplus that I realize that her diagnosis got lost in translation. I apparently have too much vata in my system, which needs to be reduced and "pacified" by proper sleep in my four-poster bed, massages with herbal oil, steam baths, a certain diet, natural medicines, herbal potions, and by activating the other two doshas so that balance will return. Medicines are deposited in a big medicine cupboard and can be picked up each afternoon after 3:00 pm. Herbal drinks are distributed in the dining room before each meal. Some of them taste so horrible that I have to take sips in between two bites of the always-delicious foods.
For a week, I follow a daily routine of yoga and meditation sessions, including long and intense massages—always performed by two people at the same time in identical movements. The daily ritual includes steam baths in a wooden lattice capsule with only my head sticking out, cooling-off periods on a daybed in the herb garden with herbal pastes spread out over sore or ailing body parts, and cucumber slices on my closed eyelids, showers to clean the body followed by baths with assistants scooping heaps of balmy water over my body, acupuncture sessions, and three daily wholesome meals. Who would not love such "protocol" for a while?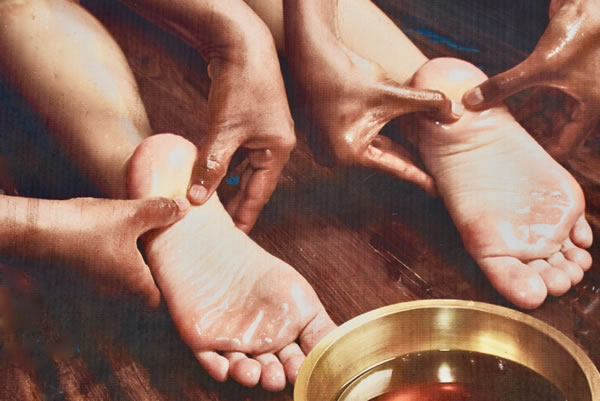 Massage by two therapists in complete synchronicity.
I also receive a few special treatments. One is an oil bath to help the circulation in my legs. Lying on a plastic cover, the therapist lets lukewarm oil drip over my feet and shins continually, then dries off the excess and lets me rest for an hour, so that the oil can penetrate the skin.
Another day, I receive an eye treatment with lukewarm ghee (clarified butter) carefully sprinkled around my closed eyes, about which flower stems are laid as a seal to prevent any leaking. The process is called Akshi Tarpana and is often used for fatigued, dry, or irritated eyes. At certain intervals, I have to open my eyes to let the liquid in, blink a few times, and then close them quickly again. There is not much explanation, so I ask the assistant, "is this oil?" and her simple answer is "no madam." "Then, what is it?" I insist, now with some concern in my voice, to which she replies, "herbal mix, madam…"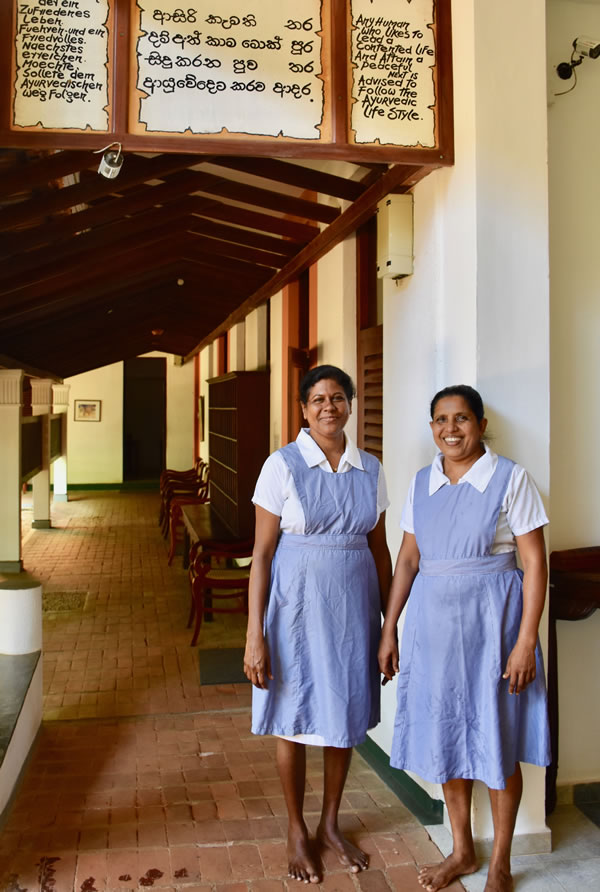 My two massage therapists.
Total Relaxation
In between the daily treatments, there is time for a swim, a walk along the beach, reading or snoozing in a lazy chair on my private balcony, or breaks for a fresh fruit juice or herbal tea on the common terrace. Some people love to socialize, although there are signs posted to do so quietly around the treatment areas. Others, including myself, surrender fully to the program and relax in isolation. Moreover, the use of phones and laptops is discouraged, and WiFi is only available in the reception area.
Food is regarded as another medicine to support Ayurveda principles. All meals are strictly vegetarian and served at set times. The three daily buffets offer an amazing array of tropical fruits and vegetables, soups, yams, curries, sambols, hoppers, dahls, beans, nuts, noodles, breads, fresh juices, and herbal teas.
No need to feel hungry here, and it is even possible to lose a few pounds while eating your heart out at the same time!
Rice and curry platter: masala rice with coconut sambol (centre) with from bottom left clockwise: konkun, thibbatu, red lentils, hummus, mixed vegetable curry, paneer in devil sauce, cauliflower curry, tempered capsicum, steamed fresh vegetables, thampala curry, banana blossom.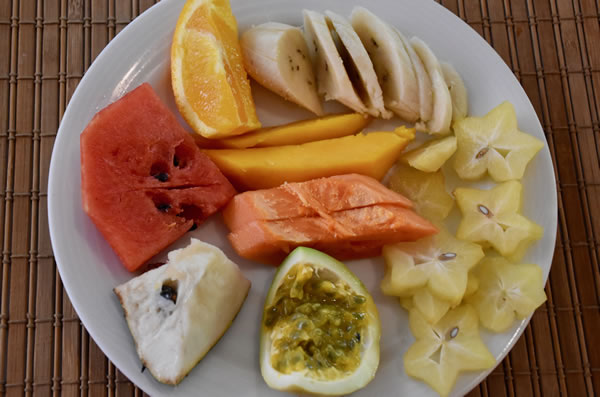 Fruit platter with star anise, sour sap, passion fruit, papaya, mango, watermelon, orange, and banana.
Barberyn Reef has an herb garden and the herbs are transformed into medicine in its onsite kitchen and lab. A medical team is always on hand, even in the dining room, for any questions regarding diets, medication, and herbal drinks. My doctor confides to me that many people, especially believers who return every year, actually have little idea about what they are taking and why.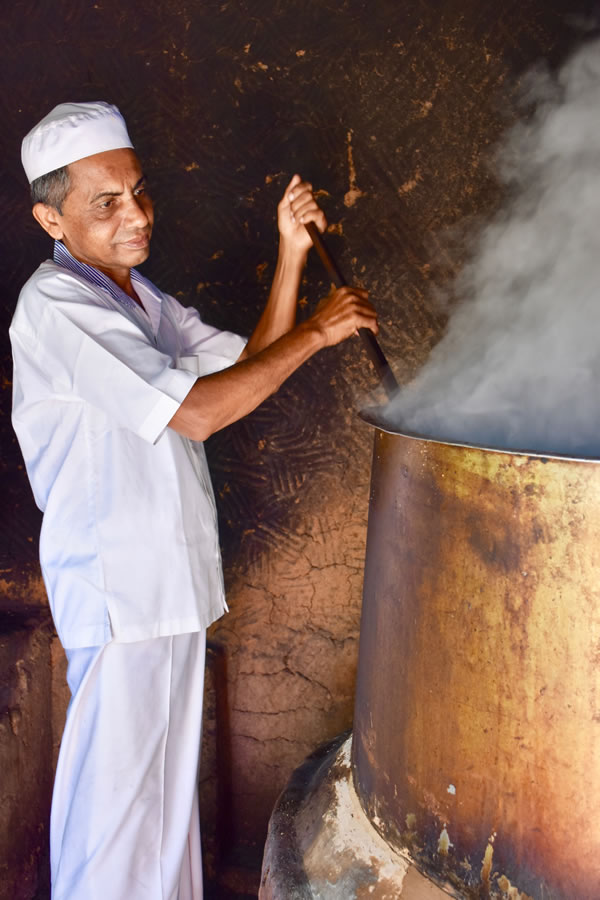 A medicine maker brewing herbal potions.
Herbs are processed in an onsite laboratorium and kitchen.
Each day, a thermos bottle filled with boiled water is delivered to everyone's room, and we are encouraged to drink the entire contents. Warm water is favored over cold water, as it is believed to improve digestion and relieve congestion. It reportedly also calms the central nervous system, improves circulation, relieves pain, and increases energy.
In spite of Sri Lanka's year-round warm climate, there is no air conditioning in my room, only a ceiling fan. Air-conditioning is thought to cause colds, coughs, and running noses. Climate-wise, I am informed that November, December, and January are the best months of the year to stay.
Treatment Results
So, after a week of intense treatment, are the desired effects kicking in?
I certainly feel extremely relaxed and energized, but who would not, after the schedule I have followed so religiously? I also have lost some weight. That is most welcome considering the sumptuous dinners awaiting me during an upcoming train ride on the Eastern and Oriental Express. But poor circulation is ongoing, and one sore spot, covered daily with herbal paste, is still aching.
Granted, I had already been forewarned at the very start of my visit by my doctor, "a one week stay means just an initiation to the Ayurvedic principles. In order to have more tangible results, you have to follow the program for at least a few weeks." I am happily taking that advice, and have no qualms about following the prescribed treatment again for a longer period during my next visit.
Lies Ouwerkerk is originally from Amsterdam, The Netherlands, and currently lives in Montreal, Canada. Previously a columnist for The Sherbrooke Record, she is presently a freelance writer and photographer for various travel magazines.