Feasting in Mumbai: A Vegetarian's Paradise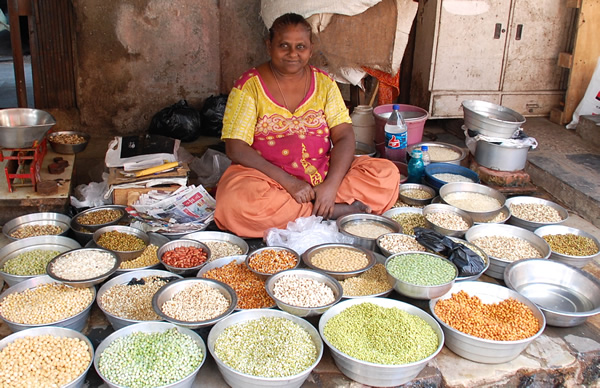 India has over 60 varieties of pulses, providing a primary source of protein for the millions of vegetarians in the country. Woman vendor at the market.
The sprawling mega-city of Mumbai, India's commercial and entertainment hub, and capital of the province of Maharashtra, is a melting pot of cultures and people. The location has been settled since prehistoric times. The port city lived through Buddhist empires, Hindu dynasties, and Muslim periods of rule. It came into Portuguese possession at the end of the 15th century after explorer Vasco da Gama discovered the west coast of India. When the daughter of the Portuguese king married Charles II of England in 1662, Bombay was incorporated into the British Empire as part of her dowry. India became an independent, democratic Republic in 1948.
Over the years much internal migration took place, largely from rural to urban areas, due to unemployment, drought, poverty, and hunger. Mumbai is one of the world's largest cities and a huge magnet for domestic migration. The cuisine is correspondingly as diverse as its 20 million inhabitants, encompassing a wide variety of regional and traditional dishes, and has been preserved for generations.
Breakfast
My food odyssey starts right at my lovely Airbnb in Mumbai Central, where the daily house helps conjure up the most tantalizing breakfasts as soon as I pop my head out of my bedroom. First of all, there are the puris, round, puffed, deep-fried breads, and kulcha, leavened bread made of white wheat flour, both served with chole (chickpea curry). She also makes delicious unda bhurjis, scrambled eggs mixed with green chili, tomatoes, and onions, as well as pankis, spiced rice pancakes steamed between two banana leaves and served with chutney. And I cannot get enough of her sinful onion bhajis and vegetable pakoras, deep fried fritters bound together with spiced chickpea flour batter.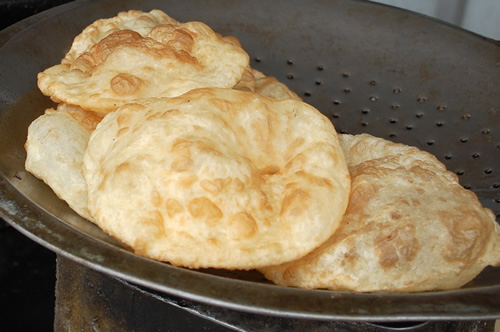 Fresh, puffed puri.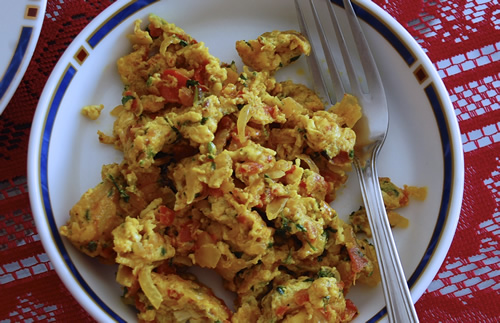 Delicious unda bhurjis prepared by the hostess in Mumbai.
Then there are the well-known chapatis or rotis, unleavened and disk-shaped like tortillas, cooked on a hot cast iron griddle. It's the most popular everyday bread in India, usually served fresh with a coating of butter or ghee, and accompanied by dal or vegetable curry. To ensure that nothing goes to waste, leftover chapatis are usually transformed into a lovely dish called phodnichi poli by adding spices and baked onions to pulverized chapatis. The same magic is performed using leftover rice, and the dish is then called phodnicha bhaat.
Markets in Mumbai
Crawford Market: Vendors selling fresh pineapples and watermelons.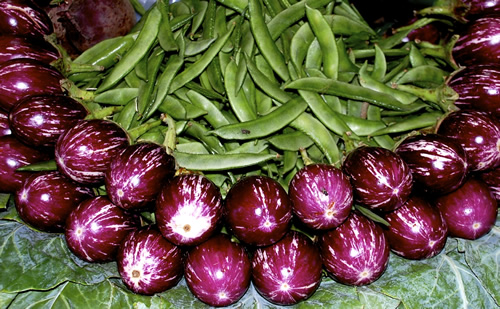 Crawford Market: Fresh vegetables for sale.
In the company of my hostess, I roam local markets such as Crawford Market in the southern tip of Mumbai. The more than 150-year-old market is housed in a colonial building and surrounded by many other markets and bazaars. Here you will discover the chaotic Chor Bazaar on Mutton Street (the "thieves" market), where you can bargain for stolen goods, second-hand furniture, antiques, kitsch, and vintage items; Zaveri Bazaar, a treasure trove of gems and jewelry; and Bhendi Bazaar (actually a bastardization of "behind the bazaar"), with its old rickety shops, situated in the densely and primarily Muslim-populated area around Mohammed Ali road.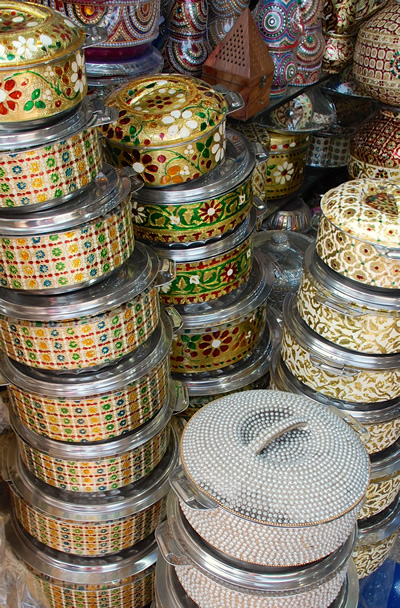 Decorated pots and pans for sale at Bhendi Bazaar.
At iconic "Badshah," opposite Crawford Market, we pause for a mid-morning falooda, a delicious milkshake made with rose syrup, glass noodles, ice cream, and tapioca. While heading for the locally grown fruits and vegetables at Crawford Market, we cannot resist a portion of fresh, tangy, finely sliced green mango strips from a street vendor, topped with chili salt and wrapped in the customary old newspaper.
A street vendor selling green mango strips, wrapped in a newspaper.
Not far from Crawford Market is the crowded Bhuleshwar market, where women delight in traditional clothing and home decor items. Tucked away in a side alley, behind a bright blue facade, is an old infirmary, called "Bombay Panjrapole." The shelter looks after more than 350 cows and other, mainly stray animals like goats, donkeys, and hens. It was founded in 1834 by two businessmen who wanted to protect stray animals from ending up in slaughterhouses. Over time, it acquired religious significance due to the predominance of (sacred) cows, as well as innumerable temples in the area. Pious residents pass by regularly to feed the animals and buy the fresh milk the cows produce daily.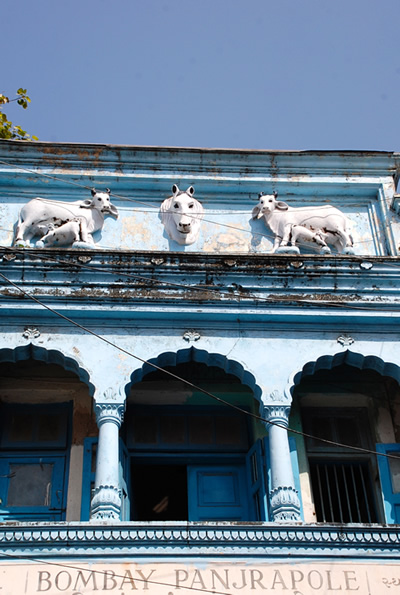 Bombay Panjrapole.
Homemade Vegetarian Thali in Mumbai
Arranged through Eatwith.com, a company that organizes immersive food experiences in the homes of locals all over the world, I enjoy a sumptuous meal at a Mumbaikar's home. Since there are about half a billion vegetarians in India, and Mumbai is known for its unrivaled "vegetarian food," I had mentioned to my hostess Prerana, when she requested my food preference prior to the visit that I would love to try an authentic, vegetarian thali (meaning: "plate" in Hindi). It is a selection of rice, curries, chutneys, fritters, vegetables, pickles, nuts, breads, and desserts, in small portions displayed on a large platter, or more traditionally, on a banana leaf.
Prerana, who proves to be a very welcoming hostess, a wonderful cook, and a great conversationalist, explains that a thali is organized in a spiritually beneficial manner, to balance the five cosmic elements that are active in the universe. Each item therefore has a specific location on the plate: supporting items like chutney and raita (a yogurt and cucumber concoction to cut the heat of some foods) are placed on the left side; the main courses like curry, vegetables, and fritters on the right, rice in the middle, breads (often puri or paratha, Indian flat-bread) in front of the rice, and buttermilk and desserts outside the thali, on the right.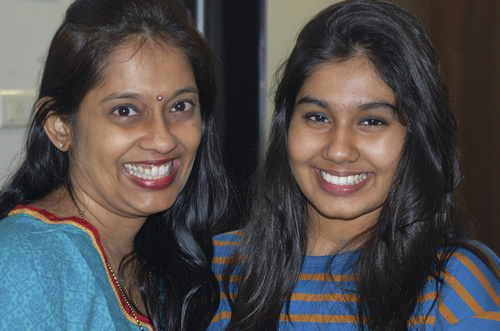 My hostesses: Prerana Parnerkar and her daughter.
Thali food is traditionally eaten with one's fingers, at least those of the right hand. The left hand is only used to pour curry or dal over the rice or to hold a drinking glass.
The Bohri, a community of Shia Muslims originally from Yemen and primarily based in Mumbai and Karachi, have a somewhat similar tradition. Sitting on the floor around a big thaal, several people eat from the same dishes, as a symbol of unity, equality, and sharing. The Bohri thaals are only served to groups of 6-8 people and contain meat. Try "The Big Spread" or "Home Made at Tasneem," for what is reportedly an unforgettable experience.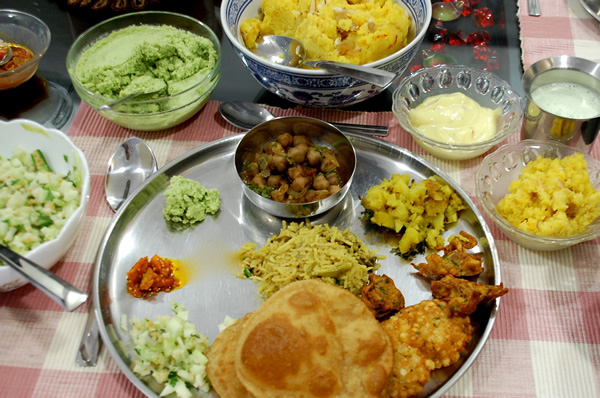 Displayed on a thali (clockwise): puris, cucumber raita, mango pickles, green coconut chutney, chole, potato mix, onion fritters, and sabudana (cassava), with rice in the middle, and sweet desserts and chilled buttermilk on the outside right.
Street Food in Mumbai
One evening, I join a food tour with professional chef Leroy Dmello of Amaze Mumbai Tours through the city's khau gallis (street food alleys). I am told that Mumbai's street food is lip smacking, hardly impacting your pocket, and super-fresh because there are never any leftovers.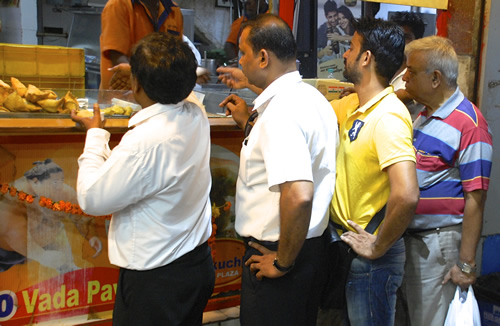 Chef and guide Leroy (3rd from left) at vada pav stall.
In a country otherwise split by caste and money, it is interesting to watch locals of all walks of life queuing together at the countless roadside stalls and hole-in-the-wall joints, amidst the perpetually congested traffic of honking cars, trucks, rickshaws, and motorbikes that slowly but stoically move forward in the sweltering heat. Adding to this scene are the muezzin-like "chai, chai, chai" calls of the chaiwalas (milk-tea vendors) who are also an integral part of Mumbai's street scape.
The star dish of the evening is makhani dal at legendary "Sardar" in Mumbai Central. The dal is made of black lentils and red kidney beans, cooked for hours on charcoal or on a griddle to create a creamy texture, enhanced with onions, tomatoes, various mild spices and an extremely generous portion of butter or cream, and served with raw onions and a bread roll (the famous pav, a variant of the Portuguese word for bread: pao). Leroy tells me that this dal is another invention of Kundan Lal Gujral, the Punjabi Hindu chef who also brought the tandoori chicken and butter chicken to the rest of the world.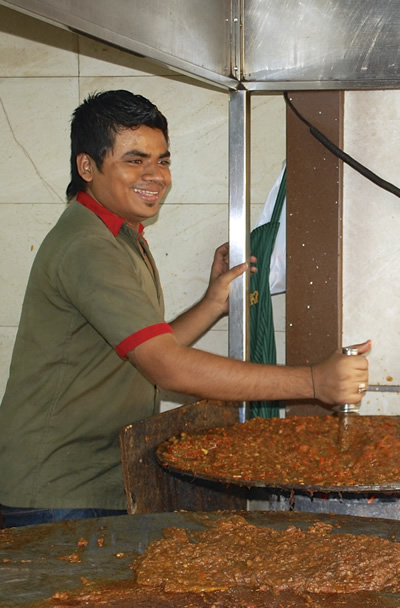 Street vendor preparing dal makhani.
We try a similar dish called pav bhaji, a real filler that originally served as a quick lunch solution for textile mill workers in the 19th century. It is a mix of mashed potatoes, eggplant, tomatoes, lentils, and spices, doused in hot butter.
The vada pav, a potato patty coated in a flour batter and then deep-fried and served in a pav plastered with several chutneys, is also mouthwatering and has become nearly synonymous with Mumbai over the years.
Before continuing to other stalls, we first need to quench our thirst with a cool masala soda, India's popular street drink. Then we are ready for tasting a variety of puris like the sev puri (noodles, boiled potatoes, green beans, onion, and various chutneys, served on a flat-bread) and pani puri (crispy, little puffs filled with potato, onion, peas, tamarind, lemon, and spices).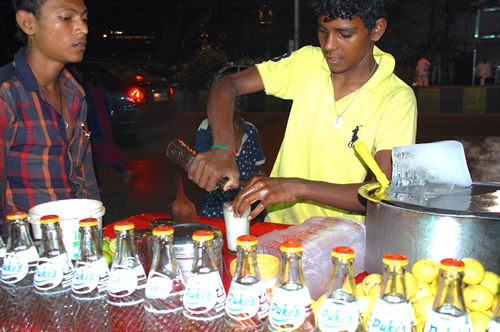 A street vendor preparing a masala soda
Sev puri.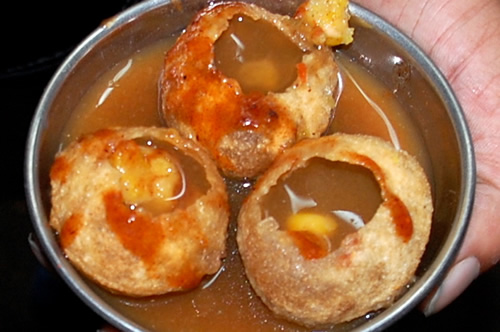 Pani puri.
After consuming our final snack, a papadam masala (a crispy thin flat-bread topped with a mix of fresh vegetables, lemon, and spices) we are heading for our sweet finale, a kulfi, or Indian ice cream, made from condensed milk, at legendary "K. Rustom Ice Cream Parlour," an old establishment with a non-descriptive storefront and humble interior, and now an "institution."
Papadam masala.
Leroy introduces me to the daughter and granddaughter of Mr. K. Rustom, an Iranian immigrant who started what was then a general store in the early 20th century. When experimenting with hand-made ice cream squares between thin fresh waffles, he soon became such a hit that he added many new flavors to his repertoire, such as walnut crunch, rose, avocado, and kesar pista (saffron, cardamom, pistachio, and almond).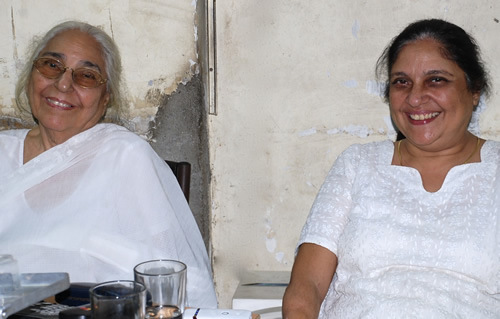 Owners of "K. Rustom Ice Cream Parlour," the daughter and granddaughter of the founder.
Due to its density, it takes the kulfi longer to melt than other kinds of ice cream, which proves essential in Mumbai's perpetual heat. Other recommended ice cream parlors include: "Taj Ice Cream" and "Natural's Ice Cream."
The Parsi (Persian) Legacy
Mr. Rustom was not the first Iranian to call Mumbai his second home.
Already in the 10th century, a group of Zoroastrians, followers of the Iranian prophet Zoroaster, arrived from Iran, fleeing persecution by Muslims. The second wave of Parsis established roots in Mumbai in the 19th century, creating special Parsi neighborhoods, whose housing communities ("for Parsis only"), monuments, temples, eateries, and bakeries are still a testimony of those bygone days. Currently, the Parsis are a dwindling community due to high rates of migration to the U.K. and U.S., and marriages outside the community. Some Parsi colonies rent out homes to young Parsis who promise to marry and start a family with another Parsi—at rock-bottom prices!
With my guide Rehan, I drive on his scooter along several Parsi locales that exude that typical vintage atmosphere. The Parsi eateries including "Yazdani Bakery," which is located close to Mumbai's blue mosque, where we eat old-school scones and drink a chai; "Ideal Corner" where we share a nuts and apricot-laden curry flavored with hand-pounded spices; and "Britannia and Company," where we top off our tour with a berry pulao (rice dish with cranberries). In the latter café, the charming 93-year old owner Boman Kohinoor, who loves to greet his customers and explain the recipes of his late wife, proudly recounts his meeting with the Duke and Duchess of Cambridge that took place earlier this year.
Rehan, my guide, and scooter in front of legendary "Yazdani Bakery."
Mumbai's "Blue Mosque," the "Mughal Masjid," built in 1860 by a wealthy Iranian merchant.
The Dabbawalas Of Mumbai
Integral to Mumbai's culture are the dabbawalas, or deliverymen who bring lunch boxes with freshly made food from customers' homes or restaurants, to offices all over the city.
What started out as a daily one-man delivery to a Parsi banker 125 years ago has grown to its present 5,000 men and 200,000 tiffin boxes operation, using a highly sophisticated coding system to ensure that all boxes are delivered at the right place and time, and vice versa.
Semi-literate, most dabbawalas are Warkari (a Brahmin sect) from rural Maharashtra, and each one has an assigned role and area in the complicated system, through which the lunch box moves like a letter in a postal system.
Dabbawalas are true jugglers: they ride with their many tiffins on heavy bicycles through Mumbai's mad traffic — and at times in pouring rain during monsoon time. They sort the boxes at railway stations according to their destinations and then transfer the tiffins into head crates (60 per crate) which they run over jam-packed platforms. They must climb the stairs of many business centers and skyscrapers at lunchtime. Finally, the empty tiffins must be picked up again and returned to their initial addresses before 6 p.m. the same day.
Dabbawalas pride themselves on their accuracy and claim only one mistake in 6,000,000 deliveries. The 1-time error has been endearingly portrayed in the movie "The Lunch Box" by Ritesh Batra, which won numerous awards in many film festivals.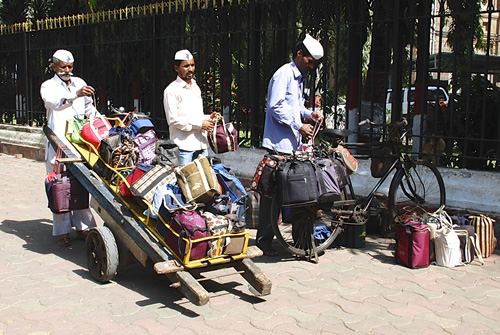 Dabbawalas in action at Churchgate Station.
Lies Ouwerkerk is originally from Amsterdam, The Netherlands, and currently lives in Montreal, Canada. Previously a columnist for The Sherbrooke Record, she is presently a freelance writer and photographer for various travel magazines.