Kerala and the Maldives on a Budget
12 Days of Independent Travel for Less than a Grand
Article and photos by Lies Ouwerkerk
Senior Contributing Editor
12/12/2019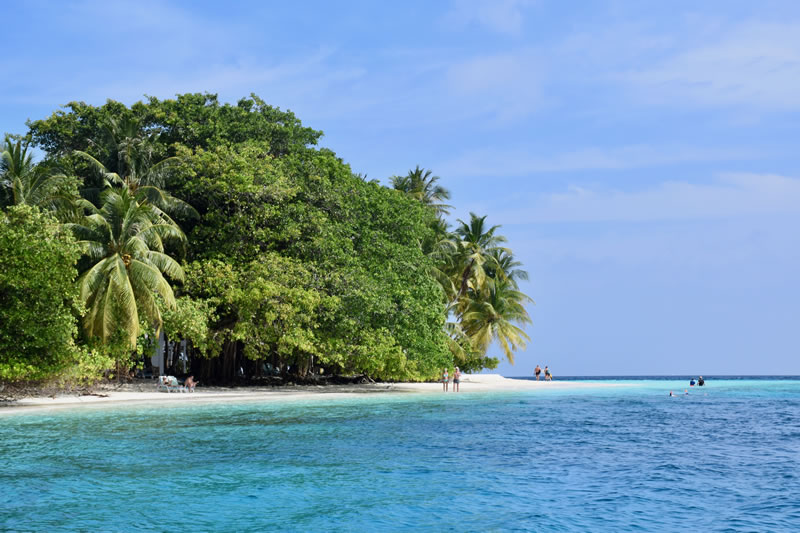 The aqua-blue water of the Indian Ocean, Maldives.
Kerala, a state in southwestern India, in combination with the Maldives—an archipelago of nearly 1200 coral islands in the Indian Ocean—proved to be the perfect combination for a fabulous vacation on a budget.
In Kerala the experience was all about action: walking and cycling through the colorful little lanes of Fort Kochi and Mattancherry, boating in a chakara (covered longboat) through the vast network of backwater canals around Alleppey, visiting spice markets and tea plantations further inland, cultural activities such as traditional theater and festivals, and plenty of shopping, café hopping, and devouring tantalizing curries.
The Maldives was ideal for relaxing on white sandy beaches, and swimming and snorkeling in the warm crystal-clear waters of the Indian Ocean.
The key to staying on budget was the choice of lodging and traveling on my own. Instead of joining an organized group tour, renting an overpriced houseboat in Kerala's backwaters, or an overwater cabin in the Maldives, I traveled solo, stayed in clean but modest lodgings, and took day trips to whatever I wanted to see and do.
The price for my 12-day trip, everything included except flights, remained under $1000. Very reasonable, considering that overwater bungalows in the Maldives go for $800 and up per night, and private infinity pools double that price. You could save even more by taking public transport where I used taxis and speedboats or exploring on your own without guides.
See the summary of my expenses at the end of this article.
Kerala
The driver I had arranged beforehand via my homestay host in Fort Kochi whisked me quickly towards his taxi through the busy arrival hall of Kochi's brand-new solar-powered airport and dropped me off at Vasco House less than an hour later. At the entrance, welcoming hosts George and Sheeba were already waiting for me, and invited me to feast on Sheeba's delicious homemade pancakes on their front gallery, overlooking St. Francis Church—one of the oldest European churches in India. Afterward, George guided me through the many rooms of his heritage home, all decorated in colonial style. My own room was spacious yet spartan and included two poster beds, two fans (beware: no air conditioning), and a simple bathroom en-suite.
Vasco House is a 500-year-old Portuguese-style building where once the famous seafaring explorer Vasco da Gama lived during his stays in India. After his death in 1524, he was buried in St. Francis Church, although his remains were later exhumed to be re-interred in Portugal. The home remained in Portuguese hands for centuries, even after the Dutch and English took control over the Malabar Coast.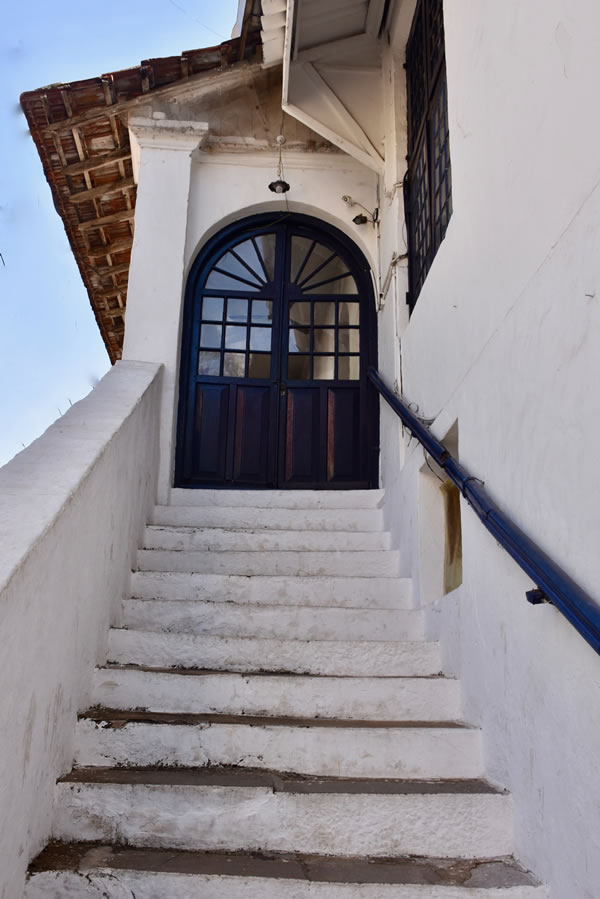 Entrance door to the Vasco House, Fort Kochi.
George was very knowledgeable about the history and current affairs of his hometown, and it was a delight to have conversations with both him and Sheeba over breakfast. In the lower part of the same building, George operated a travel agency, so I could arrange most of my activities directly through him for very reasonable prices.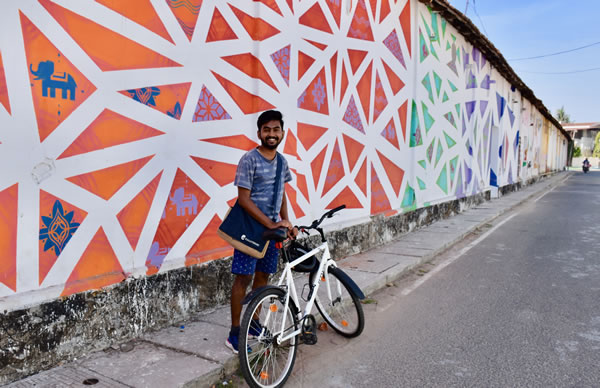 Guide Prajwal at mural in Fort Kochi.
A few houses further down Rose Street, restaurant Rasoi offered mouth-watering Indian dishes for around $3-$4, which kept me coming back over and over again.
Tuk-Tuk Ride
To get my bearings in Fort Kochi, a seaside town with lots of old-world charm and remnants of Portuguese, Dutch, and British rulers, I chartered a tuk-tuk for a ride along the city's main landmarks. First, we stopped at the iconic Chinese fishing nets along Malabar's coastline, locally known as cheenavala—a legacy from Chinese traders dating back to the 1400s. The nets resembled large spider webs, arching out over the water from the wooden docks. The fishing nets were at regular intervals lowered into the ocean to catch fish, which were then sold to the many street vendors and little restaurants along the boardwalk.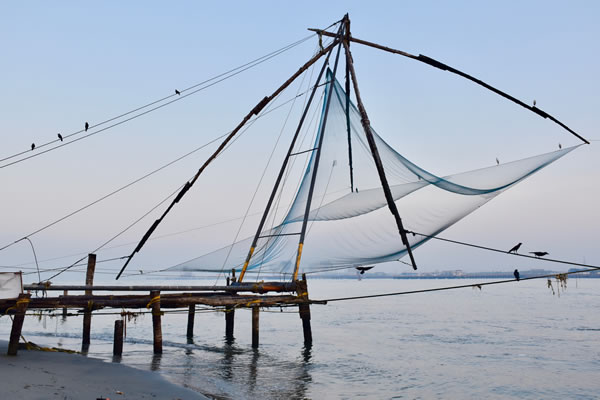 Chinese fishing nets along the Malabar Coast.
Also eye-opening was an enormous laundry place called Dhobi Khana, where clothes and bedding were still washed by hand (by slapping them on a stone surface), hung to dry on lines in the sun, and ironed with huge heavy metal vintage irons. The laundry used to be the place where members of the Vanna community were employed by the VOC (United East Indian Company) to wash the Dutch army's uniforms in times of Dutch rule.
Bicycling
In the early morning hours, when the temperature was still cool, and the city's busy traffic had hardly come to life yet, I enjoyed a 3-hour bike ride through the narrow alleys of Fort Kochi's lesser-known neighborhoods (there are at least 15 different ethnic communities in Fort Kochi). I also cycled through Mattancherry, with its many spice emporiums, old shipyards, and an antique hunters' paradise in Jew Town, accompanied by Prajwal, the knowledgeable and charming guide from Gully Tours.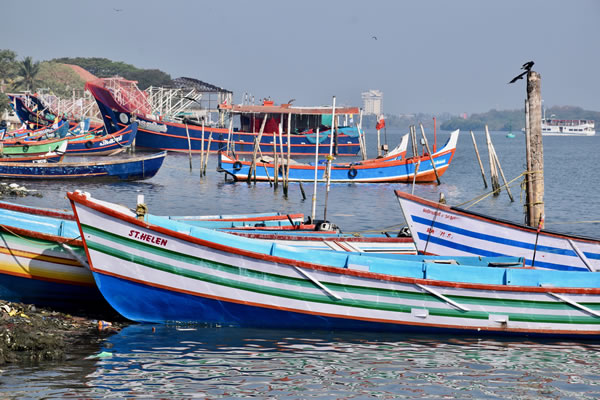 Harbor and shipyard of Fort Kochi.
Prajwal had great anecdotes and historical facts to tell. He recounted how Jews who had fled their homeland in the 17th century, were warmly welcomed by the Maharaj of Kochi, and flourished as merchants in their new land. One synagogue still exists: Pardesi Synagogue in what is called Jew Town, was built more than 400 years ago.
He also told the story of the African slave Kaappiri Muthappan, who protected the riches of his wealthy Portuguese masters when they were dispersed by the Dutch, by hiding their valuables in the thick walls of their homes and plastering them with mortar. Citizens continued worshipping Kaappiri in a simple shrine along the road, by burning candles and offering arak. Today, most worshippers are unaware of the original story.
While cycling along the "Cochin Club", yesteryear's party venue for exclusively British nationals, Prajwal evoked the life of the many single British officials stationed in Fort Kochi, meeting in this very club with potential brides who had ventured via ship from England to India in search of a suitable husband - as described in a fascinating book with the title "The Fishing Fleet: Husband Hunting in the Raj."
The tour started with a cup of tea at a street stall next to the hustle and bustle of a fish market and ended with a typical South Indian breakfast called puttu (spiced steamed rice with grated coconut, served with kadala kari, black chick pea curry, and pappadum) in an atmospheric local joint I would never have found on my own.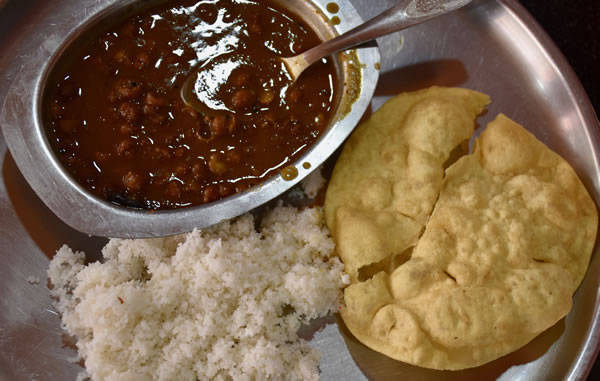 Popular South Indian breakfast: puttu.
Kerala Backwaters
Kerala's backwaters, a remarkable network of canals, lakes, lagoons, and rivers running inland from the Malabar Coast, have for long been a favorite tourist destination, and traveling through this area with a houseboat, equipped with bedrooms, bathrooms, and kitchen (including a chef) has become highly popular. It is also by far the most expensive way to explore the backwaters, and in my view, highly overrated and overpriced.
George signed me up for a very affordable small-group day trip per chakara, including a 1½-hour transfer by van, and a vegetarian lunch onshore.
Two oarsmen, one in front and another in the back, guided our covered longboat filled with easy chairs occupied by about 12 people, over the serene waterways. We passed little settlements, people in fishing boats, women doing laundry in the water, men repairing nets, or little businesses onshore engaged in activities such as rope production from coconut fibers, fish farms, and local drinking holes selling toddy—a coconut flower spirit of about 30% alcohol. A lovely way to spend a day on the water and get acquainted with local customs!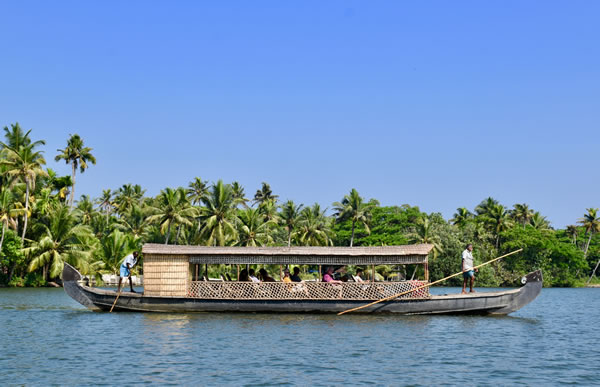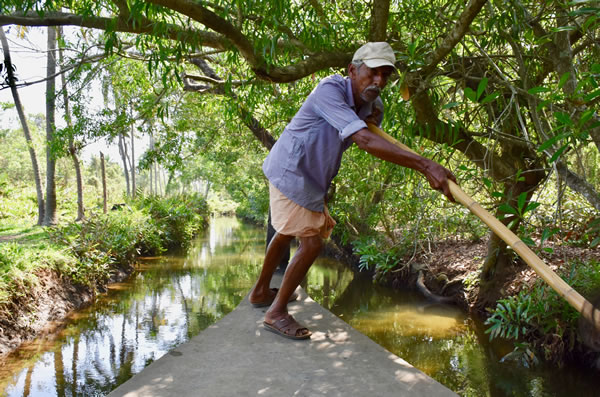 On a longboat in Kerala's backwaters.
An even cheaper alternative, and a great way to meet locals, is the public ferry or the government tourist ferry. But these bigger boats only operate on the major "highways" of the backwaters and cannot enter the smaller, more picturesque canals.
Kochi Mizuris Biennale
My stay in Kochi coincided with the International Arts Biennale, set across 9 venues spread out over the city, with 76 artists hailing from India and other parts of the world. Here was a great chance to see a quite different face of India: that of contemporary art, including abstract paintings, sculptures, street art, modern art installations, photographs, cinema, talks, and workshops. The first Biennale was in 2012; the next one will be held from December 2020 until March 2021.
Traditional Kerala Theater
A definite must while staying in Kerala is witnessing a Kathakali theater performance. The art form originated in the 17th century in Hindu temples and was later popularized as a public theater borrowing stories from Hindu mythology. The performances were acted out in a pantomimic dance-drama by silent actors displaying detailed facial expressions, body movements, and hand gestures. The actors were accompanied by vocalists singing the words of dialogues, and by musicians with percussion instruments.
In the past, female characters were represented by male performers in women's clothes, because the art form originated during a time where women were made to stay home. Today, although Kathakali still belongs largely to the male domain, women can perform as well.
Makeup is an important part of the show, and it takes at least an hour to get ready for the stage, using natural products like black stone, shredded coconut, rice paste, and a green and yellow indigo mix for natural colors.
Makeup session before Kathakali performance.
Whereas the performance lasted approximately an hour, the audience was welcome to attend and photograph the makeup session before the show. Once the performers were ready, there was a demonstration by one of them to explain the various movements of face, hands, legs, and upper body, followed by the actual performance, a dramatic story about good and evil, love and murder, loyalty and disguise.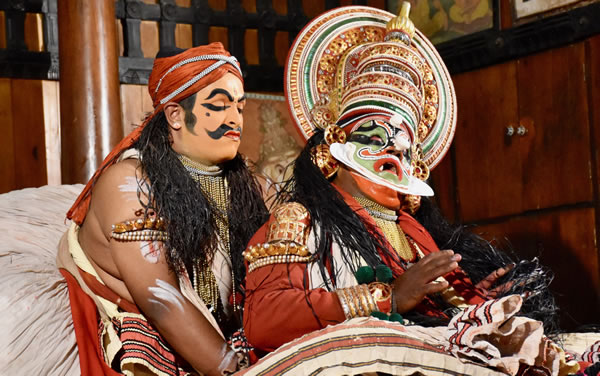 Dramatic scene in a Kathakali performance.
The Maldives
From Kochi, I flew via Sri Lanka, about 1000 km south to Malé, the capital of the Republic of Maldives, for most people a country synonymous with luxurious overwater villas, beautiful sandy beaches, aqua-blue lagoons, all-glass underwater restaurants, and balmy temperatures year-round. The islands are actually located on top of a submarine mountain range, just 8 feet above water level, making it the lowest country in the world in elevation, and at the mercy of any potential sea-level rise.
Not all islands are inhabited. In fact, only about 200 out of 1200 have a year-round, permanent population. Every resort, about 145 in total, is on its own private island. On such private islands, people are exempt from the strict rules enforced elsewhere in this 100% Muslim country: no alcohol, LGBTQ, revealing clothing, pork, and discos, nor public display of affection.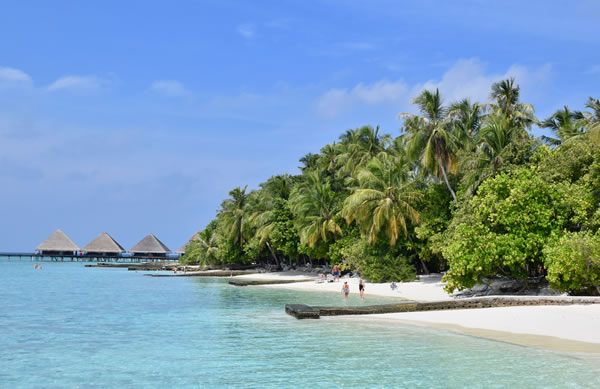 Resort on a private island in the Maldives.
About a decade ago, with changes in the government and legal system, locals received permission to start their own businesses (i.e. guesthouses, café's, restaurants, diving centers, etc.). After the loosening of laws, affordable tourism became a reality on the islands.
After careful research, I chose for a little guesthouse called Alaka on the island of Maafushi (meaning "Big Island") due to the island's population (about 3.000, implying that there would be some local life to enjoy), the diversity of available excursions, and distance from Malé (1/2 hour by speed boat). I received assistance from staff in Malé's airport to find the speedboat ferry, and Alaka personal picked me up on the other end with 2 motorcycles, one to carry my luggage, and the other one for myself.
Alaka turned out to be the perfect guesthouse, manned by a group of charming young Maldivians, who all were very relaxed and efficient. I had a spacious, quiet room with a big, comfy bed, TV, WiFi, daily cleaning including beach towels, daily bottled water, and a very tasty buffet breakfast. From the guesthouse, it was a short walk through the unpaved, sandy streets to banks, shops, boats, restaurants, and the beaches. The Maldivian people I met were invariably soft-spoken, friendly, gentle, and helpful. Locals had an excellent command of English, especially the younger generation.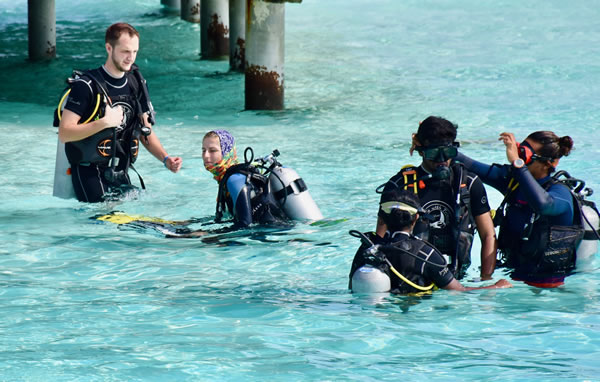 Diving school of Adaaran Club Rannalhi.
Via Alaka, I arranged several excursions. Apart from dolphin and snorkeling tours, I signed up for day trips to two different resort islands. Fees of around $75 each, included transport by speedboat, access to the private islands and their facilities, and free food and drinks between 10:00 a.m. and 5:00 p.m. Some people started consuming free cocktails upon arrival and were pretty jolly when the speedboat picked us up again...
The resorts were beautiful, food and drinks amazing, and the grounds and beaches impeccable. So the experience was worthwhile. After two full days of resort life, I started to appreciate the simplicity and relaxed vibe of Maafushi, and the friendly staff of Alaka. There I felt at home and finally surrendered to a much-needed vacation. After one week, I was ready to take on the world again.
Summary of Trip Expenses
Kerala 5 Nights:
homestay: $177
taxis from and to airport: $38
meals: $60
bicycling tour: $17
tuk-tuk tour: $5
Katakali theatre: $5
boat tour backwaters: $15
ticket Biennale: $1.50
Total Costs Kerala: $318.50
Maldives 7 Nights:
guesthouse: $315
2 x speedboat from and to Malé airport: $50
meals (buffet breakfast included in hotel price) and drinks: $90
laundry: $10
snorkeling excursion: $25
dolphin excursion: $30
2 all-inclusive packages to resort islands: $150
2 beach chairs: $10
Total Costs Maldives: $680
Lies Ouwerkerk is originally from Amsterdam, The Netherlands, and currently lives in Montreal, Canada. Previously a columnist for The Sherbrooke Record, she is presently a freelance writer and photographer for various travel magazines.