8 Fascinating Alternatives Beyond the Balmy Beaches of Goa
Article and photos by Lies Ouwerkerk
Senior Contributing Editor
Published 4/19/2017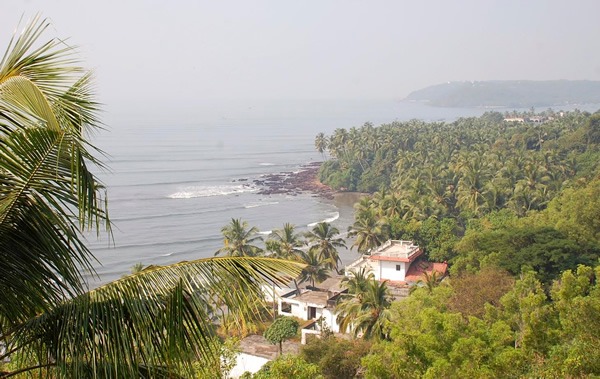 The balmy beaches are notoriously beautiful in Goa, but there is so much more to see when traveling around the small state in India.
Goa is a tiny state with a population of 1.4 million people, situated on the west coast of India, and widely known for its spectacular, palm-fringed sand beaches, and party scene. For many visitors, Goa is just that, the very definition of tropical tourism: lounging on the beach, partying at night, and perhaps some souvenir shopping at local markets. But for those who would like to delve a bit deeper into Goa's nature, history, and culture, there are a wide range of alternatives to explore, from colonial history and architecture, Hindu temples, sleepy rural villages, and wildlife sanctuaries, to spice farms, Indo-Portuguese cuisine, and traditional Konkani folk music and theater (tiatr).  
1) Walk Along Portuguese-Style Heritage Houses
In the Fontainhas neighborhood of the state's capital Panaji, formerly Panjim, the more than 450 years of Portuguese rule (1510–1961) live on in the elegant heritage homes that once belonged to Portuguese high-ranking administrators and merchants. Today the neighborhood is declared a UNESCO world heritage site and inhabited by Hindu, Christian, and Muslim descendants living harmoniously together. The red tile–roofed houses are made of limestone and eggshells, boldly painted in every possible shade (only churches could be all white), decorated with charming balconies, verandahs, carved doors and eaves boards, and mostly located in quiet lanes and hidden alleys.
Colonial-style house in Panaji.
My stay at the heritage home Casa Nova greatly enhances my visit to this delightful part of town. The gorgeous Portuguese-style house, built in 1831, owned by the well-known Gomes Pereira lawyers' family, and located in a street of the same name, offers both old-world charm and modern amenities, and is a lovely place to unwind after hours of wandering around. My host Antonio is a great conversationalist and a perfect referral source for reliable guide/drivers and places to discover myself on foot. The location is also an excellent base for trips into the countryside, both in North and South Goa.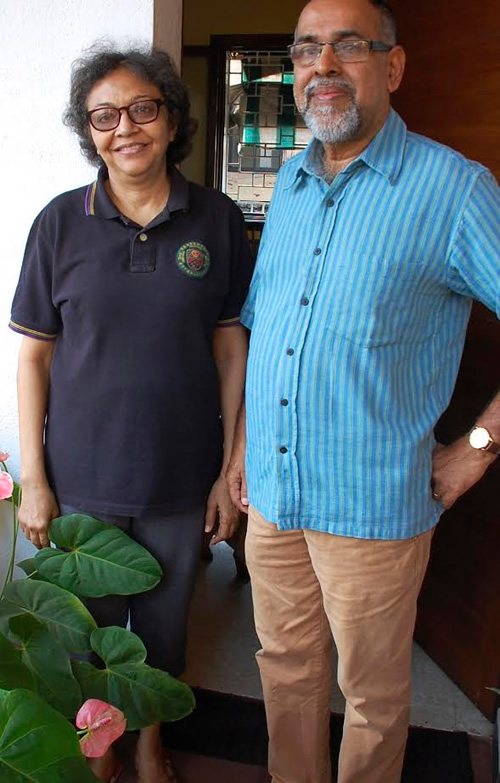 My Goan hosts, Mr. and Mrs. Gomes Pereira.
2) Admire Old Forts, Palaces, and Estates
Reis Magos Fort, located on the northern bank of the Mandovi River, lies just across from Panaji. The fort, originally an armed outpost for a Shah of the late 1400's, was built in 1551 by the Portuguese to protect the port of Old Goa, located further down the Mandovi River. Other places to get a glimpse of Goa's defense legacy include forts in Terekhol, Chapora, and Aguada in North Goa, and in Rachol as well as Mormugao in the South.
In the small town of Quepem, I visit "Palácio do Deão," an 18th century estate built by a Portuguese nobleman from Braga, who founded the town and was also Dean of the nearby church. Some notable features of the estate are the blend of Hindu and Portuguese architecture, and the lush tropical gardens featuring a pond and belvedere. For years, welcoming owners Ruben and Celia Vasco da Gama have worked tirelessly to save the place from ongoing deterioration and restore it to its current splendor, both inside and out. They also serve excellent 5-course Indo-Portuguese meals (by prior arrangement) on the belvedere, with views over the spectacular garden and nearby Kushavati River.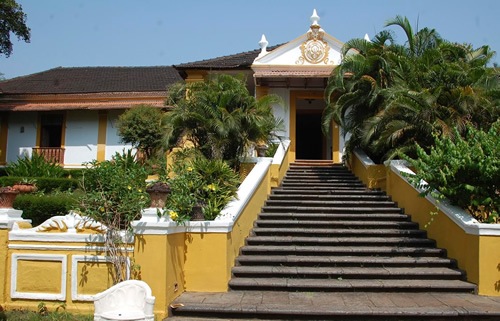 Palacio do Deao.
Goa boasts many other heritage mansions of the former Goan gentry, especially in the rural areas of Chandor, Loutolim, and Margao in South Goa. Some of them have impressive interiors with furniture originating from all over the world, or carved from Indian rosewood by local craftsmen; the bigger ones even feature mini chapels and ballrooms. They are not all open to the public, but some can be visited by prior arrangement through contacting the Goan Department of Tourism.
The enormous Menezes Braganza Pereira House in Chandor, the most sumptuous mansion of its kind in Goa, and over 350 years old, is still inhabited by one of the family's direct descendants, who has run the place for the last 50 years. The mansion is open to the public for a fee, used to offset the upkeep of the premises. In a rather stern fashion, Mrs. Braganza guides us through the beautifully furnished rooms and galleries, along relics of the past such as period mirrors, stained glass windows, chandeliers, and old pictures.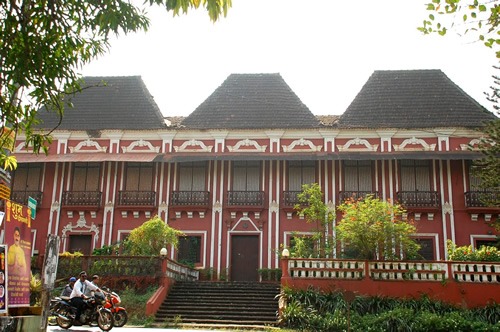 Menezes Braganza Pereira House.
3) Visit Museums
After seeing so many heritage homes, I want to learn more about the Indo-Portuguese architecture of Goa's past, and head for the Houses of Goa Museum in the tiny village of Torda. The museum, created by well-known local architect Gerard da Cunha, offers an in-depth yet very accessible insight into traditional building styles, decorations, and materials of historic Goan homes, illustrated by many artifacts and photographs.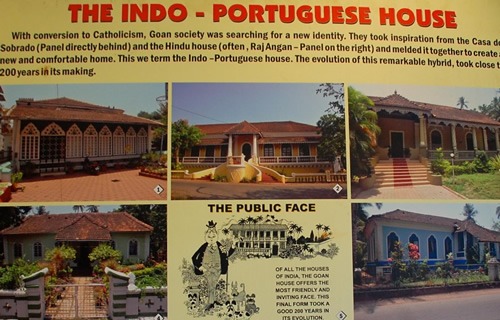 Houses of Goa Museum and tulsi.
The ethnographic Chitra Museum in Benaulim showcases a dazzling array of artifacts and tools related to Goa's traditional farming, trades, means of transportation, and way of life. Their enormous collection is shown against the backdrop of an organic farm whose creator firmly believes in reviving Goa's old traditions. It took the artist, restorer, and curator Victor Hugo Gomes more than 20 years to collect and salvage the objects from all across the state.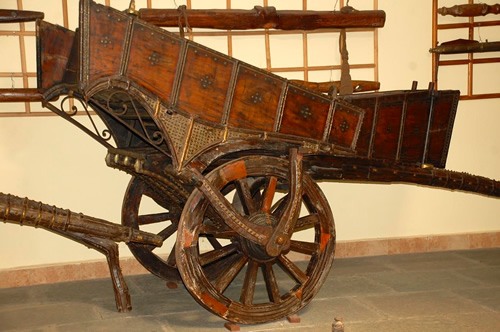 An old carriage in the Chitra Museum.
Other museums in Goa include:
Goa State Museum (predominantly religious artifacts) in Panaji

Prehistoric Rock Gallery in Rivona

Goa Science Centre cum Planetarium in Panaji

Open Air Museum of Ancestral Goa in Loutolim

Archeological Museum in Old Goa

Naval Aviation Museum in Vasco da Gama

Gallery Gitanjati in Panaji

Sunaparanta Goa Centre for the Arts in Panaji
4) Explore a Spice Farm
Goa's famous spices deserve a closer look, not only because they are such an integral part of Goan cuisine, but also because they changed history when the spice trade eventually gave way to the rise of colonial rule in India.
At Sahakari Spice Farm, a plantation spread over 130 acres, a knowledgeable guide leads me along walking paths through the thick vegetation of plants (cinnamon, pepper, cloves, nutmeg, vanilla, ginger, turmeric, and cardamom), fruit trees (jackfruit, papaya, guava, mango, pineapple), and palm trees such as the betel nut, coconut, and banana tree. He shows me how the spices, nuts, and fruits are grown, explains their medicinal values, spots many exotic birds, and points out toddy tappers who climb up tall swaying palms, using little foot holds that are cut into the trees. A banana-leaf buffet lunch accompanied by a shot of the local cashew feni is included in the entry fee.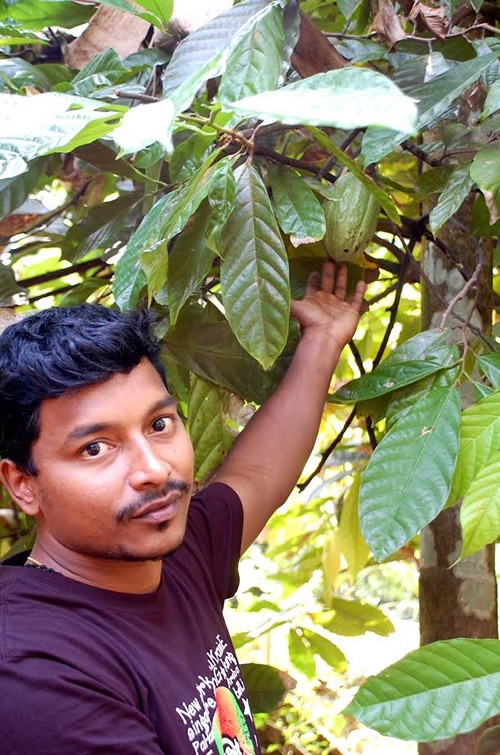 A guide at the Sahakari Spice Farm.
Similar spice farms include:
5) Take a River Boat Cruise
After sunset, I board a vessel, the Santa Monica, at the Santa Monica Jetty in Panaji. It sails for an hour down the Mandovi River and the Panjim River along the twinkling lights of the capital, the Adil Shah Palace (once a summer residence for the Sultan, and subsequently the Portuguese government), and the Aguada Fort.
A group of young Goan folk dancers and singers is also aboard the ship, introducing me to the mando, a folk song that fuses Indian and Western traditions. Quite a pleasant boat ride, although a bit too touristy for my taste.
6) Visit Churches and Temples
An abundance of Catholic churches and convents is another reminder of Goa's Portuguese past, and some of them, such as those in Old Goa, are part of a declared UNESCO World Heritage Site. Under Portuguese rule, old Goa — called "Rome of the East" — served as the colony's capital for several centuries, until it was abandoned due to the plague in the 18th century.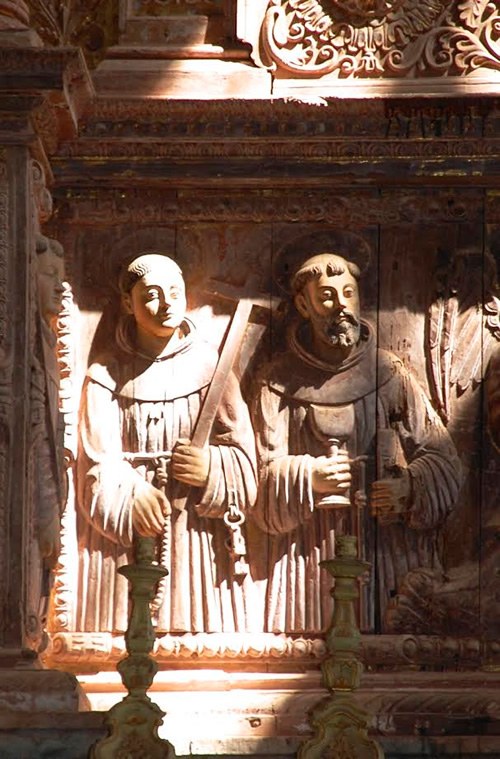 Interior of Francis of Assisi church in Old Goa.
Despite centuries of persecution by the Portuguese, Hinduism has remained the dominant religion in Goa. There are many spectacular temples worth visiting, especially around Ponda, Goa's Hindu heartland, where a mixture of Portuguese, Hindu, and Muslim styles can be seen in the temples' architecture. Another distinct feature of Goan temples is the deepmal, a multi-storey lamp tower decorated with hundreds of oil lamps during festival days. Early morning, before tour buses arrive, is the best time to visit churches and temples.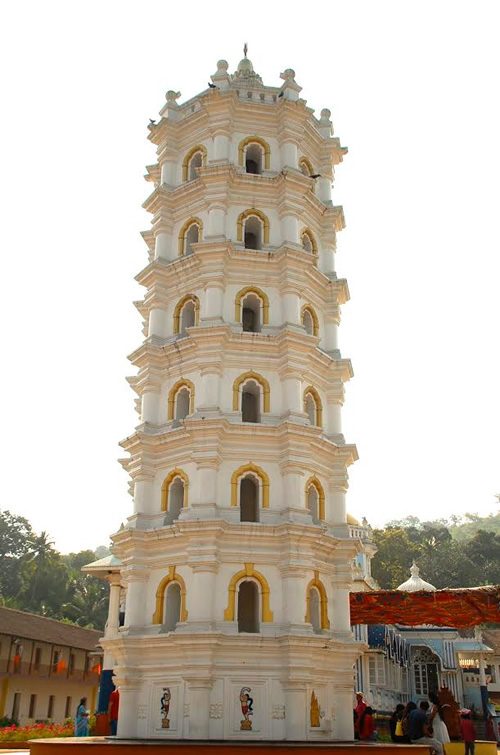 The lamp tower of the Shri Manguesh Temple near Ponda.
7) Indulge in Traditional Food and Local Drinks
Goan cuisine is a fusion of Goa's Hindu origin, Portuguese influence, and touches of all other cultures with which it has come into contact over the centuries. Rice is the most important staple, and spices, coconut, and palm vinegar are also a vital part of the Goan diet.
Because of its seaside location, seafood is plentiful, and so are chicken, pork, and chouriços — the spicy sausages, flavored with vinegar and chilies, often sold at streetside stalls in desiccated garlands.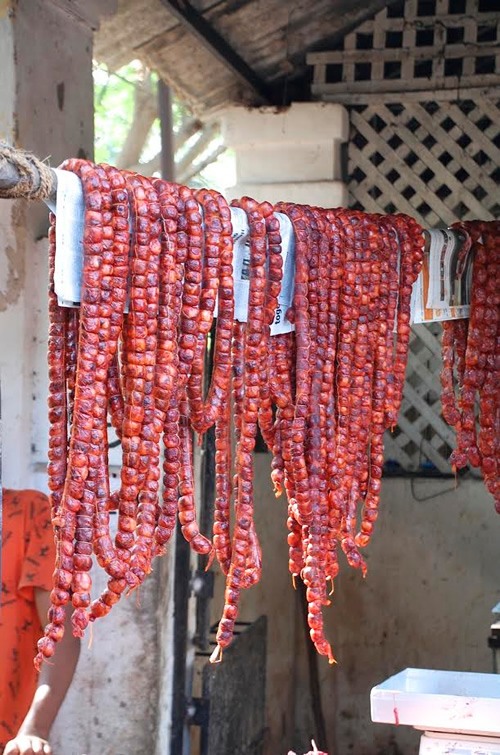 Goa's Portuguese-influenced cuisine is famous for its pork sausages.
My favorite Goan dishes are vindalho (pork stew with garlic, spices, and wine vinegar), and caldeirada (fish stew with wine and vegetables). My preferred family-style hangouts are "The Fisherman's Warf," "Mum's Kitchen," and "Viva Panjim." For breakfasts, I frequent old-charm Café Tato and Café Real, both famous for their simple but tasty Indian fare such as puri bahjis and samosas.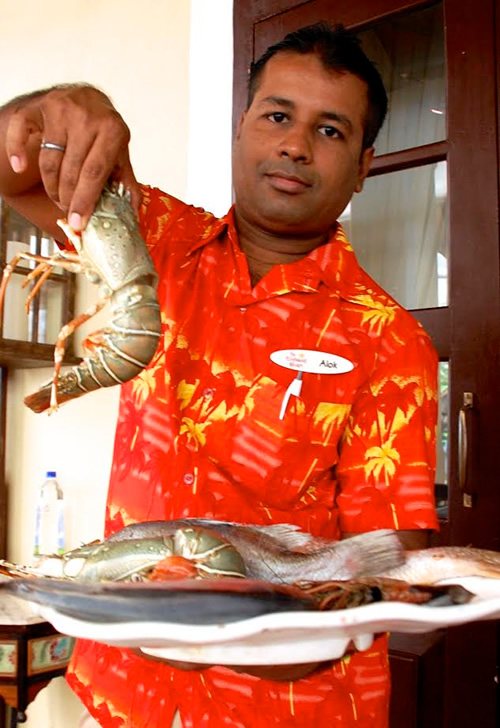 Seafood lunch at the Fisherman's Warf, Panaji.
An introduction to the Goan cuisine is also offered in cooking classes in Arpora (N. Goa) at "Mukti Kitchen" and in Palolem (S. Goa) at "Rahul's Cookery Class."
Chai (tea, boiled with milk, sugar, and masala spices) is the undisputed national drink in Goa, and in the alcohol department, it is the local feni, made either from the fermentation of fruits of the cashew nut tree or the sap of toddy palms. Quite feisty!
Fresh sugar cane juice is also a common drink, and street vendors sell it everywhere. They usually carry old-world machines on their carts where they push the sugar canes through one end and catch the sweet juice on the other.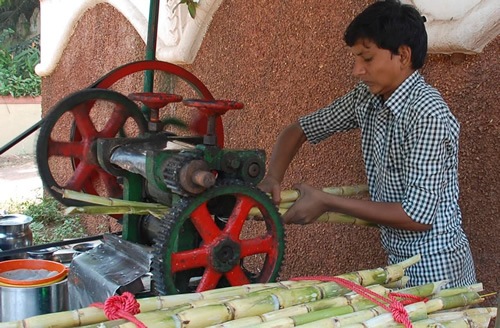 Street vendor selling pressed sugarcane juice.
8) Engage in Outdoor Activities
There are plenty of yoga classes on offer around Goa's beaches, and watersports are also quite popular, including jet-skiing (Calangute), kayaking (Palolem), kite-surfing (Morjim), paragliding above the sea (Arambol), and diving (Vasco da Gama and Candolim).
But Goa's hinterland also offers tons of outdoors activities, ranging from trekking and canyoning to hot air ballooning and white water rafting. Get the full scoop through Thrillophilia's 20 best Adventure Activities in Goa.
Lies Ouwerkerk is originally from Amsterdam, The Netherlands, and currently lives in Montreal, Canada. Previously a columnist for The Sherbrooke Record, she is presently a freelance writer and photographer for various travel magazines.