Under the Spell of Bustling Shanghai, Hotspot of Modern China
Article and photos by Lies Ouwerkerk, Senior Contributing Editor
8/15/2017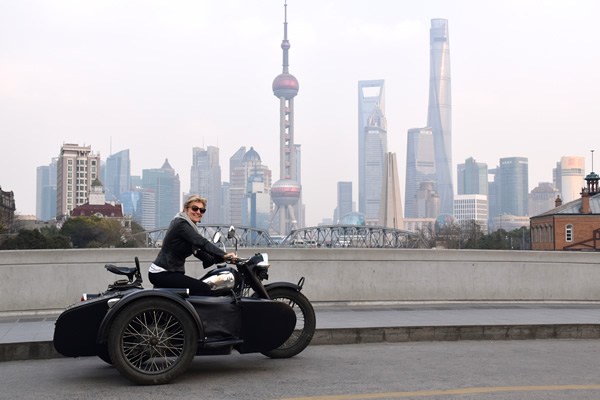 The author cruising Shanghai driving a vintage motor cycle.
It was already getting warm in southern China, while temperatures in the North were still hovering around the single digits. But half way the East Coast, in springy Shanghai, the climate felt just right for making long walks through the city's lively neighborhoods, enjoying the burgeoning blossom trees, watching locals' activities in the parks, sampling steaming dumplings at a hole in the wall, or strolling over the Bund to take in the grand heritage buildings on the west bank of the Huangpu River, and the cinematic and futuristic skyline of Pudong across the water.
Architectural Styles and Neighborhoods
For an architecture aficionada like me, Shanghai was a true treasure trove of fascinating styles: ancient Buddhist temples, grand cathedrals and Russian Orthodox churches, impressive Art Deco mansions dating from colonial 19th century times when Shanghai was divided into foreign concessions, shikumen — rows of low-rise alleyway town houses with traditional courtyards, and ultra-modern high-rise buildings of glass and steel surrounding them.
Jade Buddhist Temple.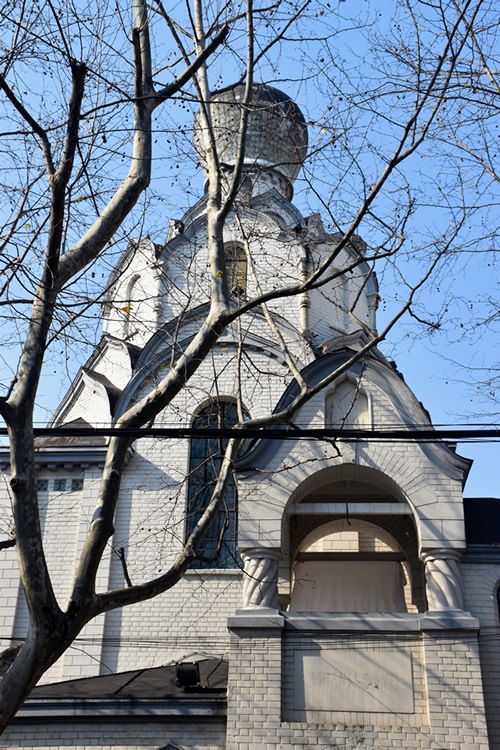 Russian Orthodox St. Nicholas Church.
Chinese Medicine Pharmacy.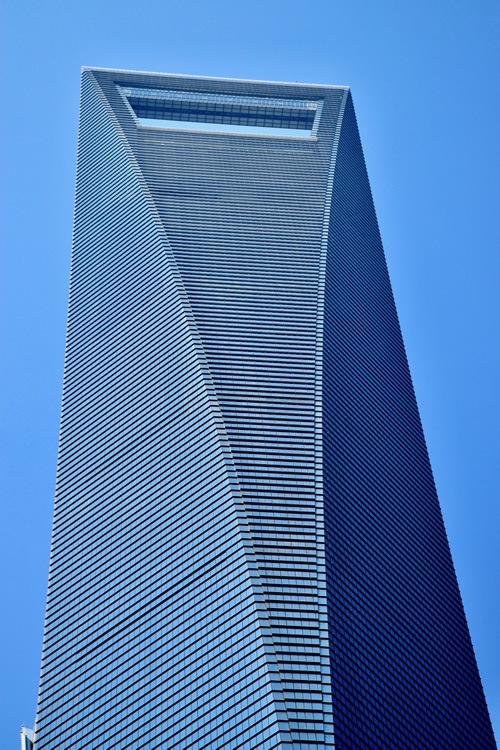 Shanghai World Financial Centre, the "Bottle Opener."
For a few weeks, I soaked up the city's cosmopolitan flavor from my temporary home on Julu Road in the eastern part of the former French Concession, a leafy neighborhood with atmospheric lanes, tiny boutiques and bistros, little soup joints where they still pulled noodles by hand, and wet markets where locals bought their daily vegetables and pork. Familiar street scenes included seniors seated on their little stools playing cards or checkers, housewives catching up with the latest news on their doorsteps under laundry strung between their houses, shouting vendors pulling carts by hand, cyclists adroitly navigating the streets amid dense motorized traffic, barbers giving hair cuts in the middle of the pavement, and "healers" explaining to gullible passersby how their magic ointments could ward off the most horrific ailments.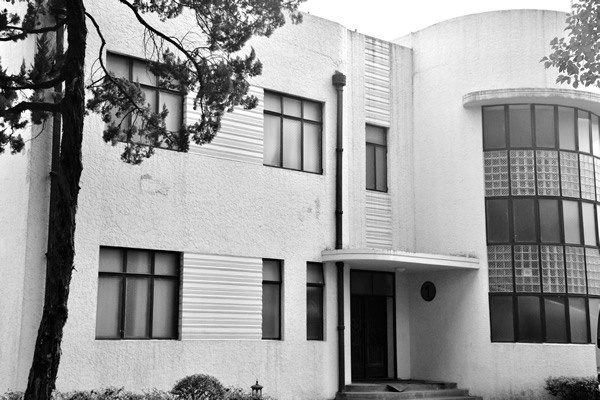 House in the former French Concession.
Scenes from alleyways in old Shanghai.
Not only did I endlessly stroll and cycle through the charming streets and alleys of the former East and West French Concessions, but I also wandered through nearby neighborhoods such as Jing'an, Nanjing Rd West, and Huaihai Rd, where cozy back lanes alternated with glossy, ultra-modern department stores and designer shops. Or I would take the metro to the old town with its flavor of yesteryear, its classical Yuyuan Gardens and temples founded in the 16th century, its vintage teahouses and traditional fish, bird, flower, and insect market where the sport of cricket fighting, dating back to the Tang Dynasty but banned during the Cultural Revolution, was alive and thriving again.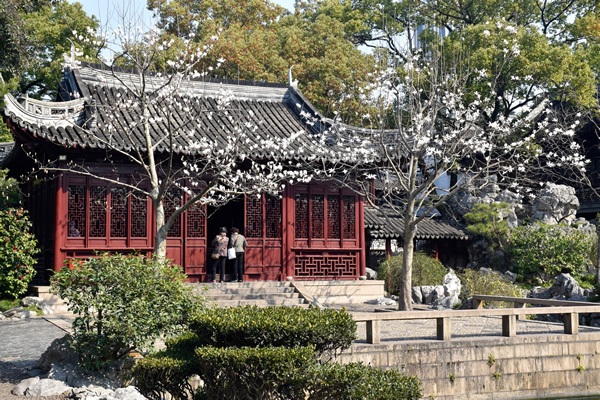 Yuyuan gardens.
Adding some vintage flavor was the ride in a sidecar of a CJ750 motorcycle, a Chinese replica of Russian replicas of the original 1930's German BMW motorcycle, offered by "Insiders." By no means a cheap outing, but the turning-heads experience was priceless and brought me to places I would otherwise not have seen, such as the interior of an old Chinese compound cum courtyard, and the former 1933 slaughterhouse in the historic Hongkou District, a concrete maze of corridors, bridges, and staircases with Art Deco motifs in the windows—turned into a "commercial center for creative industries."
From the very heart of the city, People's Square, where a park, City Hall, and various fascinating museums covered the former site of a colonial racetrack that had been paved over by the Communist Regime in 1949, we rode via atmospheric back streets around Nanjing Rd East, to the iconic 1-mile-long Bund, Shanghai's picture-perfect, albeit touristy riverfront promenade flanked by many standout colonial-era buildings.
Nothing is more pleasant, especially at dusk, than combining a sunset tipple at a rooftop bar of one of the waterfront hotels with views of the meandering Huangpu River and the stunning cityscape of Pudong's financial district on the east bank.
Not long ago, Pudong had been muddy farmland, but in just a few decades it had turned into a forest of neck-craning and awe-inspiring skyscrapers in the boldest architectural designs imaginable, with observing platforms on their tops for stunning panoramas, and a charming, landscaped promenade lined with cafes and ice cream vendors, along its riverbank.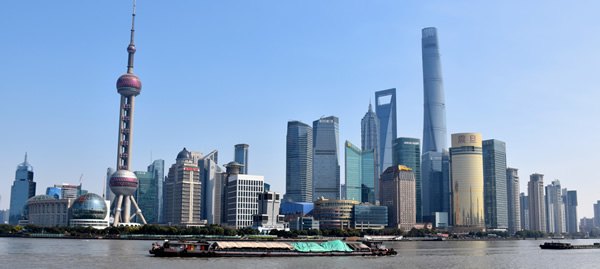 The futuristic Pudong district skyline seen from the Bund waterfront.
The Parks
Away from all the hustle and bustle, the lovely parks of Shanghai (Zhongsha, Fuxing, Xuhui, Huashan, Dagu Lu, Yanzhong, Xiangyang, Lu Xun, and Century Park, just to mention a few of the 125 public parks in the city) — considered by many Shanghainese their backyards and playgrounds — provided a welcome break from my daily strolls and bike rides. From a shady spot under a budding magnolia or blossom tree, I would observe a plethora of activities: rows of women (line or ballroom) dancing to traditional Chinese music coming out of giant loudspeakers; elderly men and women practicing tai chi in slow unison; karaoke singers letting it all out; men playing checkers, cards, or mahjong, with bypassers looking over their shoulders and cheering them on; grandparents observing their grandchildren frolicking around; people practicing their calligraphy skills with strokes of water from a jug; dog owners playing with their pet; and kite flyers letting their bird-like, handmade frames dance in the air, although I was told that this was actually a forbidden, too dangerous pastime.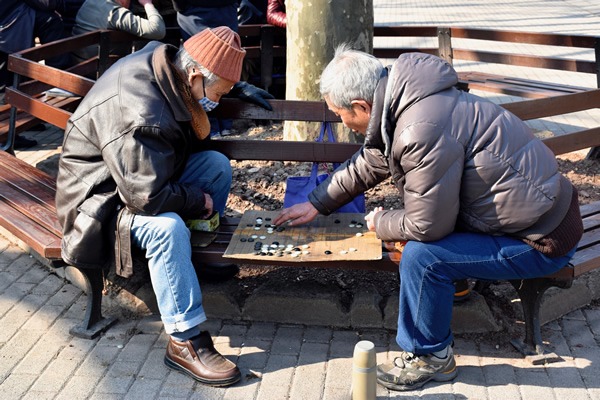 Scenes from the parks.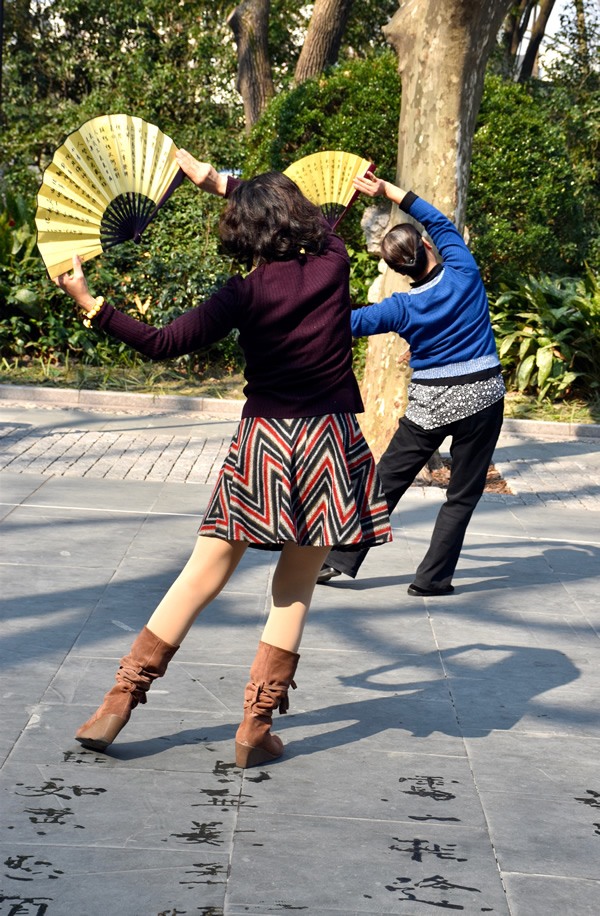 Women dancing in the park.
One Sunday, I headed for the weekend marriage market in the large and pretty People's Park. Along the pathways between the rock gardens and perfectly manicured green spaces, hordes of people were advertising a family member looking for a partner. The individual's specifics, such as age, physical attributes and measurements, education, salary, and wishes for the partner were spelled out on a piece of paper, attached to a clothesline between the trees, a shopping buggy, or an umbrella. Although the candidates themselves did not seem to be around, their family members were fervently recommending them and more than willing to provide further details in order to find the right match.
Shanghai marriage market.
Museums and Galleries
Shanghai offered an incredible choice of fantastic museums, too many actually to cover them all. Apart from the invaluable ancient bronzes, ceramics, and traditional paintings in the famous Shanghai Museum, there were also many great modern works of art to be seen at the Shanghai Museum of Contemporary Art, China Art Palace, Power Station of Art, and Rockbund Art Museum.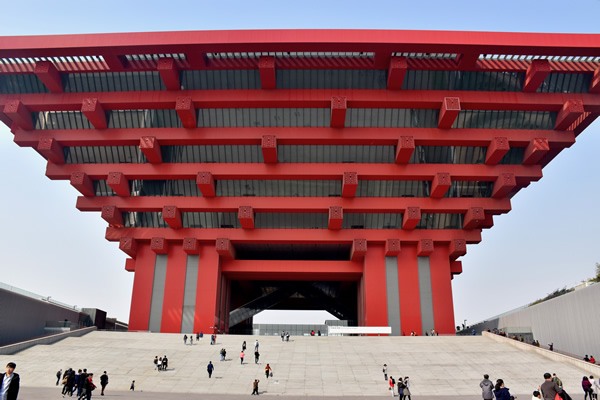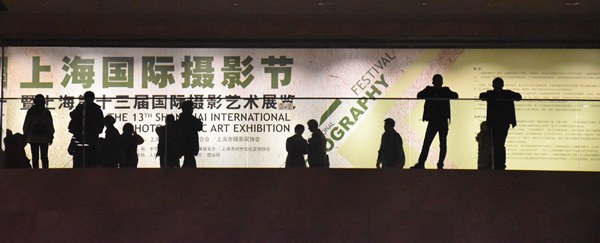 China Art Palace outside and an photography exhibit inside.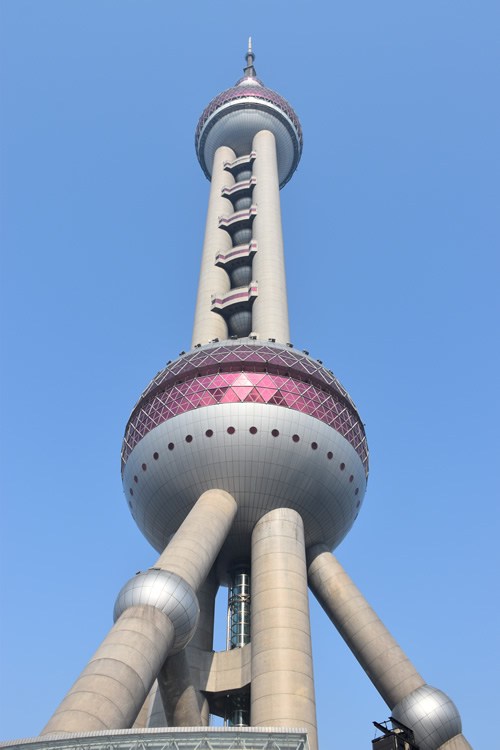 The Oriental Pearl TV Tower, housing the Shanghai History Museum.
But I was equally impressed by exhibitions in the Shanghai Urban Planning Exhibition Hall, an interactive museum documenting the evolution of the city and its planned developments for future decades, with a vast scale model of the entire city on the top floor, and by the Shanghai History Museum, located in the basement of the Oriental Pearl TV Tower, with its fun presentations of life in old Shanghai.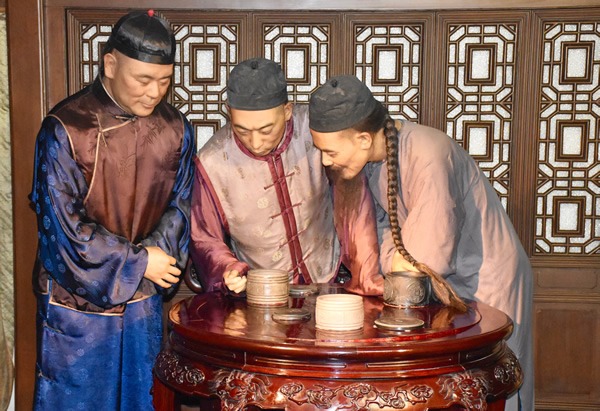 Shanghai History Museum: life size wax models watching a cricket fight.
In the Shanghai Propaganda Poster Art Centre, located in the basement of a residential apartment block, I was taken back in time to post-WWII China through the lens of propaganda posters — the primary communication tool at the time to educate the masses about the Communist Party's ideology.
A stroll through the M50 Art District on the south bank of Suzhou Creek, where Shanghai's former textile industrial buildings had been transformed into a cluster of studios and galleries specializing in modern design and visual arts, generated wonderful opportunities to meet with Shanghai gallery owners and artists, both still aspiring ones and well-known painters with works in established art museums, to learn about their own works and the booming modern art scene in Shanghai in general.
Food
Next to a stall with dumplings and baozi (steamed buns) across the street from my home, I discovered a tiny hole in the wall, hardly wider than a doorway, occupied by a local lady who prepared the best jianbing I ever tasted, for a mere 5 yuan (75 cents) per piece. There was always a line, because jianbing, Shanghai's most popular street breakfast, needs to be made fresh: a giant pancake, crisp-fried on a hot round griddle looking like a drum upside down, and spread with a wooden paddle until thin as a crepe, its surface evenly covered with an egg, then topped with hoisin sauce, coriander, and scallions, and finally folded twice to make it easier to eat on one's way to work.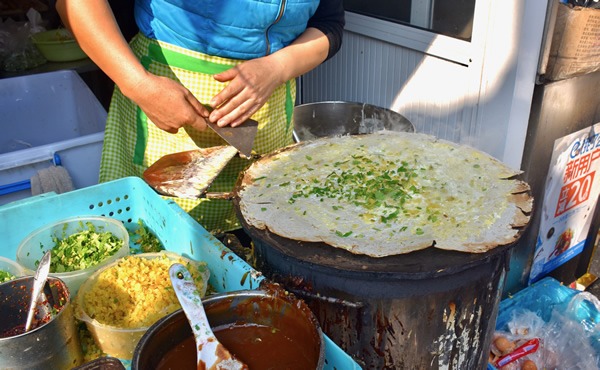 A Chinese-style crepe, jianbing, for breakfast or snack.
Curious about other specialties and looking for a way to explore Shanghai by night, I signed up for two "walking food tours." On one I sampled classics from the traditional Shanghainese cuisine such as thin-skinned dumplings prepared in a bamboo steamer, pan-fried dumplings with a soup filling, hand-pulled wheat noodles served in a soup, crab shell pastries, bullfrog stir-fried with green pepper, and traditional Chinese wine from clay urns, all the while taking in night life in the back lanes.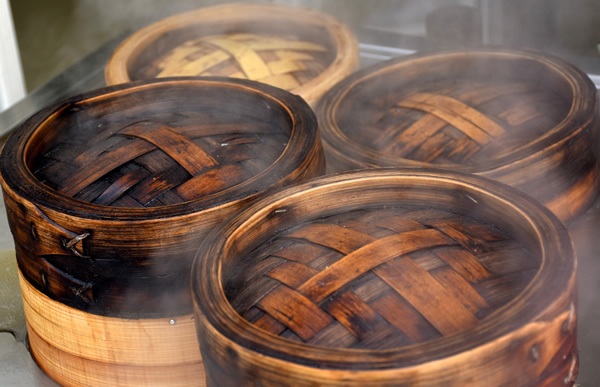 Bamboo steamer basket with dumplings, xiaolongbao.
The other tour, with "Untour" brought me to the night markets of the old town, and covered not only a variety of delicious sea foods and intriguing vegetables, but also items from the Uyghur cuisine such as Xinjiang stone oven naan, and succulent, spice-sprinkled lamb on long metal skewers accompanied by a stew of peppers, tomatoes, eggplant, cumin, and rice.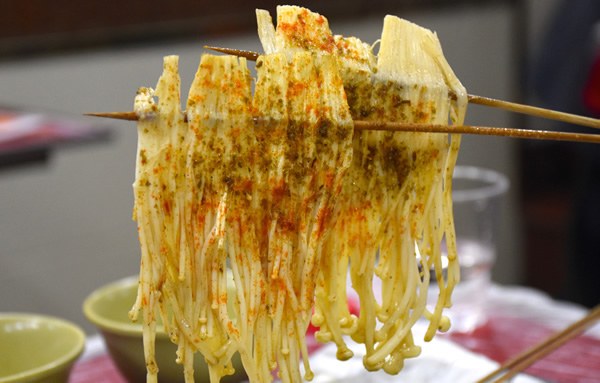 Chop sticks with mushrooms on an evening food tour with "Untour Shanghai."
Shanghai's Uygurs, who migrated from the state of Xinjiang in the far West of China, operated their own street market, commonly known as the "Muslim Market," held only on Fridays. On a little stretch of a street outside the Huxi Mosque, they gathered before and after their Friday prayers to eat, meet, cook, and sell their special Halal foods: freshly baked flat breads, lamb skewers and pilaf dishes, home-made sour yoghurt, and dry fruits, surrounded by clouds of billowing smoke rising from their chuan grills.
Bread stall at the Friday Muslim Market.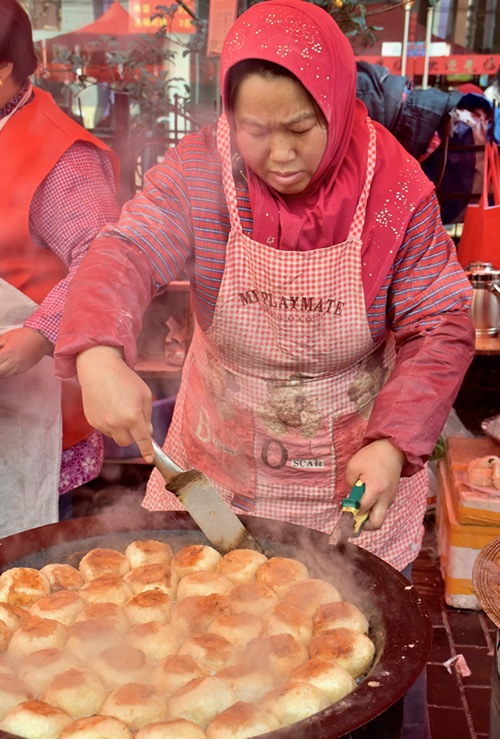 Woman busy cooking at the Friday Muslim Market.
Water Towns Around Shanghai
As if Shanghai had not enough to offer already, I topped my stay in this multifaceted city off with a visit to the magnificent classical gardens of Suzhou and the picturesque water towns of Zhujiajiao, Luzhi, Tongli, and Zhouzhuang. Ancient trading centers more than 1000 years old, these "mini Venices of the East" with their narrow canals, quaint bridges, unique architecture, and covered paths, had kept most of their dreamy and rustic charm over the centuries, whereas the humble fishing village that Shanghai once used to be before the first Opium War of 1842, had turned into a mushrooming multicultural metropolis of about 24 million people.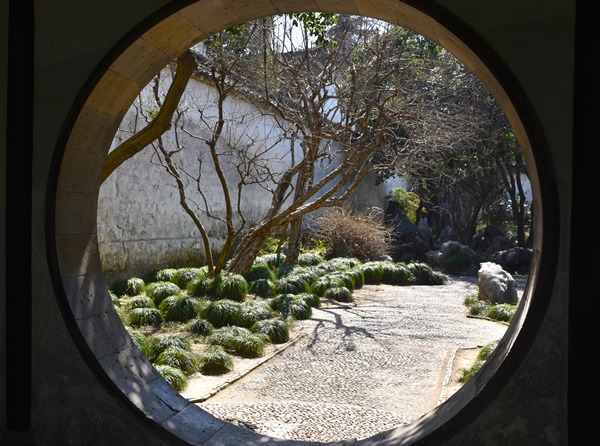 The classical gardens of Suzhou.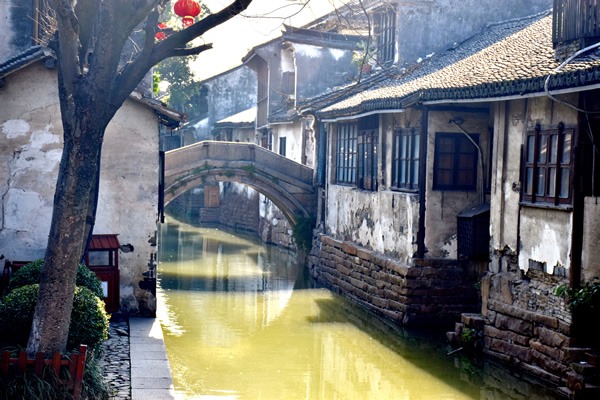 The water town of Zhouzhuang.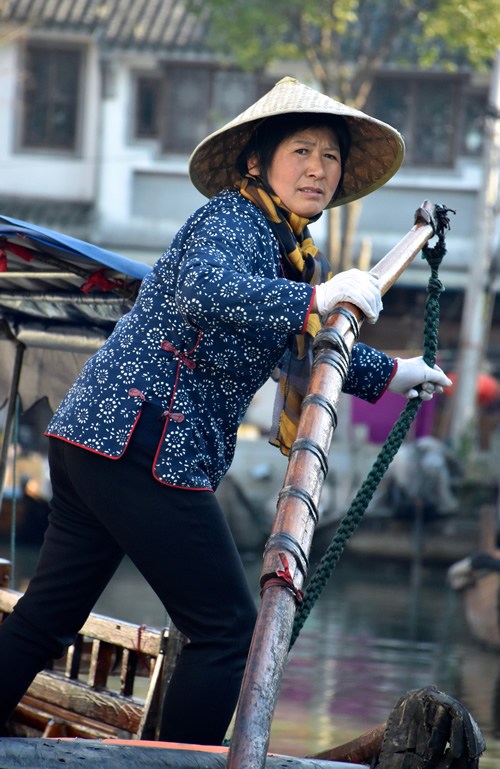 Oarswoman on gondola through the canals of Zhouzhuang water town.
Useful Tips for Visiting Shanghai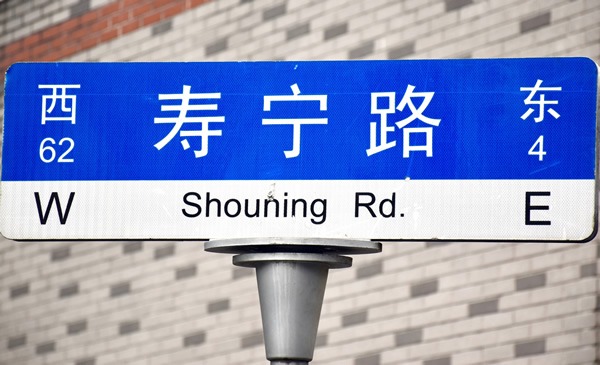 Shanghai street signs are in English and Mandarin, and have NWSE markings.
Carry some cash, as many stores and restaurants do not accept foreign credit cards


Ask your host or hotel reception to write their address and your daily destinations in Chinese characters; most people, and certainly taxi drivers, don't speak English


Walking is the best means of transportation, but since Shanghai is a vast metropolis, you will also have to use bicycles, taxis, and/or metros. Visit Travel Guide China: Transportation for instructions on how to navigate the city and the Shanghai Metro Map website to download the metro map. For bike rentals, check out low-cost, station-less and user-friendly Mobike.


Street signs are in English and Mandarin, and also have NWSE markings on them


Stay vigilant even on sidewalks, as bicycles and motorcycles might unexpectedly zoom past you. Also, a green light for pedestrians does not mean you can safely cross the road: motorized cars always have the right of way, even if they don't


If possible, avoid rush hours (8:00 – 9:00 a.m., and 6:00 – 7:00 p.m.), especially in the metro system (line 2!). Not only can the sheer volume of people feel quite overwhelming, but most Chinese are engrossed in their indispensable cell phones and will bump into you without any pardon


Carry toilet paper or wipes. Public/department store/ restaurant toilets — sitters or squatters — can be hits or misses


Don't pay the asking price for items in tourist markets. Quote half the price and then start to negotiate


Beware of befriending "friendly" people in the street (especially around People's Square) who request a picture with you and/or suggest going for a drink or museum visit together, as it is most likely a scam


Food Tours: Shanghai Eating Adventures, and Untour Food Tours


For info about the current 144 hours visa-free policy, day trips to water towns, and other side tours, visit Shanghai Tours


Helpful websites for restaurants, bars, quirky museums, markets, and more: Timeout Shanghai and Smart Shanghai


Make sure to head for the right airport upon return. There are two major international hubs: Pudong and Hongqiao. There are shuttle bus services to both airports and an 8-minute-long Maglev train to Pudong.
Lies Ouwerkerk is originally from Amsterdam, The Netherlands, and currently lives in Montreal, Canada. Previously a columnist for The Sherbrooke Record, she is presently a freelance writer and photographer for various travel magazines.