72 Hours Visa-Free in Guangzhou, China
A Packed Trip in a Fascinating City
Article by Lies Ouwerkerk, Senior Contributing Editor
Photos by Janvi Chow, Ben Strong, and Jianbo Q.
7/7/2017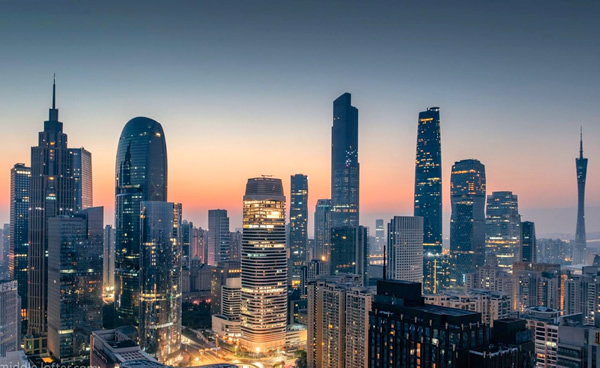 Skyscape of Guangzhou.
On a recent trip to South East Asia, I traveled via Guangzhou (Guangdong Province), the third most populous city in China after Beijing and Shanghai, and until the first Opium War the only Chinese port accessible to foreign traders. Instead of immediately moving on to my end destination, I had decided to break up my long voyage here, and take advantage of a 72-hour visa exemption that had come into effect a few years earlier.
The 72-Hour Visa-Free Policy in China
The visa-free policy currently applies to 18 Chinese airports and allows travelers from 51 countries to move freely around the city or province of arrival for 72 consecutive hours if the following conditions are carried out:
Hold a valid passport and an onward air ticket, with a confirmed date and seat to a third country (purchased before entering China)
Leave from the same airport.
My carrier had been informed of my planned visa-free stay, so they were able to declare that to the Chinese airport customs before landing. Once arrived, I followed signs to a special counter for 72-hour free transit passengers (#19 in Guangzhou airport, next to the "Foreigners" custom counter), so I did not have to wait in the long lines for foreigners holding a visa.
With the opening of Shanghai Disneyland in 2016, the visa-free transit policy was extended to 144 hours in Shanghai municipality (also applicable to ferry and train passengers), Jiangsu province, and Zhejiang province, while Guangdong province will soon follow. See www.travelchinaguide.com/embassy/visa/free-72hour/ for more information
Day 1
Not many Chinese locals converse in English, so Jianbo, my Airbnb host, had sent me a message for a taxi driver (taxi stand outside airport exit A7) in Chinese characters, including his phone number and directions to his apartment building near Guangzhou Bridge. The ride of about 45 minutes cost me 140 RMB ($20 US) including toll fee.
Jianbo was super-welcoming despite the late hour, and patiently explained all the ins and outs of his spectacular apartment, before calling it a night. Although the effects of my 30-hour journey had set in, I could not get enough of the fabulous view over the scenic Pearl River, the third longest after the Yangtze and Yellow Rivers, from the large bay window in my room. Bridges and skyscrapers on both riverbanks were brightly lit, while party boats in many shapes and sizes, illuminated in all colors of the rainbow, were cruising the river in both directions. The fee for this well-appointed room with a magnificent view, including bathroom en-suite and breakfast was $57 US per night. See www.airbnb.com to find such rooms.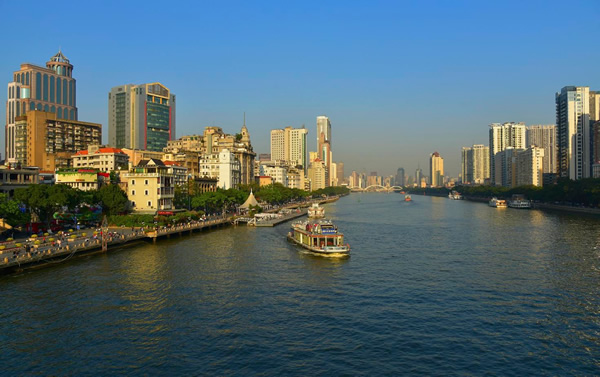 The Pearl River and Bund in Guangzhou.
Day 2
In order to cover most of the city in that short period and not waste any time, I opted for a few guided tours, with every day having a different focus.
Equipped with directions in Chinese characters, per email provided by Cycle Canton, I flagged a taxi in the downstairs Boulevard and made my way towards Happy Monk Café. There I met Ben Strong, a young American expat, not only one of the English-speaking crew members of Cycle Canton with whom I was about to embark on a 16-km city cycle tour but also a consultant helping young Chinese people with disabilities to find a worthy place in Chinese society.
As it was outside tourist season and I happened to be the only participant on the tour, I had the opportunity to hear Ben out on everything Guangzhou — from its history and traditions to the rapid new city development and future urban planning — and his own life in it. Without a big group, I could trail immediately behind Ben, who skillfully navigated the narrow alleys of the many cozy neighborhoods (hutongs) we cycled through. We maneuvered by pedestrians and people sitting on little stools to chat and smoke together, under loads of laundry hanging above the tiny lanes, and past vendors pushing overloaded carts.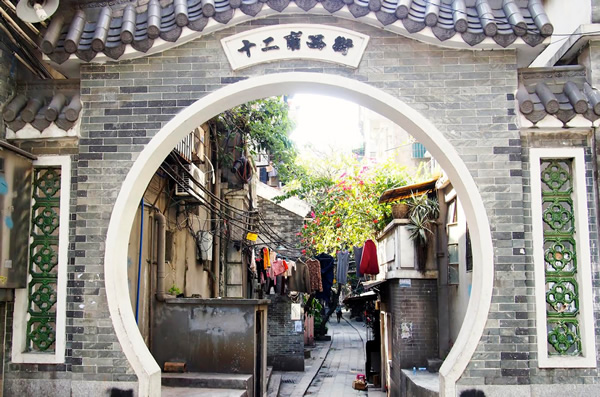 Former residence of Tianyou Zhan, the "father of China's railway system," located in a hutong.
In the Peoples' Park, surrounded by perfectly manicured grass and beautiful seasonal flowerbeds, we had a short stop to enjoy a drink and some of the delicious, sweet red bean paste and sesame cookies that Ben had picked up at a market on the way. It was also an excellent chance to observe the people around us. Most Chinese city dwellers inhabit small living quarters, so they consider parks their backyards!
In the shade of banyan trees, people were engaging in ballroom and line dancing, tai chi and kung fu, meditating, playing cards, chess, and mahjong. Others were singing (karaoke), playing musical instruments, or joining badminton and soccer matches. The newest sport seemed to be "foot shuttle": everywhere you could spot little groups of four or five people trying to keep shuttlecocks in the air with one foot.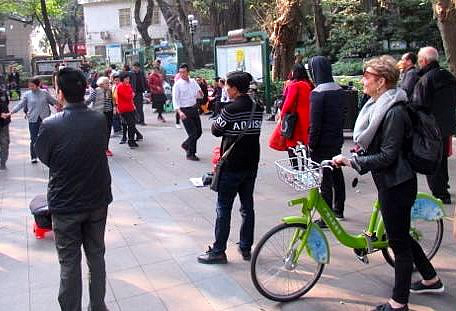 Watching line dancing in the Peoples' Park
Via designated biking lanes and hidden alleyways, we reached a Kung Fu studio where we witnessed a demonstration of Chinese martial arts. We continued to the 14th century "Chenghuang Temple," dedicated to worship the gods protecting the city, and the even older "Temple of the six banyan trees," containing the three biggest and most ancient Buddhist statues in town. Many people were gathered due to the Lantern Festival that marked the final day of China's New Year's celebrations, and they burnt joss sticks to be blessed by the gods for the following year.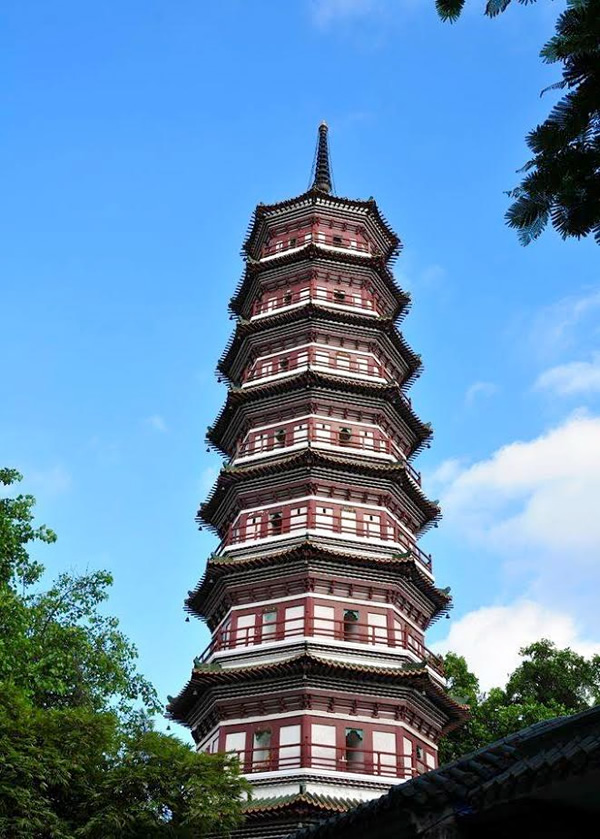 Pagoda of the Six Banyan Trees, also called the "Flowery Pagoda."
Eventually, we reached a biking path along the Pearl River and cycled through landscaped greenery and Ersha Island — home to the Guangdong Museum of Art and the Xinghai Concert Hall — toward Zhujiang New Town. The magnificent Opera House, the Guangzhou Library resembling an open book, and the treasure box-shaped Guangdong Provincial Museum are just a few of the many fascinating, ultra-modern buildings in this part of town.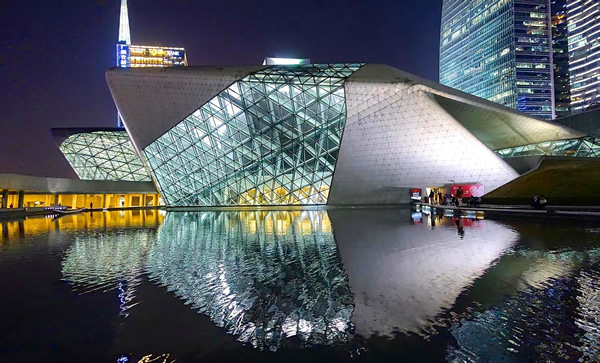 Zaha Hadid's Opera House, opened in 2010.
The fee for the 4-hour guided cycling tour, including the use of a hybrid bike and helmet, as well as water and snacks, came to 300 RMB ($44 US). Cycle Canton offers cycling tours through other parts of the city as well.
At night, my host Jianbo, an industrial designer from Shanghai, invited me to return to Zhujiang's spectacular urban treasures — many built just before the 2010 Asian Games were held in Guangzhou. We enjoyed drinks and staggering 360-degree views of the city from the 99th floor roof bar of the Four Seasons Hotel. Dominating the illuminated cityscape was the constantly color-changing Canton Tower on the south bank, where the Asian Games' opening ceremony was held, located close to The Canton Trade Fair, for which Guangzhou is mostly known.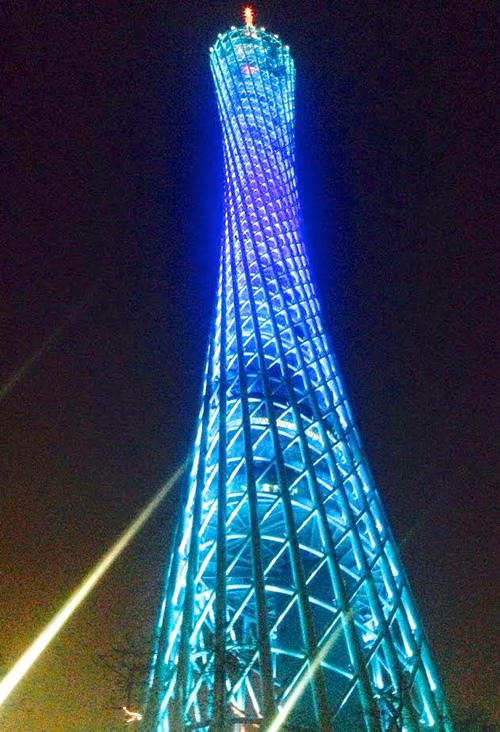 Canton Tower, designed by a Dutch duo, and finished in 2009.
Day 3
My company for this day, a private guide and translator named Xaq, picked me up and dropped me off at my apartment building. First off, he introduced me to Guangzhou's metro system. We purchased a plastic coin in the vending machine, swiped it at the turnstile, and held on to it until we exited again. Signs in the stations and maps available at the manned booths were both in Chinese and English.
We then set out for a visit to Shamian (meaning in Chinese: "sandy surface") Island, a foreign trade port during the Song and Qing Dynasty, and at the time of the Opium Wars divided into French and British concessions. The area became a strategic point of defense after a canal was dug out to separate it from the mainland (the two connecting bridges would be closed after 10:00 p.m.). Today, Shamian Island is an area with quiet avenues and promenades along the river, parks, bronze statues, colonial buildings, hotels, restaurants, and tourist shops.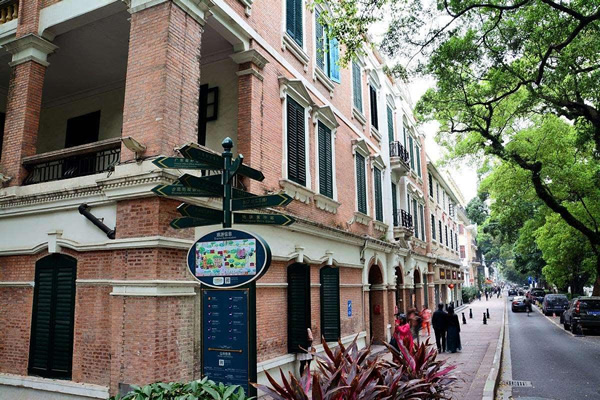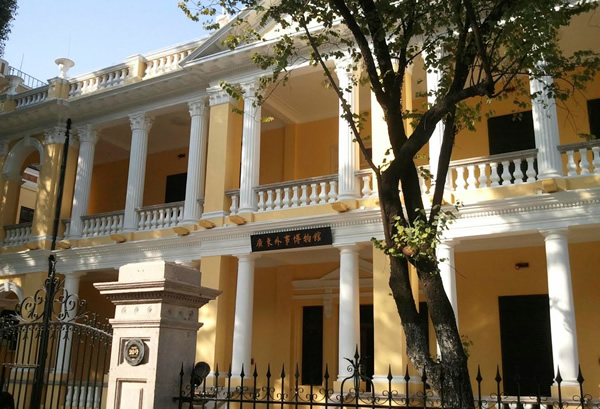 Colonial houses on Shamian Island.
Back on the mainland, in a little hole-in-the-wall neighborhood joint, we sat down for a traditional Dim Sum, including dumplings, steamed rice noodle rolls, and hard-boiled eggs, steeped in a soy sauce mixture. According to Xaq, the Dim Sum tradition, today so popular in the Western world, began here in Guangdong province thousands of years ago as an accompaniment to tea, served to travelers at teahouses along the Silk Road.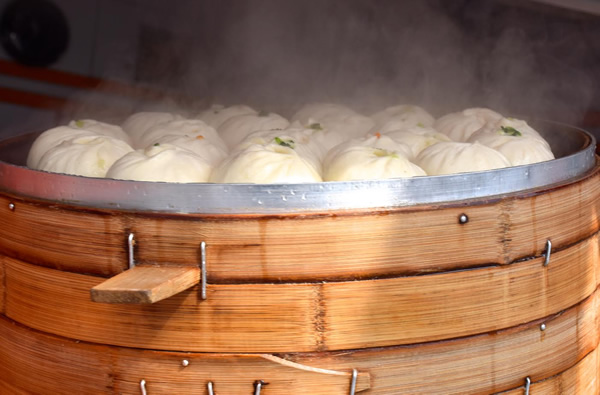 Bamboo steaming basket with dumplings.
A walk through the old downtown area of Guangzhou, the Liwan and Yuexiu districts, brought us to Guangzhou's typical historical landmarks, the arcade (qilou) houses. This distinctive architectural style, combining Cantonese and Western elements, took root in Guangzhou in the early 20th century. The three-storey buildings, with a protruding structure stretching above the second story over the sidewalk, were particularly designed for Guangzhou's tropical climate, to provide cover from both scorching sun and heavy rains. Although some of the qilou houses have been destroyed in the past for the sake of urban expansion, there is now a protection and upgrading plan in place to preserve the remaining ones in the city.
Total fee for Xaq's personalized tour, including lunch, was $60 US. Contact xaqmalcolm@163.com.
Day 4
During my last hours in Guangzhou, Janvi Chow, owner of "Janvi Tours," and author of a soon-to-be-published book on the history of Guangzhou, took me on a ferry ride over the Pearl River along the old Bund, where Guangzhou's commercial life used to unfold. Art deco style buildings like the Oi-Kwan Hotel and Tiger Balm Factory were the tallest buildings in town at the time.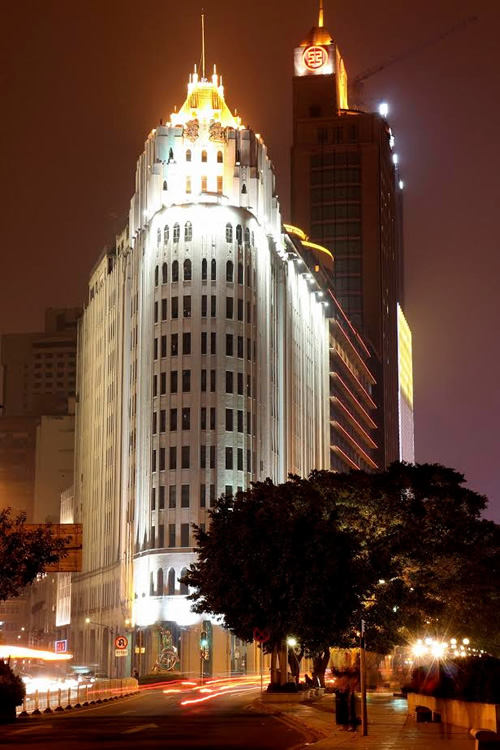 Oi-Kwan Hotel on the old Bund.
From the dock, we walked to the Qingping Chinese Medicine Market, the only "legitimate trading place" (although endangered species like rare turtles were spotted!) of its kind in Guangzhou, and the biggest trading port of herbal medicines in southern China.
Chinese medicine, often complimentary to acupuncture, uses various parts of plants and animals. The rarer the species, the more healing powers are sometimes attributed to such organic life. How about a crocodile head (used in soup, and believed to successfully treat lung diseases), tiger or bear penis and testicles (potent aphrodisiacs), dried snakes (cure for bad vision and lower spine problems), crispy cockroaches (a miracle drug for burns, ulcers, and tuberculosis), or dried centipedes (to fight off a range of deadly diseases)?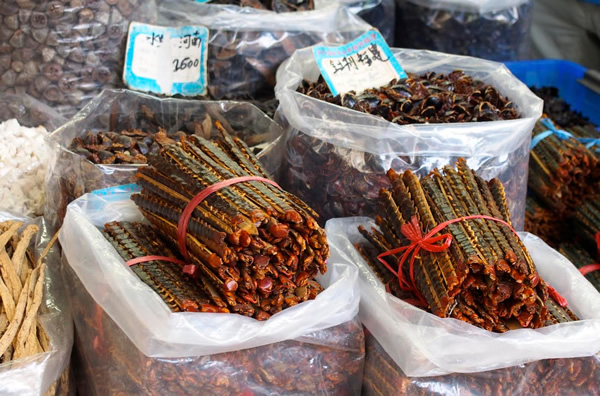 Wu Gong (centipedes) and Zhang Lang (cockcroaches) at the Chinese medicine market.
Via the beautifully decorated ancestral temple of the Chen family ("Chen Clan Academy"), a place to offer to ancestors and study, and the new Cantonese Opera Art Museum in the Lychee Wan district — once a trading water town with a network of streams flowing into the Pearl River — we reached elegant and peaceful Liwan Lake Park.
Here, we watched a free open-air performance of Cantonese Opera, a variation of older forms of Chinese Opera, combined with the use of martial arts, folk melodies, and traditional Chinese and Western instruments. An additional feature of Cantonese Opera is the complicated make-up, used to transform the faces of singers into painted masks.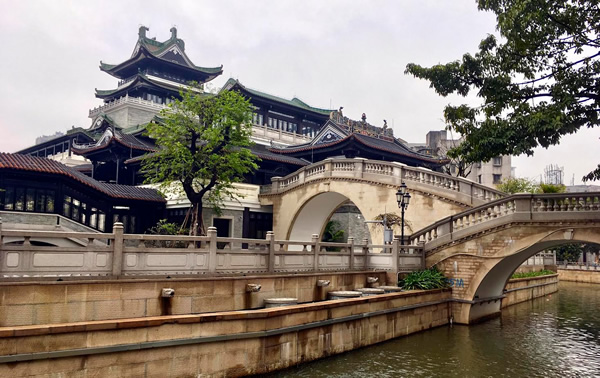 Opera Art Museum.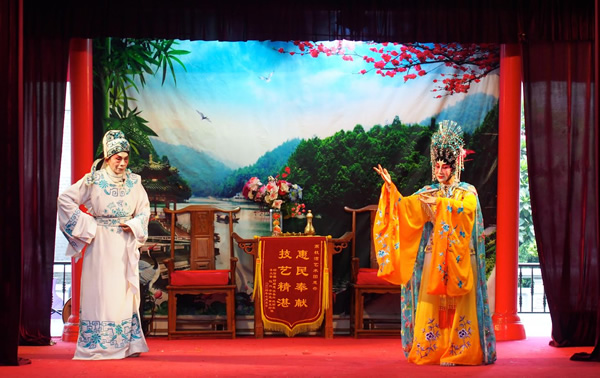 Open air opera performance in Liwan Lake Park.
The full day with Janvi came to $100 US. With two or more participants, the fee per person would have been considerably less. "Janvi Tours" also offers day trips to the countryside. Contact: janvi@gzguide.net.
At the end of my whirlwind visit to Guangzhou, my Airbnb host accompanied me to the nearby bus station of the airport shuttle, and for 12RMB ($1.75 US) I returned to where I had left off exactly three days earlier, although the experience felt more like weeks.
Was the 72-hour detour worth the extra mile? Absolutely! I would do it again in a heartbeat! There are still plenty of places to explore, including Guangzhou's teahouses and their traditions (Ruifeng Chaguan); the contemporary art scene of Redtory Art & Design Factory, Xiaozhou artists' Village, and other galleries such as Vitamin Creative Space, Loft 345, and Fei Gallery; cycling University Island (Mobike, the Uber for bikes). Hong Kong is currently reachable in two hours by regular train, but from 2018 onward will be just a 45-minute bullet train ride away!
Lies Ouwerkerk is originally from Amsterdam, The Netherlands, and currently lives in Montreal, Canada. Previously a columnist for The Sherbrooke Record, she is presently a freelance writer and photographer for various travel magazines.