Solo Travel in Yogyakarta, Indonesia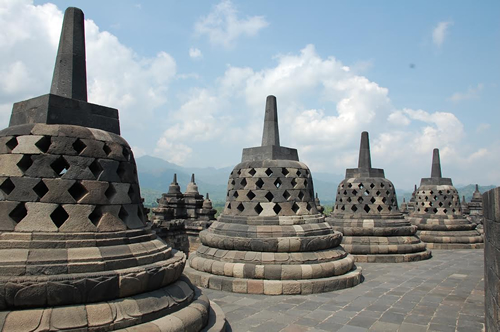 The magnificent Borobudur temple complex in Yogyakarta, Indonesia.
The majestic Borobudur and Prambanan temples were beckoning, I had been craving Indonesian soto ayam for a long time, and connoisseurs had convinced me that Yogyakarta was a true batik mecca. What more reasons did I need to include a short trip to Yogyakarta during my recent wanderings through South East Asia?
Away from the Hustle and Bustle of Downtown
On our way from the airport, the driver of the B&B where I had booked a room online, maneuvered his van adroitly through the chaos of pedestrians, cars, buses, bemos, tricycles, horse-drawn carts, bikes, and motorcycles. We finally turned into a small lane amid rice fields and stopped at a charming villa sporting the name "Alamanda": the absolute jackpot for solo travelers.
My quiet upstairs room with a veranda and outside shower, both overlooking the rice paddies, was the best deal in the house. Delicious breakfasts were included and served on a flowered, cozy patio, and lunches and dinners could be prepared upon request. There were always drivers with air-conditioned cars available for excursions or downtown visits—for a minimal fee—and the gracious owners lent me a cellular with the B&B's phone number already entered into it so I could never get lost. When I felt like company, there was always someone around, and when I preferred to do my own thing, nobody imposed.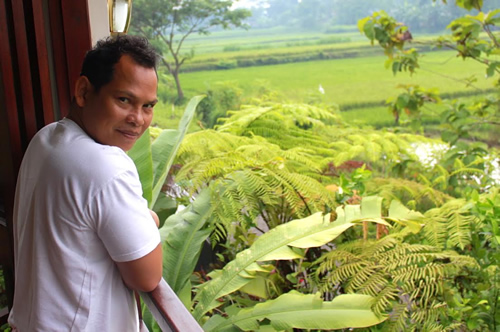 View on the rice paddies from the Alamanda B&B: Paradise for the solo traveler.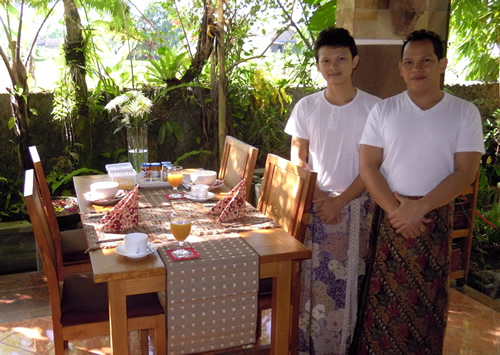 The patio of the Alamanda B&B.
At the first signs of a cold, cough syrup and lemon tea with honey were already waiting for me on my night table. Did I perhaps want a massage ($6) in a nearby clinic? Was there any laundry to be done? Would I prefer dark bread instead of Asia's much too sweet white? Did I feel like exploring Yogya's nightlife in the company of one of the friendly English speaking staff members (predominantly university students earning their way through school), or would a cooking demo by co-owner Ritchie interest me? It could all be arranged in a heartbeat.
"Via Via Yogyakarta"
At "Via Via Travel," winner of the Wild Asia's 2013 Responsible Tourism Award for Most Inspiring Tour Operator, I arranged a worthwhile bike trip through sugar cane and rice fields away from the noise and pollution of the city. As we paddled along, the highly informative guide Yoana explained the ABCs of wet rice cultivation:
Plowing and leveling the fields
Growing seeds in small nursery beds in October
Transplanting the seeds into the main paddies in November
Harvesting rice plants a few months later
Separating the grains from the plants
With Gerarda, another "Via Via" guide, I embarked on a most interesting Jamu and Massage tour. In becaks—three-wheeled cycle rickshaws with passenger seats in front, a black canvas hood against the sun, and colorful images of volcanoes, jungle animals, and wayang puppets painted on the sides—we rolled through Yogya's alleyways, too cramped for cars, towards various traditional healing destinations: the exotic herbal lotion & potion section of the Beringharjo market where friendly vendors let us look, touch, and smell freely; a small neighborhood café (warung), using a secret family recipe for their medicinal home-made jamu—a bitter herbal drink sweetened with honey—to ward off illnesses; and a massage parlor employing only blind masseurs. We topped the tour off with a herbal facemask and a soothing hibiscus tea.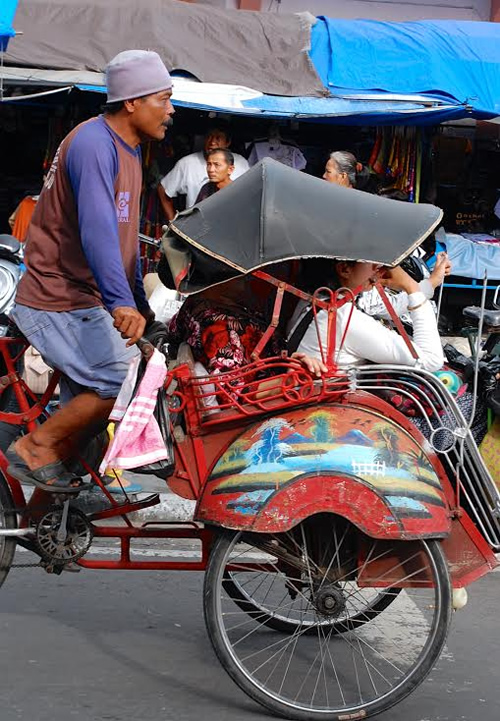 A becak or pedicab.
If time had permitted, I would certainly have joined in some of the other original activities that "Via Via" offers, particularly since their groups are small and even take place if there is only one participant. Consequently, there is ample room for questions, not only about the trip itself, but also about life in Indonesia, Java, and Yogya in general. "Via Via" activities include culinary trips, a religion tour, a batik and silver course, an Indonesian language course, yoga & meditation classes, a visit to a traveling Javanese theatre, city walks through lesser known Yogya neighborhoods, rafting, multi-day overland trips to West or East Java, and day trips on motor bike to the 9th century Borobudur and Prambanan temples.
"Via Via" also operates a very affordable guesthouse and restaurant, sponsors cultural and educational projects in Java, and has its own travel agency where I booked tickets for temples, theatre performances and domestic flights (difficult to book from abroad, even on-line).
Tourist Attractions
Even if you have a tendency to escape major tourist circuits, both the Sultan's Palace and the Borobudur and Prambanan temples are a must-see if you want to understand more of Yogya's culture and history.
Indonesia's only sultan, the current governor of Yogyakarta, still lives with his family in the Keraton, a carefully restored 1790's palace, after earthquakes in this seismic area caused extensive damage. Every morning, part of the palace and the adjacent museum are open to the public, and visits may include free traditional puppet and dance performances. The "Wayang Orang" show that I attended, presented the famous Hindu epics of Mahabharata and Ramanaya, in a style reflecting old Javanese court culture, and with a traditional gamelan orchestra playing in the background.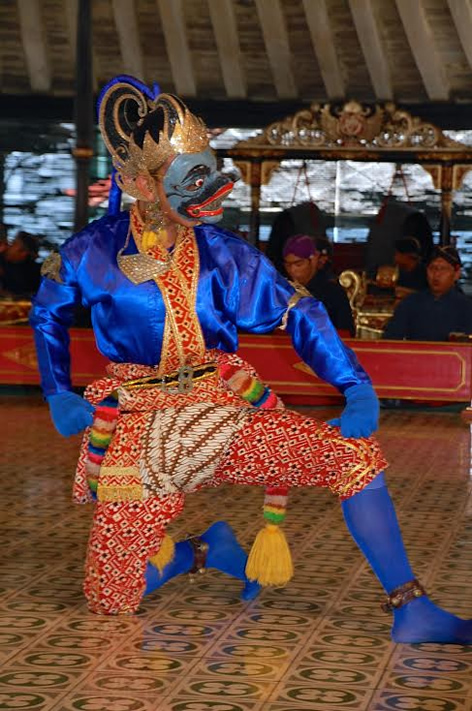 Dancer in Wayang Orang performance.
Two women in Wayang Orang dance performance at Yogya's Kraton.
Woman in Wayang Orang dance performance.
With B&B owner Frans, we went one evening to the square in front of the palace. Late at night, the place turns into a favorite meeting point for young people (Yogyakarta houses at least nine public and private universities), chatting, drinking, and eating food from the many street hawkers stalls around the square, and seated on big carpets spread over the sidewalks. The ultimate fun for them seemed to be a merry-go-round with small tricycle vehicles adorned with flickering Christmas lights in all colors of the rainbow. Many locals told me that this innocent pleasure is one of the things you do in Yogya with friends or on a date!
Although there are buses going to the Unesco World Heritage Sites of the Borobudur and Prambanan temples outside Yogya, I was told the trips could be rough. Therefore, I opted for a B&B driver instead and was conveniently dropped off and picked up again at the ticket booths.
There is no shade around the imposing pyramid structure of the Borobudur, and climbing the many steps made out of giant stone blocks can make you very thirsty. Bringing enough water and arriving early are therefore imperative! In addition, the crowds I saw arriving in busloads later in the day can be avoided by following this advice. Equipped with a breakfast package, you can watch the sunrise over these impressive sites: the Borobudur set against a scenery of green hills and valleys, and the Prambanan temples in a plain amidst villages and rice paddies.
Batik
Batik stores galore in Yogyakarta! To watch the batik process, I went to the Winotosastro factory on Jl. Tirtodipuran, where I could see how wax lines were drawn by hand on fabric with a canting tool, and pressed onto fabric with a copper stamp. The fabric was then dipped in several hot color baths, followed by stripping off the wax. I also learned about the different traditional batik motifs, some of them only reserved for the royal family in the old days, and still until this day never worn by commoners inside the Keraton.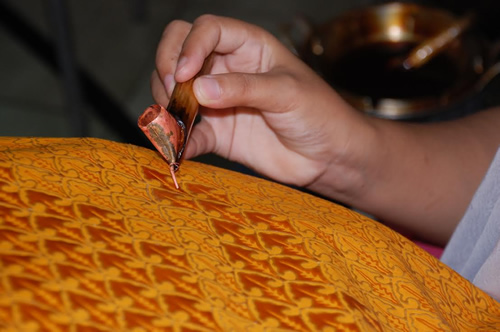 Batik process at Winotosastro factory.
Although watching the batik workers in action was fascinating, I felt a bit pressured afterwards to buy in the showroom. Instead, I explored the extensive batik section in the Beringharjo market instead, and finally ended up at the famous Mirota Batik Store just outside the market—owned by a well-known local artist/TV character Raminten. There, I found a dazzling array of both high quality and cheap printing batiks at fixed prices.
Food
Yogyakarta offers tantalizing food experiences for lovers of Indonesian food, whether you eat in a simple warung (Makan Bawon), in a more upscale bistro (Kesuma), or at one of the many food hawkers' stalls.
Although the homemade meals at "Alamanda," and my daily portions from the traveling satay vendor who would pass by the B&B every night were already irresistible enough, locals kept insisting that my Yogya experience would not be complete without trying gudeg, an authentic Yogya specialty. So on my last day in Yogya, I headed with some new friends for the highly recommended Gudeg Yu Djum restaurant on Jl. Kaliurang and ordered the famed dish. Made from young jackfruit and cooked for hours on end with brown sugar, coconut milk, and lots of spices, the dish came with spicy krecek (cow skin), egg, chicken, and tempeh, and turned out to be sweet, tasty, and definitely worth the try.
It was only when we raised a glass on my pending farewell that I realized that solo travel had never been easier than in vibrant and hospitable Yogyakarta.
For More Info
Via Via Jogja, in Yogyakarta, offers a restaurant, bakery, guesthouse, fair trade shop, and yoga classes in a safety-conscious environment.
Lies Ouwerkerk is originally from Amsterdam, The Netherlands, and currently lives in Montreal, Canada. Previously a columnist for The Sherbrooke Record, she is presently a freelance writer and photographer for various travel magazines.