Guide to Cheap Transportation Options in Europe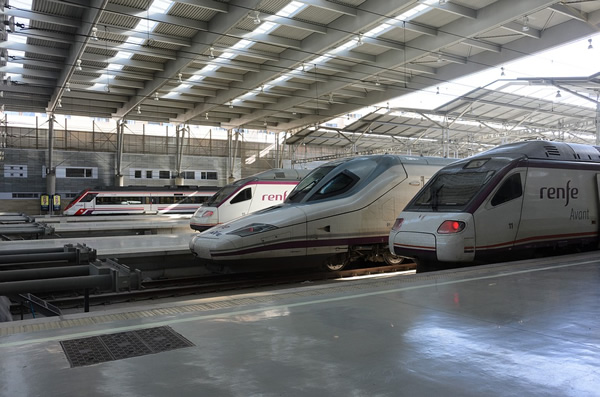 Travel in Europe on comfortable bullet trains.
Getting to Europe or getting around Europe would seem rather simple when it comes to budget transportation options, but there are actually many subtle nuances. Little decisions such as a date, an hour, one city versus another, one season versus another and, especially, which mode of transportation can change your European travel budget by hundreds of dollars or more.
There are no perfect, cookie-cutter answers, either. For one vacation, a series of cheap flights in Europe could be the most time-efficient and even cheapest mode given the low cost of air travel within Europe. A rail pass could be the cheapest travel mode in some cases for shorter distances. In another scenario, a long-term car lease buyback could save hundreds or thousands of euros. Beyond that, there are also comfort and convenience considerations. For a large family lugging lots of baby gear, for example, it could be worth the extra money to avoid a train station.
Sometimes you also need to closely examine the savings versus sacrifice. A budget transportation option that looks like it would save you money could cost you in the long run. For example, a method of getting around Europe that is slower and forces you to get lodging for more days probably isn't worth the 20 euros you just saved.
Here is a rundown of transportation options, and getting around Europe on a budget.
Getting to Europe on a Budget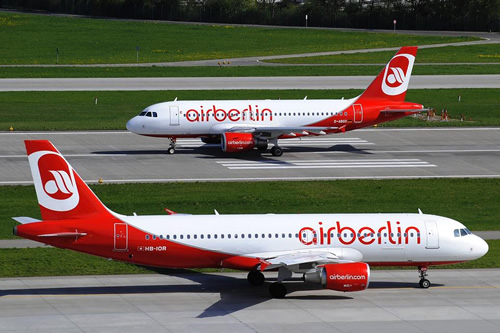 Two Airbus A320 from Air Berlin.
By focusing your attention even on this simple aspect of your vacation, you could literally save hundreds of dollars. You might not even need to make major adjustments or compromise much comfort or convenience.
Consider when you will go. Spring and summer can be the most expensive time to fly to Europe, but that doesn't mean you can only visit in winter on a budget. Look at fall, which is a splendid time to visit, or even early spring when it is still considered the shoulder season. Your timing can also be heavily impacted by timing depending on the day of the week you fly, time of day you fly, whether your trip includes a Saturday night stay, and how early you buy your tickets.
Cheap Air Travel
Where you fly is another major affecting your budget. If you planned to meander around the map a little anyway, you might check various hub cities in Europe like Frankfurt, Paris, London, Milan, and Rome for better flight prices than smaller cities like Nice or Lisbon.
You can always use another transportation method to get to that destination city, and you will have added another major city to your itinerary. You just have to examine this option closely to determine if you are spending more getting from a cheaper airport to your destination than you would save getting the cheaper flights and, if so, is it worth it anyway.
We all have our favorite online booking sites, but we find that Skyscanner is a good website with an emphasis on Europe airlines. You can often find your flights directly using the many cheap airlines when you are in Europe and get a better deal.
An excellent meta-search engine—a search tool that scans across search tools and even some individual companies offering deals—is also an app that finds cheap flights, trains, buses, and even carpool options throughout Europe and is called Omio.
Cheap Train Travel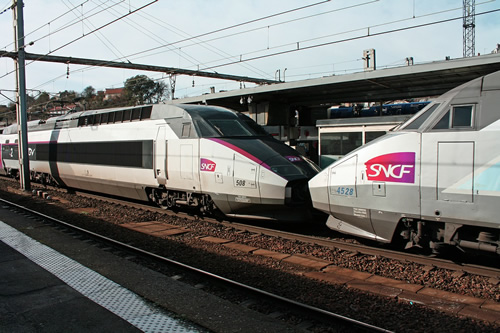 Take a train via the TGV in France.
One of the most popular and enjoyable budget transportation options in Europe is the train. In many cases, people assume the best deal is a rail pass (only available to non-European visitors), but whether that is true can vary wildly depending on the travelers, the destinations and the situation. A great way to determine the best option is to price out your itinerary with both a pass and point-to-point tickets on your destination country's official rail website or dealers like Eurail.
As a general rule, if you will be visiting large cities great distances apart, a rail pass could save dramatically over the price of individual point-to-point tickets. If you will be visiting one city, however, with just a couple day-trips nearby, you would spend a substantial amount more on a rail pass than you would on local or regional point-to-point tickets. The number of days you will travel and how far also comes into account. One long trip and several short ones also could mean a rail pass is too pricey for you.
You also need to keep in mind that ticket prices, as well as rail passes, do not include the cost of reservations, sleeper car spots, or pretty much anything extra beyond permission to get onto the train. Which rail pass you choose, if you're getting one, is also something you should research extensively first since minor changes can make a big difference to your wallet.
Car Travel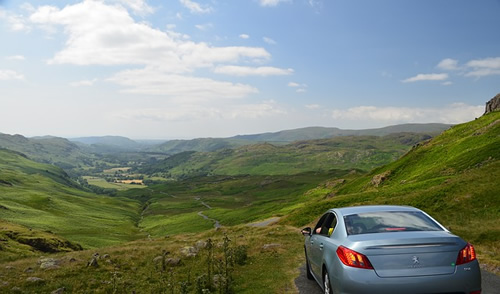 Taking a car to the countryside is a great way to explore places off-the-beaten path—especially for families, those who are not bikers, or who are bringing along possessions for long trips.
Car rentals can be notoriously expensive in Europe, especially if you do not know how to drive a shift, but they offer a hard-to-ignore convenience by offering travelers far more independence. You can go where they want and get away from the hordes of tourists when so desired. It's especially helpful for travelers with a lot of gear that can be difficult and unpleasant to lug into stations and airports while traveling around Europe.
One nice compromise is to simply get a rail pass/car rental combo. That provides a bit of the best of both worlds, and you can use the car rental vouchers for days you want to go wandering the countryside and exploring.
If you will be visiting for at least 21 days, you should consider a lease buyback program. You get a brand new car, comprehensive insurance throughout Europe, and the daily rate is lower than a traditional car rental. You can find programs through a AutoEurope/Peugeot joint venture.
Other Cheap Transportation Options
Flights, rail, and car transportation are certainly the most commonly used methods of getting around Europe by visitors, but there are also some great budget alternatives such as buses. Be sure you consider:
Bus transportation networks are much more extensive in Europe than they are in the U.S., and they reach destinations much more rural than you might expect. Buses are often very comfortable and modern for longer trips, and for shorter trips within a country, they are perhaps the cheapest mode of transportation short of other options such as biking, carpooling, or the now less-favored hitchhiking option.


Ferries are a lovely way to travel around Europe's many bodies of water, and can be a cheaper (if not speedier) mode of transportation.


Barge rentals and small cruises provide the unique aspect of travel by water, as well as a combined price tag for both transportation and accommodations.