France on a Budget
Travel on the Cheap in France is Still Possible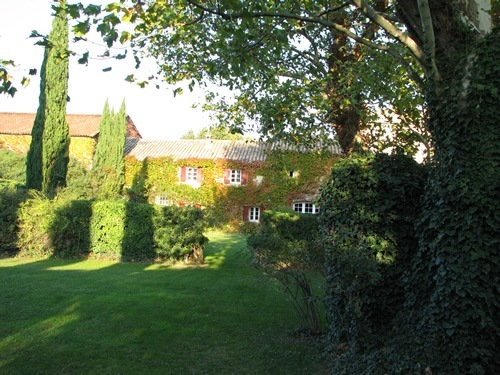 Creating a home base in an apartment on the grounds of a castle winery in Provence, during the off-season, is easy on the budget and offers great pleasure and freedom. Photo © Transitions Abroad.
People tend to assume a vacation in France must be expensive, but that is far from the truth with so many ways to plan a budget trip to France. There are quality lodging options that are dramatically cheaper than you might expect. You can find excellent food for pocket change. You can get around sometimes on a few euros. Now, with the dollar almost reaching par with the euro, there are many more affordable options than in recent years.
We are not here going to provide you exact suggested itineraries, "must-sees," or costs, as those are covered in so very many guidebooks, articles, "Top 10" listicles, and posts elsewhere. Check Numbeo.com if you seek exact costs. We wish to highlight the many great options that are often overlooked when traveling slowly on a reasonable budget to immerse yourself in a country so rich in beautiful landscapes often off-the-beaten-path, an inspiring and evocative culture, layers of history, and pleasures for all the senses.
Not only can you see France on a budget, but you will most likely leave the country with a more authentic and unique experience than people who stay at four-star chain hotels in Paris.
Tips for a Cheaper Trip in France
Many people make a few costly mistakes when planning their travel in France, and this has led to the myth that the country must be expensive. Where you go is probably the biggest factor. If you go to Paris, expect Paris prices. It's just the same as anywhere else. A vacation in New York City or San Francisco will cost dramatically more than one in Charlotte or Indianapolis.
Even if you want the true urban experience, there are ways to save. Stay in Paris, but in a less tourist-ridden neighborhood. Stay in an apartment in Paris by the week or month rather than in a hotel. Stay in Paris for a few days before moving on to a cheaper destination. You can visit one of numerous other fascinating and bustling cities in France that save you money without sacrificing a memorable trip.
When you go is another primary factor that affects numerous costs ranging from airfare (which can cost five times as much in summer as it does even in late fall or early spring) and lodging rates (which drop significantly in the off-season).
How you travel is key. The main credo is to go against the tourist grain. Go to different cities, or different places in cities, and go at different times. Not only will you save money, but you will also experience greater immersion in the daily life of the locals. In fact, you will receive far better treatment from locals who aren't experiencing an onslaught of gawking tourists.
Cheap Accommodations in France
There is no need to stay at a pricey hotel when visiting France. One of the greatest qualities of traveling in France is the wildly diverse range of low-cost lodging options, including:
Cheap Dining in France
Decide what type of food you wish to eat.
France remains the ultimate destination for lovers of fine cuisine, in my view. Some of the world's finest chefs serve up fare at Michelin-starred restaurants throughout the country. The refined meals come with the expected exorbitant check in most cases, but that doesn't mean you can't indulge occasionally in fabulous French cuisine on a budget as you do while at home on special occasions.
A key way to save is simply to say no to included breakfasts at your accommodation. Many automatically include this in the price, so mention it when you book. These breakfasts, which are usually simply coffee, breads and pastries, can cost upwards of 20 euros per person.
You could have a breakfast that is just as good, if not better, by visiting the local boulangerie (bakery) or patisserie (pastry shop) for the same or better food at a fraction of the cost. Actually, your hotel likely got their breakfast from the same neighborhood spot, but venturing off-the-beaten-path may lead your nose to even better bakeries and to displays that are a feast for the eyes and often even better in actual taste. Afterwards, visit a local café for a cafe-au-lait that will cost maybe 3-4 euros. All told, you will have better selection, and your breakfast of croissant and coffee will run maybe 5 euros. In Nice, the coffee is often as good as the best Italian. Another great option for inexpensive morning meals is a visit to the local produce market, which usually features a wide variety of great locally-grown finds. Wild strawberries full of taste, and other just-picked berries, as well as other fruits are often found and need little to no preparation to take you to places your taste buds have never been.
Since the French often turn simple meals into extensive feasts, you can have a large lunch or dinner and simply snack for the other meal without feeling deprived in the least. Although a late lunch can be difficult, as most French restaurants close between lunch and dinner, just plan accordingly. If you want to eat at an upscale restaurant, try to do so at lunch instead of dinner to avoid any potential tourist crowds and to enjoy the atmosphere with locals, while saving on similar (or the same) dishes that are served in the evening hours.
Also, always look for a prix fixe menu, which typically provides a small selection of starters, main dishes, and desserts for a fixed price. This can provide tremendous savings over ordering a la carte, or off the menu. Order a carafe of house wine, which is cheap and sometimes of better quality than bottled wines found in other countries. A glass of house wine will probably cost you less than a Coca Cola in France, tastes better with a meal composed of dishes often cooked or served with a wine sauce, and is far better for your health.
Cheap Transportation in France
There are three transportation methods in France that are expensive: a traditional rental car, taxi rides, and long-distance point-to-point tickets. Fortunately, there are many wonderful alternatives that are relatively cheap and convenient.
Rail passes are still a great deal if you will cross great distances. Instead of paying, say, 250 euros to get from Paris to Nice, you could get a rail pass for a similar price and have a couple more days of rail travel that can be used for other long-distance jaunts. Rail passes are not a good deal if you will travel short distances or take day trips from a major city. The train will also not get you to some of the smaller villages in France.
Buses are a convenient and inexpensive alternative. France's bus transportation system is extensive. It's the rare place you can't reach by a local or regional bus, usually for just a few euros. The bus systems can be confusing, however, and each region and town has its own network. The best way to handle this is to contact the tourism office for the region or town you plan to visit ahead of time and ask for details, a map and a schedule for the local bus system.
If you will stay in France for a month or more and have a busy itinerary, your best bet could be a lease buyback program. Autoeurope, in a partnership with Peugeot, provides short-term car leases as well as their own long-term relatively inexpensive car rentals, and are provided brand new. (Editor's note: One of the main advantages of driving in France is discovering villages where tourists do not venture and visiting destinations at your own leisurely pace, making for a far more adventurous experience in what is an extraordinarily varied country in so many ways. We cannot count the times we have been told that we are the only Americans to have visited a fine, cheap family-run restaurant in a tiny medieval village, and the hospitality and curiosity of the locals is often endless. In addition, cheap lodgings or home base vacation rentals are far more accessible with a car in most cases. For those who are not comfortable with using maps or being overly spontaneous, English-speaking GPS devices are generally available for car rentals or leases. This is by far our preferred way of experiencing France when not traveling alone, and is a great way to travel as a family or as a couple.)
If you plan to visit another city in France, a large added expense will be getting to those other cities. That cost alone could counteract any savings in other areas. To save cash getting around France, consider using one of the many discount airlines that also serve France, such as Ryanair and easyJet. Many times, a discount round-trip airfare to a southern France city from Paris is cheaper than a rail-pass or train ticket.
Obviously, France is not nearly as cheap as Guatemala, Ecuador, Cambodia, Slovakia, etc. But France is generally no more expensive than Italy, England, Switzerland, Scandinavia, Australia, Sweden, Singapore, or Japan. Why you go to visit a country is highly personal and circumstantial. If you must travel with very tight budget considerations, there are many other incredible places in the world you can explore having a far lower cost of living, and we cover these destinations in the budget travel section of our site.
Cheap Cities in France
Where you go is so crucial in determining how much you will spend when you visit France. You don't have to stick to quaint Alpine villages to save a few euros, and Paris isn't the only option for city slickers. Here are some urban alternatives to save you money, while still providing a splendid vacation in France:
Nice: During the off-season, this is a great place to enter France via airplane. Not the cheapest city in France, but if you have a desire to visit the fabled French Riviera it is much cheaper than neighboring cities and resort towns such as Monte Carlo, Cannes, and Saint Tropez (all reachable for day trips by rail). Nice has plenty to offer, primarily with its attractions like the great produce available at the Cours Selaya market, the Matisse Museum, and its inviting pedestrian zones along rue de France and in other parts of an incredible old city that mixes Italian and French charm.
Alternately, you can stay in the villages in the spectacular hills above and behind Nice for a fraction of the price, with even towns full of celebrities such as Vence offering deals in certain areas. The editor stayed for a bit in Vence, by chance near the homes of several huge rock, movie, and literary stars in a more modest abode with a great view of their seldom-used sprawling estates.
Editor's note: If you have time, we suggest leasing a car through the Autoeurope plan from the Nice airport and driving along the Côte d'Azur and then through the back roads of Provence to experience the incredible light that seduced and inspired so many great artists, including Cézanne, Matisse, Picasso, Braque, Van Gogh, Gauguin, Signac, Derain, Dufy, and many more… There you can enjoy some of the finest cheap country food to be found in France, seasoned with the famous herbes de Provence, and stay in a country B&B or long-term vacation rental to stay on budget. Then there are such diverse and charming cities as Avignon, Aix-en-Provence, Arles, and many more towns worthy of a visit.
The Castles of the Loire and the Chartres Cathedral: Chartres is a smaller city, but it offers much to do. The city's centerpiece, which can be seen from miles away, is its cathedral. Chartres Cathedral is arguably one of the most stunning cathedrals in all of Europe. It is also a convenient and short train ride from Paris, saving on the price of transportation if you are flying into Paris. Also, it's a great base if you still want to see Paris or visit the many astonishing castles of the Loire.
Bordeaux: If you like fine food and even finer wine, this is an ideal destination. Bordeaux is a bustling city packed with shopping choices ranging from designer boutiques to locally-run shops. There are also numerous historic and architectural attractions here.
Montpellier: This southern lady of a city is alluring and inexpensive. The bustling Place de la Comédie is the hub of activity, home to markets, cafés, and a breathtaking opera house. This is a vibrant college town, and is a wonderful choice for those who love to shop—whether on a budget or not.
Editor's note: Large cities from now-chic Marseille to Lyon, the gourmet capital of France, are just some of the many other options if you wish to stay in the city. We prefer the countryside near these cities using a leased car to experience the best of all possible worlds while staying closer to our budget.