Bicycling in Paris
A Moving Feast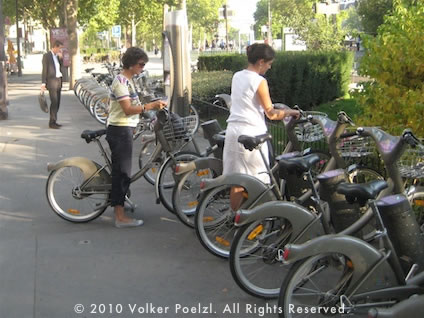 One of 1,400 Vélib' Métropole bicycle rental stations in Paris offering over 20,000 bikes. There were over 400,000 subscribers in 2020!
On a visit to Paris I had a chance to experience first-hand what has turned out to be more than just the latest fad in this fashion-conscious city. But this time it is not haute couture—it is the city's new genuine infatuation with bicycling. Watching the throngs of well-dressed cyclists pedaling up and down the streets, I had the impression that sporting chromed bicycle pedals was now almost as fashionable as wearing high heels. Unlike most fashions in Paris, it is an authentic and inexpensive way to navigate and see the city that is now here to stay for locals and tourists alike.
All this began in 2007, when the city of Paris began the implementation of an ambitious bicycle rental scheme with almost no cost to users, inspired by a similar program in Copenhagen, Denmark, where the bike rental program had been a big success for over a decade. Known as "Vélib", which is a contraction of vélo libre (free bicycle), this innovative transportation program has become so popular since its introduction in Paris that there are now self-service rental stations at almost every corner (officially every 300 meters). The city is dissected by over 260 miles of bike paths that are used by thousands of pedaling citizens every day. After rapidly gaining popularity the Vélib program today has 20,000 bicycles and 1,400 stations all over Paris.To make bicycling even more attractive the city plans to add 160 miles to the already exciting trail network, including bike trails along the famous Champs-Élysées.
But the bike trail network is already quite impressive today. No matter where you want to go in Paris, you can rest assured that a bike path leads there. Some routes meander around congested areas and one-way streets, but most bike paths will take you to your destination in a fairly direct way. The bicycle network in Paris includes both east-west and north-south routes, as well as routes that lead directly to other outlying districts without having to go through the city center first. This decentralized bike path system makes it fun, fast, and easy to get around. There are eleven official bike trails that connect the different parts of the city.They are numbered and color-coded on bicycle maps to facilitate orientation.
Notwithstanding the wide network of trails, bicyclists still have to contend with heavy vehicle traffic and congestion. Many trails run alongside the sidewalks or on paths that are separated from the car lanes by curbs, but you still have to be prepared to face the rather overwhelming congestion of vehicles. On my first bike ride in Paris I went from Montmartre hill straight down to the Louvre. By the time I got to the museum I had to get off the bike, not only to take pictures, but also to catch my breath from the hair-raising experience of sharing the boulevard with six lanes of impatient drivers.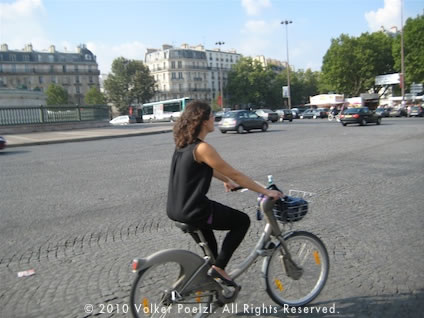 Navigating huge squares such as Place de la Bastille can be a challenge at times on a bicycle, but as with driving in a city, you get used to it.
Vélib or Not Vélib?
Vélib rental stations are ubiquitous all over the city, but to be able to rent a bike you need a bank card with a microchip. All European bank cards have this chip, but North American do not seem to work. On its Vélib site, the city of Paris states that American Express cards can be used at Vélib stations, but it is very hard to find a success story on that from anyone, including expats in Paris. In general, if you have a bank/credit card from North America you need to assume that you cannot rent a Vélib.

But with such an extensive network of bike paths and trails in the parks, it would be a shame not to enjoy riding a bike while in Paris. What are your options? Fortunately, the Vélib stations are not the only places in Paris, where you can rent a bike. Sure, the convenience of dropping off a bike on one corner and renting another one a block down the street is unbeatable, but if your bank card does not allow you access to the Vélib system, you can simply fall back on an old tried and true alternative: bike rental shops. Of course, you have to drop the bike off where you pick it up, but that won't prevent you from spending an enjoyable day biking around Paris and exploring an area in a day that would take you a week to see on foot and that you'd never see if you traveled underground by metro.
How Does Vélib Work?
For those readers who are lucky to have access to a European bank card (I used the Vélib card of a friend in Paris and rented a Vélib almost every day), here is how it works:
To be able to rent a Vélib, you need to first purchase a subscription online, which then allows you to take out a bike. Locals and visitors can buy a short-term subscription for 3 euro for 45 minutes, 5 euro for one day (24 hours) or 20 euros for a 3 days, with a variety of longer-term subscriptions for both standard and electronic bikes. See the Vélib website for all payment options, including an app for all logistics related to docking your bike at station. If you have the right credit card you can take out your short-term subscription at any Vélib rental station, or you can visit the new Vélib kiosk in front of City Hall (Hôtel de Ville). The kiosk is also a good place to find out which, if any, of your North American credit cards you can use to rent a bicycle.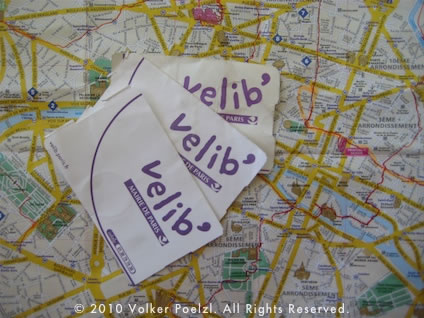 Vélib' Métropole rental tickets and Paris map.
Practical Tips for Bicycling in Paris
In general, it is not encouraged to ride your bicycle on the sidewalk or in the wrong way on one-way streets. In a congested city such as Paris, your biggest enemy is the automobile. Make sure your signals are clearly visible when making turns, and avoid riding too close to cars to avoid opening doors. Sometimes it is better to cross a boulevard in a crosswalk than deal with four or six lanes of traffic, especially around large squares with circular traffic. All traffic in Paris yields the right-of-way to traffic from the right, and this also applies to bicycles.
Vélib are equipped with two breaks, a bell, a basket, a lighting system powered by a dynamo in the front hub, and three gears. Before renting a bike, briefly inspect the bike for damage. To mark damaged bikes, cyclists in Paris have come up with a unique alert system: they turn the seat sideways. This not only alerts other cyclists, but also makes it easy for the maintenance crews to haul away damaged bicycles. If a Vélib station is full when you are ready to return a bike, just look at the map on the pay station to locate another nearby station.
A Few Suggested Biking Routes and Excursions:
1) The Canal St. Martin is not only one of the favorite relaxation spots for Parisians, but it is also great for bicycling. Bike paths follow the canal along its entire length.
2) Banks of the Seine: Cycling along the Seine from the Eiffel Tour to the Cathedral de Notre Dame is one of the highlights of bicycling in Paris. Bring baguette, cheese, and wine, and have a picnic along the Seine.
3) Marais and Beaubourg: These old city districts just north of the Seine are a delight for cycling. There is a maze of narrow streets lined with some of the oldest architecture in Paris, and because there are many pedestrian zones and the streets are so narrow, there is very little vehicle traffic.
4) Luxembourg and Montparnasse: This district was once home to famous American expatriates and still maintains some of its charm of yesteryear. Although dissected by large and busy boulevards, the area still has quiet streets that offer enjoyable bicycling, especially around the vast Luxembourg Gardens.
5) Bois de Bologne and Bois de Vincennes: These two parks on the east and west perimeter of the city are the largest green spaces in Paris with many miles of cycling trails that are undisturbed by vehicle traffic.
For More Information on Bicycling in Paris
Welcome to the portal of the City of Paris, which discuss how to rent a bike with the Vélib' Métropole program. There is also a cell phone service that allows users to search for the nearest available Vélib bike by sending a text message.
Information about Bicycling and Bicycling routes in Paris:
Vélib' Métropole bicycle map. Maps are also available at the city hall (mairie) of each city district (arrondissement).
Bike Tours in Paris: