Cheap Air Travel in Europe
Your Ticket to Savings Can be Found Online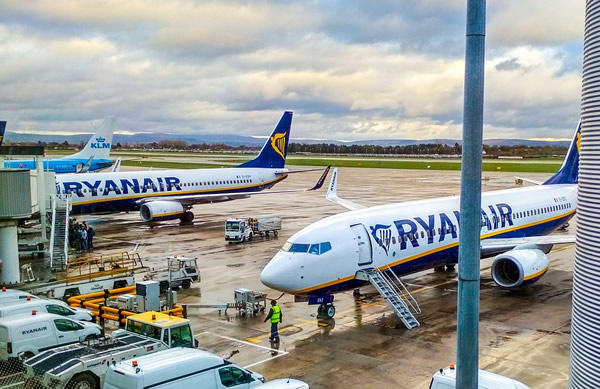 Cheap air travel in Europe with Ryanair.
In today's Europe, embarking on an air adventure doesn't have to drain your wallet. The air travel landscape has evolved drastically over the past three decades, ushering in an era of affordability and convenience. The 1990s marked the partial deregulation of European air travel, a seismic shift that gave birth to a new breed of carriers — the low-cost airlines. Suddenly, jet-setting across Europe became as budget-friendly as a train ride. The days when national airlines reigned supreme are relics of the past. Competition from low-cost carriers reshaped the industry, triggering mergers and bankruptcies among once-dominant giants. In this ever-expanding realm of air travel, navigating your way to wallet-friendly fares is an art. In this guide, we'll unveil the secrets of finding economical airfare within Europe, ensuring your journey is a budget-savvy one. Be sure to check out our handy list of major discount airlines at the end of this article.
Mastering the Art of Affordable European Air Travel
London Calling: Not Always the Best Gateway
London, with its historic allure, remains an attractive entry point to Europe from North America. However, if your final European destination lies beyond the UK's shores, consider an alternate gateway. London's bustling Heathrow Airport, a colossal labyrinth of terminals, often leads to delayed connections and misplaced luggage due to its sheer size. Navigating security checks can be a chore too. But if you plan to explore Great Britain before venturing further into Europe, secondary London airports offer enticing options for affordable flights to numerous European cities.
Hub Hopping: A Cost-Saving Strategy

Direct flights aren't always the most budget-friendly route to your European destination. Major European airlines frequently route travelers through their hub cities, offering connections to a plethora of European locales. For instance, when I wanted to fly from Boston to Lisbon, my most economical option routed me through Frankfurt before reaching Lisbon. Frankfurt, as Lufthansa's central hub, connects seamlessly to countless European cities. Alternatively, consider open-jaw tickets, where you arrive in one city and depart from another. Often, the added cost is nominal, making it a smart choice for crafting flexible one-way itineraries across Europe.
Open Skies Agreement: Unleashing Transatlantic Choices
The Open Skies agreement between the U.S. and the European Union has transformed transatlantic air travel. It grants European airlines the freedom to operate routes between any EU and U.S. city, while U.S. carriers enjoy the same privileges in Europe. Although anticipated to lower fares, price fluctuations tied to oil prices and other factors have tempered its impact. Yet, it's worth exploring the diverse flight options this agreement has unleashed.
Taking Flight with Low-Cost Airlines in Europe
The European skies have been buzzing with low-cost carriers for years. These nimble competitors have infiltrated routes traditionally dominated by legacy airlines, offering travelers unbeatable affordability. By flying into smaller cities or secondary airports with lower landing fees and less competition for slots, these airlines have revolutionized the European air travel scene. However, be prepared for a no-frills experience: expect no assigned seating and minimal amenities. Tickets are typically non-refundable, and altering your flight date can be a costly affair. Always scrutinize the fine print.
Navigating the Fine Print
When booking a flight with a low-cost carrier, dive into the fine print. Meals and drinks often come at a cost. Baggage allowances tend to be scant, with fees for checked bags or even carry-ons that don't fit under your seat. Keep an eye out for separate charges like airport taxes, fees, and fuel surcharges, which can pile up, often separately from the initially advertised fare.
Booking Your Low-Cost Flight in Europe
Many low-cost carriers primarily sell tickets online, with limited availability through travel agents. If you're flying to Europe from abroad and intend to connect with a low-cost carrier, start your journey online. For those seeking open-jaw itineraries or the convenience of an experienced hand, travel agents can be invaluable. While online bookings dominate, travel agents possess insider knowledge, helping you unearth hidden options and snag the best deals. They can also tap into ticket consolidators, unlocking discounted flights rarely found on airline websites or online travel agencies.
Savvy Traveler Tips
Flexibility pays off when hunting for affordable airfare within Europe. Consider off-peak travel during low or mid-season periods. Research airline websites and online travel agencies for options, but don't dismiss the prowess of travel agents. They can swiftly pinpoint budget-friendly departure days and reveal unadvertised deals. Plus, their connections often open doors to exclusive fares. Remember, flights can sometimes change, so inquire about modification policies when booking.
Rights in Case of Canceled Flights
Canceled flights are a traveler's nemesis. Airlines may urge you to return the next day for a rescheduled flight, but persistence is key. Stay polite but firm, insisting on same-day alternatives. The European Union has instituted compensation and assistance rules for passengers facing denied boarding, cancellations, or lengthy delays on European flights. These regulations aim to ensure you receive fair treatment and compensation in such scenarios.
Your Passport to Affordable European Air Travel
In an era of abundant choices, affordable air travel within Europe is yours to seize. With low-cost airlines crisscrossing the continent, savvy travelers can explore Europe's diverse destinations without breaking the bank. So, embrace the freedom of the skies and embark on your budget-friendly European odyssey.
Budget Airlines in Europe
Some cheap airlines operating within Europe, with their major hubs, include:
Aer Lingus (Dublin)
British Airways (London) is a British airline, with some deals available, that flies to destinations within Europe from several airports in Great Britain.
Air Baltic (Riga, Latvia)
CityJet (London)
EasyJet (London, Paris, Milan) is a large low-cost airline with destinations all over Europe.
Ryanair (Dublin, London) is an Irish airline with its major hub at London, and is Europe's largest budget airline with flights to every corner of the continent.
Smartwings (Prague)
Vueling (Barcelona)
You can also check out this annotated and exhaustive list of Discount Airlines in Europe as well as low-cost airline hubs compiled by Wikitravel.
Useful Search Engines for Cheap Airfare in Europe
SkyScanner offers low-cost airfare, focusing primarily within Europe.
Eurocheapo provides budget flights within Europe as well as hotel and car reservations.
CheapoAir offers booking options for budget flights within Europe.