How to Find Cheap Flights Within Europe
Seek Out the Many Budget Airlines Online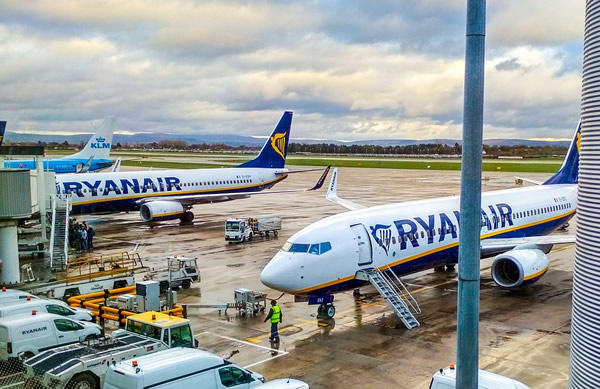 Cheap air travel in Europe with Ryanair.
Air travelers in Europe today have many more cheap air travel options than 20+ years ago. The partial deregulation of air travel in Europe in the 1990s allowed the rise of low-cost airlines. Flying even short distances in Europe is very often cheaper than taking the train. The days when national carriers dominated air traffic and were regarded as national symbols are gone. The fierce competition from low-cost airlines has led to bankruptcies and mergers of several large and reputable airlines. But with so many more airlines operating in Europe travelers must figure out how to get that low-cost airfare. We will illustrate the cheap airfare options within Europe as well as inside tips on how to navigate the process.
The Cheapest Airfares When Flying to Europe
London is still one of the cheapest European destinations from North America, but it is not a great gateway for continental Europe. If your final travel destination is not Great Britain, you are better off using a hub in continental Europe for connecting flights. The international airport at Heathrow is so huge and congested that it is difficult to make connections on time. If you have a connecting flight to continental Europe, chances are that your bags will be delayed due to the airport's enormous size and different terminals that are far apart. In addition, dealing with the security checks at London's Heathrow airport can be annoying. But if you stay in Great Britain and then continue to other European countries, you can catch low-cost flights from secondary London airports that take you almost anywhere in Europe at incredibly low prices.
Keep in mind that booking a direct flight to your European destination is not always the cheapest way to get there. The major European airlines will often take you to one of their hubs, where you can catch a connecting flight to your final destination. A few years ago I wanted to fly from Boston to Lisbon, but the cheapest flight was first to Frankfurt, and then Lisbon. Frankfurt is a major hub for the German airline Lufthansa, with frequent connections to most European cities. Another option is to fly open-jaw, which means that you arrive in one city and fly out from another on the same airline, and you usually only pay a little bit extra. This is a great way to plan a 1-way itinerary in Europe and saves travel expenses and time.
The Open Skies agreement between the U.S. and the European Union is in effect. This partial deregulation of transatlantic air traffic allows European airlines to fly from any city in the EU to any city in the U.S., and vice versa. U.S. airlines also are allowed to fly within Europe. This agreement, while expected to increase competition on transatlantic flights and reduce fares, has not so far reduced prices significantly when flying across the Atlantic due to fluctuations in oil prices and other factors.
Fly the Many Low-Cost Airlines Within Europe
Low-cost airlines have long entered the European market, and routes that were traditionally covered by national airlines now face the stiff competition of low-cost carriers. This has prompted several major European airlines to start their own low-cost subsidiary airlines to remain competitive.
Low-cost airlines typically fly to smaller cities or secondary airports. There, landing fees are lower and fewer airlines compete for landing slots. While large airports often operate at maximum capacity leading to delays and canceled flights, smaller regional airports still have room for additional flights, which many low-cost airlines take advantage of. This means that if you are flexible and willing to consider secondary airports or smaller cities as your destination, you can save a lot of money. Low-cost carriers usually offer only one passenger class and often have no assigned seating. Keep in mind that tickets from low-cost airlines are usually non-refundable and that flight dates cannot be changed.
Regarding All Fees
As always when flying, read the fine print carefully. To save cost and make extra money, low-cost airlines charge for food or drinks. You will find the baggage and weight allowance to be very low, or you might even be charged for every checked bag. Some airlines charge a fee for carry-on bags that do not fit under the seat in front of you. Airport taxes, fees, and fuel surcharges are often listed separately from the low advertised fare.
How to Book a Cheap Flight Online Within Europe
Many low-cost airlines sell their tickets almost exclusively online, and few travel agents will be able to book a flight on a European low-cost carrier for you from overseas. If you are flying to Europe from overseas and wish to continue with a low-cost carrier, do your online search for a suitable airline and book the flight directly.
More and more people are opting have opting to book their flights online and often take advantage of airlines' website-only specials, but you should not discount the research capabilities of a good travel agent. As I often buy open-jaw airline tickets, allowing me to arrive in one European city and fly back to the U.S. from another, I still regularly use the services of a travel agent. I have found it difficult to book an open-jaw flight online, as most websites give you only a "one way" or "return" ticket option. You can still book open-jaw tickets online, but this option is not easy to find. I have also found it difficult on websites to easily find the day of the week with the lowest fare. Searching is often a time-consuming trial and error process, unless you have found an friendly online service, while travel agents can easily tell you on what days the fares are lower. Travel agents are also often willing to consult ticket consolidators on your behalf, which offer discounted flights not available on airline websites or online travel agencies.
If you have some flexibility with your travel dates, save on fares by traveling to Europe during the low or mid-season. To find a flight that both suits my budget and my schedule I usually do some research on airline websites and online travel agencies, and then call a travel agent to see if they can come up with a better departure day or time, or with a better price. While the prices are usually similar, travel agents often surprise me with different options or connections not available online. On one occasion I needed an open-jaw ticket to Europe that included a flight within Germany. Using the same airline as for my international flights would have been very expensive, and the travel agent found a flight for me on a German low-cost carrier. Travel agents charge a small fee for their services, but I have found it to be a worthwhile expenditure. Whenever I go to Europe I end up staying longer than intended. So when you book your flight find out if it is possible to change the departure date and how much the airline charges to change your flight date.
Your Rights in Europe for Canceled Flights
Is there a traveler who has not had to deal with canceled flights? Airline agents usually try to convince you to go home (or back to your hotel) and come back the next day to catch another flight. They don't want to lose your business and will make every effort for you to fly with them. Persistence and tenacity are your best tools in this case—while remaining polite. Make it clear that you absolutely need to get on a plane the same day. Airline agents will eventually book you on another airline, even though they will lose your business. Unfortunately, switching to another airline in the case of a canceled flight is not an option if you fly with a charter or low-cost airline due to their different fare structure. In this case, you simply have to accept whatever arrangement the airline offers.
The European Union has common rules on compensation and assistance to passengers in the event of denied boarding, cancellation or long delay of flights. But few countries implemented the rules and even fewer airlines followed the guidelines. Flooded with complaints from air travelers, the European Union decided to have member states comply with the passenger protection rules. These new regulations help passengers more easily obtain compensation and get a fair and swift response to their complaints. The Air Transport Portal of the European Commission provides information about rules and policies regarding air travel in Europe, including air passenger rights.
Finding a dependable cheap flight within Europe has never been easier, so take advantage!
Budget Airlines in Europe
Some cheap airlines operating within Europe, with their major hubs, include:
Aer Lingus (Dublin)
British Airways (London) is a British airline, with some deals available, that flies to destinations within Europe from several airports in Great Britain.
Air Baltic (Riga, Latvia)
AirItaly (Milan)
CityJet (London)
Condor (Frankfurt)
EasyJet (London, Paris, Milan) is a large low-cost airline with destinations all over Europe.
Eurowings (Cologne)
Ryanair (Dublin, London) is an Irish airline with its major hub at London, and is Europe's largest budget airline with flights to every corner of the continent.
Smartwings (Prague)
Vueling (Barcelona)
You can also check out this annotated and exhaustive list of Discount Airlines in Europe as well as low-cost airline hubs compiled by Wikitravel.
Useful Search Engines for Cheap Airfare in Europe
SkyScanner offers low-cost airfare, focusing primarily within Europe.
Eurocheapo provides budget flights within Europe as well as hotel and car reservations.
CheapoAir offers booking options for budget flights within Europe.