Cultural Travel and Alternative Tours in Latin America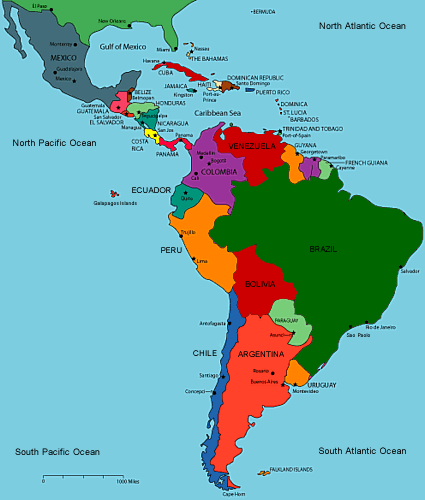 Featured Articles on Cultural Travel, Adventure Travel, and Language Vacations in Latin America
How to Plan an Unforgettable Volunteer Vacation in Latin America
Prepare a turtle hatchery in Costa Rica. Teach English in Mexico. Build a home in Brazil. Whether you call it a volunteer vacation, a service trip, or voluntourism, combining travel and volunteer work is an increasingly popular way to see the world.
Top 10 Reasons to Visit Cuenca: "The Athens of Ecuador" is a Treasure by Lies Ouwerkerk
An illustrated visit to beautiful Cuenca, Ecuador, which offers colonial treasure and its own unique traditional cultural experiences, as well as a very warm, interesting, and colorful local population.
5 Routes and Regions for an Authentic Mexican Visit by Ted Campbell
A miniguide to the top places to visit Mexico for an authentic experience.
Top Mountain Towns to Learn Spanish in Latin America and Spain
Schools that Combine Language Learning and Cultural Tours by Mary Beth Strawn
Six of the top language schools to learn Spanish and experience cultural tours in Latin America and Spain.
Vacationing or Volunteering in an Eco-Friendly Guatemalan Mountain Lodge by Lies Ouwerkerk,

Senior Contributing Editor


An extraordinary vacation that combined an experience in the lush green of Guatemala and volunteering to help locals with a variety of projects.
Seeing the Real Dominican Republic: A Stay at Tubagua Eco Lodge by Lebawit Lily Girma
An illustrated description of an off-the-beaten path stay at a magnificent and award-winning eco lodge in the Dominican Republic, far from the usual all-inclusive beach resorts.
How to Taste Daily Life in Cuba's Bed and Breakfasts by Lies Ouwerkerk
Wandering through Cuba via its network of casas particulares, even some Americans can now experience the incredible resiliance of the hospitable Cuban people and the richness of their culture, despite all that stands in their way.
Antigua, the Soul of Guatemala
Venture into the world of magical Antigua, Guatemala, where ancient Mayan ritual and culture remains at the core of the city.
A Guide to Slow Travel in Playa Samára, Costa Rica by Paul France
How to learn to enjoy slow immersion travel and living in idyllic Playa Sámara, Costa Rica
Honoring Tradition in Mexico by Jim Kane
Tenjapa Homecoming in Mexico by Jim Kane
Making a Positive Impact with Culture Xplorers by Jim Kane
Living Festivals: Getting Into the Local Spirit by Jim Kane
Mayan Community Tours Enrich a Visit to Mexico's Sian Ka'an Biosphere Reserve by Alison Gardner
Galapagos Islands: Fragile and Fabulous by Alison Gardner
Cultural Travel in Buenos Aires: Exploring the Arts by Daniel Gabriel
Immerse Yourself in a Culture while Learning Spanish, Photography, or Surfing by Shelley Seale
Adventure and Nature-Based Travel in Costa Rica: A Group Trip Provides a Rich Sampling by Amy Angelilli
Spanish and Whitewater Kayaking in Chile by Ann Beman
Spanish and Culture Lessons in Mexico by Michele Peterson
Budget Adventure Travel in the Dominican Republic by Barbara Gail Warden
Rafting to a Jungle Lodge in Costa Rica: Indulge in a Sustainable Adventure by Katherine McIntyre
Diving in Honduras by Kevin Revolinski
Love and Tango in Argentina by Andrea Gourgy
Academia Latinoamericana
Proud to be the friendliest Spanish school you have ever known. Family owned and operated. The program offers language study at 9 levels, for complete beginners through advanced. Experienced staff, native Ecuadorians. Carefully selected host families within walking distance of school. Exclusive "Cloud Forest and Galápagos" extension program, volunteer program. U.S. college credit available.
Adventure Life
Adventure Life is committed to providing quality small group tours that have a positive impact on the local culture and environment.
South & Central American Travel
Specializing extensively in South & Central America, Adventure Life has incomparable familiarity with any destination you select. Adventure Life work under strict self-imposed guidelines to ensure that each itinerary has a positive impact on the local culture, environment and economy staying one step ahead of other travel companies.
Go Green
Adventure Life and the Rainforest Alliance (www.rainforestalliance.org) have established a partnership to promote tourism operations that are part of the Rainforest Alliance's Best Management Practices in Sustainable Tourism Program. The Rainforest Alliance provides tourism entrepreneurs and community-based businesses in Latin America with the tools and training they need to become more environmentally and socially sound, and to gain access to and be more competitive in the marketplace, while contributing to the conservation of the local culture and nature.
Galapagos Tours & Treks
Adventure Life is also an active member of the International Galapagos Tour Operators Association (www.IGTOA.org), and together we have created an important way for the travel industry and travelers like you to help support Galapagos conservation. We believe that the travel industry and those who visit the Galapagos Islands must meet the great challenge of preserving this priceless world heritage.
Visit: www.adventure-life.com
Alma de Colores Taller de Artesania in Guatemala
Alma de Colores Taller de Artesania is a handicraft workshop. It is part of our occupational therapy service for people with disabilities. The local and traditional knowledge in the production and manufacturing of textiles and handicraft is employed with the aim of developing the skills of over 15 people with different kind of disabilities who are becoming professional artisans.
We offer tours of the different areas of the organization, including the garden. We bring our guests to visit Centro Maya, which is the core of the educational and physiotherapy program. We finish the tour in the restaurant where we introduce our users to the service and offer some fresh vegetarian food.
We also offer more tailored visits to individual areas if anyone is more interested in organic gardening than in traditional handicraft.
Visit: Facebook
Baja Expeditions
Eco-Adventures in Baja, Mexico
Whale Shark Diving Quest and Research Project
Dive with a purpose! Enjoy diving the best sites in the Sea of Cortez while you participate in a once-in-a-lifetime research project. With a spotter-plane to help locate the whale sharks, you'll observe and assist visiting guide and researcher Dení Ramírez during each encounter. As with all our Live-Aboard Diving programs, you'll visit dive sites that are out of reach for day boats, where you can explore underwater worlds few others get to see.
SEE Turtle Monitoring Expeditions
You'll actively participate in projects with Dr. Wallace J. Nichols, a leader in Baja's turtle conservation efforts. Projects include monitoring endangered sea turtles and providing training and alternative income sources to local fishermen.
Digital Photography Workshop and Wildlife Voyage
Enhance your photography and digital workflow skills on this 5-day workshop led by instructor Neil Ever Osborne, a passionate conservation photographer who documents species at risk and environments in peril around the world.
Family Learning Adventure on the Don Jose
This new family-friendly program on the Don Jose combines fun, adventure and learning. Our experienced naturalist guide will lead hikes, kayak and snorkeling excursions and other environmental awareness activities sure to please all ages. Plus, certified divers can enjoy some great dive sites in the Sea of Cortez, while non-divers (ages 8 and up) can learn the necessary skills to safely try scuba diving.
Mexican Camp Cooking and Spanish Language Instruction
You'll enjoy all the activities included on our standard Espiritu Santo Sea Kayaking Camp program—plus, practice conversational Spanish and camp cooking with experts who make learning fun during this new Alternative trip.
Yoga, Massage & Sea Kayaking Retreat
The combination of daily yoga practice, meditation, massage and spending time in nature will reawaken your senses and reconnect you with the Earth in this new program. Rejuvenating outdoor yoga and massage sessions will help you reap the true benefits of these practices in nature. Plus, you'll kayak, hike and snorkel to explore both the scenic and the spiritual sides of Espiritu Santo Island.
Baja Expeditions Educational Explorations
We are going one step farther to customize your educational exploration in Baja, the perfect place to explore an ecosystem far removed from any text book or overcrowded national park. If you are a science teacher looking for a hands-on field study trip of a lifetime for your students, a group of retirees looking to learn about the natural history of Baja, or a group of friends and family full of outdoor enthusiasts, we will design the perfect trip for you. The opportunities to connect science with our adventures are endless and our naturalist guides will facilitate any combination of activities to fulfill the needs of the group's learning objectives.
Visit: www.bajaex.com.
Beyond Touring — BELIZE Eco Tours & Programs
Best of Belize Eco Tour
Swim, explore, climb, see exotic birds, relax, snorkel, dive, and truly help others less fortunate. This 8-day affordable high end eco tour covers the highlights of Belize, 1) Maya ruins, 2) tropical forests, 3) World Heritage Site barrier reef, and 4) cave tubing & exploring. Also included: Meaningful cross-cultural experience that truly 'gives back' to Indian Church Village, in northern Belize.
Educational Student Program - Maya Archaeology, Tropical Forest Ecology, & Marine Biology
Fun, educational focus everyday, one Leader/Organizer Free of Charge with 10 paying students. Research station & eco lodges utilized, ancient Maya ruins (behind-the-scenes at Lamanai), lectures, field excursions (howler monkey data collection), and much more. Also included: Meaningful cross-cultural experience that truly 'gives back' to Indian Church Village, in northern Belize.
Belize Birding Eco Tour
As you may be aware there are over 540 species of birds that call Belize home, including toucans, cotingas, and motmots. This 8-day program includes multiple areas & multiple habitats, including Lamanai Archaeological Reserve, Tikal National Park, and Ambergris Caye (San Pedro). Top guides, scopes, check lists, trip reports and more! Also included: Meaningful cross-cultural experience that truly 'gives back' to Indian Church Village, in northern Belize.
Belize Island Eco Tour
Whether your after the beach, snorkeling, diving or relaxing this trip is suited for you. Aside from numerous activites on the island you will also spend time at the ancient Maya site of Lamanai, which includes ruins, birds, howler monkeys, & a river safari to get there. Also included: Meaningful cross-cultural experience that truly 'gives back' to Indian Church Village, in northern Belize.
Ancient Maya Ruins of Belize - Eco Tour
This 8-day trip focuses on behind-the-scences of one of Belize's premiere archaeological sites, Lamanai, it also offers 4 other sites (Xunantunich, Tikal, Cahal Pech & Pook's Hill), provides hands-on artifact workshop, spotlight safari, howler monkeys, birds and much more. Also included: Meaningful cross-cultural experience that truly 'gives back' to Indian Church Village, in northern Belize.
Visit: lwww.beyondtouring.com
Birding tours in Guatemala, Cayaya Birding
Cayaya Birding supports with its tours various conservation programs in rural communities in Guatemala.
Visit: www.cayaya-birding.com.
Cooking Classes in Buenos Aires
Teresita cooking classes in Buenos Aires are designed to offer food lovers a unique gastronomic experience exploring Argentine and Latin American cuisine, sampling local ingredients and learning Teresita's recipe secrets, with emphasis in Latin American food preparation and wine paring. Whether you are a kitchen novice or an experienced cook, you will find our cooking classes in Buenos Aires to be fun and very useful in your every day life.
Visit: www.try2cook.com
Culture Explorers
Custom Immersive Tours
Culture Explorers is an award-winning small tour operator that offers small tours in such places as Argentina, Brazil, Mexico, Guatemala, Peru, and other locations worldwide. Culture Explorers emphasizes participation in the living culture of the countries visited as part of immersive small group journeys. They will allow you to explore the traditions, meet local friends, and support important positive impact projects through their visits. Each departure coincides with an important local festival or celebration.
Visit: www.culturexplorers.com
Ecology Project International
Costa Rica Sea Turtle Ecology Program (STEP)
This tropical hotspot and travel destination contains an amazing 5% of the worlds biodiversity. Costa Ricas Caribbean coast where Ecology Project Internationals program site is located is the fourth most important nesting beach worldwide for Leatherback sea turtles, a critically endangered species. Through our Sea Turtle Ecology Program, youth from Costa Rica and around the world work in partnership with the Pacuare Nature Reserve to conserve and protect these sea turtles from extinction.
Baja & the Sea of Cortez Island Ecology Program and Whale Ecology Program
The Sea of Cortez hosts 39% of the worlds marine mammal species and was recently declared a UNESCO World Heritage site. From John Steinbeck to Aldo Leopold, Baja California Sur has captured the worlds imagination and become a unique travel destination. Through our Island and Whale Ecology Programs, Ecology Project International students from Mexico and around the world work in partnership with local institutions to conserve Baja California Surs desert and marine environments.
Galapagos Islands Ecology Program
One of the first UNESCO World Heritage sites, the spectacular Galápagos Islands host a unique flora and fauna found nowhere else on Earth. Through our Galápagos Islands Ecology Program, Ecology Project International students from the Galápagos and around the world work in partnership with the Galápagos National Park and local institutions to conserve the archipelago. Students travel to several locations on three different islands, studying and experiencing this magical place.
Visit: www.ecologyproject.org
El Paraiso Spanish School
Learn Spanish and Dive in Costa Rica
Improve your Spanish skills (beginner to advanced) trough immersion classes and learn to dive.
Learn Spanish and Surf in Costa Rica
Learn Spanish and take surf lessons in the beautiful Manuel Antonio.
Visit: www.elparaisoschool.com
Ibike Tours / International Bicycle Fund
Ibike Ecuador Exploration
Small group, immersion, bicycle tours, designed to get you out of the box, enrich your life and introduce you to the rich diversity of the people, their culture and the environment of the area. IBF programs are designed to provide participants an opportunity to learn more about the world at a person-to-person level not usually available to tourist. Itineraries highlight the cultural, historical, economic and physical diversity of the area. Throughout the program there are discussions on history, indigenous culture, gender rights and roles, music, language, religion, geology, botany and ecology, great people to meet and scenic beauty to die for.
Ibike Guyana Many People, Many Waters
Gain a better understanding of the rich ecology, culture, history, politics, social institutions, sustainable development projects and beauty of Guyana.
Visit: www.ibike.org
La Confluencia
Patagonia Voluntourism and Adventure Travel
La Confluencia ecolodge and farm runs voluntourism programs throughout the summer (Nov-Feb.) in Patagonia, Argentina. Participants will help with an number of projects iwithn the Rio Azul Protected Area (part of the world's largest UNESCO Temperate Rainforest Preserve) such as trail maintenance, footbridge construction, and selective eradication of invasive species, as well as social assistance projects involving the local community, such as vegetable garden development, greenhouse construction, and home repairs. Depending on individuals' interest and fitness levels, various wilderness adventure options can be combined such as whitewater rafting and kayaking, trekking, horseback riding, and climbing / rappelling.
Visit: www.laconfluencia.com
Llama Expeditions
Machu Picchu Tour by Train
This trip gets you to the magical city of Cusco within a day. Visit important Inca ruins. Get a glimpse of life in Peru past and present. Explore Machu Picchu. Try to squeeze in the optional one-day llama trek if you can!
Amazon to Machu Picchu
Travel from coastal Lima to the Amazon rainforest to Machu Picchu. Learn about medicinal plants like natural Viagra! Visit a weaving community to experience life as it was during the Inca Empire. Learn to make ceviche at a popular neighborhood restaurant.
Inca Trail to Machu Picchu
Join the pilgrimage to Machu Picchu on the Inca Trail! Spend the night before the hike with the porters who will work your trip. See how they farm using the same tools as their Inca ancestors. Dine with their families and dance to traditional music.
Llama Trek to Machu Picchu
Trek with llamas and see how locals live in rural Peru. Explore Machu Picchu. Support a school that provides educational opportunities to the most gifted children living in rural Andean communities.
Horseback Ride to Machu Picchu
This is the ultimate riding vacation in Peru. Experience the smooth gait of a Peruvian Paso horse. Embark on the adventure of a lifetime as you cross the Salkantay Pass on horseback and descend into the Amazon rainforest. Discover Machu Picchu..
Visit: www.llamaexpeditions.com
Mar de Jade Ocean-front Center, Chacala, Nayarit
Since 1983, we have been located in the fishing village of Chacala on its beautiful beach north of Puerto Vallarta. Surrounded by lush jungle with the warm, clear Pacific at our door, they enjoy swimming, surfing, hiking, horseback riding, snorkeling, kayaking, whale-watching, and other excursions. Our calendar of retreats include yoga, meditation among other activities.
Visit: www.mardejade.com.
Marvelus Travel
Central America Adventure Trip
With our many years of in-depth exploration in Central America, Marvelus Travel can offer you an exciting focused travel experience with one of our special package tours and adventure holidays—all inclusive. Let us show you these countries in a memorable, life-changing way now. Contact us or visit our web site for more details.
Visit: www.MarvelusTravel.com
Mente Argentina
Photography Program
Mente Argentina's photography program aims both at beginners and those who wish to broaden their knowledge to become more experienced photographers.
The Basic Course of Mente Argentina's Photography School combines the teaching of techniques based on analogical and digital technologies, always focusing on creativity and motivation so that students can eventually produce images with their own personal style. The regular Photography program lasts 1 month and classes are delivered 4 times a week. The intensive Photography program lasts 2 weeks and both individual and group classes are available.
Cooking Program
The cookery school of Mente Argentina has been offering courses in Latin-American regional cuisine for more than 30 years.
The professors have a vast experience in teaching not traditional but gourmet cuisine. Therefore, you will be taught a new cuisine concept.
The school will provide you with the freshest and best ingredients as well as with all the necessary resources for the classes. At the end of each class you will be able to taste the dishes, together with a good glass of wine.
The classes can be delivered both in Spanish and English and can not be attended by more than 6 students. This is to keep a quiet and fun environment.
Wine Program
Mente Argentina has designed a program which will allow you to enter the complex and spectacular world of wine and discover the secrets of the legendary Argentine Malbec.
The objective of the program is to introduce you into the wine world so that you put into practice in your work environment all the knowledge and skills acquired, and, as a wine lover, enjoy good wines with friends whenever you feel like.
The program includes a theoretical-practice course about introduction to wine. Besides, you will have the chance to taste more than 50 exclusive Argentine and Regional Wines.
Some of the topics included in the syllabus are the following: visual and sensory analysis of wine, intensity of colors, vocabulary of tasters, wine production and combinations between wine and food. The intensive program lasts 2 weeks and takes place only in the City of Buenos Aires. The regular program lasts 1 month and includes a wine trip to the province of Mendoza where you will visit the
most important wine cellars while putting your tasting knowledge into practice and at the same time tasting the best wines of the country.
Tango Program
Buenos Aires is known for being the world capital of Tango; it has several renowned institutions: The regular Tango program lasts 1 month. The intensive Tango program lasts 2 weeks.
Mente Argentina offers you a unique experience through a weekly schedule composed of: 3 group classes, 1 individual class, 1 milonga evening outing (tango night club).
The courses start every week, have a flexible schedule and adapt to participants´ availability. This will allow you to have some free time to travel, meet people, visit the country and learn a new culture which will certainly amaze you.
Visit: www.menteargentina.com
Quetzaltrekkers
Eco-Friendly Adventure Trekking in Guatemala
Quetzaltrekkers is Guatemala´s only all volunteer managed, non-profit trekking/hiking organization. Quetzaltrekkers offers multi-day adventure treks and one day excursions in the highlands of western Guatemala to an international clientele of outdoor enthusiasts. We follow locally sustainable and eco-friendly tourism practices. Volunteer guides are always needed.
At Quetzaltrekkers, we are all working as volunteer guides and we manage virtually all aspects of the organization. In our office you won't find a boss or a supervisor but you will find a tight-knit team of dedicated volunteers. Working as a Quetzaltrekker guide is an incredibly rewarding experience and a lot of fun!
Visit: www.quetzaltrekkers.com
Rancho Leona
Explore, Experience, Learn in Costa Rica
Learn Spanish, volunteer and study Costa Rican culture at a beautiful relaxed lodge setting on the Sarapiqui river.
Visit: www.rancholeona.com.
The Road Less Traveled
Teen Summer Travel Programs Worldwide
The world is a very big place. Take a deep breath and a long stride, and suddenly you're looking up at Mount Kilimanjaro, running rapids down Desolation Canyon, trading stories with the Hadza by the light of a campfire, or swaying high above Costa Rica's rainforest canopy.
Go to the far places. Work and give with both thought and conscience. Stay open to challenges, meet them head on. Welcome surprise. Value teamwork. Look deeply into the big, bountiful world, and revel in the knowledge that there are still many, many Roads Less Traveled...
A variety of programs are offered for teens, including in Belize, Costa Rica, Ecuador & the Galapagos, Guatemala, India, Italy, Norway, Peru, Tanzania, Thailand (see website for more info).
Visit: theroadlesstraveled.com
School of the World
Spanish, Surfing, Art and Digital Photography in Costa Rica
The School of the World is a traveler's education school located on the Pacific coast of Costa Rica, in the town of Playa Jaco. Costa Rica's beautiful countryside, friendly native Spanish speaking people, and stunning beaches form the perfect backdrop for studying Spanish, surfing, art, and digital photography.
Visit: www.schooloftheworld.org