Cultural Travel and Tours in Latin America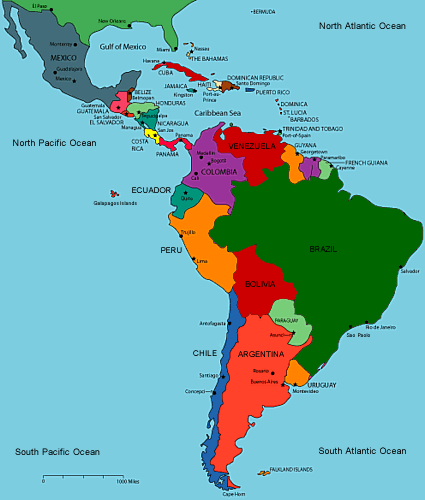 Featured Articles on Cultural Travel, Adventure Travel, and Language Vacations in Latin America
How to Plan an Unforgettable Volunteer Vacation in Latin America
Prepare a turtle hatchery in Costa Rica. Teach English in Mexico. Build a home in Brazil. Whether you call it a volunteer vacation, a service trip, or voluntourism, combining travel and volunteer work is an increasingly popular way to see the world.
Top 10 Reasons to Visit Cuenca: "The Athens of Ecuador" is a Treasure by Lies Ouwerkerk
An illustrated visit to beautiful Cuenca, Ecuador, which offers colonial treasure and its own unique traditional cultural experiences, as well as a very warm, interesting, and colorful local population.
Adventures to Remember in Costa Rica
By Senior Contributing Editor Lies Ouwerkerk
5 Routes and Regions for an Authentic Mexican Visit by Ted Campbell
A miniguide to the top places to visit Mexico for an authentic experience.
Top Mountain Towns to Learn Spanish in Latin America and Spain
Schools that Combine Language Learning and Cultural Tours by Mary Beth Strawn
Six of the top language schools to learn Spanish and experience cultural tours in Latin America and Spain.
Vacationing or Volunteering in an Eco-Friendly Guatemalan Mountain Lodge by Lies Ouwerkerk,

Senior Contributing Editor


An extraordinary vacation that combined an experience in the lush green of Guatemala and volunteering to help locals with a variety of projects.
Seeing the Real Dominican Republic: A Stay at Tubagua Eco Lodge by Lebawit Lily Girma
An illustrated description of an off-the-beaten path stay at a magnificent and award-winning eco lodge in the Dominican Republic, far from the usual all-inclusive beach resorts.
How to Taste Daily Life in Cuba's Bed and Breakfasts by Lies Ouwerkerk
Wandering through Cuba via its network of casas particulares, even some Americans can now experience the incredible resiliance of the hospitable Cuban people and the richness of their culture, despite all that stands in their way.
Antigua, the Soul of Guatemala
Venture into the world of magical Antigua, Guatemala, where ancient Mayan ritual and culture remains at the core of the city.
A Guide to Slow Travel in Playa Samára, Costa Rica by Paul France
How to learn to enjoy slow immersion travel and living in idyllic Playa Sámara, Costa Rica
Honoring Tradition in Mexico by Jim Kane
Making a Positive Impact with Culture Xplorers by Jim Kane
Living Festivals: Getting Into the Local Spirit by Jim Kane
Mayan Community Tours Enrich a Visit to Mexico's Sian Ka'an Biosphere Reserve by Alison Gardner
Galapagos Islands: Fragile and Fabulous by Alison Gardner
Cultural Travel in Buenos Aires: Exploring the Arts by Daniel Gabriel
Spanish and Whitewater Kayaking in Chile by Ann Beman
Spanish and Culture Lessons in Mexico by Michele Peterson
Rafting to a Jungle Lodge in Costa Rica: Indulge in a Sustainable Adventure by Katherine McIntyre
Love and Tango in Argentina by Andrea Gourgy
Adventure Life
Adventure Life is committed to providing quality small group tours that have a positive impact on the local culture and environment.
South & Central American Travel
Specializing extensively in South & Central America, Adventure Life has incomparable familiarity with any destination you select. Adventure Life work under strict self-imposed guidelines to ensure that each itinerary has a positive impact on the local culture, environment and economy staying one step ahead of other travel companies.
Go Green
Adventure Life and the Rainforest Alliance have established a partnership to promote tourism operations that are part of the Rainforest Alliance's Best Management Practices in Sustainable Tourism Program. The Rainforest Alliance provides tourism entrepreneurs and community-based businesses in Latin America with the tools and training they need to become more environmentally and socially sound, and to gain access to and be more competitive in the marketplace, while contributing to the conservation of the local culture and nature.
Galapagos Tours & Treks
Adventure Life is also an active member of the International Galapagos Tour Operators Association, and together we have created an important way for the travel industry and travelers like you to help support Galapagos conservation. We believe that the travel industry and those who visit the Galapagos Islands must meet the great challenge of preserving this priceless world heritage.
Baja Expeditions
Eco-Adventures in Baja, Mexico
Whale Shark Diving Quest and Research Project
Dive with a purpose! Enjoy diving the best sites in the Sea of Cortez while you participate in a once-in-a-lifetime research project. With a spotter-plane to help locate the whale sharks, you'll observe and assist visiting guide and researcher Dení Ramírez during each encounter. As with all our Live-Aboard Diving programs, you'll visit dive sites that are out of reach for day boats, where you can explore underwater worlds few others get to see.
Digital Photography Workshop and Wildlife Voyage
Enhance your photography and digital workflow skills on this 5-day workshop led by instructor Neil Ever Osborne, a passionate conservation photographer who documents species at risk and environments in peril around the world.
Family Learning Adventure on the Don Jose
This new family-friendly program on the Don Jose combines fun, adventure and learning. Our experienced naturalist guide will lead hikes, kayak and snorkeling excursions and other environmental awareness activities sure to please all ages. Plus, certified divers can enjoy some great dive sites in the Sea of Cortez, while non-divers (ages 8 and up) can learn the necessary skills to safely try scuba diving.
Mexican Camp Cooking and Spanish Language Instruction
You'll enjoy all the activities included on our standard Espiritu Santo Sea Kayaking Camp program—plus, practice conversational Spanish and camp cooking with experts who make learning fun during this new Alternative trip.
Yoga, Massage & Sea Kayaking Retreat
The combination of daily yoga practice, meditation, massage and spending time in nature will reawaken your senses and reconnect you with the Earth in this new program. Rejuvenating outdoor yoga and massage sessions will help you reap the true benefits of these practices in nature. Plus, you'll kayak, hike and snorkel to explore both the scenic and the spiritual sides of Espiritu Santo Island.
Baja Expeditions Educational Explorations
We are going one step farther to customize your educational exploration in Baja, the perfect place to explore an ecosystem far removed from any text book or overcrowded national park. If you are a science teacher looking for a hands-on field study trip of a lifetime for your students, a group of retirees looking to learn about the natural history of Baja, or a group of friends and family full of outdoor enthusiasts, we will design the perfect trip for you. The opportunities to connect science with our adventures are endless and our naturalist guides will facilitate any combination of activities to fulfill the needs of the group's learning objectives.
Cayaya Birding
Birding Tours in Guatemala
Cayaya Birding supports with its tours various conservation programs in rural communities in Guatemala.
Culture Explorers
Custom Tours Focused People, Traditions, and Positive Impact
Culture Explorers is an award-winning small tour operator that offers small tours in such places as Argentina, Brazil, Mexico, Guatemala, Peru, and other locations worldwide. Culture Explorers emphasizes participation in the living culture of the countries visited as part of immersive small group journeys. They will allow you to explore the traditions, meet local friends, and support important positive impact projects through their visits. Each departure coincides with an important local festival or celebration.
Ecology Project International
Costa Rica Sea Turtle Ecology Program (STEP)
This tropical hotspot and travel destination contains an amazing 5% of the worlds biodiversity. Costa Ricas Caribbean coast where Ecology Project Internationals program site is located is the fourth most important nesting beach worldwide for Leatherback sea turtles, a critically endangered species. Through our Sea Turtle Ecology Program, youth from Costa Rica and around the world work in partnership with the Pacuare Nature Reserve to conserve and protect these sea turtles from extinction.
Baja & the Sea of Cortez Island Ecology Program and Whale Ecology Program
The Sea of Cortez hosts 39% of the worlds marine mammal species and was recently declared a UNESCO World Heritage site. From John Steinbeck to Aldo Leopold, Baja California Sur has captured the worlds imagination and become a unique travel destination. Through our Island and Whale Ecology Programs, Ecology Project International students from Mexico and around the world work in partnership with local institutions to conserve Baja California Surs desert and marine environments.
Galapagos Islands Ecology Program
One of the first UNESCO World Heritage sites, the spectacular Galápagos Islands host a unique flora and fauna found nowhere else on Earth. Through our Galápagos Islands Ecology Program, Ecology Project International students from the Galápagos and around the world work in partnership with the Galápagos National Park and local institutions to conserve the archipelago. Students travel to several locations on three different islands, studying and experiencing this magical place.
Horizontes
Nature Tours in Costa Rica
Although you may not hear the volcano rumble when you hike in Rincon de la Vieja National Park in Costa Rica, you might be surprised by the noise the animals living in this diverse wilderness create—from kinkajous to howler monkeys, three-wattled bellbirds to quetzals—this park is alive with activity. Travel with Horizontes Nature Tours to Costa Rica and you'll find yourself hiking seven hours to the crater of the park's active volcano in a "period of relative calm," to see astonishing views of the Caribbean Sea, Lake Nicaragua, and the Pacific Ocean.
Mountain biking around Lake Arenal and rafting through the Pacuare River's famous combination of white water and clear pools are also part of the itinerary—all part of co-founders Tamara Budowski and Margarita Forero's mission to promote environmental conservation and responsible travel in Costa Rica, inspiring and educating guests through exhilarating experiences.
Ibike Tours / International Bicycle Fund
Ibike Ecuador Exploration
Small group, immersion, bicycle tours, designed to get you out of the box, enrich your life and introduce you to the rich diversity of the people, their culture and the environment of the area. IBF programs are designed to provide participants an opportunity to learn more about the world at a person-to-person level not usually available to tourist. Itineraries highlight the cultural, historical, economic and physical diversity of the area. Throughout the program there are discussions on history, indigenous culture, gender rights and roles, music, language, religion, geology, botany and ecology, great people to meet and scenic beauty to die for.
La Confluencia
Patagonia Voluntourism and Adventure Travel
La Confluencia ecolodge and farm runs voluntourism programs throughout the summer (Nov-Feb.) in Patagonia, Argentina. Participants will help with an number of projects iwithn the Rio Azul Protected Area (part of the world's largest UNESCO Temperate Rainforest Preserve) such as trail maintenance, footbridge construction, and selective eradication of invasive species, as well as social assistance projects involving the local community, such as vegetable garden development, greenhouse construction, and home repairs. Depending on individuals' interest and fitness levels, various wilderness adventure options can be combined such as whitewater rafting and kayaking, trekking, horseback riding, and climbing / rappelling.
Mar de Jade
Retreats and Wellness Resort
Since 1983, we have been located in the fishing village of Chacala on its beautiful beach north of Puerto Vallarta. Surrounded by lush jungle with the warm, clear Pacific at our door, they enjoy swimming, surfing, hiking, horseback riding, snorkeling, kayaking, whale-watching, and other excursions. Our calendar of retreats include yoga, meditation among other activities.
Marvelus Travel
Central America Adventure Trips
With our many years of in-depth exploration in Central America, Marvelus Travel can offer you an exciting focused travel experience with one of our special package tours and adventure holidays—all inclusive. Let us show you these countries in a memorable, life-changing way now. Contact us or visit our web site for more details.
Quetzaltrekkers
Hide Volcanoes Help Kids in Guatemala
Quetzaltrekkers is Guatemala´s only all volunteer managed, non-profit trekking/hiking organization. Quetzaltrekkers offers multi-day adventure treks and one day excursions in the highlands of western Guatemala to an international clientele of outdoor enthusiasts. We follow locally sustainable and eco-friendly tourism practices. Volunteer guides are always needed.
At Quetzaltrekkers, we are all working as volunteer guides and we manage virtually all aspects of the organization. In our office you won't find a boss or a supervisor but you will find a tight-knit team of dedicated volunteers. Working as a Quetzaltrekker guide is an incredibly rewarding experience and a lot of fun!
School of the World
Spanish, Surfing, Yoga, Art and Digital Photography in Costa Rica
The School of the World is a traveler's education school located on the Pacific coast of Costa Rica, in the town of Playa Jaco. Costa Rica's beautiful countryside, friendly native Spanish speaking people, and stunning beaches form the perfect backdrop for studying Spanish, surfing, art, and digital photography.
Traditions Mexico
Cultural Journeys in Southern Mexico
Travel to off-the-beaten track Southern Mexico and into an authentic world of living traditions and wisdom with Traditions Mexico. Celebrate Day of the Dead in a remote village, meet with the last of the Zapotec silk cultivators, or learn about the deep ecology of traditional pottery. Visit our web site for more details.