Seeing the Real Dominican Republic: A Stay at Tubagua Eco Lodge
Article and photos by Lebawit Lily Girma
Published 6/8/2016
Sunset from the main palapa at the Tubagua Eco Lodge in the Domincan Republic.
The lure of all-inclusive resorts lining white sand beaches makes it difficult for visitors to find authentic experiences in the Dominican Republic. But even in a tourist area such as Puerto Plata, opportunities to see and feel the real DR, beyond the beach, are numerous. They key is to pick a solid base—one where you'll stay close to nature in a local community, eat freshly cooked meals, and interact with Dominicans. A place where your traveler's peso will trickle the farthest. A place like Tubagua Eco Lodge.
Located just 15 km southwest of Puerto Plata's international airport or 15 km from the city center, I found Tubagua—pronounced too-bah-goo-ah—when I was a tired guidebook writer in need of a place to rest and write for seven days, surrounded in nature. 
When I contacted the lodge by email, the owner's response came in less than a half hour. He gave me local transportation options and recommended a taxi driver named Antonio. "Just tell [him] you're going to Tim's," he said, "donde Tim."  
Antonio showed up on time the next day and rescued me from the corner of a busy thoroughfare in Puerto Plata city, where my guagua or bus from Las Terrenas had let me out. The 50-something driver was the quintessential Dominican. Gregarious, he made jokes and conversed with me as if he'd known me for a while. He spoke little English, but was enrolled in classes to prepare for the increasing number of tourists that the Puerto Plata region is receiving again.
As we rode out of the hot and bustling city, zipping past the entrance to the Playa Dorada resort compound on the highway, the scenery began to turn greener. Veering right onto the Ruta Panorámica Puerto Plata-Santiago, we ascended slowly along this scenic mountain highway where Tubagua is located. At 30 km in total length, the panoramic road snakes around the dramatic Cordillera Septentrional—a mountain range that stretches the length of the Dominican north coast. The bumpy road was soon lined with wooden shacks, the occasional passing cattle, donkey and horse, locals chatting on their porch, and scenic views of distant farmlands. About 15 minutes later, Antonio pointed up through the windshield. "That's where we're going," he said, "That's Tubagua!"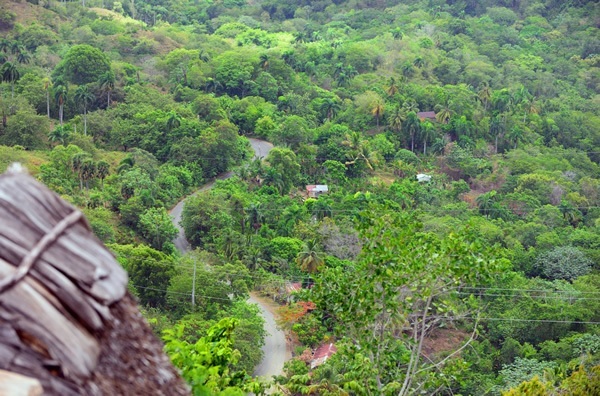 Looking down on the panoramic road leading to the lodge.
Stretching my neck to look up in the distance, I spotted a palapa perched atop a hill, as if a tiny speck in the sky. The thought of driving up that high was thrilling, and thankfully, the views distracting.   
Tubagua Village: In the Dominican campo
After another 30 minutes on the panoramic highway, we reached a lime green shack on the right hand side of the road that read in Spanish: "Cold coconut water when there's electricity." We turned right at the shack, into a steep driveway. Roosters crowed as if to welcome our afternoon arrival, though we couldn't see them. There was no gate here, no towering cement walls or security guard asking for names. Just a flamboyant tree hanging over Antonio's parked van and an open, small wooden frame for an entrance.
Feeling the breeze across our faces, we walked down a stone pathway surrounded by a verdant garden with red and pink hibiscus bushes. We passed a thatched, wooden cabin before reaching a large palapa—the lodge's main lounge and dining area. As soon as I stepped in, I gasped: a show stopping panoramic view of Puerto Plata's glorious hill and sea were facing me. Holding on to the wooden railing at the edge of the dining room, I could see Mount Isabel, the Atlantic Ocean shimmering silver (I could see why Columbus described the area as the Silver Coast), and even as far as Sosúa in the east. 
It's true that this vista steals the show at Tubagua, but after moving on to my loft cabin, with wooden shutters for doors and drapes for windows, surrounded with nothing but fresh air and chirping birds in the bush, I realized it was just the tip of what was to come. That week, my daily companions—save for fellow guests at the lodge—ranged from roosters waking me in time to photograph the glorious sunrise behind my shack, to lizards, geckos, woodpeckers, resident dogs Mariposa and Tonta, frogs, and flying moths at night. My partially al fresco bathroom a few steps below my cabin is where I stood au naturel, showering while staring at the view of the hills below, marveling at the magnificent scenery.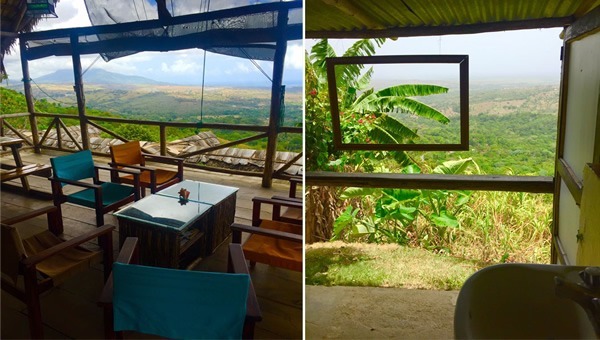 The panoramic view from the palapa lounge (left); the bathroom view (right).
The author's cabin at Tubagua (left), and the sun rising behind it.
On any given morning there were echoes from the vegetable truck driver, part hollering and part singing on the loudspeaker while he made his rounds up the Panoramic Highway at around 6:45 a.m.: Hoy hay plátano, plátano, plátano! We have plantain, plantain, plantain today!
Tubagua is a Taíno word meaning "an abundance of water." It's also the name of the village where the lodge is located. What it felt like was an abundance of nature. A mini village within a village, away from the madness of the tour buses and crowded beaches. Who needs a TV with this scenery?
"I wanted to keep it simple, and simulate a Dominican campo," says owner Tim Hall, explaining the multi-level setup of the cabins, the natural materials used, and the part-private, part-shared accommodation options. Hall is passionate about community and cultural tourism. When he's not running the lodge, or busy at the office as Consul for Canada in Puerto Plata, he's leading a community tourism cooperative offering cultural tours and volunteering initiatives.
Puerto Plata was the Dominican Republic's first tourism destination, and once upon a time the most popular for its diverse outdoors, ranging from beaches to waterfalls. But when the Punta Cana area was developed, tourists flocked east for the fancier all-inclusive resorts and Puerto Plata suffered a rapid, alarming 10-year decline.
"We had to reinvent ourselves," explained Hall.
And reinvent he did by taking a stab at sustainable tourism to encourage immersion into the "real" Dominican Republic. One of the major perks of staying at the lodge, then, is that it runs its own local and cultural tours, in addition to those offered through the cooperative. From coffee farm visits to hiking amber mines, these are trips no one else offers; with a local guide accompanying you along the way. Best of all, these excursions are affordable, and the community or guides receive a majority of the funds.
Hiking through the village to secluded waterfalls
The most memorable excursion from Tubagua was their signature 3-hour hike (or five hours if you choose a longer route) to a series of three waterfalls and pools tucked deep in the surrounding village. The trek began at the back of the property, down a series of stairs that took us to the main road and across the other side of the plains.
In under a half hour, we were deep into the campo. Our guide Juanin, who works exclusively with the lodge for tours, began to tell us about his home village of Tubagua, where he was born and raised. We passed dry fields that were once abundant sugar cane plantations. We walked along a path lined with traditional 1970s pastel-colored Dominican wooden homes with zinc roofs, fruit trees, and farms with grazing cows and horses. Other times, we were surrounded by vast, deserted fields.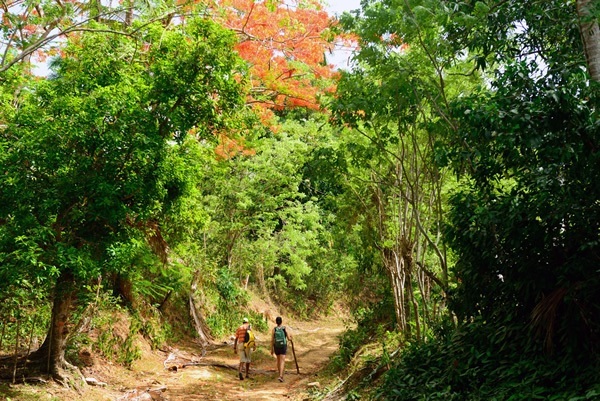 The Tubagua hike takes you through the Dominican countryside.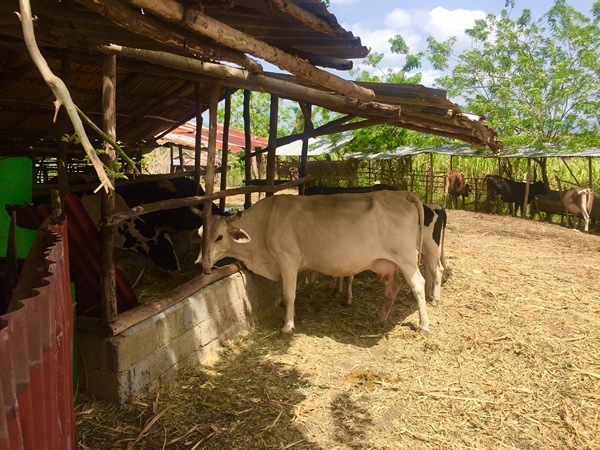 Passing by one of several farms on our hike.
We snacked on mango scattered from branches, while admiring cotton trees. Down the road, women were cooking in their yard over a wood-fired oven. Rice and beans, with stewed chicken—the national dish, known as the "Bandera Dominicana" (the flag).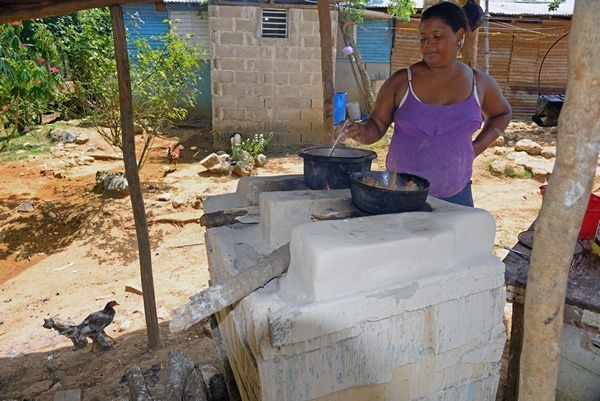 A woman cooking lunch outdoors, over a "fogon" or open fire hearth.
Along the hike, Juanin would constantly wave and greet his neighbors. Everyone knew him, of course. Once upon a time, he worked at the Playa Dorada golf course, dealing with tourists with deep pockets on a daily basis. He learned English that way, but he has the spirit of an entrepreneur. Decades later, he decided to strike it solo and show visitors around his village. 
Halfway through our walk, we reached the home of Juanin's family members, including his grandmother. They welcomed us to stay in the yard a while, but Juanin explained we were on a hike. Still, there's always time to say hello in the DR, and soon enough we were lingering for a few more minutes.
We met our tour guide Juanin's (far right) family while on the hike.
A few houses farther, Estefani was laying on her bed when we hiked past her room; she smiled and waved from a distance. The back wall of the house was covered in ABC's—this is where she learned her first English words, thanks to a visiting volunteer. Now she speaks a little, which is a lot more than most in the village.
Estefani told us she learned English on her home's back wall.
Soon enough there were no more homes, just pure wilderness. We drank what seemed like gallons of water on our fairly moderate walk, because of the intense heat of July—thankfully, Juanin brought sufficient amount for us all. But when we reached the village corner store or colmado (present even in the deep countryside), I opted for an orange cola.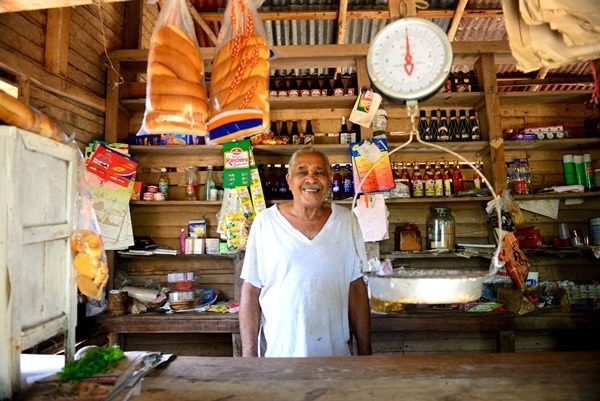 We stopped at the "colmado" or the locally owned convenience store.
"We're almost there," Juanin reassured me, pointing to a hill up ahead. "This is the last step," he said as we neared it, pointing to a steep incline. There was a black cable to hold on to, Indiana Jones style. Grabbing earth, rock and rope, we made it safely to the top and began hearing the sound of trickling water.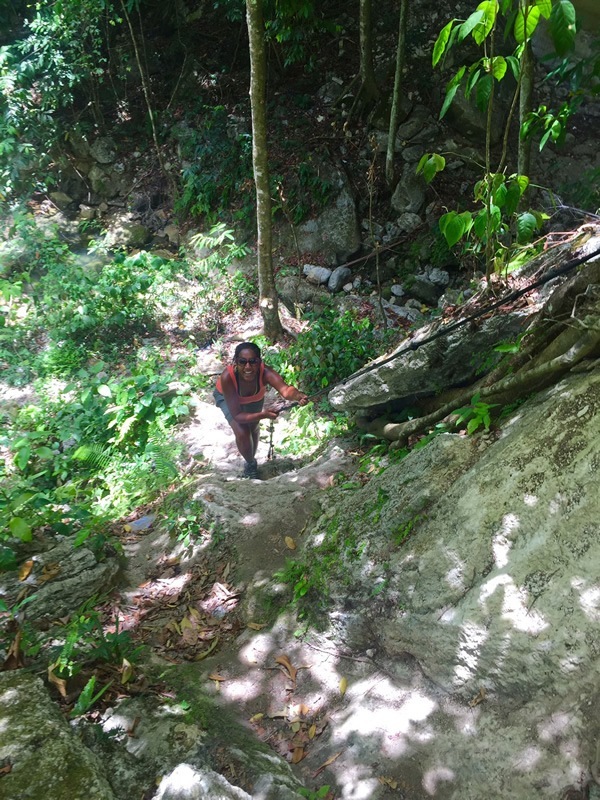 Braving the last climb to reach the waterfalls.
20 minutes later we arrived at the promised waters of Tubagua. The first mini fall and iridescent turquoise pool—appropriately called God's pool—beckons us to jump right inside. We took turns leaping in and enjoying this blissfully deserted scenery, making our way from one fall to adjacent falls. There's not a soul present during the week—a stark contrast to Puerto Plata's crowded, busier 27 Charcos de Damajagua, one of the DR's most popular natural attractions.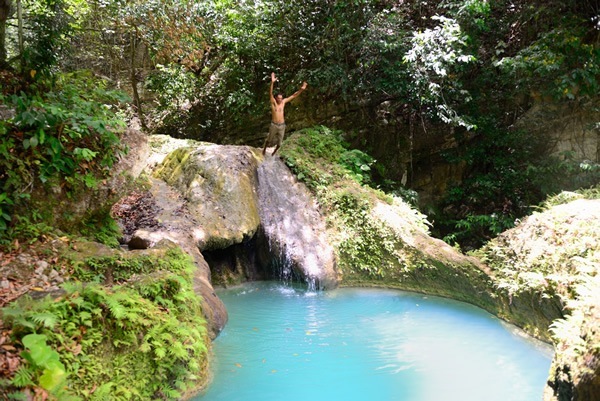 Our guide Juanin had just as much fun jumping into "God's Pools."
On the last stretch of the hike back up the hill towards to the lodge, along the roadside, I spotted a sign that read "Descanso" or rest spot—with a panoramic view perfect for snapshots—as this particular corner was once informally known. We took a break with an ice-cold Presidente beer from a local nearby bar, staring at the hills we had just conquered. 
Enjoying el plato dominicano
Just like the unexpected critters and the shifting sky colors, the meals at Tubagua were a surprise we looked forward to every day. In the morning, breakfasts included local fresh fruits—including passion fruit, which is in abundance in the DR—and a hot plate with the Dominican tres golpes: fried mangú with fried cheese, fried salami, and eggs. They don't call it "the three hits" for nothing.
While we feasted on stewed beef, red beans with mashed potatoes and fresh vegetables over lunch, or grilled fish at dinner, stories were shared around the communal picnic table about the day's adventures. After dinner, we relaxed in the lounge to a view of Puerto Plata lit up below with the stars above, while the frogs sang in the night.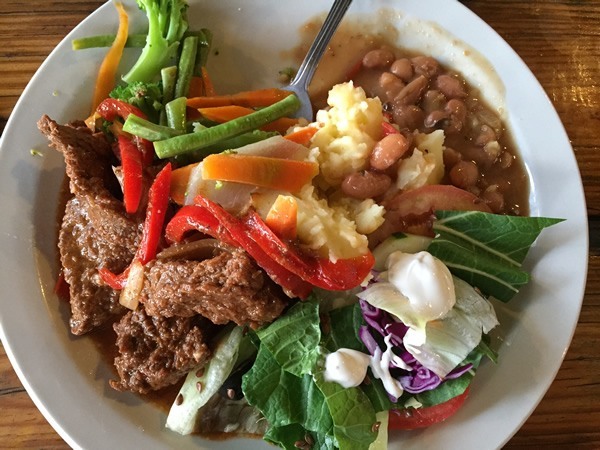 One of many fresh meals at Tubagua Lodge.
Mi Bagua es Tubagua
Even for this Caribbean travel writer, who shuffles across one dream island destination after the next, places like Tubagua appear once in a blue moon. A place that embodies all that a travel experience should be: fun, cultural, relaxing, responsible, and authentic. A place that helps to debunk the "all inclusive beach" image so often associated with the DR, and instead reveals the country's cultural pulse and incredible natural beauty.
On the last morning, passing through the lounge one final time for a view of Puerto Plata below, my gaze fell on the chalkboard hanging above the kitchen counter. A former guest's all white sketch of the lodge read, "Mi Bagua es Tubagua."
I smiled. A piece of this abundant place was now mine, too.
For More Info
Tubagua Eco Lodge (from US$22 to $100 a night, includes breakfast). Ask about meal supplements for lunch and dinner. There is more information on the cultural tours offered through the lodge on their website.
Several bus companies offer daily departures to Puerto Plata from Santo Domingo, Santiago, and the Samana Peninsula. The most popular are the two big coach lines Metro Tours; and Caribe Tours. From Las Terrenas to Puerto Plata, Transporte Las Terrenas runs daily; call 809/240-5302 to confirm times and pick up location. There are departures throughout the day on all of these lines and fares are under US$5 one-way; check websites for the latest schedules.
Once in Puerto Plata, you can reach Tubagua Lodge by private taxi for US$20-$25 one-way depending on your haggling skills. Another option—if you have no big luggage—is to hop into a shared local taxi (carrito) from the city heading towards Sosua for less than $1; tell the driver your stop is Gran Parada. From Gran Parada, catch a motorbike taxi—they are always parked at this intersection—up to Tubagua for RD$100 or US$2.20. Carry small change in Dominican pesos.
Originally from Ethiopia, Lebawit Lily Girma, host of the tourism lens website, is an award-winning travel writer, photographer and author of several Caribbean guidebooks for Moon Travel Guides. Her work has been published in AFAR, Bloomberg, CNN Travel, BBC, Delta Sky, The Guardian, and Every Day With Rachael Ray, among others. Lily calls herself a "culture-holic"—she speaks four languages fluently and has lived in Cote d'Ivoire, England, Jamaica, Belize, the Dominican Republic and traveled to some 30+ countries around the world. She is a former corporate attorney who ditched her Washington DC office for the road in 2009 to pursue her dream of becoming a storyteller.