Adventures to Remember in Costa Rica
Touring the Land of La Pura Vida with a Teen
Article and photos by Lies Ouwerkerk
Senior Contributing Editor
6/26/2019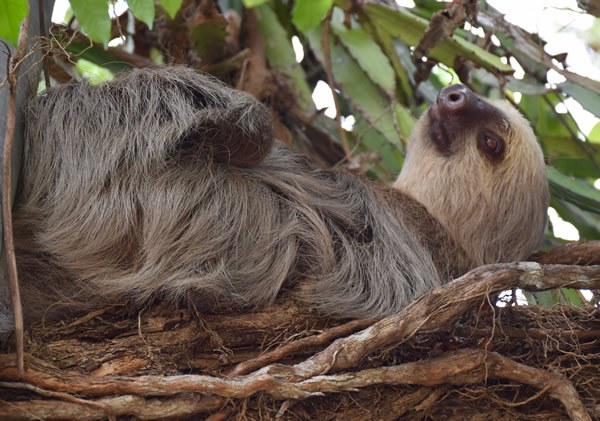 Three-toed brown-throated sloth, one of the most popular animals in Costa Rica.
Crocodiles
The large crocodile we have spotted from the boat lies motionless near the riverbank, submerged under water except for its head, with eyes, ears, and nostrils on top. Suddenly, the animal makes an abrupt move and snatches a big fish between its massive jaws. We can hear the prey being crushed between the gigantic teeth before it is swallowed whole.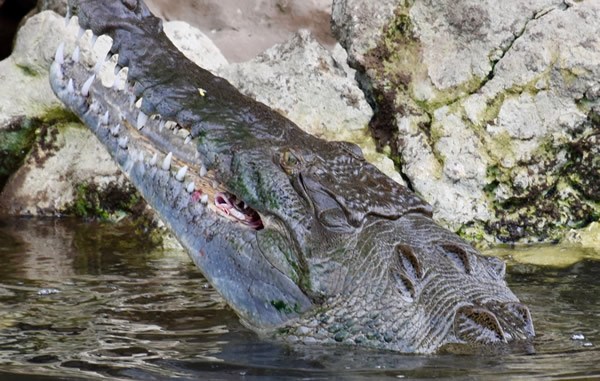 Crocodile swallowing its prey.
Gaby, my teenage travel companion whom I am showing another part of the world away from her comfy life at home, had picked Costa Rica — one of the world's most bio-diverse countries ─ because of her love for nature, and animals in particular. A bit shaken, she asks our guide Roberto if crocodiles also eat humans. "Totally" confirms Roberto, "crocs are carnivores and potentially eat whatever comes on their path. They can move extremely fast and strike out before a human might be able to react. That's why we have to keep them at a safe distance." Automatically, we move a bit closer to the middle of the boat...
We are joining a crocodile tour on the Tárcoles River, not far from the little fishing village of Tárcoles, where we rent a pretty house at the Pacific Ocean for a few days. Although the river is known for being highly polluted, it also boasts one of the largest populations of American river crocodiles on earth. The biggest and oldest crocs can reach a length of 15 feet, and weigh up to 1500 pounds.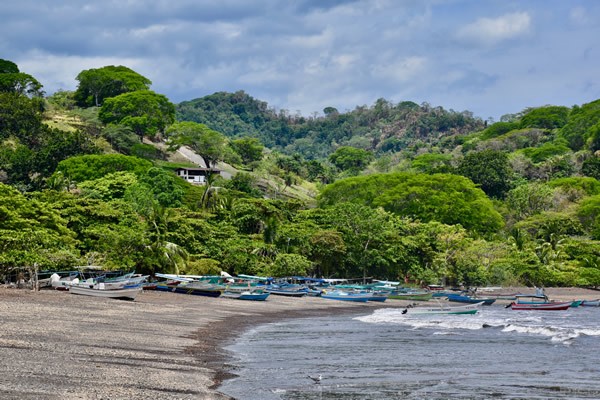 Tárcoles beach in Costa Rica.
We learn from Roberto, a super-knowledgeable naturalist, about the delicate and diverse ecosystem. Crocodiles, in addition to about 60 different bird species, are vital members of this environment. We spot kingfishers, yellow-throated toucans, grey hawks, snakebirds (anhingas), snowy egrets, bare-throated tiger herons, and endangered roseate spoonbills. The birds live around the river shores, the river mouth, and a large network of canals in the dense mangrove forest.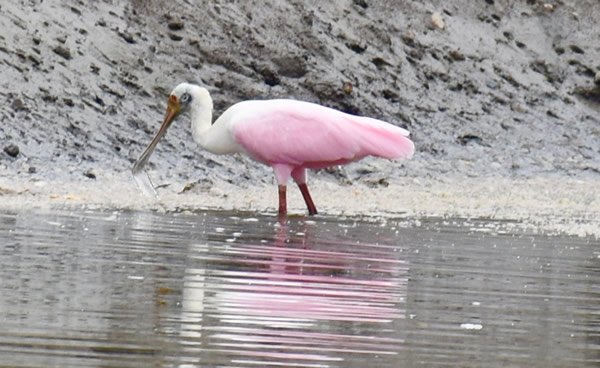 We spot the endangered Roseate Spoonbill.
Various companies offer crocodile tours, including Jungle Crocodile Safari and José's Crocodile River Tour — all located along the same road in Tárcoles. "It is important to choose an eco-conscious company that does NOT feed the crocodiles for tourism purposes, however thrilling," says Roberto, "feeding animals in the wild may cause behavior change, aggression towards people, and an unnatural concentration of solitary animals around places where food is regularly given."
Riverboat in the Tárcoles River.
Horseback Riding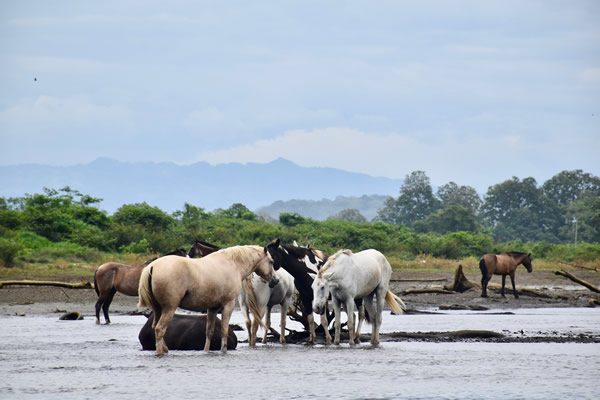 Horses freely splashing in the river.
Adjacent to the premises of Tarcoles' Crocodile tour companies, we find Kevin, an English-speaking Costa Rican cowboy, who takes people on horseback rides through the rainforest and along the beach, including experienced equestrians and those who have never been on a horse before.
He pairs the level of experience of his guests with the right horse, provides western saddles, and gives clear instructions for handling the horses. How thrilling to ride peacefully through the jungle and along the beach, spotting wildlife like scarlet macaws, howler monkeys, and raccoon-like coati, while large, strikingly beautiful blue morpho butterflies are flitting around us.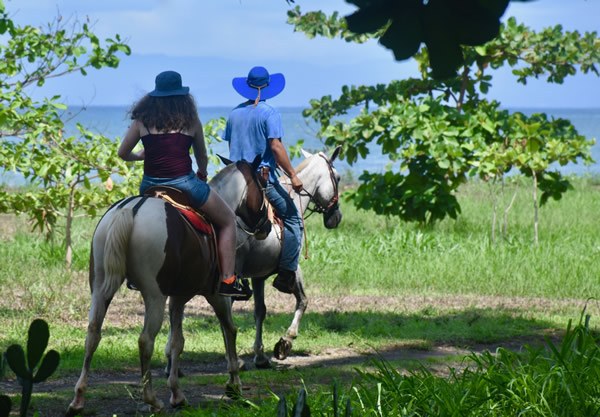 Horseback riding along the beach.
Horseback riding in the area can also be arranged via La Quina Reserve Waterfall Tour (using rescue horses) through Los Suenos Tours, who also offer zipline adventures through the rainforest.
Turtles
Unfortunately, our stay does not coincide with Costa Rica's turtle-nesting season. Tortuguero National Park, at about a 1½ hour driving distance from San José towards the Caribbean Coast, is the most important sea turtle nesting ground in Central America, with four different species of turtles returning every year between June and October to lay their eggs. During that period of the year, turtles can be viewed responsibly during the evening hours, under the watchful eyes of the park's experts. The park can also be explored by boat, kayak, or canoe.  
Street Art of Jacó
Although the beach town of Jacó, a 10-minute drive from Tárcoles, is famous for its party atmosphere and aquatic activities ─ in particular, surfing in its legendary waves ─ we are here to see Jacó's amazing street art, featured on buildings and walls all over town.
We meet Lourdes, who will show us around via bicycle (see Airbnb activities in Jacó: "bike around the local art life in Jacó"), at a downtown bike rental shop. The bicycles she rents for us are a bit heavy, do not have gears, and are of the paddle break variety but as city bikes they are serviceable.
Our first stop is the atelier of the town's legend Palmera, a wood carver who surprises us by braiding birds out of palm tree leaves in just a matter of seconds. Then it's up to Jacó's iconic street artworks by Dourone (Spain), Dulk, Mantra Rea and Danny Herrera (Costa Rica), Jade Rivera (Peru) and Farid Rueda (Mexico).
Lourdes points out how every artist is honoring Costa Rica's various natural resources in their contributions to Artify Jacó, a community project that started in 2016 to embellish the city with innovative art. As an artist herself, she passionately shares her knowledge about the street artists' styles, techniques, and intentions.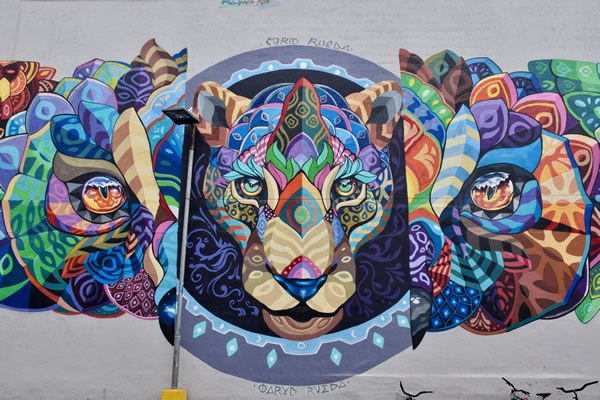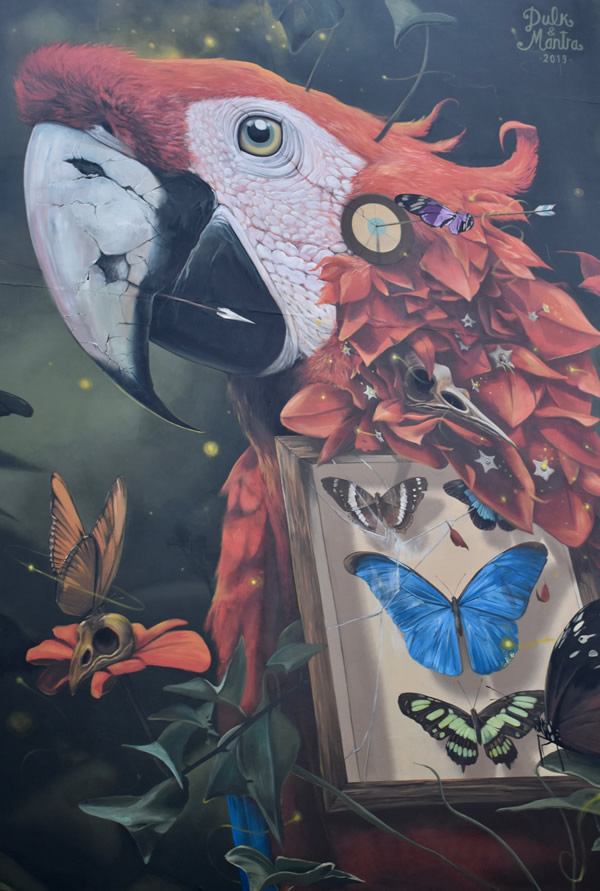 Street art in Jacó.
Kids Saving the Rain Forest and Pack for a Purpose
For years, I have been a fierce supporter of the project "Pack for a Purpose" by making some extra space in my luggage, each time I travel, for supplies needed by communities in my destinations. Their slogan is "Small space. Little effort. Big impact." I love to introduce Gaby to this concept.
Here's how it works: on Pack for a Purpose's website you select your destination country and a project you wish to support. Then you choose from the project's wishlist those items that can realistically fit in your luggage. Upon arrival in the country of destination, you have the choice to drop off the items at the community project site or, if more convenient, at a participating hotel or organization.
The Costa Rican organization that speaks most to Gaby is Kids Saving the Rainforest, located near Quepos, at the Pacific Coast. The organization was founded in 1999 by two 9-year-old girls, who had grown concerned about the slowly disappearing rainforest and its impact on wildlife. Over the years, their initiative has grown into an established wildlife sanctuary and rehabilitation center, also conducting scientific research, promoting conservation & reforestation, and training volunteers and interns from all over the world. KSTR made recently international news after performing a successful C-section to save the lives of a mother sloth and her baby ─ the world's first ever!
We decide to drop off the chosen items (syringes, surgical gloves, tongue depressors, office supplies) at KSTR directly, and join the educational tour they conduct every morning (except on Tuesdays).
The tour proves to be an excellent chance to learn about rescuing and rehabilitating wildlife, including injured, orphaned, and abandoned white-faced Capuchin monkeys, toucans, scarlet macaws, marmosets, and sloths. An opportunity to volunteer for a day is possible for people over 12 years old. Overnight stays can be arranged in the adjacent Blue Banyan Inn (pool included).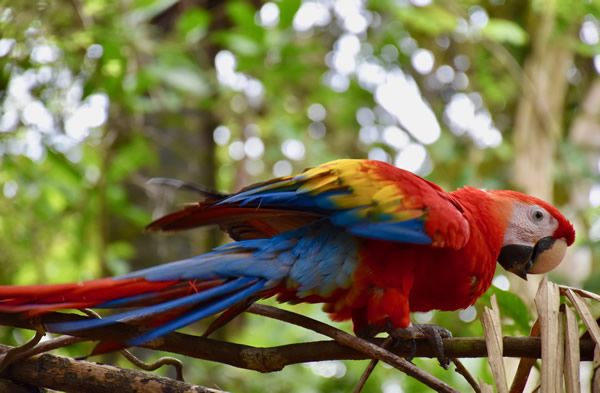 Rehabilitated scarlet macaw in KSTR sanctuary.
Organic Farms in Costa Rica Off-The-Beaten-Track
A torrential downpour surprises us while we drive over a dirt road through the rainforest. Huge puddles, potholes, rocks, and mud render the search for our base for the next couple of nights pretty challenging. However, by the time we finally park at the organic farm Finca Paraíso Verde in the rural community of Londres, the experience has already gone into history as another "memorable adventure."
The amiable owner Luís brings us to one of the three cozy cabins on his premises, close to the main house and outside pool. Just as soon as the rain stops, he guides us along the trails over his many hectares of land, where we learn about cultivating avocados, cacao, lemons, mandarins, coffee, cinnamon, mangos, pineapples, bananas, and sugar cane.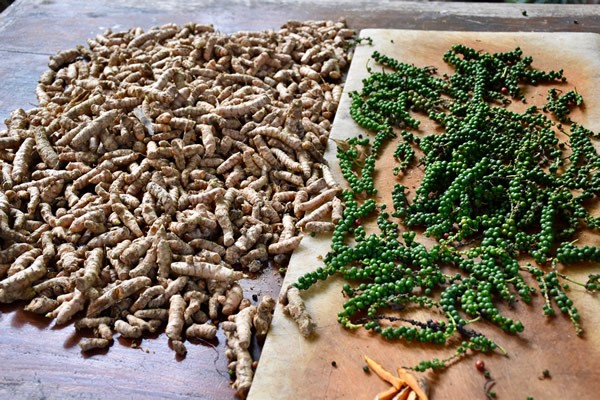 Turmeric and peppers.
Not far away, in the forest around Villa Nueva, is the Reserva Natural Tocori, where we pay a visit the next morning decked out in hermetically closed outfits. It is the first bee farm in Costa Rica that is trying to create ideal conditions for repopulating the disappearing Apis Mellífera bees. The farm also teaches the public about the life and customs of the insects.
Hiking in the Rainforest
When it comes to hiking, Manuel Antonio National Park is Costa Rica's most popular tourist destination, offering gorgeous beaches, lush rainforest, and extensive wildlife. However, since we were informed more than once that their lines keep growing and their trails get more and more congested, we prefer to look for a more authentic hiking experience. We settle for Rainmaker Conservation Park, about half an hour away from our homestay at Finca Paraíso Verde.
Although the bumpy country road leading to the park is in need of improvement, the reserve itself is a paradise with hardly any tourists. It offers lovely trails past waterfalls and even a natural pool, hanging bridges, and interesting wildlife species we have not yet seen elsewhere, such as glass-winged butterflies and poison dart frogs. NB: Only cash is accepted here!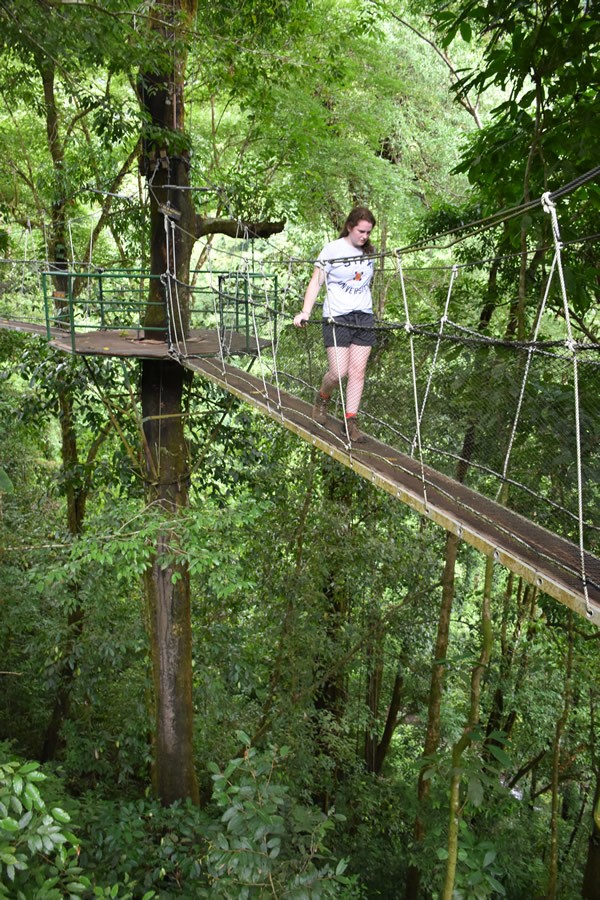 Hiking in "Rainmaker Conservation Park".
Pura Vida, Ticos, Casados and Gallos Pintos
Everywhere we go throughout Costa Rica, people speak about pura vida, Ticos, casados, and gallos pintos. Although my command of Spanish is solid, I have to ask a few times for clarification. By the end of our week of adventure, these terms have become staples of our vocabulary!
Pura vida (literally: "pure life") are words used as a welcome, a greeting, a good-bye, a thank-you, or to express that "everything is cool, no worries." The idiom has a positive connotation and refers to the stress-free way of life aspired to and loved by family and friends across Costa Rica.
Ticos is a colloquial term referring to natives of Costa Rica: a Costa Rican male is a Tico, a Costa Rican female a Tica. Some say that the use of this term comes from the habit of adding the diminutive tico to the end of many words, creating a more endearing feeling. Others point out that in the language of the indigenous Huetares tribes, the word Ti means "water," and Ko means land, making Ticos "those who live where there is land and water."
And what about a casado and gallo pinto? Casado (literally meaning "married man") refers to Costa Rica's national dish, consisting of rice, diced red pepper, onions, black beans, meat or fish, plantains, salad, and avocado. The dish can be found anywhere in the country, day and night, particularly in the typical Costa Rican diner or soda. One story goes that in 1960's San José, workers begged a soda owner to serve them food similar in taste and quantity to what she was cooking at home for her husband, hence the word casado.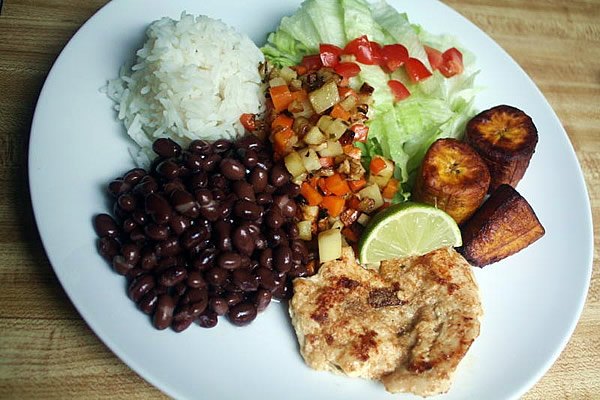 Traditional casado.
Gallo pinto (literally meaning "spotted rooster") is also a bean and rice dish, commonly served at breakfast together with fried or scrambled eggs.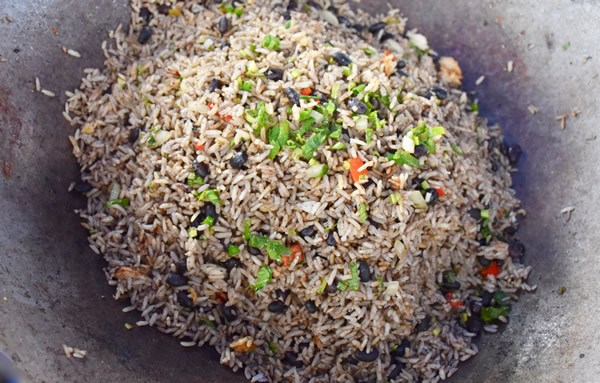 Gallo pinto.
San Jose and Panama City
Our return flight to Canada is lengthy, leaving San José at night for Panama City, with a connection to Montreal only the following night. This awkward itinerary inadvertently creates the opportunity to spend a day in San José, as well as another one in Panama City.
In San José, we sign up for a guided stroll through the city center, followed by a Costa Rican lunch prepared by gregarious cook Rodri at his residence. We fill our tummies with tacos ticos (shredded beef wrapped in tortillas, topped with shredded cabbage, tomato cubes, mayo and Lizano sauce), enyucados (mashed yucca and meat croquettes), and ceviche (fresh white fish cured in lime juice). In Panama City, we join a day tour that includes both the charming historic center Casco Viejo and the must-see Panama Canal locks.
After a week full of adventures and pura vida, a seed seems to be firmly planted in Gaby's mind. On the flight home, she announces that she will definitely return to Costa Rica in the near future, but this time to volunteer for a wildlife or marine conservation project. All because of our one week visit. Little effort. Big impact.
Lies Ouwerkerk is originally from Amsterdam, The Netherlands, and currently lives in Montreal, Canada. Previously a columnist for The Sherbrooke Record, she is presently a freelance writer and photographer for various travel magazines.