Top 10 Reasons to Visit Cuenca
"The Athens of Ecuador" is a Treasure
Article and photos by Lies Ouwerkerk
Senior Contributing Editor
9/16/2018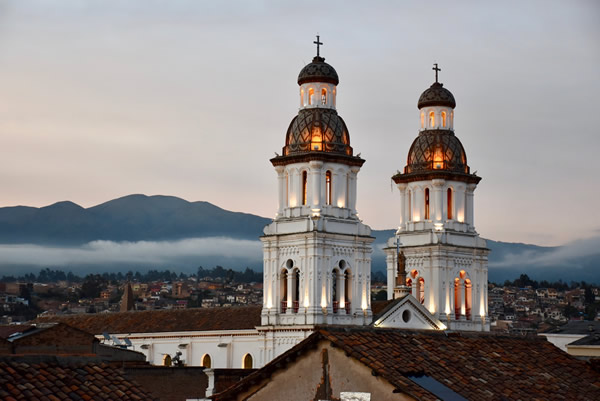 The twin towers of the Santo Domingo church in Cuenca against the backdrop of the Andes Mountains.
After a road trip through South America, I longed for a pleasant place to rest, become acquainted with a local community, and relish the joy of daily market visits and cooking healthy meals. Charming Cuenca in southern Ecuador fit that bill perfectly, and here are 10 compelling reasons why:
1. Plenty of Great and Affordable Places to Stay
I rented a lovely, well-appointed studio with bathroom and kitchen in Cuenca's downtown area for less than $30 a night (longer-term rentals are cheaper) and felt extremely safe with three keys to come in and go out of my 3rd story apartment (with elevator). The picture-perfect view of the nearby twin towers of the Santo Domingo church against the backdrop of the Andes Mountains, especially when lit up at night, was stunning. The location, just off Plaza Mayor, was so central that I could cover most of the city on foot. When a destination was too far to walk, I paid between 0.50 cents and $2.00 for a taxi ride. The trip to/from the airport came to $3.50.
For apartments check out:
2. Cuenca's Rich History
Cuenca, often dubbed "the Athens of Ecuador," is located in a valley in the heart of the Andean Mountains.The city is divided in an old and new town by the Tomebamba River, one of the four rivers that cascade into the city.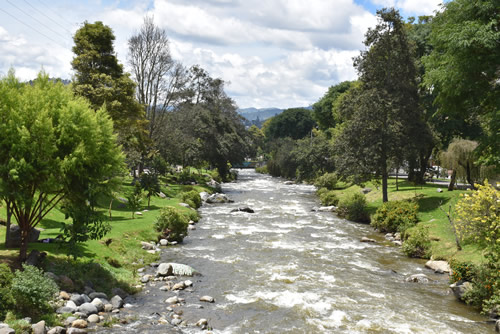 The Tomebamba River, here outside Cuenca, eventually cascades through the city.
Although the Spaniards founded Cuenca in 1577 (officially as Santa Ana de los Cuatro Ríos de Cuenca), Inca and Cañari communities had already been living there before the Spanish invasion, in a city called Tomebamba, where Huayna Capac, the last ruler of the Incas, had a palace.
In the 19th century, Cuenca went through an economic Renaissance, due to the fast-growing export of straw hats and quinine. Many buildings, originally dating back to the 18th century, were revamped in that period of prosperity, contributing to a large amount of striking republican-style buildings lining Cuenca's cobble-stoned streets. Notable sites also include Inca ruins, whitewashed 16th century churches, the Old and New Cathedrals, and the imposing Museo del Banco Central, influenced by Italian and French architecture. Cuenca's historic center was inscribed as a Unesco World Heritage Site in 1999.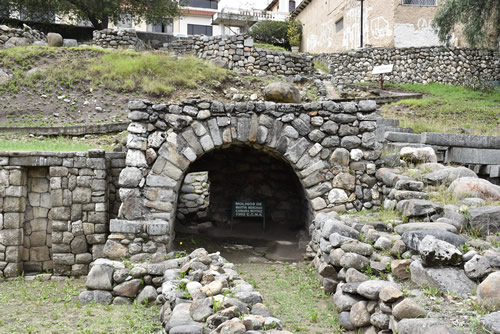 Ruins of an ancient Inca mill in Cuenca.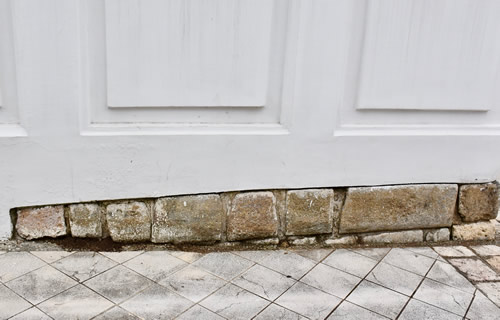 The Old Cathedral El Sagrario is built over Inca ruins.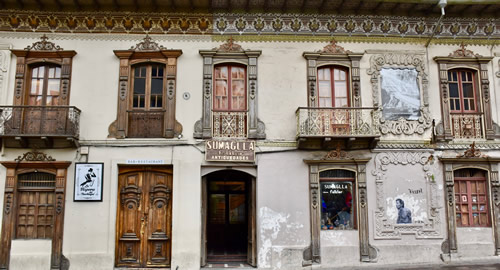 The elaborate woodwork of colonial houses.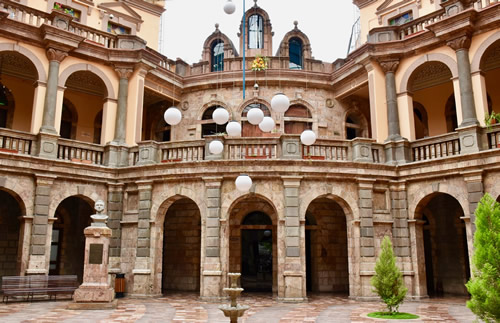 Museo del Banco Central.
3. Free Walking Tours in Cuenca
I joined a guided 3-hour walking tour from Parque de Calderón, the heart of Cuenca, to get my bearings. Tours are offered daily in English and Spanish, and are free of charge, although a tip is expected.
Our guide was Juan Alberto Muñoz, a descendant of a Cuencan noble family that once inhabited one of the striking downtown mansions we visited, built around several charming plant-filled patios. He also walked us through the magnificent blue-domed New Cathedral, one of the 10 biggest cathedrals in Latin America, full of local and Italian marble.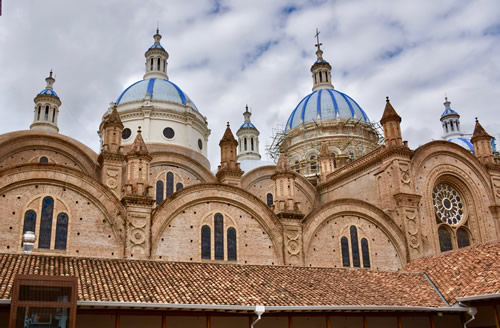 The blue-domed New Cathedral.
Outside the cathedral, at the daily market held on Plazoleta del Carmen, commonly known as the "Plaza de Flores," cholas cuencanas ─ indigenous women from the Azuay province ─ were selling flowers, proudly wearing their pollera (an embroidered multicolored woolen skirt) and straw hat on top of their two long braids.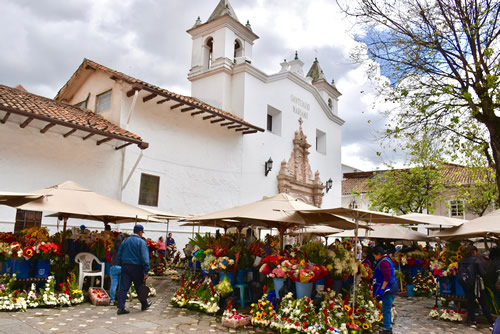 The market at the Plaza de Flores.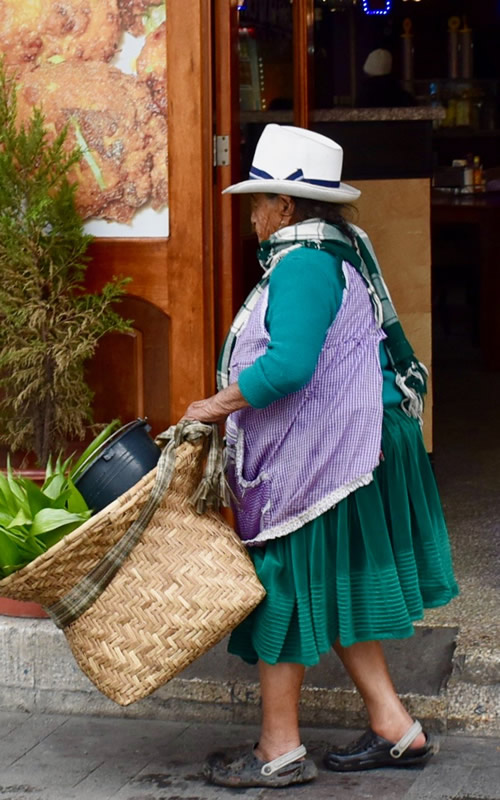 A chola cuencana.
Apart from visiting markets, colonial mansions and other heritage buildings, Juan Alberto also updated us regarding local customs, legends, and facts about the city and its past inhabitants. For instance, why were there so many shops with bridesmaid-like dresses in the markets and elsewhere in town? No, it was not for school graduations or weddings, but for girls' 15th birthday parties, the quinceañeras, to celebrate their passage into womanhood.
We passed the monument of the cucaña or greasy pole, a reminder of a traditional game that originated in Italy then spread across Europe. The game was eventually introduced to the New World by the Spaniards: participants would try to climb with their hands and feet up a greasy pole, only to slide back down continuously.
Statue depicting the cucaña or greasy pole game.
Then there was the story of that scandalous priest who could not stay away from the beautiful ladies in town. He was eventually beheaded for his sins and his head sent to the devil. Legend has it that since then his soul keeps wandering through the streets of Cuenca, in search of his head…
4) Culture and the Arts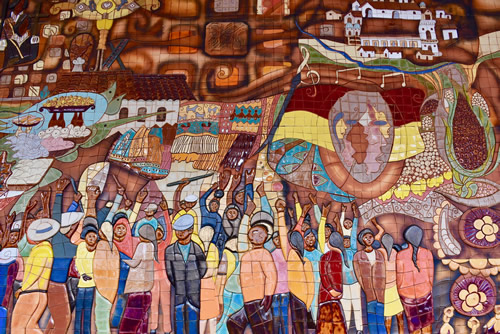 Mosaic of earlier life in Cuenca.
Cuenca houses many worthwhile museums such as The Aboriginal Cultures Museum, Pumapuyo Museum and Archeological Park, Museum of Modern Art located in a former prison, Religious Art Museum located in the Old Cathedral, Museum of Cañari Identity, and two Straw Hat Museums. The latter are testimonies of the flourishing production, trade, and transport of Ecuadorian straw hats, erroneously referred to as "Panama hats" after a picture of President Roosevelt sporting the hat while visiting the Panama Canal in 1906, was published worldwide.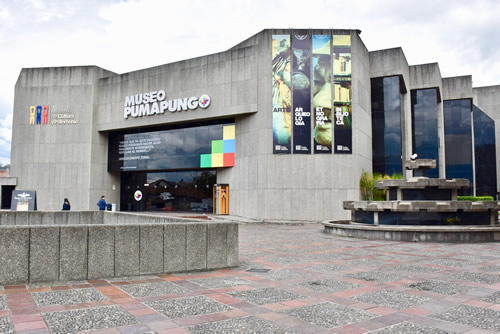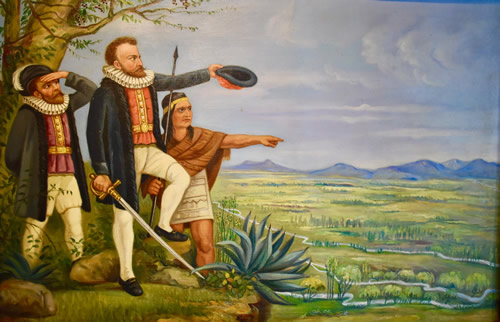 Painting in Pumapuyo Museum: the Cañari, defeated by the Inca, became allies of the Spaniards.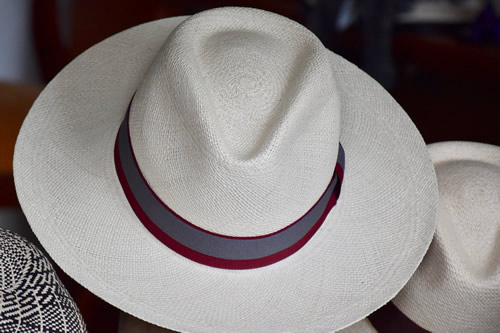 The famous Ecuadorian "Panama" hat.
There are many artists and artisans living and working in Cuenca. While I was visiting some of their galleries or studios they took the time for animated conversations about their work and passion. You can just casually walk in, as I did, into the studios of the well-known painter, ceramist, and photographer Ariel Dawi, coppersmith Machado and his sons, and straw hat weaver Don Camilo. But it is also possible to plan a guided tour to visit various art galleries and studios through Terra Diversa, or follow the Artisans Route as outlined by Cuenca's tourist information center.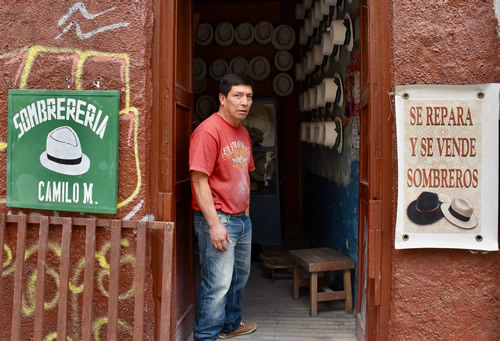 Don Camilo in front of his workshop.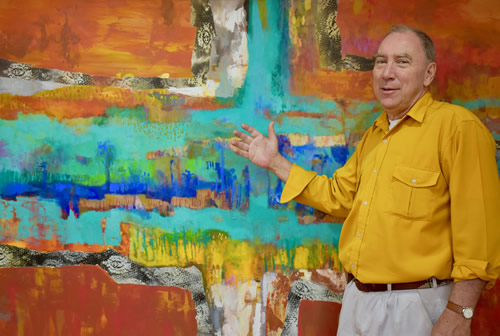 Painter Ariel Dawi.
Like many other cities around the world, Cuenca has also started to provide legal space to renowned muralists.
For organized tours to artisan villages around Cuenca, like Chordeleg, Sigsig, and Gualaceo, each specializing in a particular craft like weaving, instrument making, or pottery, contact one of the Itur centers in town.
Cuenca is also known for its many traditional celebrations, such as those of Christmas, Holy Week, Carnival, Corpus Christi, Day of the Dead, Independence Day, and the founding of the city—with a multitude of folk dance groups, bands, choirs, street performers and artisans in attendance. For a long time, going back to the 1960's, Carnival was a time to settle grudges with one's enemies. That bloody custom, practiced incognito because everyone was wearing disguises and masks, has since been abandoned.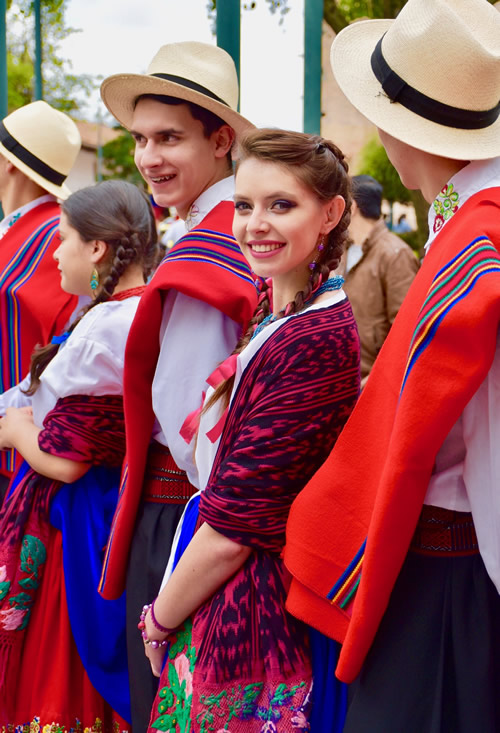 "Founding of the city" festival.
5) Outdoor Activities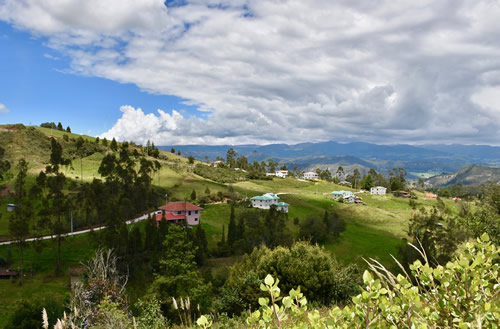 Countryside around Cuenca.
It was lovely to walk the quiet pathways of the Tomebamba riverbanks and plunk down on one of their benches, especially after hours of city strolling. Cuenca also has pretty parks such as Parque Calderón and Parque Paraíso.
For intrepid adventurers seeking more challenges, beautiful Cajas Natural Park with its mountains, lakes, tundra, and wildlife is just a 1-hour drive away.
Hiking, biking, bird watching, horse riding, canyoning, fishing, and rock climbing are a few of the outdoor activities organized by adventure travel companies.
For more outdoors suggestions, including self-directed trips, see:
Day Trip Cuenca by the Intentional Travelers
Rural Hiking Near Cuenca by Brian Bruckner of CuencaHighLife
6. Traditional Food in Cuenca
If you favor fast food joints offering hamburgers, fries, or pizza, Cuenca will not disappoint in the tourist area around Parque Calderón and Simón Bolívar. There are also various Chinese, Italian, Thai, Indian, and Cuban options in town.
But for the more adventurous, eager to try traditional or contemporary Ecuadorian food, there are some great restaurants such as Tiesto's, Dos Sucres, El Colgado, and Venga Gastrobar. My favorite was La Warmi (meaning "strong women" in Quechua), a super-friendly, quaint little place run by women conjuring up the most amazing authentic Ecuadorian dishes for very reasonable prices. Traditional dishes include locro de papas (a potato soup prepared with milk, cheese and avocado), meloso de quinoa (a quinoa risotto with maize, onion, tomato, cheese and champignons), and nuez del tocte, (a dessert with Andean walnuts ─ an important part of the diet during Colonial times). The place is also a cooking school on Thursday evenings, $25 for a course lasting 3 hours.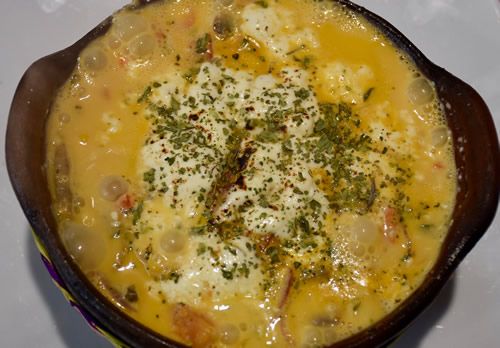 Meloso de quinoa.
My stay in Cuenca coincided with the preparations for the traditional celebration of Corpus Christi, a Spanish heritage that begins around the second Thursday after Whitsun. Although it is a religious occasion, for many people the most important part of the tradition is the many stands in Parque Calderón offering samplings of the dulces de Corpus, the typical Corpus sweets that in the old days were distributed by convents and noble families. Corpus Christi coincides with the indigenous tradition of thanking Pachamama, or Mother Earth, for the harvest.

Corpus Christi sweets.
7. Experiencing Daily Life in an Indigenous Community
In the mountains surrounding Cuenca, descendants of the pre-Incan Cañari tribe enjoy life in a peaceful farming existence, away from noise and pollution, close to their sacred forest up the mountain. There, they connect with nature, purify their bodies, receive energy from Pachamama, and collect herbs and plants for medicinal purposes. They do not believe in a physical god: theirs is spiritual and lives in their souls and hearts, as well as in surrounding nature.
Alfonso, our 66-year old guide, son of a medicine woman, was very knowledgeable about the many plants and herbs used to cure ailments of all sorts. During a day tour with a small group of students, he walked us along more than 150 different plant species growing in a short distance from his abode. He assured us he had never consulted a doctor, taken any pills, or visited a hospital in his entire life.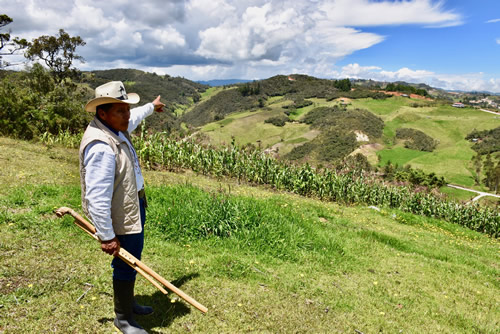 Our guide Alfonso.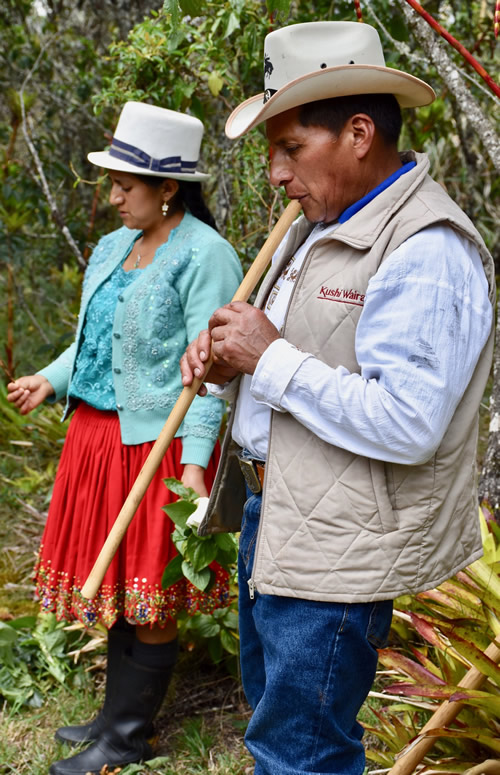 A Cañari ritual in the sacred forest.
At lunchtime, he rolled out a long tablecloth in an open place in the forest, and with the help of some community members, a meal of organic foods such as nuts, potatoes, vegetables, and meats was spread out on top. Seated on the ground and digging in with our hands, we thoroughly enjoyed this typical communal panpamesa.
The rest of the day was spent learning about yet other aspects of the Cañari culture: spinning wool, milking cattle, grinding corn on a small stone "mill," snacking on mole pillo (corn kernels sautéed with onion and garlic), drinking canelazo (a spiced cinnamon, lime, and rum concoction), making music on hand-made instruments, folkloric dancing, and playing ollas encantadas (similar to the Mexican piñata).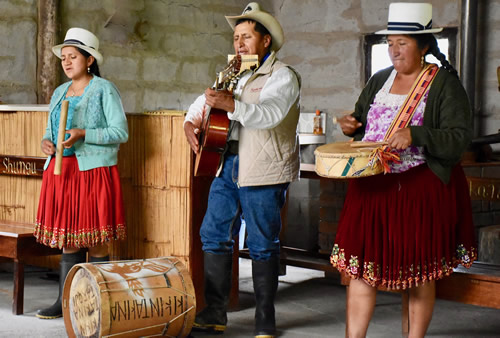 Cañari play on their hand-made music instruments.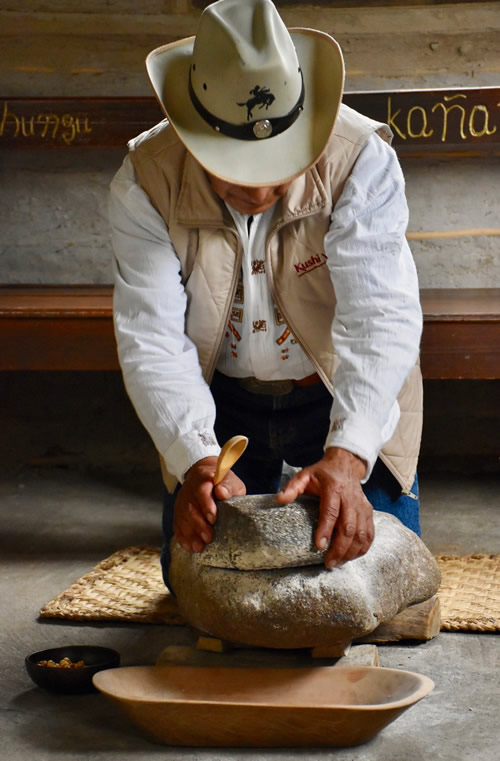 Alfonso grinding corn on the stone "mill."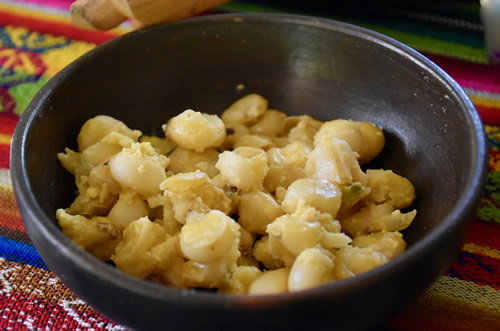 A traditional snack called mole pillo.
8. Las Limpias in the Markets
Stressed? Suffering from a sinus infection? Lacking energy? Indigenous curanderas can help you snap out of your condition and cleanse your system by hitting you on the head, chest, back, and stomach with a huge bunch of fragrant leaves, considered to contain medicinal powers. They mutter some unintelligible words while making cross-like movements with the foliage. In the end, they spit some liquid from a Gatorade bottle, swished around for a while in their mouths in their patient's general direction. It is a very common practice that many people, indigenous or not, believe in absolutely. The curanderas usually operate in hospitals or local markets. On Tuesdays and Fridays, I watched the spectacle at the 10 de Agosto market on Calle Larga.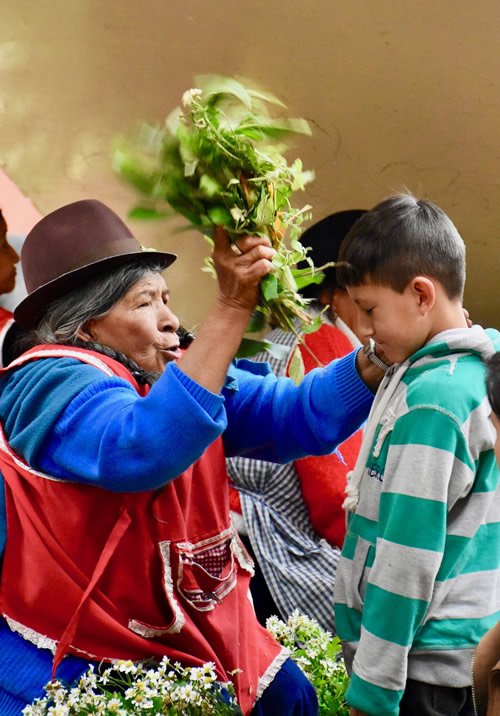 Curandera in action at the 10 de Agosto market
9. Spring-Like Climate All Year-Round
Cuenca is situated at about 8,200 feet above sea level and enjoys a mild climate with temperatures varying between 60-70 degrees. Never too hot and never too cold, year round. It can be somewhat chilly in the early morning or when the sun is behind the clouds, but it is usually pleasant and warm during the day. Some rain can be expected but is often very short-lived. An umbrella is useful, however, as the weather can change quickly over the course of one day.
10. Spanish Language Schools in Cuenca
A little bit of Spanish goes a long way in Cuenca since not everybody speaks English. Wonderful conversations with friendly locals might otherwise get lost in translation. Moreover, various museums only display their texts in Spanish.
There are various Spanish language schools in the city, including:
CEDEI Centers for Interamerican Studies
Simón Bolívar Spanish School in Cuenca
Cuenca is a Favorite Destination for Expatriates
Because of Cuenca's charm, favorable cost of living, U.S. currency, mild climate, good health care, low crime rate, and excellent transportation system, Cuenca has also become a favorite with North American and European expats.
For more info on expat life in Cuenca, check the English newspaper Cuenca Highlife, the blog GringosAbroad or the various English bookstores in town.
One of the English bookstores in Cuenca.
Lies Ouwerkerk is originally from Amsterdam, The Netherlands, and currently lives in Montreal, Canada. Previously a columnist for The Sherbrooke Record, she is presently a freelance writer and photographer for various travel magazines.