How to Plan a Volunteer Vacation in Latin America
Participate in Unforgettable and Helpful Projects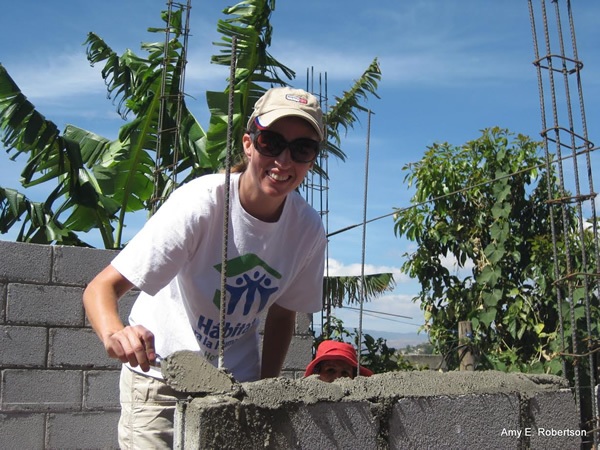 The author, Amy E. Robertson, helping build a home in Honduras.
©Amy E. Robertson.
Prepare a turtle hatchery in Costa Rica. Teach English in Mexico. Build a home in Brazil. Whether you call it a volunteer vacation, a service trip, or voluntourism, combining travel and volunteer work is an increasingly popular way to see the world.
Why Should you Spend your Vacation Working?
It's not about work—it's about travel. Travel becomes transformative when it is about sharing experiences and integrating with the people, culture, and environment of the place. Volunteer vacations convert the tourist into the true traveler, allowing visitors to experience a destination and connect with locals in a whole new way. It's about sharing talents and abilities with others, mutual learning, and pulling back the curtain that separates the foreigner from the country.
It's also about fun. You might find yourself drawn to the rich indigenous cultures of Guatemala, Bolivia, or Peru. The golden sands of Honduras, Panama, and Brazil may beckon. Are you captivated by the extraordinary wildlife of Costa Rica and Ecuador, or the colonial cities of less-traveled Nicaragua and Mexico? From the laid-back vibe of Mexico to the European-Latin fusion of Argentina and Chile, Latin America offers something to entice any traveler.
And of course, it's also about need. Poverty figures in Latin America dwarf those of the U.S. and Canada. Most Latin American countries don't have social safety nets like welfare, Medicaid, or unemployment. Entire families may live in one- or two-room homes with dirt floors and no running water. Children may go to school only 100 days a year—or not at all. Wildlife conservation is often left behind in the basic struggle for survival. Volunteering can support and draw attention to local efforts that address these issues, and it's possible to have a positive impact whether you have as little as a day to spare or as long as a month or more.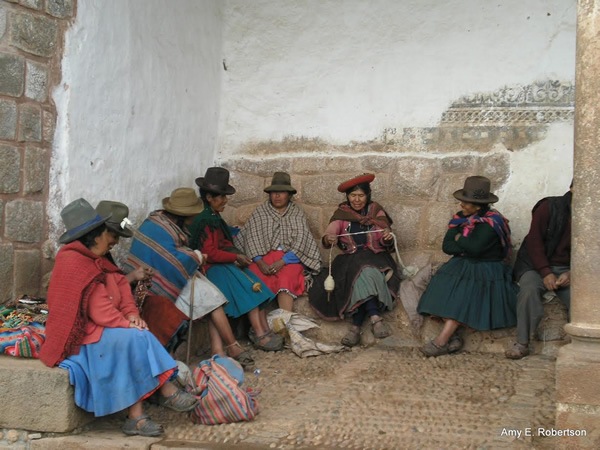 The indigenous people of Latin America are among the most marginalized. ©Amy E. Robertson.
Where to Go and What to Do in Latin America?
Before narrowing your options, consider your expectations.
How much time do you have, and how much of it do you want to spend working?


Do you want to practice or learn another language (Spanish or Portuguese, or an indigenous language such as Quechua or Guaraní)?


Do you prefer to work alongside other internationals or do you want to be fully immersed in a local community?


Would you prefer to work on a discrete project that you can see completed during your stay, or is it enough to know that your efforts are part of something larger?


Is it important to you to have a local support system (that international volunteer organizations and larger language schools often offer)?


Is your priority to experience an indigenous culture, golden beaches, lush jungle, or a thriving urban center?


What creature comforts do you require? Do you need to have regular internet access? Regular electricity?
What Type of Volunteer Work Do You Enjoy?
Do you like working with people? Do you enjoy taking care of children? Are you passionate about women's rights? Is working with animals or environmental protection what stir your heart? Volunteers for whom interacting with local community members and practicing foreign language skills are priorities may want to put projects that benefit people at the top of their list.
Whatever the project, its aim should be to leave the beneficiary—whether an individual or a community—better equipped to confront the challenges than before. (Consider the adage of teaching someone to fish, rather than giving someone a fish for one day.) When working on a development project, it is important to bear in mind that many are ongoing efforts to address large problems, and volunteers must be able to accept that their efforts are "a drop in the bucket," or rather, a step forward along the development journey.
Agriculture: Agricultural work might be on a rural community farming or permaculture project. The best of these projects include local outreach—such as demonstration farms and educational workshops in schools—that support a community-wide change in thinking about agriculture.
Children/Youth: Volunteers might work with kids at a nursery, tutor teens in English or math, or organize sports activities for at-risk youth. The most effective centers provide a quality education that prepares children and youth for an economically viable future, and/or engaging alternatives to the temptations of drugs and gangs. If you have a special talent you can share—from leading a music workshop to teaching an arts and crafts lesson—even a shorter time commitment can be valuable.
Community Development: This broad category includes everything from installing solar panels or water catchment systems at a school, to training firefighters in emergency response or supporting the administration of micro-credit programs. For those who prefer a tangible sign of progress, volunteer projects in the area of construction—from installing a better stove to building a house—may be especially satisfying.
Education: Educational programs range from lending a hand at an elementary school to teaching English to adults in order to improve their job opportunities. Volunteers might provide vocational training or health and hygiene education through workshops, or tutor struggling students at an after-school program, orteach English.
Environment: Environmental projects may have volunteers working in an office preparing educational materials, outside creating trails (or recycling, or picking up trash, or planting and tending flora), or in schools or neighborhood centers providing community outreach. In a context where putting food on the table is a more urgent need than care of the environment for many families, volunteers should look for projects that combine community outreach and economic opportunities for locals with their efforts. Volunteers should know that their presence could help draw attention to an area that might have been overlooked by the local community in the past.
Health: While opportunities abound for specialized skills, from first aid training to heart surgery, you don't necessarily need to be a medical professional to assist in a community health clinic or public hospital. Volunteers may be able to help organize workshops, assist medical staff, provide translation skills, or raise awareness on issues such as HIV/AIDS.
Wildlife Protection: Volunteers can choose from activities such as protecting turtle hatchlings on their journey from nest to sea, supporting the wildlife rescue, rehabilitation and monitoring, or restoring natural habitats for endangered species. Not all wildlife protection projects allow volunteers to work with their animals; work may instead be focused on the cleaning of cages, restoration of habitats, or visual monitoring of animal activity in the wild. Programs that help develop alternative sources of income-generation for the community are especially interesting, turning many "wildlife protection" projects into a combination of environment, education, and community development.
Women's Empowerment: Volunteer opportunities that focus on women might include promoting associations of artisan weavers or supporting workshops on everything from civil rights to home finances. According to UN Women, "there is a direct link between increased female labor participation and growth," and World Bank studies demonstrate that women are more likely than men to spend their income on food and education for their children, making investments in women a critical part of development.
How Long to Volunteer?
Perhaps you are a student with an entire summer at your disposal. Maybe you're a professional who has saved up enough vacation time to take a lengthy break for travel and volunteering. Then there are the rest of us, with commitments and obligations that don't permit long vacations. Rest assured, there are plenty of volunteer opportunities for those on tighter schedules.
Many organizations accept a commitment of one month or less from their volunteers, and some accept volunteers with as little as a few hours or one day. This can be especially appealing for people who want volunteering to be a part—rather than the sole focus—of their travels.
Calculating Your Budget
The next step is to calculate your budget. If traveling from North America, flights to Mexico and Central America are considerably cheaper than those to South America. Many volunteer opportunities (but not all!) have a fee designed to cover the costs of volunteer administration, and some include a contribution to the organization's work. Programs that include room and board, language lessons or perks like organized activities (day trips, salsa lessons and so on) will naturally cost more than those which do not If the volunteer opportunity you're considering doesn't include such things, don't forget to account for them in your estimated budget. A few organizations charge hefty fees that cover a significant contribution to the beneficiaries, such as solar panels to provide electricity to remote communities, construction supplies to build a home for an family in need, or a smokeless oven to eliminate contaminants from an impoverished household. Large fees are not bad in and of themselves, but it's important to know what they represent. Any trustworthy organization should be happy to provide clarity on what the program fees cover, and how much of them go towards the project rather than the volunteer's expenses.
Other expenses to consider:
airfare


any in-country travel (Will you need a bus ride, taxi, or domestic flight upon arrival to reach your final destination? Will you need daily local transportation to reach your volunteer site?)


internet access (if not included at the volunteer site or accommodation)


special equipment (Are you expected to bring a sleeping bag? Will you need closed-toed sandals?)


travel insurance (If you have homeowners or renters insurance, check to see if it covers theft away from home. If you have medical insurance, does it cover travel abroad?)
Opportunities with little or no fees normally expect a volunteer to be responsible for their personal expenses, so be sure to calculate all of them before comparing program costs.
Once you've estimated your expenses, you can think about how to fundraise for it. Ask friends and family for a donation in lieu of gifts at your next birthday party. Host a fundraising event. Find a grant. Crowdsource online.
Using a Guidebook to Research Your Many Options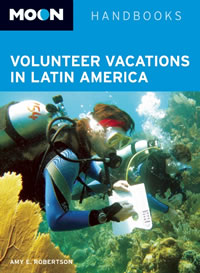 There is a wealth of information about volunteering on the internet, but it can become overwhelming to sift through it. In my guidebook Volunteer Vacations in Latin America, much of the legwork has already been done. I spent months researching organizations and contacting former volunteers; reading trip reports and volunteer threads on internet forums; picking the brains of fellow travel writers, volunteers, and non-profit professionals; and talking with my friends and contacts across Latin America. The organizations that made the cut (a few of which have been linked to above) have a good reputation. The guide includes information about the type of work available, location, time commitment required, services/benefits provided to the volunteer, and cost. Volunteer opportunities are broken down by country, and indexed by type of work. Background information on each country is included, as are a number of volunteer reports on their experiences.
Once you've narrowed your choices down, ask the organizations that interest you most plenty of questions to make sure you are getting what you want, and look for volunteer testimonials (ask the organization to put you in touch with a former volunteer if you don't find trip reports or other testimonials online). Be aware that there are fake reviews out there too, and look for comments that sound authentic and feedback that is voiced multiple times by different volunteers.
Last Step: Make the Memories
I took my first volunteer vacation when I was 13 years old, building homes with Habitat for Humanity in eastern Washington State. The camaraderie that I shared—with both my fellow volunteers and the family whose home we were building—was amazing, and it was gratifying to be able to help people in need. Later that summer, I returned for a second week of service, and was able to help complete the home and to be there for its inauguration. Seeing the injustice of economic inequality up close, and feeling the satisfaction of participating in a solution, planted the seeds for my first career in international development.
Today, my experience with voluntourism includes building homes in Honduras, monitoring presidential elections in Ecuador, and working with marginalized youth in Bolivia on the creation of social documentaries. Each experience opened a window into a world that was different from my own, and I gained indelible memories in the process. Whatever you choose to do, volunteering will add a new dimension to your travels and hopefully leave you with meaningful memories of your own.
Adapted excerpt from Moon Volunteer Vacations in Latin America by Amy E. Robertson. Available from Avalon Travel, a member of the Perseus Books Group. Copyright 2013.
Amy E. Robertson is the author of Volunteer Vacations in Latin America (2013, Moon Handbooks). Her writing has been published on NPR, Vice MUNCHIES, Budget Travel, Delta Sky, National Geographic Traveler, Wall Street Journal, Christian Science Monitor and Travel + Leisure, among others. Amy has lived in six countries and traveled in more than 60. Her volunteer experiences include building houses in Washington State and Honduras, monitoring presidential elections in Ecuador, working with youth on social documentaries in Bolivia, and serving lunch at soup kitchens in Seattle and Beirut. She has a background in international development and nonprofit management and has worked in both the private and nonprofit sectors.

You may see Amy's many articles for us, her numerous books, and her expanded bio page here.