8 Best Reasons for Shoulder Season Travel in Europe
Combine Budget Travel with Full Cultural Immersion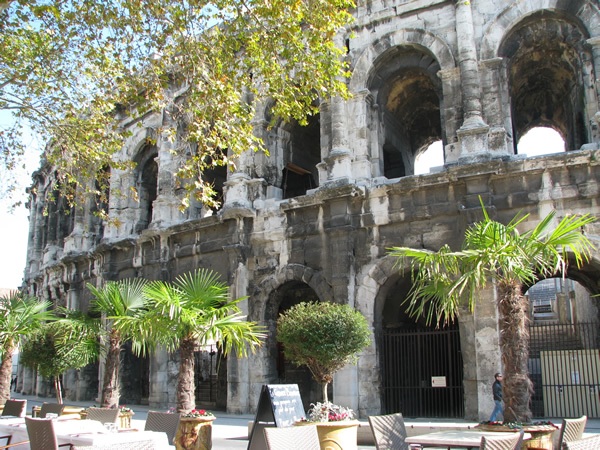 Beautiful towns in the south of France, such as Nimes, offer outdoor restaurants and cafes serving great food as late as November in front of intact ancient Roman ruins or town squares. Photo ©Transitions Abroad.
Most travelers choose the warm summer months to visit Europe, and there are many advantages: The days are longer, and the weather allows for various outdoor activities. There are scores of cultural, music, and art festivals that take place all over the continent. On the other hand, traveling during the high season also has many substantial drawbacks: Airline tickets are far more expensive, trains are crowded, hotels fill up quickly, the cost of room and board is much higher, you are more likely to meet other tourists than locals, and climate change has brought tremendous heat to regions full of attractions making them almost impossible to enjoy. Regardless of your destination, there will be large crowds everywhere. Even travel off-the-beaten-path in most of Europe during the high season has become more complex. You will likely encounter tourists at locations you thought had yet to be explored. If you are seeking a less crowded and more affordable trip to Europe, consider a visit during shoulder seasons such as spring or fall. Fewer tourists remain, and most have returned to their home country. You can take advantage of lower prices, no longer jacked up as a natural economic reaction to mass tourism or what some call overtourism. You will certainly enjoy a more intimate travel experience, including typical contact with locals, culture, and daily rituals. You are also likely to be authentically welcomed by locals given the increasing crush of high-season tourists on whirlwind tours which have some cities actually limiting visits to famous sites or adding surcharges.
1. Shoulder Season Travel Offers a More Intimate Experience
Determining when a travel destination is shoulder season depends on various factors. Weather plays a huge role. Summer is the primary tourist season throughout most of Europe, but quiet mountain villages in the summer burst with activity during the winter ski season. Except for beach resorts along the Mediterranean, only some European travel destinations close down during the shoulder season. Local weather conditions make some destinations attractive much deeper into fall than expected. This is certainly true in northern Italy, where mild weather persists throughout October, attracting many travelers to hiking, and culinary tours, including truffle hunting, wine tasting, and just relaxing by taking it slow—we do not believe that meaningful or "slow travel" should be "work" or unnecessarily arduous. On the other hand, tourist facilities in some destinations remain closed until the beginning of summer. If you are considering a trip to Europe during winter, research whether key attractions are open and ensure the local weather patterns will provide a pleasant experience.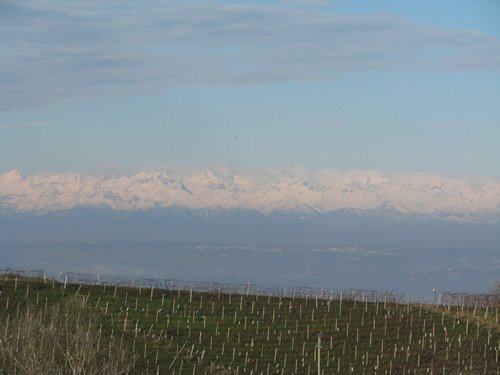 Shoulder season travel in the Piemonte region of Northern Italy in October, when the grapes have just been picked for the finest wines. White and black truffle season is in full swing. In the background, you will find endless rolling hills covered with grape vines and the Italian and Swiss Alps. Photo ©Transitions Abroad.
But remember that even during the shoulder season, many festivities and holidays are popular with European tourists; among them are Christmas, New Year's, Mardi Gras, and Easter—and this is only to mention the most common holidays. During these holidays, prices are likely to go up at hotels. Trains, buses, and airplanes will fill quickly, and many cities and regions are again crowded with tourists. A few years back, I spent Holy Week in Paris surrounded by tourists everywhere. To escape the crowds, I took a train to nearby Chartres to visit the famous Gothic cathedral—which was practically deserted.
Similarly, popular destinations in Tuscany and elsewhere in Italy are crowded over Easter for religious worship or to enjoy a pleasant sunny week. Regional holidays may surprise unsuspecting visitors expecting low prices and plenty of hotel vacancies. December is certainly shoulder season in Portugal, but over the weekend of December 8, Lisbon suddenly fills up with vacationers from neighboring Spain. I only found out later that the holiday of the Immaculate Conception on December 8 is a 3-day weekend for Spaniards, and many decide to spend it in Lisbon. Research before you go to ensure that you are not bumping into a major local festival, holiday, or event held during the shoulder season (of course, you can still opt to attend). Check your guidebook for festivals and holidays, visit festival and holiday websites listing them, or visit the website of the local tourist office to find out if any significant celebration is taking place during your planned visit.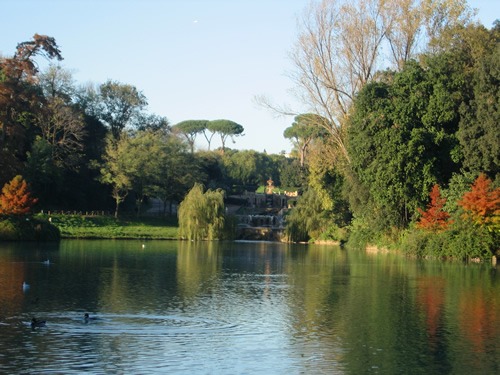 Fall at the Gianiculo Park in Rome above the Trastevere neighborhood. Photo ©Transitions Abroad.
2. Small Local Festivals in Europe
The season for big European summer festivals ends around mid-September. Starting in late September, things become quiet, but traveling to the countryside or small towns you can still find many small festivals worth attending. There are many local wine and harvest festivals, small cultural and historical festivals dedicated to local history, music, art, handicrafts, food, and traditions—secular, pagan, monotheistic, and often an exciting and unique combination. Since locals predominantly attend these events, it is an excellent opportunity to interact with them in a bit of their language, if you are able, and learn more about their culture and way of life. You often find yourself transported back into their sacred time through fascinating and colorful ritual re-enactments.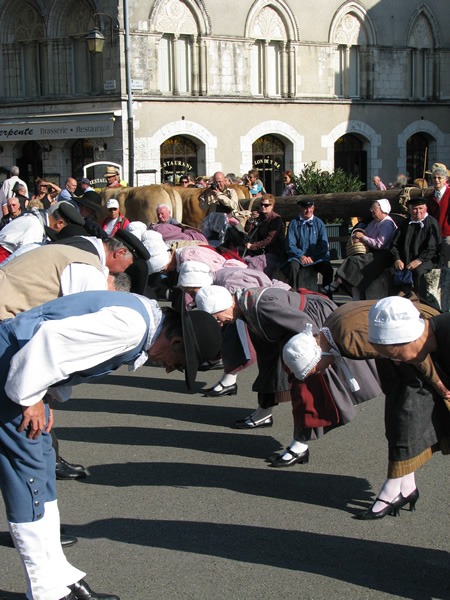 Small local festivals, often harvest festivals, are among the main attractions of shoulder season travel. Photo ©Transitions Abroad.
3. Local Fairs and Markets
Fairs and markets are among my favorite events to visit. If you have seen a farmer's market in Provence, France, during the summer, you know there are often more tourists than local shoppers. If you shop at the same market in spring or fall, there will be primarily locals. Watching the local townsfolk descend upon the nearby town on market day to buy groceries and chat with vegetable farmers, butchers, bakers, and cheese vendors is fun. Visiting art fairs and flea markets during the shoulder season offers a pleasant experience and great deals.
4. Sightseeing is More Pleasant During the Shoulder Season
For most travelers, a trip to Europe includes famous landmarks, museums, and other popular tourist destinations. Still, large crowds can often spoil the atmosphere entirely if you visit these places during the high season. If you travel during the shoulder season, you avoid the disruptions of excessive tourism. A few years ago, a museum curator took an hour to talk to me in depth about Gothic art in northern Italy. I was the only visitor then, and I gained a much deeper appreciation of medieval art from a man excited to share his knowledge.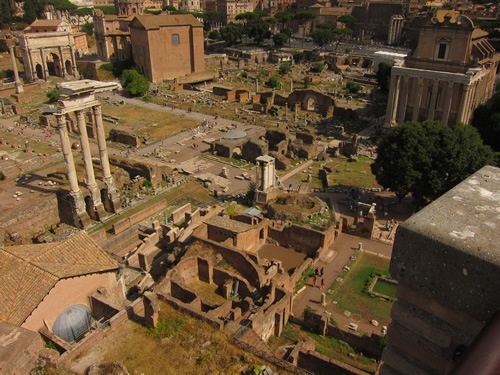 The Roman Forum during the shoulder season is often almost tourist-free, unlike the massive crowds roaming in truly oppressive heat during the peak summer months. Photo ©Transitions Abroad.
5. Much Cheaper Accommodations
During high season, hotels often fill up early in the day, leaving late-arriving travelers scrambling for rooms. During the shoulder season, finding a cheap and pleasant hotel is usually fine, in-person or online, even late in the day. In small towns, you can expect locals to approach you at a railway or bus station and invite you to stay at their pension, guest house, or bed and breakfast. You can expect friendlier and more attentive service at hotels and restaurants with fewer guests. Since prices are lower, it is also relatively easy to find an affordable hotel in a town or city center that you might not be able to afford during the summer. Staying in a historic center is an excellent experience since getting around on foot and exploring the surrounding attractions is much easier. Notably, many vacation home rentals are available at lower than peak prices should you wish to stay in one location longer and have more space, including a kitchen to cook the foods you gather at the local markets and stores.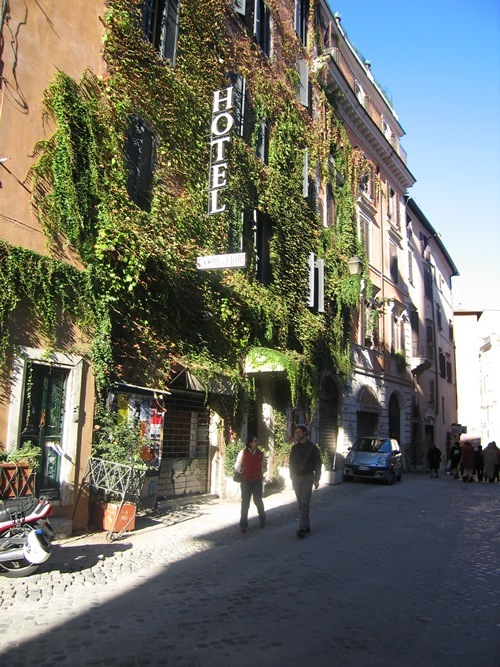 Hotels in Rome in the fall are often relatively cheap and vacant during the shoulder season. Photo ©Transitions Abroad.
6. Less Crowded Transportation
The summer vacation months are a high season for public transportation in Europe. Kids and university students are out of school, and everybody travels. One of the drawbacks of spontaneous and unplanned travel in Europe during the summer is that trains and buses are often full. I remember taking an overnight train from Austria to Italy a few years back when even the corridors of the railroad cars were crammed with travelers who couldn't get a seat. I slept in the narrow luggage rack high above the travelers crouching on the floor! Here is an example of why spring and fall are much more pleasant to travel by train or bus. During the shoulder season, you won't have any problems finding a seat, even on trains that don't require a seat reservation.
7. More Contact with the Locals
I grew up in one of Europe's top tourist destinations (Salzburg, Austria), and I know from experience that locals avoid areas frequented by thousands of tourists daily. Traveling shoulder season allows you to mingle with the locals in their daily activities, especially in smaller cities and towns. I went to a flamenco bar in Seville in January a few years back, and there were only locals and a few international students. I had many lively conversations with the local crowd and partied with them deep into the early morning hours.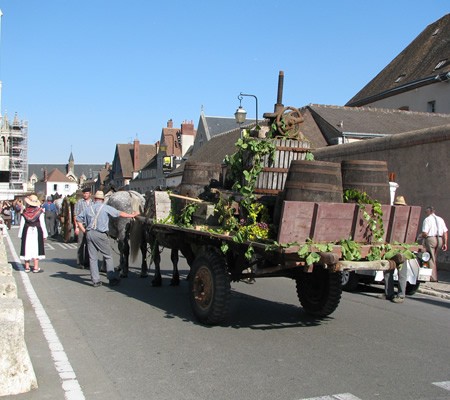 In the fall, local wine harvest and wine-tasting festivals attract visitors to small European towns. This wine harvest festival, which caught us totally by surprise, takes place each year in front of the magnificent Chartres Cathedral. Photo ©Transitions Abroad.
8. A Chance to Explore Your Favorite Destinations
Based on my own experiences over the years, I have compiled a short list of my favorite shoulder season destinations in Europe that most can manage on an intelligent budget:
Amsterdam in April
Enjoy the Queen's Birthday Celebration (Koninginnedag), a giant street festival held all over the city on April 30.
The Alps in October
For those travelers who enjoy being in the mountains and hiking, the most pleasant weather in the Alps lies in early fall. Kids are back in school then, and you will only share the magnificent mountains with local hikers.
The Greek Islands in May
Early spring is a great time to enjoy Greece without the crowds. The weather is pleasant, the beaches are empty, and you will only find friendly locals on the islands that tourists usually pack.
Provence in September
Provence in southern France is one of the country's most charming regions, but it gets crowded in the summer. Local life begins to return beginning in the fall, and visitors can take it slow while enjoying a more quiet and authentic experience of the local culture and natural beauty.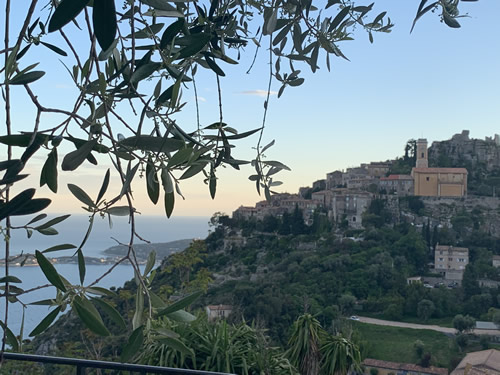 Early May, a view of the ancient village of Eze overlooking the French Riviera in southern Provence. Photo ©Transitions Abroad.
Tuscany in Spring
Once Easter is over, there are fewer visitors in Tuscany until the summer season picks up. The season is a great time to travel. The landscape is lush and green, trees and flowers are in blossom, the shops and markets are bustling with foods affordable for almost any budget traveler, and you can experience the charm of cities and towns without the usual crowds wandering around, looking lost and entirely out of place. Wandering groups dressed very casually as tourists are not exactly the bella figura — the importance of always presenting a respectable appearance in daily life, as represented so prominent in Italian Renaissance art — in which Italians take so much pride.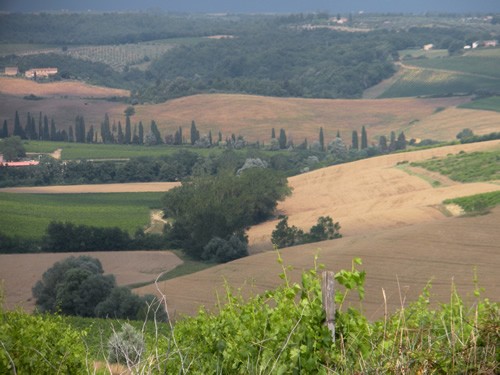 Tuscan landscape in late spring. Photo ©Transitions Abroad.
Algarve in February
Portugal's southernmost province is best known as a beach destination, but for those interested in the magnificent scenery and culture, late winter and early spring are great times to visit. Almond trees are in flower, and the region's historic towns and monuments are free from tourists. During the winter, busy tourist destinations regain their traditional character as small fishing villages, and the locals go about their business and daily rituals as they always have and hopefully always will.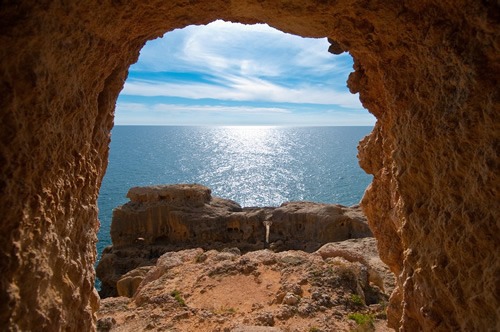 Portugal's beautiful southern coast has few visitors in the winter.
Andalusia in Winter
Southern Spain experiences cold spells occasionally, but the weather is usually quite pleasant in the winter. The season is a great time to visit the region's immense cultural treasures, such as the Alhambra in Granada, the Alcázar Royal Palace in Sevilla, and the historic center of Córdoba. Andalusia is one of the most enchanted regions in Europe year-round, and tapas and local wine are a great budget treat.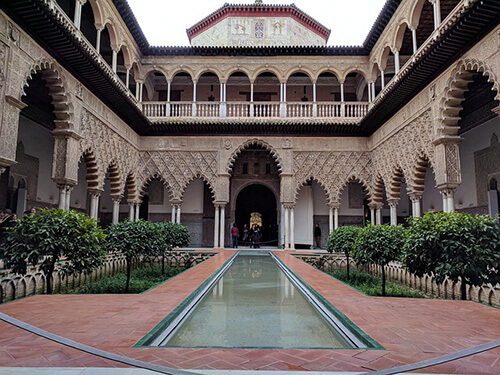 A courtyard in the huge Alcázar Royal Palace in beautiful Sevilla, Spain is a revelation during the shoulder season or Winter.
Given a choice, it is almost always a better experience and lighter on the budget to visit Europe—especially location magnets for mass tourism—during the shoulder season.