Budget Air Travel Within Europe: Smart Strategies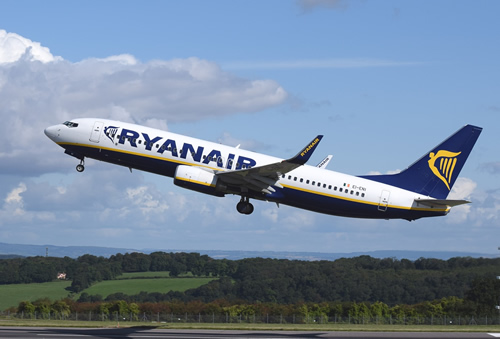 Ryanair is one of many budget airlines in Europe, where there are deals to be had, often cheaper than all modes of long-distance transportation.
After months of planning and packing, you've finally made the move to Europe or are planning an extended trip. You had to visit Paris for the first time or once again. The allure of Rome's history could not be ignored. The pull of London and its chaotic frenzy was not to be resisted. Regardless of the chosen destination, most of us who uproot our lives and make the big intercontinental shift permanently or for an extended period do so because of the diverse range of travel options available in a continent rich with history and culture.
However, the elation of the first few days in your new country soon gives way to the reality that most of us need to work for a living. If on an extended trip and wish to see many locations on the large continent, how to do on a budget. The question soon arises: How to best realize our dream to travel extensively given the hectic pace of working lives in cities like London or Rome? It is said that "a stitch in time saves nine," and this is certainly true of planning successful trips across Europe via one excellent and surprising affordable mode of transportation we will cover—the network of airlines.
Budget Airlines in Europe
Let's begin with the plethora of European airlines available at your doorstep.
The rise of the budget carrier is no news to the seasoned traveler, but many people don't realize what tactics need to be employed when planning a trip involving any flight on an airline like Ryanair, EasyJet, Wizz Air, and many others. You have to be prepared to be flexible, while at the same time understanding that planning in advance will always yield better results. Ever wondered how budget carriers can afford to charge as little as a total of €5 (around US$6) for a return flight (typically, flights are more like $50-200 to major cities)? There are several explanations, but only one is relevant to the traveler. A business deal or family emergency means that I need to fly from Ancona (Italy) to London tomorrow. A few quick clicks on the Ryanair website will get me there, but only for around US$300 before fees and charge—and that for a flight that takes less than 2 hours. Ryanair and EasyJet have extensive route networks across Europe (far more widespread than the major carriers). This means that they are often the only airlines flying a particular route, giving them a monopoly on connections between many airports.
Advance vs. Last Minute Ticket Purchases
A misconception about traveling with a budget airline is that your tickets need to be booked as early as a year or 10 months in advance. Sometimes, (such as for major public holidays — see below), this can be true. However, most budget carriers release their best seat specials around 3-6 months in advance. After the January post-Christmas period, for instance, airlines are looking to entice those of us dreaming of sunnier climates and websites will offer specials for the March-June period. A month or two later, you are likely to see summer specials (for the June-September travel period) released.
Exceptions to this rule are the major public holidays, particularly the English Bank holidays and the religious holidays shared by the rest of the continent. Because public holidays are set dates, the keen traveler knows that he or she will have a string of days off and keeps a close eye on prices as early as possible. While it is an exaggeration to book public holiday tickets as early as a year in advance (or, more precisely, 330 days beforehand, as this is the earliest allowable time frame for almost all airline booking engines), booking six to nine months in advance is advisable. Let us take the UK bank holidays as an example. When you return from your bank holiday vacation in August, you should begin to think about your options for the May bank holiday of the following year.
Conversely, on the high-traffic routes of budget carriers (such as Ryanair's London Stansted to Frankfurt Hahn / Milan (Bergamo) to Barcelona (Girona) and EasyJet's London Gatwick to Milan Malpensa routes) the cheapest tickets can be found right up until around two weeks before the departure date due to the number of flights that the airline runs per day. All rules have an exception, however, and it is important to note that this is not the case for high-traffic routes from major cities the likes of London, Paris, Milan, and Rome to popular summer hotspots such as Ibiza, coastal Italy, and Greece. It is advisable to treat these almost as you would a public holiday (see below), particularly if you plan to leave on a Friday night or Saturday morning.
Best Time to Fly in Europe on the Cheap?
High season, shoulder season, and low season vary greatly throughout Europe. However, as a general rule of thumb, travel tends to be more expensive in the following periods:
December/January: Christmas and New Year period
April: Easter period
July/August: Summer period
If you are based in the UK, "mini" high seasons also occur during the following half-term breaks: mid-October, mid-February, and mid to late May.
Mid-Week vs. Weekend Airline Travel
Europe is the perfect place for the weekend city break, and airlines are clued in and openly honest about the fact that such flights are more expensive than mid-week flights. Tuesdays to Thursdays generally offer the cheapest seats, and often considerably more so than Fridays to Mondays. At the time of writing, a Friday evening ticket from Rome to Paris on Ryanair—purchased a month in advance—costs around €250. The same route at the same time on a Tuesday (during the same week) costs approximately €20, a fraction of the cost of the Friday evening ticket. Therefore, if you have one week's worth of holidays available (five working days), it is certainly better to consider timing your holiday from Wednesday to Wednesday rather than Monday to Friday (the astute will realize, however, that planning a Monday to Friday holiday means having nine consecutive days off as opposed to seven — this is simply a matter of priorities and personal choice).
Budget vs. Full Service Airlines in Europe
Most of us fall into the trap of disregarding full service carriers because of their tendency to be considerably more expensive than the budget carriers. This is a mistake. In the last year, full service carriers like British Airways, Alitalia, Air France, and KLM have revised prices on popular routes to compete with the budget carriers. In addition, they are infinitely more convenient than the budget carrier whose airport for Florence is actually in Pisa, or who sell you a ticket to Frankfurt but land you in a town some 150 kilometers (90 miles) away. The price of the budget carrier may win out when we have the luxury of time, but often, it is far more suitable to fly to and from the main international airports. This is particularly true if you need to catch public transport to reach your final destination.
Hidden Costs of European Airline Travel
You've found an unbelievably cheap flight from Milan to Barcelona on a Tuesday evening and you are ready with your credit card in hand. The flight comes to around €30 return, which is excellent given you have a partner and two kids. However, on Ryanair, be prepared to pay the following extra fees: €10 per person for online check-in, €100 for two suitcases at 15kg each, €8 for priority boarding and, finally, €10 of credit card charges. Suddenly, your €30 return flight (€120 for your whole family) doesn't look so appealing at a total of around €280!
Packing Light is Essential for Budget Air Travel Within Europe
While not always easy when having to consider an entire family, it is certainly attainable for a couple embarking on a short city break. Look to use a backpack as hand luggage, weighing no more than around 7kg (this is enough for an extra pair of shoes, socks, underwear, jeans, three t-shirts, and a small bag of travel toiletries).
European Budget Travel Airlines
List of Popular Budget Airlines in Europe along with their home bases:
EasyJet — Flights from and to many European cities.
Ryanair — Once primarily England/Ireland, now air flights from and to most European cities.
Aer Lingus — Ireland.
Meridiana— Out of Italy but flies from and to many cities worldwide
Norwegian — Norway, but with flights across Europe and to destinations worldwide.
British Airways — Not always as cheap, but many destinations.