Studying Thai in Thailand: Learn a Language and Live for a Year Abroad
By Nathan Edgerton
Published 12/2014. Resources updated 10/21/2023 by Transitions Abroad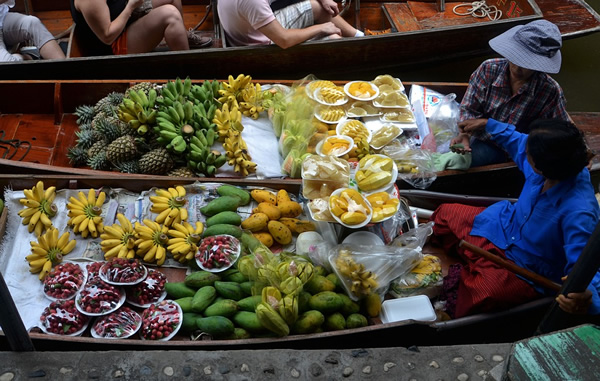 At a floating market in Thailand.
Whether you're a traveler who's been on the road for months and is finally looking to settle down for a while, or you're looking to move abroad but want a soft landing in a new country, Thailand can be an attractive place to live. It's the best country to stay in as a gateway to Southeast Asia, as it's cheaper than Singapore and Malaysia but more comfortable and developed than Myanmar, Cambodia, Laos, and Vietnam.
Whether you plan to start a teaching stint, build a career in Southeast Asia, or simply try out living abroad, Thailand is a great place to begin your journey. For an investment of about $1300-2000, you can get a year of Thai language lessons as well as a 1-year visa to live in Thailand.
Immerse Yourself in the Culture and Build Your Career
Learning Thai is, of course, one of the best ways to get to know Thailand. Knowing the language allows you to confidently enter many situations that you would shy away from if you could speak only English. You can chat with people you meet on the street, you can try out plenty of local restaurants and order with assurance, and you can instantly gain the respect of just about everyone you meet.  
If you're interested in living in Thailand long-term, learning the language is a huge asset. It's difficult to find foreigners who can speak Thai even in Bangkok and Chiang Mai, and it's rarer still to find foreigners who can read and write Thai. Whether you're working as a teacher or working in a company, knowing Thai will make you very important to your employer. I've been learning Thai for about 3 years now, and I can chat with people for most of an evening, listen to some news programs and watch movies, and read some news stories and other texts. My studies have helped me to be able to answer the phone in Thai and read simple documents and emails without having to ask someone in the office to translate for me, which often comes in handy.
Thailand suffers from a lack of skilled English speakers, and it regularly ranks near the bottom in international comparisons of English skill. As many Thai workers aren't so great with English, while at the same time many Thai companies engage in international business and need people who can speak English well, you can be quite valuable to companies if you're fluent in English and your Thai is very good.
An Affordable Way to Live Abroad
Thailand is an affordable yet comfortable place to live. In Bangkok, living is a bit more costly, but you can get a modest studio apartment with WIFI, TV, and air conditioning for about $325-$400 per month outside of the city center. You can eat at local restaurants for $2-5 per meal, and you can go out for a pint for around $2-3. All in all, if you're frugal, you can get by on $1000 per month; you can live quite comfortably on $1800 per month. I had a modest but furnished studio apartment with WIFI, air-conditioning, and TV just 10 minutes from the city center. I also had a gym membership, and I went out to eat for every meal. You can knock at least 25% off the cost if you live in Chiang Mai, and it's cheaper still to live in smaller cities like Korat, Ayutthaya, or Chiang Rai.
You can check out the various costs via Numbeo for Bangkok and Thailand, which itemizes based on crowdsourced data.
The current cost, as of 2023, in order to take the requisite courses in Thailand to receive a 14-month Non-Immigrant ED visa is around $1,300 (44,500 baht) if you go with a school such as The Knowledge language school in Bangkok. Contact the language schools for more information.
About the Thai Language
Many foreigners believe that learning Thai is difficult because the language has more characters than English, the language is tonal, and the script is written without spaces in between words. However, there are a few reasons why learning Thai isn't as hard as people believe.
The Thai language includes about 44 consonants and 18 vowels, but some consonants are rarely used, and some vowels combine to form clusters, so it depends on what you choose to count. The best part about Thai script is that each letter or cluster of letters is pronounced the same way each time you see it. For example, consider how the "ough" cluster is pronounced differently in "cough," "tough," "bough," and "ought." On the other hand, in written Thai it's quite easy to determine the pronunciation of a word from the written form.
Thai has 5 tones, so the meaning of a word can change depending on the tone that is used when it is pronounced. Foreigners worry that if they can't get their tones perfect, then Thai people won't be able to understand them. However, except for a few easily-confused pairs (for example, the words for "near" and "far" are nearly pronounced the same way!), Thai people can generally understand what you mean based on the context, even though they may laugh because you said "horse" instead of "come."
Finally, even though Thai is written without spaces in between words, there are a variety of strategies you can use to separate them. It all becomes easier as your vocabulary improves, but there are also certain characters which appear only at the beginning of syllables and others which appear only at the end - after a while, you'll be able to break down strings of text quite easily.
Schools and Language Programs
There are hundreds of schools around Thailand which offer language courses and education visas for foreigners. The majority of schools in Bangkok, Chiang Mai, Phuket, and Pattaya, but there are some in smaller cities, as well. Prices range from $1200-$2000 for the language study hours necessary for a one-year Non-Immigrant visa.
You'll do most of your studying in group classes with about 6-12 other students. Most Thai teachers can speak English fairly well; they can explain the grammar and vocabulary, if necessary. In some schools, students learn speaking before writing, while in other schools speaking, listening, reading, and writing are taught at the same time.
Schools in Bangkok include: The Knowledge, Pro Language, Walen, Language Express, AUA, and AAA. Some of these schools also have branches in other cities around Thailand, but as of yet there's no clear leader in the market. There are hundreds of different schools throughout Thailand.
Along with the recent increase in required study hours to obtain a visa, the Ministry of Education has also announced that foreigners who are studying Thai on an education visa will need to pass a test every four months in order to keep their education visa. The test will be given at the Ministry of Education's office and will cover the topics on the syllabus that the school has submitted. Students will need to learn reading, writing, listening, and speaking in order to pass the tests.
Visa Application Process
It's possible to apply for the study visa whether you're already in Thailand or still living abroad. After you apply to a school and pay the study fee, the school will begin to process your paperwork and send it to the Ministry of Education in order to get your letter of approval. It usually takes about 5 weeks from your home country to get your letter of approval back after your paperwork is submitted. Once you get the letter, you can take it to a Thai embassy to apply for your education visa.
If you're currently living abroad, the school can send the paperwork to you and you can apply for the education visa in the Thai embassy in the country where you're living. If you're currently in Thailand, after you get the letter from the Ministry of Education you'll have to travel to a neighboring country, such as Indonesia, to apply for the education visa from the Thai embassy there. Students of certain nationalities, however, are required to apply for the education visa at the Thai embassy in their home country.
As mentioned, once you've gotten your visa and begun classes, you'll have to take a test once every four months to prove you've been studying diligently. After one year, if you wish to continue studying, you'll have to reapply for a new education visa.
Additional Study Resources
In addition to your courses, there are a number of good books, podcasts, apps, and computer programs available to help in your studies. One of the best books for beginners is Complete Thai by David Smyth. The book introduces key vocabulary for everyday interactions and also introduces the consonants and vowels bit by bit, so that by the end of the book you've encountered the entire alphabet, some basic rules of reading and writing, and also built up familiarity with basic grammar and vocabulary.
After you've learned the alphabet, the next book to use to continue your studies is Everyday Thai for Beginners by Wiworn Kesavatana Dohrs. This textbook is perhaps the best-organized for study, but it assumes that the student already knows the Thai alphabet, so it's not appropriate for absolute beginners. Essential Thai by James Higbie is a very helpful grammar manual for beginning learners.
There are many helpful apps that you can download for Apple and Android devices. L-Lingo Thai uses pictures, spoken cues, and written cues to teach basic vocabulary and some simple conversations. WordUp Thai is a dictionary app with thousands of words which lets you make customized study lists of the words you want to know, then automatically creates quizzes to help you study those words.
Finally, after you've learned the alphabet and learned to write some simple words and sentences, one of the most productive things you can do is to learn to type in Thai. If you can only write by hand, you'll rarely have the opportunity to practice writing Thai outside of the classroom. However, if you learn to type Thai then you can practice by chatting with your friends online, which will give you many more opportunities to improve. Try the website www.branah.com/thai for a helpful program which will help you get used to finding the characters on the keyboard. After just a few hours of practice, you should have a good idea of where most characters are found on the keyboard.
Nathan Edgerton moved to Southeast Asia to teach at Can Tho University in southern Vietnam in 2007. What was supposed to be one year eventually became more than 16. In the meantime, he has taught at a public school in Singapore for a year and a half, worked as a writer in Chiang Mai, Thailand, and cycled across Vietnam.