How to Experience Thailand by Learning Thai
Language Immersion in the Kingdom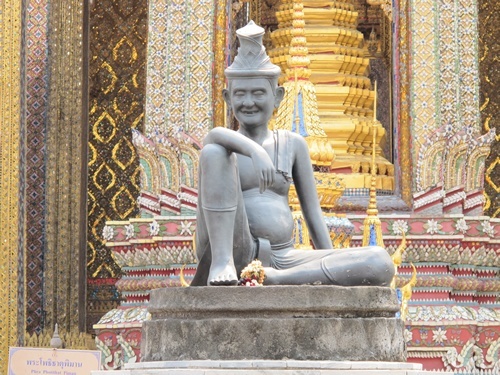 Grand Palace, Bangkok, not far from Thammasat University campus.
Back when I was an English teacher in southern Thailand, living in a small town not far from the Andaman coast, I took a bus down across the Malay border while on school holiday. In typical fashion, I met and became friendly with the motley gang of travelers staying at my hostel, tucked away as we were among the rolling tea fields and lush jungles around Tana Ratah. Katarina, an 18-year-old German girl fresh out of Gymnasium, was backpacking around Southeast Asia on her gap year. She had flown into Singapore, and was making her way overland, heading north.
"So Thailand's next for you, then?" I asked, making conversation, as we sat around, playing cards and reading our books.
"Oh no!" she cried, seemingly repulsed. "I'm skipping Thailand. Too many tourists — Thailand's been done already."
I nodded, not wanting to continue the conversation. It was a refrain I had heard many times, and would continue to hear, during my three years spent hopping around Asia.
Thailand, for many, is a country that's been "discovered;" past its prime, it lacks "authenticity" and its charms are now too tailored to the Western tourist, to the point where one feels as if a trip through old Siam is like being ushered through an exhibit at a museum: floating market, check; Grand Palace, check; giant reclining Buddha, check.
There is good reason for these widespread opinions, after all: Head north, to the ancient city of Chiang Mai, and you will find innumerable tours offering glimpses of "untouched" hill tribes, where the women have a tradition of wearing thick, brass metal chokers that, over time, give them highly elongated necks. The origins of this practice have drifted into obscurity, as what was once an idiosyncratic custom of an indigenous minority has arguably become much less about the tradition, and much more about raking in the tourist dollars, as travelers come in droves to gawk and snap photos, while the women smile wanly, and glance every so often at their smartphones.
A sad state of affairs, surely — but are situations such as these really indicative that Thailand, as an entire country, has been "spoiled," "discovered," and that everything there is to do, see, or experience has "been done," as the young German backpacker would have it? I think the answer is unequivocally "no" — that the authenticity and richness of a culture and its people can never truly be spoiled by overexposure. Like a sand crab that scurries back beneath the ground as soon as it's unearthed by prying hands, perhaps the "authenticity" that all travelers seem to crave simply dives deeper, and becomes harder to find, once a culture opens itself up to mass consumption. And if this is true, then it is arguably especially true in Thailand, where a simple smile is usually a wonderfully skilled subterfuge, hiding a vast range of human emotions. After all, it is the understated, subdued smile of a serene golden Buddha that contains the very secret of nirvana itself.
The reality is that in this day and age of easy and convenient travel, if you wish truly to see and experience Thailand for what it is, you will need more than just a plane ticket to Bangkok and a Lonely Planet guide. You will need a key to open the door to the entire culture — a key that is that set of mysterious, beautiful runes, and of fluttering, birdlike tones, that is the Thai language. The way to immerse yourself in the richness of the Thai culture — which has been there all along, despite protests to the contrary — is to learn Thai, and to experience everything for yourself, firsthand.
View of iconic Wat Arun from Tha Tien Pier — within walking distance of Thammasat University in Bangkok.
Language School Options
For the foreigner interested in studying Thai in Thailand, a variety of options are available, including accredited universities, as well as language schools.
Why Study Thai in Thailand?
Despite the fact that Thailand has, unlike many other Asian cultures, been very receptive and open to Western ideas, influences, and tourists, Thailand still remains a culture uniquely its own. With no knowledge of Thai, however, the traveler might miss this fact, as he or she will always be seeing the country and its people through the tinted and narrow window of what is presented to him or her in English. Without being able to converse or interact with Thais in their native tongue, the real uniqueness of the culture may remain largely invisible — like the sand crab buried beneath the waves.
The reality is that Thailand has not been "done," nor has it been "discovered," or any of the other overly simplistic sentiments that many a jaded backpacker may toss around. The reality is that our ability to experience the richness of any culture depends proportionately on our ability to access that culture, using the key of language as our passport. Luckily, for the empathetic traveler interested in experiencing Thailand on a deeper, more satisfying level, studying Thai in this amazing Kingdom can be a wonderful option to do just that.