Volunteer in Latin America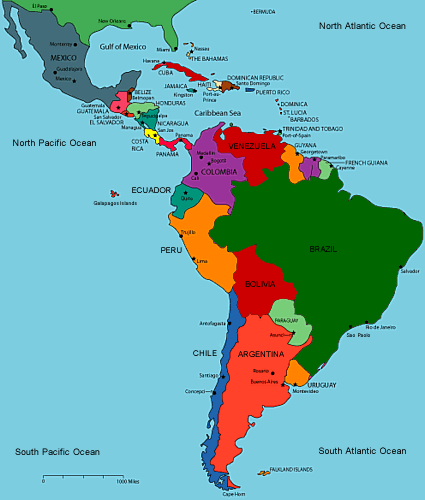 Articles on Volunteering in Latin America
Volunteer Abroad in Cusco, Peru from US$250
Affordable volunteer opportunities available in Cusco. Volunteers can participate in Teaching English, Childcare Projects, Medical Placement, Construction and Renovation and Jungle Conservation. IVHQ sends over 5000 volunteer travelers worldwide annually — one of the world's most popular volunteer placement organizations!
Cost: Program Fees start from US$250.
Dates: Programs start on the 1st and 3rd Monday of each month. Duration: Volunteers can volunteer anywhere from one week to six months.
Contact: International Volunteer HQ, PO Box 8273, New Plymouth, NEW ZEALAND.
Tel.: +64 6 758 7949.
Email: volunteer@volunteerhq.org
Website: www.volunteerhq.org

Featured
Volunteer Programs in Latin America
Come experience a cultural immersion while participating in a volunteer program! ELI partners with local organizations in throughout Latin America to match volunteers with local organizations. All placements are made on an individual basis depending on the skills and goals of the volunteer, the needs of the organization, and the length of the program. Possible volunteer projects include animal rescue, turtle breeding, at-risk youth, teaching, adult-education, special needs kids, construction, environmental conservation and more! ELI can arrange Spanish classes in conjunction with a project to make sure participants get the most out of their program!
Dates: Flexible Dates
Cost: Program fees start at $515. The cost will depend on the country and duration of the program. Program fees include airport pickup, accommodation, and meals.
Contact: ELI, 1557 Ogden St. #5, Denver, CO 80218
Tel.: 303-321-8278
Email: info@eliabroad.org
Website: www.eliabroad.org

Featured
Wildlife Experience in Ecuador
Interested in helping to rehabilitate the endangered wildlife, rather than looking at animals from far away or on TV? This program will give you exactly what you want. As local experts we offer you the chance of a lifetime—3 different animal rescue centers in only 4 weeks! Explore the Amazon Rainforest, the Andes Highlands and the Coast of Ecuador while helping in the rescue centers of each region. This one-of-a-kind program also offers you a one-day training of animal handling before starting your adventure. Get involved without emptying your pocket!
Dates: Year round
Contact: Lead Adventures, Juan Leon Mera 1574 y La Pinta (2nd floor office 2A) Quito - Ecuador
Tel.: US/Canada 1 800 579 3905 or Ecuador 5 932 254 1633
Email: info@lead-adventures.com.
Websites: www.lead-adventures.com

Featured
Connect-123 Volunteer Programs in Buenos Aires, Argentina
Connect-123 links you to volunteer projects in Buenos Aires, Argentina, according to your interests and skills, in health care, community service, education, and many other fields. Health care projects include working directly with doctors on medical research projects, providing non-medical care to patients, attending ward rounds and helping the nursing staff care for patients. Social work, and education projects include working at a legal advice center, assessing the impact of community-based interventions, helping with public health awareness campaigns, mentoring street children, teaching English, caring for infants and toddlers at orphanages, working with youth regarding issues related to HIV/AIDS, sexuality and adolescence, and helping to build schools and houses for disadvantaged communities.
What's included: Finding a volunteer project that specifically meets your needs; arranging secure, high-quality, centrally-located accommodation based on your budget; assisting with local transport and providing advice on public transport routes; airport meet and greet service; a complete preparation and orientation information pack; advice, assistance, and guidance before, during, and after your stay; group-rate discounts; and 24/7 emergency support and assistance.
Dates: Both start dates and durations are flexible. Typical durations range from 1 to 6 months.
Cost: Please see website for details.
Contact: Connect-123 International Internship and Volunteer Programs
USA Tel: (800) 731 6406 (toll free)
Email: info@connect-123.com
Website: www.connect-123.com/programs/volunteer/buenos-aires-argentina/

Featured
A Broader View Volunteers Corp
Volunteering with a Non Profit Charity Overseas
A Broader View Volunteers is an U.S. Non profit charity.
We work in 27 countries with over 245 programs, including Latin American countries such as Argentina, Belize, Chile, Colombia, Costa Rica, Ecuador, Nicaragua, Guatemala, Honduras, and Peru.
With A Broader View (ABV), you'll be immersed in another culture, collaborate with your host community on a development project, and work side by side with local youth while building your own leadership skills. ABV works year round from 1-week to 12-week programs.

Dates: Ongoing programs, year round, you choose your dates of arrival and departure.
Cost: From US$895 for one week to US$2240 for 12 weeks (you can tax deduct the expenses). Program fee includes: personalized Volunteer Placement, cultural education, meals, accommodation, pre-departure guidance, 24/7 country staff, tax deducted fees, the option to fundraise within our website, and more.
Contact: A Broader View Volunteers Corp, 236 Glen Place, Elkins Park, PA 19027.
Tel.: 866-423-3258 or 215-780-1845 (US), (020) 3289-9896 (UK), (02) 8003-3474 (AU).
Fax: 215-887-0915 / Skype: Abroaderview.org
Email: volunteers@abroaderview.org, info@abroaderview.org
Website: www.abroaderview.org

Featured
Globe Aware
Cuba — The Curtain Lifted
Care for Cuba with Globe Aware and get a chance to peer into the beauties, struggles, and determination of a society that has long been shrouded in mystery to many North Americans. This volunteer vacation program focuses on research and education, cultural awareness, and academics. Volunteers will attend lectures and meet with representatives from educational organizations, as well as visit local artists, schools, and museums. This project also involves reporting back about your experience, as research, in a form that's easily shareable. Accommodations are provided in mid-range hotels with flushing toilets, running showers, and electricity. For fun, volunteers will tour the beautiful Vinales Valley and beaches, visit local tobacco farmers, and attend a cannon blast ceremony at a fortress. Experience this unique culture with open music in the streets, hardly any car traffic, and tons of smiles, and you will be enchanted with a world unlike any other.
Dates: Please refer to our website for trip dates
Cost: $1650
Contact: 6500 East Mockingbird Lane, Suite 104, Dallas, TX 75214
Email: office@globeaware.org
Tel: 1-877-LUV-GLOBE
Website: www.globeaware.org

Featured
Discover Corps
Volunteer Vacations with a Purpose in Latin America
Volunteer vacations for adults and families in Asia, Africa and Latin America. Immerse yourself in a different culture while giving back, engaging in hands-on cultural workshops, and connecting with fascinating people. Volunteer to support children, animals and the environment. 1 to 2 week all-inclusive packages. Countries include, Costa Rica, Cuba, Dominican Republic, and the Galapagos.
Love Volunteers
Volunteer Programs in Latin America
Love Volunteers has been trusted by thousands of volunteers to travel abroad and immerse themselves in new cultures, whilst providing help where it is really needed. Join the world's fastest growing independent volunteering organization on an affordable, safe and responsible voluntary service project in locations throughout Latin America for a truly memorable experience! Visit the website to check out a range of community-based projects and find out how you can make a REAL difference!
Volunteer Latin America
Provides international volunteers with a comprehensive and affordable solution to finding volunteer work opportunities in Central and South America. You tell us where and what you would like to do and we will provide you with everything you need to get involved via your own personalised information pack. Our extensive knowledge of the region ensures you are unlikely to find some of the projects we offer elsewhere. Volunteer Latin America is not only a great source of affordable voluntary work but a means to finding some of the best schools to learn Spanish.
VolunteerSouthAmerica.Net
Free and Low-Cost Volunteering in Latin America
Website lists free and low-cost volunteer opportunities in Latin America. The site is designed for backpackers / independent travellers looking for a real volunteer experience abroad, without paying any middle-man or agency fees.
WWOOF Latin America
Volunteer on organic farms across Latin America for a small membership fee. Here you can link to other WWOOF country websites and communicate with other fellow WWOOFers.