How to Connect Locally while Traveling Internationally
Budget-Friendly Destinations in Central America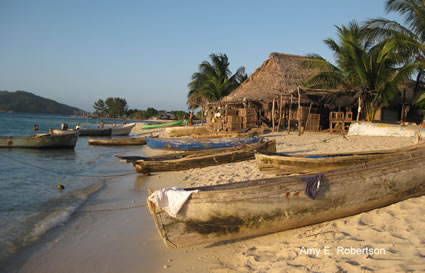 Canoes on the beach on the island of Chachauate, Honduras. ©Amy E. Robertson.
Our motorized canoe approached the beach, and a few young men waded into the water to grab our bags. My parents, my two young kids and I disembarked at Chachauate, twelve miles off the north coast of Honduras. Chachauate is a community of a few dozen Garifuna families (African/Carib descendants) in the archipelago of Cayos Cochinos. We had arrived for two nights in one of the community's wood cabins. The one-room cabins had sand floors, bunks with thin mattresses attached to the wall, and a single light bulb that only worked between 7pm and 9pm, when the island generator was turned on. We would share the island's outhouse with the other 150 (or so) community members, and our hostess Nini (who owned a "corner shop"-slash-restaurant on the island) would cook for us. Five dollars per person per night, meals charged separately. It was bare bones and that didn't matter – we were there to swim and snorkel in the crystal clear water.
During my five years living in Honduras, I authored two editions of the Moon Handbook for Honduras and the Bay Islands, and had the chance to explore more of the country than most Hondurans ever have the opportunity to see. My trip to the Cayos Cochinos was one of the highlights of all that travel. We spotted colorful parrotfish and striped angelfish as we snorkeled. We ate Nini's barbecued lobster. My kids playing UNO and sharing colored pencils with the local kids in the evening, by the light of the tiny book light I'd brought. Nini's daughter joined my family for the day as we explored the Cayos Cochinos archipelago by boat.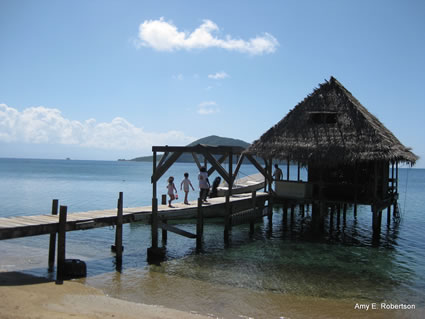 The author's children and Nini's daughter on a dock of Cayo Grande island, Honduras. ©Amy E. Robertson.
The locals of Chachauate had set the terms of tourism for their piece of paradise, and visiting them was one of the best travel adventures I've ever had. (To book your boat trip or overnight stay, contact Chichi Arzú at 504/9937-1702.)
Meaningful travel doesn't come from handouts or patronage—it comes from solidarity. Working shoulder to shoulder with community members on a local development project ("voluntourism") is one way to do this. At least as important are the everyday decisions we make when we travel – where we buy our food, which accommodations we use, whether we buy their handicrafts, and whom we hire to be our guides. Such decisions don't require a big budget, just a thoughtful one. Choose wisely, and travelers have the chance to meet locals on their own terms, as representatives of their culture, and to use their travel dollars (or euros or pounds) to support the people and places they visit in a responsible way. One of the most effective ways to accomplish this is to support community-based tourism (CBT), in which community members are often the organizers and always the beneficiaries of local tourism experiences.
Below are a few more opportunities for community-based tourism across Central America. Some of the websites are only in Spanish—reflecting the fact that to connect with locals, having basic Spanish skills is a distinct advantage. However, if you don't have the Spanish skills, fear not—being immersed in a community is undoubtedly the best way to learn!)
Costa Rica
ATEC, the Talamancan Association of Ecotourism and Conservation, is based in the department of Limón, on Costa Rica's north coast. Their office in Puerto Viejo puts visitors in contact with experienced native naturalist guides who offer a variety of guided hikes, tours and activities. Adventure tours include surf lessons, fishing and dance lessons, and cultural tours range from visits to indigenous communities to a chocolate tour, wildlife tours take visitors to see birds, iguanas, dolphins, and sea turtles.
Cooprena is an umbrella organization for a group of ecolodges and various projects such as reforestation or rainforest conservation. They offer accommodations at small lodges, farms, indigenous villages, and homestays across Costa Rica, as well as a variety of half-day and full-day tours (rafting, city tour, hikes, coffee farm and more). Multi-day packages and volunteering experiences are also available.
Honduras
Gracias is a charming colonial town and the surrounding area is home to a cloud forest, thermal baths, and tiny villages dominated by lovely centuries-old churches. Comfortable budget- to moderately-priced hotels are locally owned, guides from the area are happy to organize horseback riding and hiking, and visitors can watch a demonstration of traditional Lencan pottery making.
Nicaragua
On the island of Ometepe, there are several CBT arrangements: the organic coffee farm and hostel Finca Magdalena, run by a collective of 24 families and offering guided tours up the volcano.
Panama
Kuanidup in the San Blas Islands offers a similar experience to Chachauate in Honduras, with wood cabins right on the beach, lobster dinners, and crystal clear waters for snorkeling and swimming. There are several other similar cabin-on-an-island experiences in the Panamanian islands; Kuanidup is one of the most basic, but also one of the best beaches and lowest-priced. That said, all of the options are all much pricier than their Honduran counterpart, but meals and tours are included.
Amy E. Robertson is the author of Volunteer Vacations in Latin America (2013, Moon Handbooks). Her writing has been published on NPR, Vice MUNCHIES, Budget Travel, Delta Sky, National Geographic Traveler, Wall Street Journal, Christian Science Monitor and Travel + Leisure, among others. Amy has lived in six countries and traveled in more than 60. Her volunteer experiences include building houses in Washington State and Honduras, monitoring presidential elections in Ecuador, working with youth on social documentaries in Bolivia, and serving lunch at soup kitchens in Seattle and Beirut. She has a background in international development and nonprofit management and has worked in both the private and nonprofit sectors.

You may see Amy's many articles for us, her numerous books, and her expanded bio page here.