Top Countries for Living in Latin America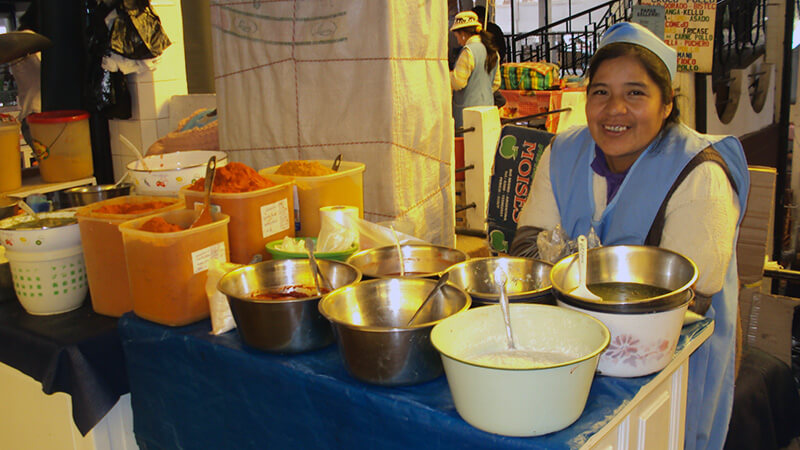 Women selling sauces at main farmer's market in Sucre, Bolivia. Photo by Molly McHugh.
Whether traveling with children, as a couple, or solo, listed below in alphabetical order are selected spots in some of the top countries to move or enjoy an extended stay in Latin America. Many of the locations have extensive expatriate groups and International schools for children such Buenos Aires, Argentina and Quito, Ecuador. Economically less developed locations such as Sucre, Bolivia have much to offer as well, though with a smaller expat community. 
All of the cities and towns we discuss offer a tourist infrastructure (bus transport, hostels, etc.) and are popular with travelers in addition to being excellent options for a long-term or even permanent stay. Pros and cons of each location are included to provide additional issues to consider while planning your journey or relocation. We also include links to some relevant selected websites for more detailed information. We also suggest you use sites such as Numbeo for an idea regarding the cost of living.
Argentina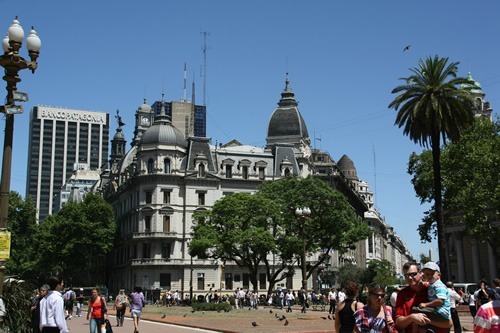 A square in Buenos Aires, where many expats have moved.
Argentina offers many excellent options for long-term living, with expats residing throughout the country, and not only in Buenos Aires. Many fall in love with the mystique and cultural vibe of Buenos Aires, "the Paris of South America," and choose to stay permanently. It is the easiest area to live in Argentina as an expat, with a large community that includes many foreigners and locals who speak English. 
Yet for the more adventurous, there are numerous cities and towns to settle for awhile: 
Mar del Plata on the Atlantic coast
Salta in the northwest
Cordoba, the second largest city
Areas around the wine capital Mendoza
These areas — excluding Mendoza — are less expensive than the capital city with a more relaxed life style.
Pros:
In Argentina, it is possible to buy property with only a 90-day tourist visa, and live in the country for an extended time without going through the expense and hassle of becoming a resident. You do need to apply and pay for 90-day visa extensions and leave the country every six months for a day or longer and then return and get a new tourist visa with a new stamp in your passport. Leaving and returning to the country is relatively easy and enjoyable to do—with Uruguay, Chile, Brazil, and Paraguay to choose from for a short visit. 
Cons:
After years of being a relatively inexpensive destination, Argentina is once again a relatively expensive place to live and to travel with increasing inflation such that many citizens buy cars and real estate in nearby countries in order to keep pace with the diminishing value of the national currency. 
Work and residency permits in Argentina increasingly require a lot of paperwork depending upon the route you take, and the rules are subject to change and the country is document-driven. Contact the Embassy of Argentina in the U.S. for more information, and do your research on permits online .
In addition, foreigners are charged on average double what a national pays to visit many tourist attractions, such as:
San Ignacio Mini ruins
Iguazu Falls
Riding the Patagonia Express
Skiing in Bariloche
The language barrier can be very tough to navigate, as the primary dialect, Rioplatense Spanish, is difficult for many to master. Argentineans who speak some English often refuse to let on they know a word of it, insisting you speak Spanish!
More Information: Wander Argentina — Living in Argentina
Belize
Belize spans the spectrum from greenery to pure ocean life, and is becoming a popular country for those wishing to move abroad.
If clear Caribbean waters and year-round sunshine are your priorities, Belize may be the destination for you. The Belize Barrier Reef is a diving and snorkeling haven. Over 180 miles long, it contains three offshore atolls (ring-like coral islands with a reef surrounding a lagoon), plus numerous sand cays (islands), lagoons, and estuaries. Marine life includes Green Moray Eels, Yellowtail Damselfish, nurse sharks, Parrot Fish, and bottlenose dolphins.
In addition to coral reefs, there are mountainous regions, savannas, and jungle lowlands to explore. When you hike, you will have 500 species of birds to search out, such as the colorful Scarlet Macaw, graceful Great Egret, and Keel-Billed Toucan — the national bird of Belize.
The main areas in the country where fearless expats who have tread before you have decided to settle are:
Ambergris Caye
Caye Caulker
Placencia
Corozal
The Cayo District (towns San Ignacio and Santa Elena)  
Pros:
The relative proximity to the U.S. and Canada. You can drive to Belize and bring with you what you need to settle in comfortably, rather than having to purchase house ware, bedding, and other items after arrival. 
Not having to learn Spanish! English is the national language of Belize, and is spoken by expats and locals alike.
Cons:
In Belize the rainy season runs from June to November, with an approximate 20% risk of hurricanes and tropical storms from July to October. Due to foreign investment and development, Belize has many environmental issues that threaten its ecosystem, such as deforestation, waste management, and the discovery of crude oil reserves located in protected territory.
Some families with teenagers do not adjust well, as the country is much more of a retirement destination at this time in the country's history.
More Information: How to Live and Retire and Belize
Bolivia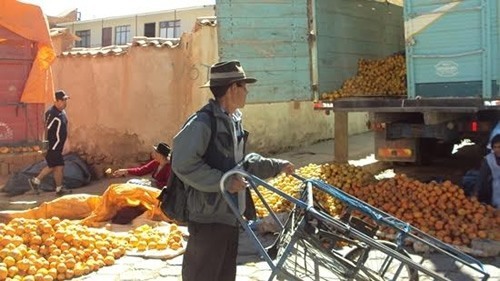 Oranges taken off the truck at Sucre, Bolivia. Photo by Molly McHugh.
Many are hesitant to cross into Bolivia from Ecuador, Peru, or Argentina but there is little reason for concern. The country is as safe for travelers as most other Latin American countries, and health concerns are minimal if care is taken when eating out at local restaurants or in a market. Taking a quality multi-vitamin supplement and acidophilus product can go a long way towards preventing stomach upset.
Top spots for an extended stay are Sucre, Tarija, and Copacabana:
Sucre is the capital city of Bolivia, a bustling hub with many local markets and a few expat owned businesses (hostels, restaurant, and bars). A cultural center offers many types of art and music classes, and welcomes foreign children and adult participants. 
Tarija is tucked away in the Southeast, just three hours from the border with Argentina. The city is known for its mild climate, vineyards, and mountain scenery. 
Copacabana is a town on the shores of picturesque Lake Atitlan, an easy three hours from La Paz. There is relatively little to do as a traveler as of yet, but the area is good for a low-cost, relaxed stay with a fun, almost hippie vibe. There are boat tours available to Isla del Sol and other traditional islands. 
Pros:
One of the cheapest destinations to travel or in which to live, and culturally unique. Approximately 60% of Bolivianos of indigenous decent (Quechua, Aymara, Guarani, and 33 other groups).  
Cons:
Bolivia restricts the amount of time American tourists can stay in the country in any given year, allowing only 90 days with no visa extension possible. U.S. passport holders must apply for a residency or another type of visa to live in the country for an extended time, while nationals from other countries are often allowed to extend their 90-day visa at an Immigration office or by leaving and then re-entering the country. 
More Information: www.boliviabella.com/live-in-bolivia.html
Brazil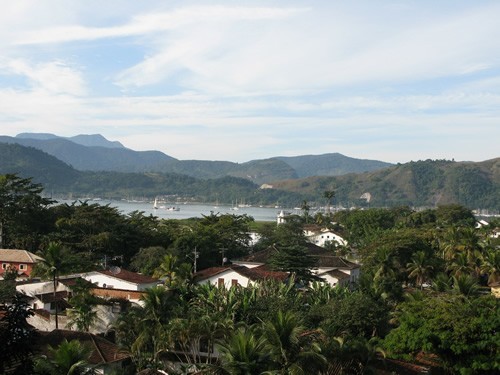 Paraty, Brazil is a popular place with expats.
More than the top destination for Carnival celebrations in the world, more than the location of much of the Amazon as well as so much natural beauty, Brazil is a huge, vibrant, multicultural, multiracial nation and economy gaining ground as a top relocation destination as well... for those who can afford it. Solo travelers and couples seeking an extended stay abroad should enjoy living in Brazil if they are willing to adjust to the complex culture. For families with children, there are bilingual International schools located throughout the country, but they are primarily attended by children of diplomats and very wealthy Brazilian families.
More laid-back options to the expensive, cosmopolitan, and intense cities such as Rio de Janeiro, São Paulo, and Salvador include:
Paraty, a colonial gem with lovely beaches just three hours from Rio de Janeiro
Florianopolis, a mid-sized city (5th largest in Brazil), with beaches and surfing near the border with Uruguay and Argentina, which is quite popular
Curitiba, the capital of Parana in the south
Pros:
The country is immense and the culture famously vibrant, with an incredibly diverse population; it would be difficult to get bored in the vast and varied country of Brazil.
When you arrive in Brazil you will see big cities that are true ethnic melting pots, and Rio lives up to its reputation for sensuality and spectacular vistas. If flying into Rio, it can be a memorable, if terrifying, experience.
Cons: 
Costs. Brazil is fairly expensive, and even if you do find work, the pay will most likely be nominal compared to the cost of living. Here is an idea of the cost of living in Brazil compared to the U.S. 
The crime rate, of all forms, is notoriously high in many areas. Homeless children may accost you for money as you wander the streets on foot or via taxi. You need to carefully research before traveling to new destinations, and ask those who lodge you about safety issues.
In the early days while visiting many cities, travelers are advised to take a personal guide to learn the ropes. Cities like São Paulo can be unpleasant and dangerous in some areas, and kidnapping does occur.
In addition, Portuguese is the national language and is very difficult to learn for most foreigners. So before hopping into a cab, know a few words at the very least. Before deciding to live in Brazil, take several exploratory trips to make sure you develop a sense of how you will feel day-to-day in the extraordinary and complex country.
More Information: See Guide to Moving and Living in Brazil
Ecuador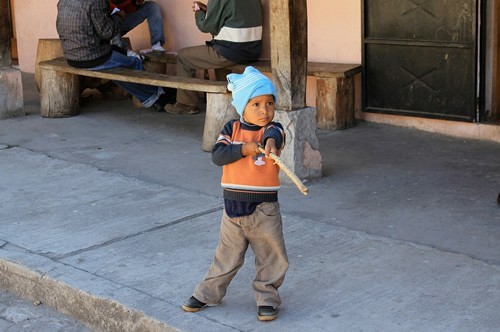 A child in Ecuador, a people known for their hospitality and warmth, where many expats live.
A traveler's paradise and very popular destination for long-term living. Ecuador has "hit the scene," so to speak, and created quite a stir. Locations for long-term living are numerous:
Areas near Quito such as Cotacachi are just 2 hours away
The colonial city of Cuenca
Ttranquil Vilcabamba
Bahia de Carquez region on the Pacific coast
Ecuador is an excellent country to spend time studying Spanish , for both children and adults. There are many K-12 bilingual International schools (English and British) in Quito. There are also many volunteer opportunities available and some English teaching jobs .
Pros:
Ecuadorians are good-natured and friendly in general, so meeting locals and making new friends is easy. Many Ecuadorians speak English, some fluently, and even non-English speakers are patient with the "gringos" who try earnestly to learn the language.  
Cost of living is low in general, though due to its growing popularity as an expat destination, property values are rising sharply.
Cons:
Ecuador is still a financially developing country, and shopping options are relatively basic, with a small selection of imported goods. Poverty is still widespread throughout the country, which can be difficult for some to see on a daily basis, even if the eighth largest economy in Latin America has been making great strides during the past decade. For example, you will see many families living in poverty and malnourished, as well as diseased street dogs wandering around with no one to care for them.  
More Information:  Living in Ecuador
Mexico
Mexico is packed with excellent expat destinations as well as tourist hot spots. 
I can personally attest — after nine years living and traveling in Latin America with my son (ages 5 to 14) — that Mexico is the best country for children to attend school and learn Spanish. Culturally, Mexicans adore children. Adults will usually address a child as they would an adult, rather than ignoring them.  
Local children are included in activities and welcoming of foreigners. Your own child will have no choice other than to constantly process the new language and make attempts at communication — leading to easy fluency for many expat kids. Many Mexicans speak some English and are happy to try to make conversation in their form of Spanglish, i.e. a mixture of English and Spanish common to those growing up in some Western cultures.
The variety of living environments to choose from can be overwhelming, whether your preference is for sunshine and beaches, or cities replete with cultural activities. Towns on the Pacific coast popular with foreigners for long-term living include:
San Carlos
Mazatlan
Puerto Vallarta
Los Cabos
Guadalajara and the nearby Lake Chapala and Ajijic are the most populous areas outside of Mexico City. All attract foreigners while being full of International schools as well as expatriate families.
Smaller urban areas with many expats include:
Merida
San Miguel de Allende
Oaxaca 
Pros:
You can get by easily with very little proficiency in Spanish in Mexico, especially in the touristy locations. In addition, you may choose to connect with many foreigners who live in the locations listed above part- or full-time.
The country is an excellent choice for children to learn Spanish, with private bilingual schools throughout the country. 
Cons:
Mexico is large, and some areas are not considered safe for tourists according to the U.S. government, so care must be taking when driving through parts of the country and visiting off-the-beaten-track destinations. Editor's note: we have an article by an experienced expat and traveler, which debunks the myth of danger to tourists in Mexico .
More Information:  Living and Moving to Mexico
Molly McHugh spent nine years on the road with her son, largely in South America, engaging in educational and long-term travel.