Summer Jobs and Seasonal Jobs in Australia and New Zealand
Key Employers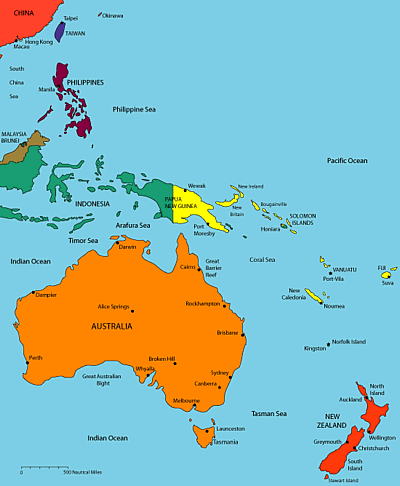 Jobs in Australia and Australasia

Key Employers in Australasia
Internship Jobs in Australasia
Volunteer Jobs in Australasia
Work & Travel in Australia or New Zealand with InterExchange
Our Work & Travel programs are geared towards independently-minded travelers who want to explore another country with the ability to earn some cash along the way. We help our participants find international jobs and housing and provide pre-departure support, in-country assistance during your stay, and alumni resources when you return. When you are not working, you can spend your time discovering the amazing natural scenery and culture of Australia or New Zealand!


Dates: Year round—placements available for up to one year.
Cost: $795
Contact: Interexchange Working Abroad, 100 Wall Street, Suite 301, New York, NY 10005.
Tel.: 212-924-0446
Email: workabroad@interexchange.org
Website: www.interexchange.org/travel-abroad/work-travel/

Featured
Work in Australia with BUNAC
BUNAC gives you all the support you'll need to take the hassle out of arranging your work abroad adventure in Australia or New Zealand. With our group flights, you'll make friends before you touch-down, guaranteeing that you won't be going it alone. With assistance with job and accommodation hunting on arrival, BUNAC's fully-supportive packages for up to 12 months will make your working holiday the experience of a lifetime.
Dates: All year round
Cost: From $329
Contact: BUNAC USA, 585 N. Juniper Drive Suite 250, Chandler, AZ 85226
Tel.: 866-220-7771 or 1-800-GO-BUNAC
Email: info@bunacusa.org
Website: www.bunac.org/usa

Featured
Kangaroo Au Pair — Find Your Perfect Au Pair or Host Family
Kangaroo au pair is a caring website, an au pair matching website, that allows au pairs and host families to find each other.
Cost: Free to register and search, €39 for enhanced features
Phone: 00 353 1 9696036 or 0044 (0)20 7060 4877
Email: support@kangarooaupair.com
Website: kangarooaupair.com

Featured
Australia Internship Program — The Intern Group
The Intern Group is a leading provider of international internships in the USA, Canada, Europe, Asia, Australia and Latin America. We provide internships in all career fields year-round in Australia. Learn from leading professionals in your field while making friends from all over the world and living like a true Australian. Our programs include a professional internship, accommodation, visa assistance, professional development tools & workshop, cultural events, social activities and much more. Launch your career with the travel adventure of a lifetime in Melbourne.
Dates: Year-round on the first Saturday of every month.
Cost: $5,650 (AUD)
Contact: The Intern Group, Busworks, 37-41 North Rd, London, N7 9DP, United Kingdom
Tel:+1 (718) 878-6393
Email: info@theinterngroup.com
Website: www.theinterngroup.com

Featured
Academic Programs International (API)
Work Abroad in Australia and New Zealand
API offers work placements in the ranch/farm industries in Australia and New Zealand. These opportunities allow you to live abroad and experience the local culture as more than a tourist. By working abroad, you can cultivate real-world experience and form lasting relationships and connections, all while exploring exciting new places.
API will provide you with the support and security you need to successfully plan your work abroad adventure!
Alliance Abroad
Work Experience Australia
Alliance Abroad Group guarantees a 6-12 month paid hospitality job before you land in Australia. How do we do it? We have a great team in Australia and the U.S. that have established excellent relationships with leading Australian hotels and resorts. We also ensure you are taken care of every step of the way. We organize Meet Ups with other AAG participants in Australia. Don't spend your time stressing about finding a job or an internship. Work with AAG. You'll leave with a deeper understanding of the world, a love of Australia and a passion for travel. What are you waiting for? Join AAG's Work Experience Australia program. Hospitality positions available: Bartender, Food and Beverage Attendant, Chef, Cook, Porter, Kitchen Steward, Front Desk Attendant, Housekeeper, Tour Guide and more!
Camp Counselors USA (CCUSA): Work Adventures Down Under
Offers a program to travel, work and travel in Australia and/or New Zealand for the summer or up to two years (one year in each country).
Conservation Volunteers Australia (CVA)
Organizes short- and long-term voluntary conservation projects in Australia.
Global Choices: Work Holiday in Australia
When you say Australia—the first thing that comes to your mind is kangaroos, surfing, and aborigines. It sounds very attractive and exotic, but if you are going to travel there for the Working Holiday you realize that it is not a piece of cake to do all travel arrangements (accommodation, job, bank account etc.,) before your departure. If you do not want to waste your precious time on sorting out such things as banking, jobs, tax file number ID, accommodation, mobile phone, tax refund etc., we would like to offer you our programme: Working Holiday package—complete peace of mind before leaving!
Greenheart Travel
Offers Work and Travel in Australia and Work and Travel in New Zealand programs.
HELP Exchange (HelpX)
Free info exchange for people who want to work for free accommodation and meals in Australia and New Zealand. Offers thousands of addresses of hosts in Australia and New Zealand.
Involvement Volunteers International
IVI has links with projects around Australia (and worldwide). Past placements have included assisting zoology research in Queensland, working at a reptile park in South Australia, and social service work with children, elderly, and disabled people.
National Harvest Guide: Australian Government
Centralized source of information on vacancies in fruit and vegetable harvests throughout Australia, especially in the busy harvest season (Jan-March).
New Zealand Trust for Conservation Volunteers
National organization that maintains an online register of conservation projects throughout New Zealand for the benefit of volunteers including international volunteers. Many project organizers provide free transport and accommodations.
Travellers Contact Point
Agency with office in Sydney that helps people (who have a working holiday visa) to set up work and their many other services. Members are provided aid in job search and much more. A very welcoming working holiday starter package is also available along with gap year programs.
Visitoz: Australian Working Adventures
Station in Australia that runs courses in outback working techniques and then directs participants with working holiday visas to one of nearly 1,000 employers offering paid jobs on the land and in the hospitality industry. Course fee includes visa service for U.S. citizens aged 18-30.
Working In
Web-based employment resource aims to put people who are arriving in Australia or New Zealand in touch with employers who are seeking skilled and professional people.
WWOOF Australia (World Wide Opportunities on Organic Farms)
Distributes the Australian WWOOF book and app, with the addresses of about 1,800 member farms in Australia looking for short- or long-term voluntary help. Membership costs AU$70 (which includes insurance and a new app!).
WWOOF New Zealand
See the excellent website that provides details about options to work on over 1,000 organic farms. Membership costs NZ$40. Insurance can be procured through World Nomads. A visa for those aged 18-35 can also be obtained via BUNAC.